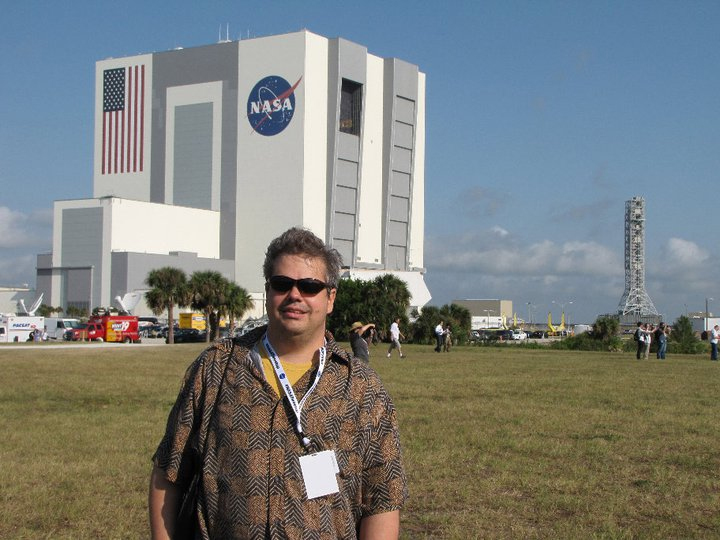 Troy Janisch, 43 of DeForest, feels like a kid again — one equipped with a MacBook, digital camera and iPhone who is getting a behind the scenes look at what it takes to launch a NASA space shuttle.
Janisch and Tom Buchheim, both members of the social media team at American Family Insurance national headquarters in Madison, are two of 150 bloggers randomly chosen from 4,100 online registrants to attend NASA's shuttle "Tweetup" this week. They've been posting updates, photos and video from Kennedy Space Center in Florida in anticipation of Friday's scheduled launch of space shuttle Endeavour.
"It's like winning the lottery," Janisch said during a phone interview Thursday from the air-conditioned tent equipped with wireless Internet and electricity where the bloggers are stationed, about 3 miles from the launch pad.
"It's just really incredible to not only to be here physically, but to be able to share (the experience) with the whole world," added Buchheim, 40, of Sun Prairie.
This is the fourth time NASA has invited its Twitter followers to experience a space shuttle launch, however participants pay their own travel, food and lodging expenses.
"We found it to be wildly successful," Stephanie Schierholz, social media manager at NASA headquarters in Washington said of the Tweetups. "There was sort of this thirst for access to NASA (and) the Tweetup events allow us to give that actual, physical, personal access."
A Tweetup is a gathering of people who use Twitter — a social media messaging outlet — who arrange meet.
Friday's launch is NASA's next-to-last shuttle flight, as well as Endeavour's final voyage. The event will be attended by President Barack Obama and his family in addition to Endeavour commander Mark Kelly's wife, Arizona Congresswoman Gabrielle Giffords, who was shot in the head Jan. 8. NASA officials say upwards of 700,000 people are expected to jam the area.
For Janisch, who blogs about social media and space at socialmeteor.com, being chosen to geek-out with 150 fellow bloggers combines three loves: space, flight and social media.
"When I was a kid I wanted to be an astronaut ... and would build dozens of prototype ships out of cardboard boxes," he said.
After graduating from UW-Oshkosh, Janisch worked as a reporter for the Oshkosh Northwestern where his infatuation with NASA grew as he covered the annual Experimental Aircraft Association's AirVenture in Oshkosh, interviewed pilots and astronauts, and flew in a variety of aircraft.
"Since that time when I covered EAA I've never been so close to all this activity," he said. "I feel like a kid again."
Janisch has about 2,600 followers on Twitter and has picked up about 50 more this week.
He and Buchheim arrived at Cape Canaveral on Wednesday night and spent Thursday listening to and interviewing NASA officials, learning how space suits are designed, and touring the vehicle assembly building and shuttle landing facility. Friday, weather permitting, they'll watch - and tweet about - Endeavour as it takes flight.
"We're moving into a whole new age again for space exploration," Janisch said. "I have an opportunity to bring that story home to Wisconsin and share that with classrooms and readers. Everybody here is here because they love the space program and the spirit of adventure that it stands for."
The Associated Press contributed to this report.