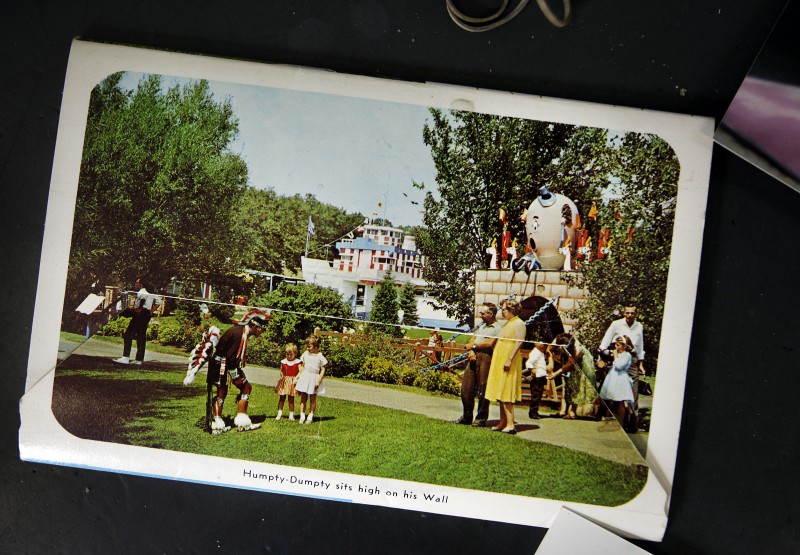 "Truly the Land of Allurement — the Land Where Years Don't Count. Whether you're years number two or ninety-two, you will never forget the magical charm of this place of beauty, fantasy, and peaceful charm."
— From a 1960s-era postcard for Storybook Gardens
---
LAKE DELTON — Maybe Jack Be Nimble, a Baby in the Tree Top and Simple Simon could have stuck it out a few more years.
But when the Wisconsin Dells fully opens later this week for the summer season, one of the most well-known and longest-running tourist attractions in the state will be off limits.
Storybook Gardens, a staple in this community of fun since 1956, will not reopen this season. The 10-acre park, created by Melvin Flath and known for its fairy-tale scenes, ponds and the Goodship Lolli Pop, has succumbed to the wear and tear of the elements and time.
The park, located between Dells Army Ducks and Noah's Ark, served as an oasis of calm as Wisconsin Dells Parkway exploded with development over the decades. It was also void of video screens, loud music, images of Harry Potter and vampires with GQ looks.
At Storybook Gardens, it was all about bringing old school tales like the Three Bears, the Old Woman Who Lived in a Shoe and Sing a Song of Sixpence closer to reality.
"Storybook Gardens has run its course," said Flath's grandson, Jason Field, who manages the property. "What kids know about these characters? Jack and the Bean Stalk, maybe, or Humpty Dumpty. We're at a new generation now."
Field, general manager of Dells Army Ducks, said he is looking for a new attraction to lease the Storybook Gardens property for 2012. The figurines and buildings will be sold at auction. A Zorb ball attraction (riders climb into a large plastic ball and roll down a hill) is scheduled to go in later this year in what was the parking lot.
Field knows what it takes to succeed in the hyper-competitive Dells market. His grandfather, Flath, brought the first Ducks to the Dells in 1946 and later added a miniature golf course and drive-in theater. Those two attractions closed but the Ducks remain a popular attraction. Field, in recent years, has added jet-boat rides on the Wisconsin River and a zip-line course behind Storybook Gardens.
"You have to keep reinventing yourself," Field said. "You can't sit on your laurels. People aren't going to come just because you exist."
You have free articles remaining.
But the memories of Storybook Gardens run deep and its closing will be a downer for some who arrive this summer only to learn Humpty Dumpty and his wall are gone and the Three Bears were sold to the highest bidder.
About 20 years ago, my mother was cleaning out a drawer in her home when she discovered a roll of film. When she had it developed, she found photos of my sister and me posing in front of Hickory Dickory Dock. That trip was in 1969. I also remember a wagon ride through Lost Canyon, Fort Dells (which closed in the mid-1980s) and a tiny cabin we stayed at on Lake Delton.
However, I don't ever remember reading many of the fairy tales portrayed in the park to my children, who are now 12 and 10.
"At one time, it was one of the main attractions here," said Mark Schoebel, who operated Storybook Gardens for its final seven seasons. "There are a lot of people with a lot of memories of the place."
Other main events at the Dells back in the day, and which continue, include the Ducks, boat tours, the Tommy Bartlett Show and Wisconsin Deer Park. There is also downtown Wisconsin Dells, home to photographer H.H. Bennett's studio and numerous shops. All of them are being challenged by bigger waterparks, wilder amusement rides, an outlet mall and a frenetic vacation pace that requires a few days of rest when it's completed.
Storybook Gardens provided a respite.
At its peak, there were up to 25 exhibits along with actors in costumes walking the Storybook Gardens grounds, which included dozens of flower beds, a well-trimmed lawn and four ponds, each named after one of Flath's four daughters.
Field said many ridiculed his grandfather when he built the attraction because it was "in the middle of nowhere," away from the downtown. Flath only operated the park for a few years before leasing the property to others, including Tom Egan from the late 1950s to 1989.
In its last year of operation, the number of exhibits had dwindled to about a dozen but the $13 admission for adults and $10 for children also included Timbavati, an African wildlife park owned by Schoebel, who in 2004 melded the animals into the land of make-believe, which likely extended the life of the fading Storybook Gardens.
Timbavati, however, will continue. Schoebel is building a new park for his lions, tigers, giraffe, zebras and other animals. It is scheduled to open in June up the street at Riverview Park & Waterworld. The aging waterpark, once one of the largest in the Dells, is being removed to make way for animal exhibits.
Even with scores of attractions, shops and events throughout the Dells, where tourists spend more than $1 billion a year, Schoebel knows there will be a void for many families when they return this summer and find no-trespassing signs at the entrance to Storybook Gardens.
"The storybook theme had its place but it wasn't making it on its own," Schoebel said. "I think there was a need for something like that. We got a lot of compliments. We didn't have a fast-paced operation."
Barry Adams covers regional news for the Wisconsin State Journal. Send him ideas for On Wisconsin at 608-252-6148 or by email at badams@madison.com.