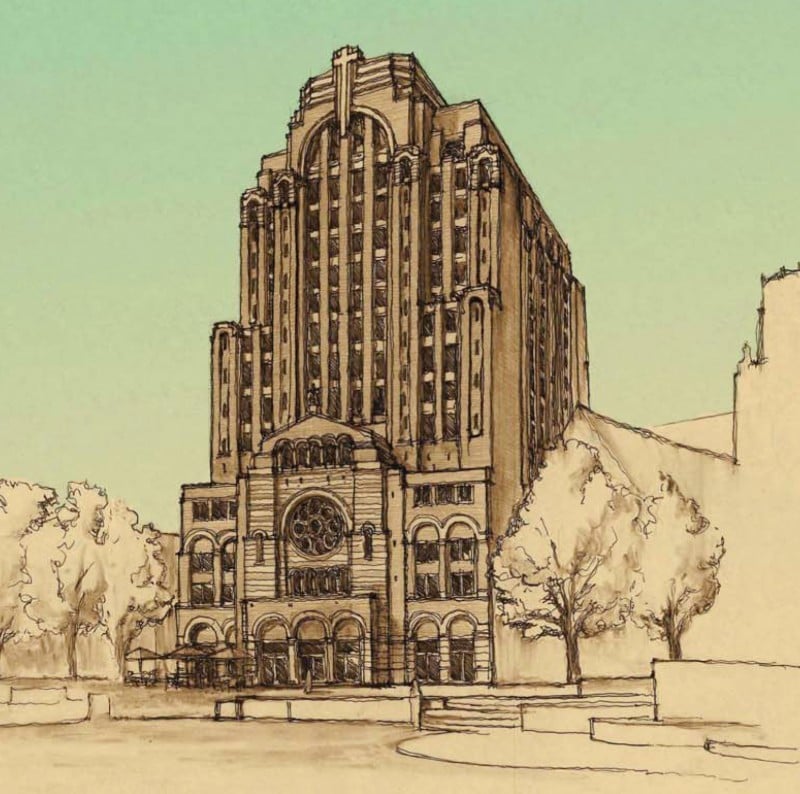 Officials with the St. Paul Catholic Student Center at UW-Madison unveiled a new, less-boxy design Monday for a $45 million housing development and campus worship center.
The design keeps the same square footage and 14-story height as an earlier version but presents it in a way that will better fit with surrounding historic buildings, they said. An April design drew concerns from city planners over mass and height.
"I don't know if we've addressed those concerns — it's the same height and size — but our goal is to convince city staff that while it's a tall building, it's not a very big building," said the Rev. Eric Nielsen, St. Paul's priest.
The project would replace the existing Catholic campus facility at 723 State St. The center's "relatively small" quarter-acre footprint would remain the same, with much of the 10,000 square feet coming in height, Nielsen said.
The student center portion of the current facility was built in the late 1800s. The chapel was built in 1909 and renovated 43 years ago. It has no residential component. The redeveloped center would house up to 175 students.
You have free articles remaining.
"This is something Catholics in the state will want for students here, and urban density is something the city wants," Nielsen said.
City Planning Division Director Brad Murphy did not return phone calls for comment.
The student center is across from Memorial Library on State Street Mall and between University Book Store and the landmark, neo-Gothic revival Pres House, the campus Presbyterian chapel.
The new design looks less blocky and more classical than the earlier version, center officials said. It is "more cohesive" in the way it integrates a chapel and student center on the lower levels with several stories of student housing, Nielsen said.
Informational plans for the project were to be submitted Monday to the Madison Landmarks Commission, said Ron Trachtenberg, St. Paul's attorney. The project is expected to go before the Landmarks Commission Nov. 8 and before the Urban Design Commission Nov. 10. The City Council will need to approve it, he said.
Center officials hope to break ground in two to three years, said Scott Hackl, St. Paul's development director. A vast majority of the money for the project is expected to be raised from a small group of benefactors, he said.