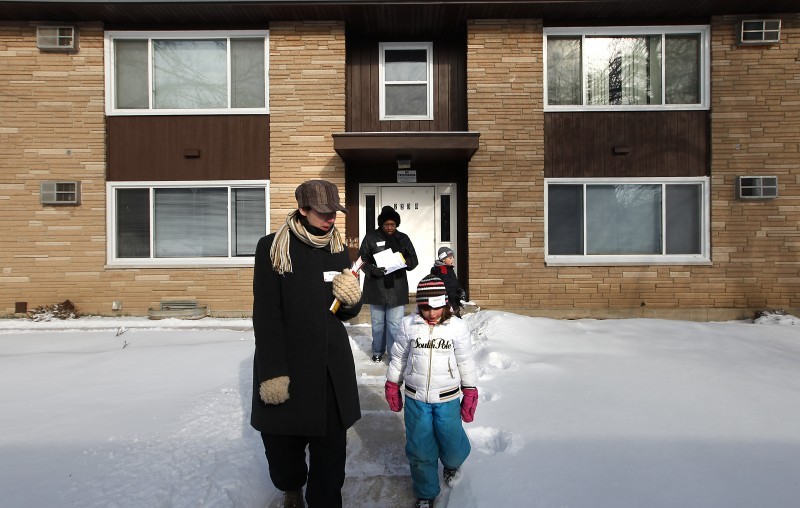 Just 6 years old, Addison DiCristina is already a veteran Martin Luther King Jr. Day of Service volunteer. This year marks the second time she's spent a day helping out in honor of the civil rights leader.
And for a couple of years, Christopher Holt, 17, of Madison has gone door-to-door as a volunteer to celebrate King's legacy.
They and others gathered Saturday morning to remember King by helping teach Madison residents about fire safety.
It's part of an effort locally and nationwide to encourage people to honor King by serving their communities.
Groups like Urban League, American Red Cross, Madison Fire Department, the Boys and Girls Club of Dane County, United Way and Hope Worldwide have joined with other groups around Madison to encourage people to make the holiday held in his honor a day of service.
Their mission: "Make it a day on, not a day off."
The federal Jan. 17 holiday marking King's birthday was first observed in 1986, making this year its 25th anniversary. In 1994, Congress designated the holiday as a national day of service.
In Madison, events honoring King began last week and culminate with a ceremony today at the state Capitol and an observance this evening at the Overture Center.
Tom Mooney, chief executive officer of the American Red Cross Badger Chapter, said it's the third year his organization has partnered with other groups to mark the day by teaching people about the importance of smoke alarms and fire safety. He spoke to the volunteers before they headed out to the Allied Drive neighborhood to talk to residents about things like fire escape plans and the dangers of unattended cooking.
"I know it's going to be cold out there," Mooney told the small group. "But it's a lot of fun."
He was joined by Kaleem Caire, president and CEO of the Urban League of Greater Madison, who warned people how fast fire can destroy a house. His own home was destroyed by a Christmas tree fire.
But Caire also talked about his group's focus on serving the community by educating young people.
"Now is the time we feel we have to focus," he said.