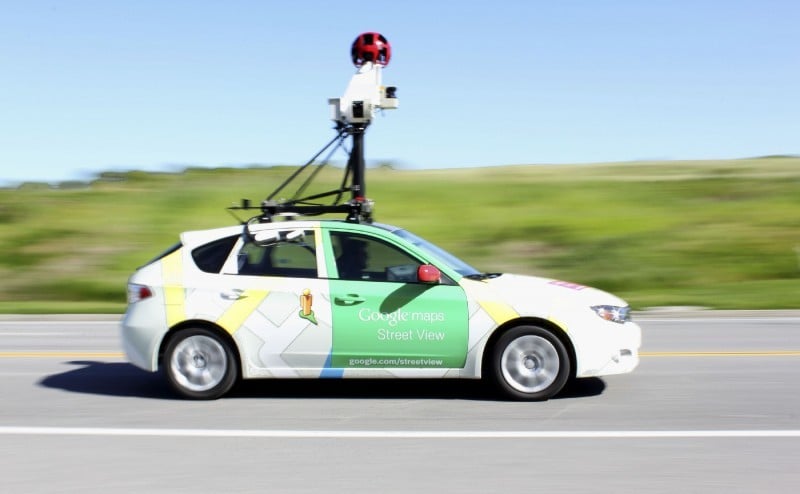 Will Capitol Square be colored with tents and protest signs? Will Downtown roads show men and women dashing around with canoes over their heads? Will campus streets be piled high with discarded couches and footstools? 
June's "Walkerville" tent city, July's Paddle & Portage canoe race and August's annual student move-in/move-out day are possible sights to see as Internet giant Google drives area roads this summer documenting life for its popular online maps with 360-degree photographic views called Street View. 
Google won't be specific about exactly where its car has been, but spokeswoman Deanna Yick confirmed it's been out for at least the last month with another month or so to go. State Journal readers say they have spotted it on Stoughton Road, East Washington Avenue, Interstate 90 and in a Far East Side subdivision that didn't exist in spring 2008, when the company made its first drive through town.
The distinctive white sedans are topped by a pole-mounted camera that provides images of most Madison streets, homes, vehicles and anything else the camera finds when the shutter clicks. 
"I'm very glad to hear they're getting new data," said Dave Davis, Madison's geographic information system manager for the engineering department. 
City staff rely extensively on Street View to show them such things as fire hydrants, traffic signs and sidewalks without having to leave the office, he said, saving trips and time. The current street views are getting outdated, he said. 
Updated Street Views won't go online for at least a few months, Yick said, as the process moves slowly: the cameras take millions of still images, which are then stitched together digitally at the company's headquarters in California. The company's software is designed to blur out faces and license plates, she said. 
The company started Street View in 2007, with Madison among the first 30 or so metro areas surveyed. Since then, the company has expanded to cities in 29 countries and other places including national parks and glaciers. It does periodic updates in all locations, such as the current one in Madison, Yick said. 
Metro Transit started partnering with Google Maps in May, which allowed riders to customize routes, get walking directions to bus stops, see images of where they're going or search by business names rather than addresses.
The updated Street View images won't affect Metro riders much, said spokesman Mick Rusch, as the images are only a small part of Metro's trip-planning offerings.