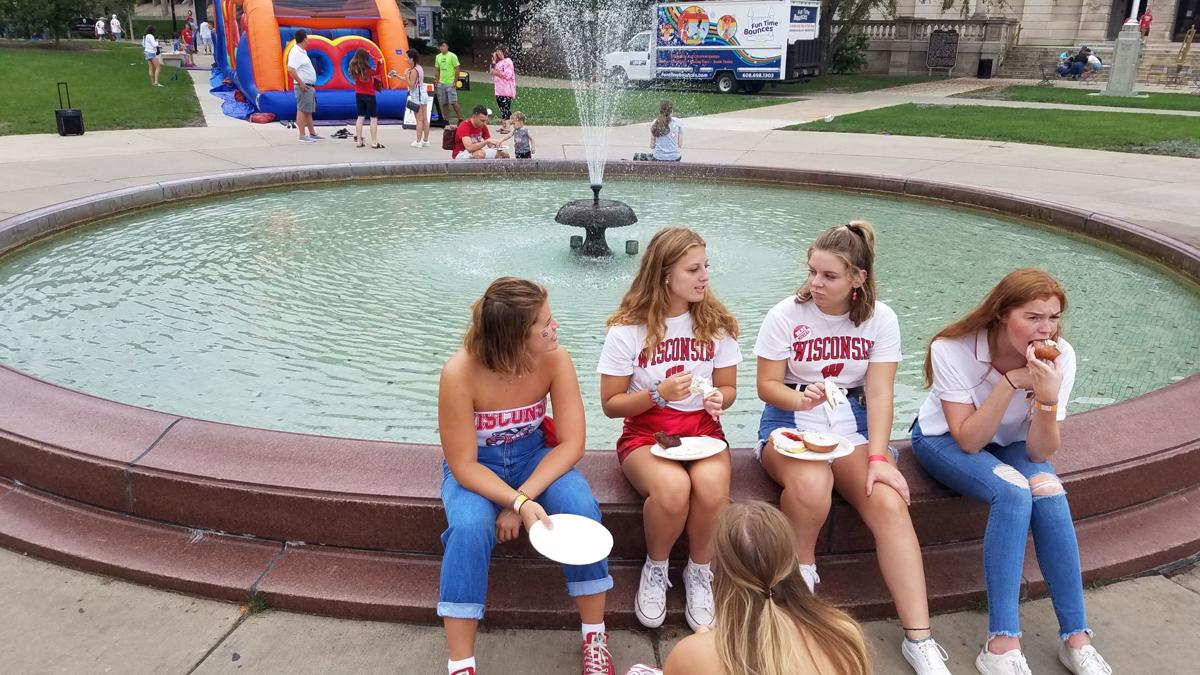 With UW-Madison's long-held perception as a top party school, Maddie Matijevich thought she might have to isolate herself to succeed in school when she transferred to the university last year.
Still newly sober at the time, Matijevich didn't know where to find social events that didn't have the temptation of alcohol, which can seem ever-present — from bars on State Street to pitchers at the Union Terrace to tailgates at Badgers football games.
Live Free, a student organization that supports students in recovery from substance abuse, held its second annual sober tailgate Saturday before the Badgers' home game against the University of Michigan.
Held on Library Mall from 9 a.m. until kickoff at 11 a.m., Live Free's "Mocktailgate" drew dozens of students and families with free coffee, bagels and pastries as well as an inflatable obstacle course.
"You can enjoy the Badger spirit, attend a tailgate, but without all the open containers of alcohol," said Matijevich, now vice chairwoman of Live Free.
Tailgating — and drinking — before football games is a tradition for many, but for students who are recovering from alcoholism or with histories of alcoholism in their families who want to stay away from booze, options are limited.
"I was really nervous" about coming to UW-Madison, Matijevich said. "I realized I was going to have to isolate myself to be successful in school, and it shouldn't be like that."
The sober tailgate is one option for students seeking alcohol- and drug-free activities, said Kierin Barnett, a junior and co-chairwoman of Live Free.
Even students who drink on occasion can want to have sober spaces, Barnett said.
It's not just events that Live Free sponsors, said Matijevich. Support groups and meditation sessions are also vital to Live Free's mission of helping recovering addicts and alcoholics.
By having sober events in public spaces, such as Library Mall, Live Free is also able to spread the word about the support systems available through the organization and at UW-Madison.
"A lot of students don't hear about our resources until they're juniors or seniors because they spend the first two years of college binge drinking and doing drugs," Matijevich said.