MIDDLETON — Miguel Jimenez was born without legs. Abbey Gase has a damaged spinal cord and Gabi Berthiaume was given little chance of an active life when she was born with spina bifida.
On Sunday, the trio, along with about 20 others, crossed a finish line and donned medals after completing a triathlon to help kick off a week of competition at the Adaptive Sports USA Junior Nationals.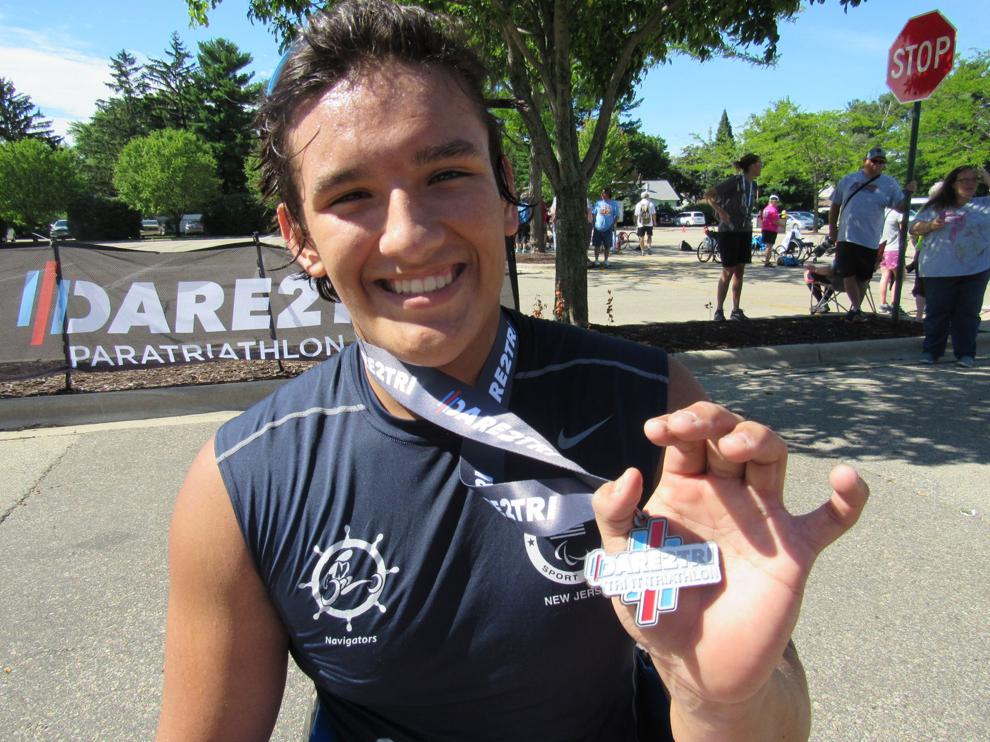 More than 200 athletes are in Middleton this week for events that include swimming, archery, track and field, table tennis, power lifting and air gun competitions. The program draws athletes from around the country and is the oldest and largest continuously held competitive sports event for athletes ages 6 to 22 with physical disabilities in North America.
Miguel, 16, from New Jersey, took part in two Ironman competitions last fall but his enthusiasm for Sunday's Dare2Tri Paratriathlon, the first ever for junior athletes in the United States, was high. He swam 300 meters, used a hand cycle to bike six miles and a racing wheelchair on the 1.5- mile run course that included parts of the Pheasant Branch Creek Conservancy.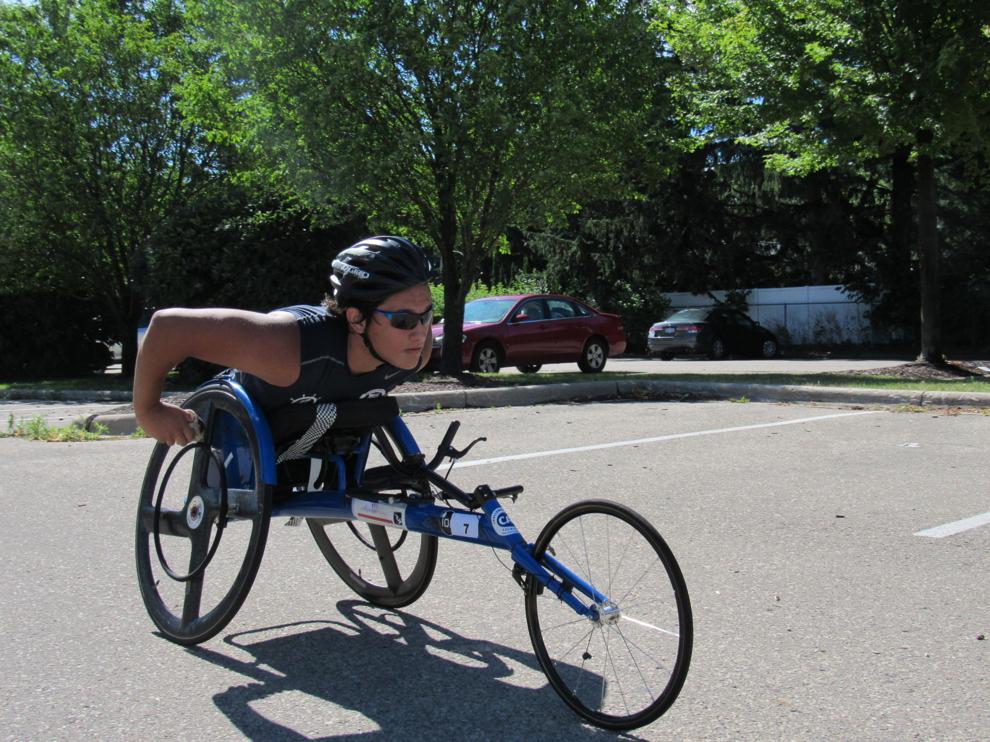 "I just love triathlons. The transitions are just so much fun," Miguel said, shortly after crossing the finish line in the parking lot of the Walter R. Bauman Aquatic Center at 2400 Park Lawn Place. "Even though someone may be better than you in every leg of the race, you can catch them on the transition and give them a run for their money."
Since its inception in 1984, the Junior Nationals has been held throughout the country and has seen steady growth, as more emphasis has been placed on participation and inclusion for athletes with physical disabilities. This event has also served as a training ground for Paralympic athletes. In the 2012 London Paralympic Games, 46 percent of Team USA members had participated in Adaptive Sports USA Junior Nationals, according to organizers.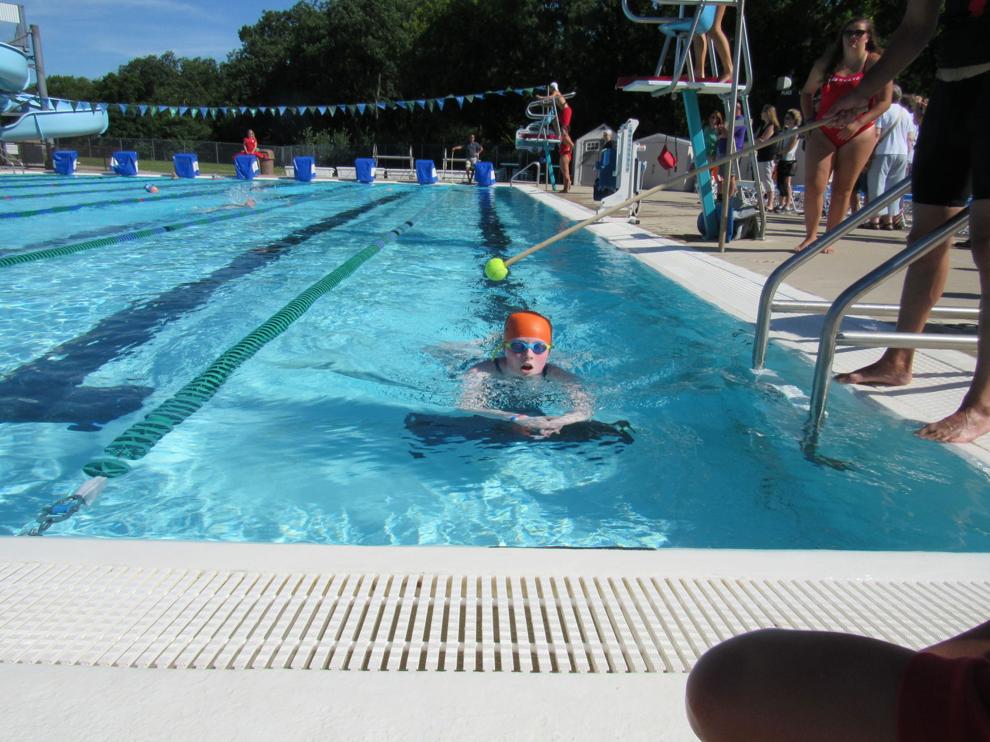 This week's events are part of the continued focus by the Madison Area Sports Commission to bring more sports tourism to the region. The commission was launched in 2010 by the Greater Madison Convention & Visitors Bureau and has contributed an estimated $45 million to the local economy over the last five years.
Upcoming events include the American Ultimate Disc League's championship Aug. 6 and 7 at Breese Stevens Field; the state sand volleyball tournament Aug. 13 and 14 at Keva Sports Center in Middleton and Ironman Wisconsin on Sept. 11 in Madison's Downtown.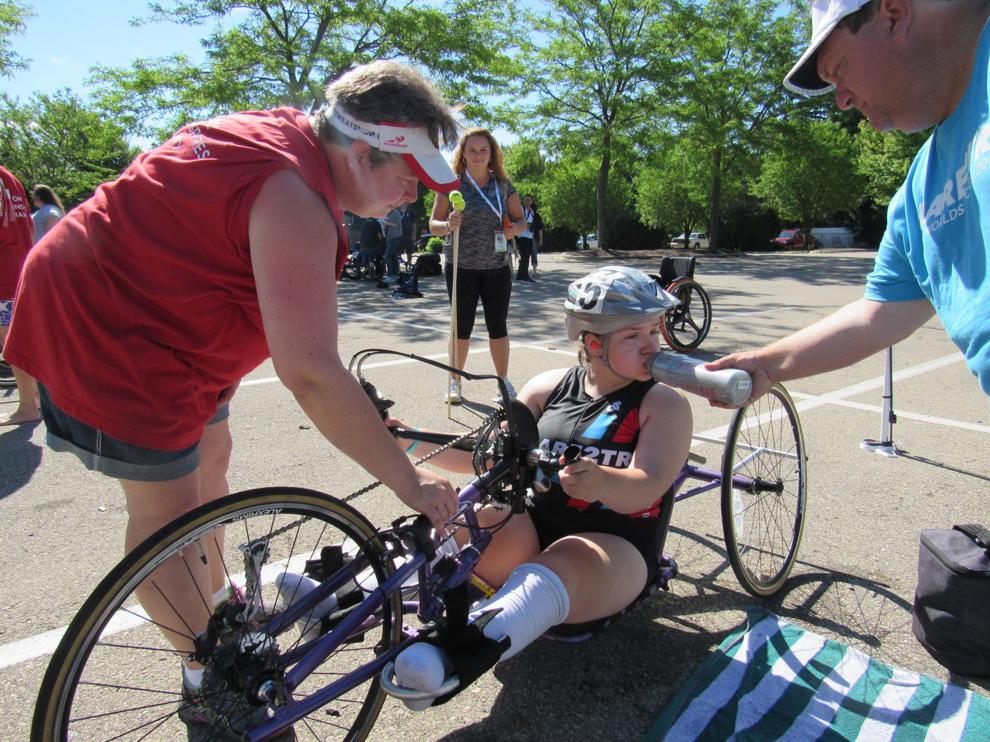 But this week, athletes identified with an impairment that limits neuromuscular, motor, sensory or cognitive functioning will take center stage at Middleton High School but with hearts and spirit equal to that of those without a disability.
Abbey Gase, 13, of Bowling Green, Ohio, is taking part in her fourth Junior Nationals competition.
She's done swimming and archery but this year added the triathlon, shot put, discus throw, javelin and power lifting. When she was 4 years old, Gase was treated for pneumonia but the antibodies fought with her immune system and damaged her spine.
"I meet a lot of new friends here," said Abbey, who competes with non-disabled athletes at her junior high school. "It's just fun to compete with other disabled kids."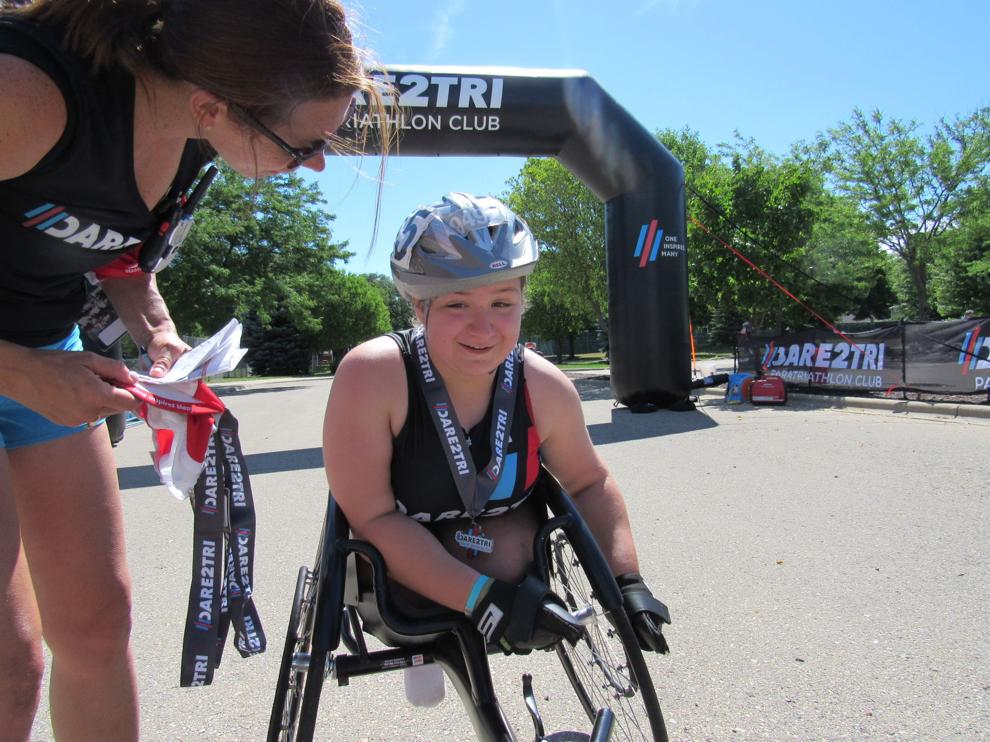 Gretchen Berthiaume said her daughter, Gabi, 13, of Racine, has eight triathlons under her belt, although Sunday was her first without a guide. This week Gabi will also compete in swimming and track and field, her mother said.
"It just ups her self-esteem," Berthiaume said of her daughter, who uses canes to walk. "Triathlons and sports in general have just given her that huge boost of confidence that she needs. She has defied the odds."