A man splashed and ignited a bucket of gasoline in a moving bus Sunday evening, sending four passengers and the bus driver fleeing the vehicle in flames, police said.
The 20-year-old suspect, Salim Amara, was arrested about a mile from where the Madison Metro bus burst into flames and swerved to a halt in the middle of a residential neighborhood on Madison's Southwest side.
The bus driver and passengers, ages 24 to 73, were fighting for their lives at University Hospital this morning.
"It's mind-boggling to see that bus and understand what happened to these people,'' Paul Larrousse of Madison Metro said shortly after the attack.
The heat was so intense inside the bus that the plastic roof melted and hung down, resembling icicles, Larrousse said.
Amara is suspected of boarding the bus Downtown and riding several miles before setting the fire as the bus drove west down Hammersley Road approaching Prairie Road at 6:30 p.m.
Police arrested Amara at 7:22 p.m. about a mile from the smoldering bus in the White Oaks neighborhood near Schroeder Road between Whitney Way and Gammon Road. Police said he appeared dazed and injured. He was being treated at University Hospital this morning.
Police said the man splashed the gasoline on or near a passenger, ignited the fuel, and the fire quickly spread. The bus driver heard a commotion, turned around in his seat and saw fire, police said.
Police would not speculate on a motive and did not know what charges would be filed.
"We don't know if he picked that person (the passenger) on purpose or at random,'' Madison Police Department spokesman Steve Beavers said.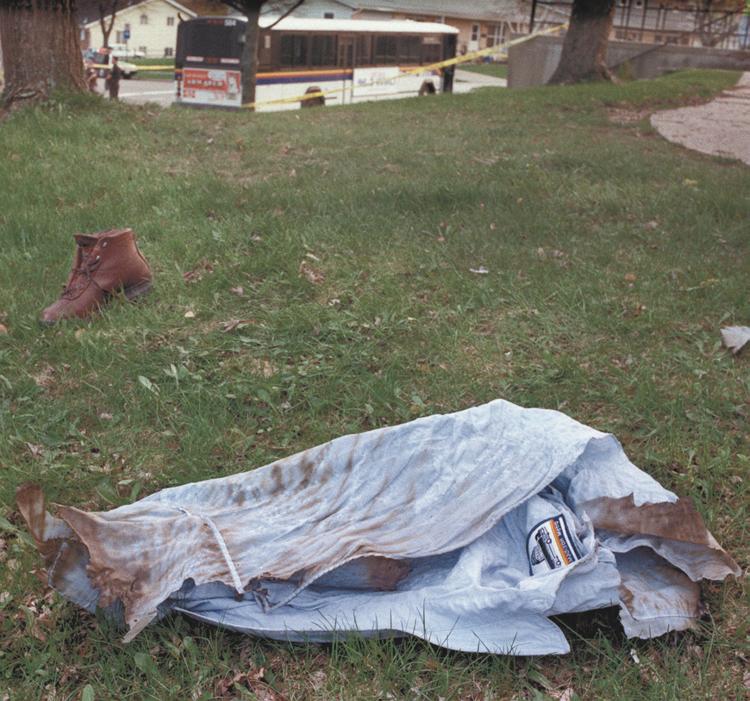 Charred tennis shoes, clothing and a blue blanket were strewn across the intersection and were lying on lawns shortly after the bus screeched to a stop. The scene was roped in yellow police tape and surrounded by a crowd of onlookers. More than two dozen emergency vehicles were on the scene. Several dozen police and firefighters were investigating.
Dominic Malliet said he was one of the first people on the scene after he heard an explosion and rushed out of a friend's home. He said he saw a man whom he believes was the bus driver struggling to get off the bus.
"He was completely ignited in flames,'' Malliet said. "The driver's seat was engulfed.''
Malliet said he and others yelled for the man to roll to the ground, and they covered him with a blanket.
Witnesses and police weren't sure how the other passengers got out of the bus or how many passengers were riding Bus No. 564 on a B-route through the Meadowood neighborhood to Hammersley.
Near the door of the bus, police used red spray paint to outline what appeared to be a book of matches and a large white bucket.
That bucket, filled with gasoline, was used in the attack, authorities said.
Before enough ambulances could arrive, residents aided firefighters and the injured. Fire Department spokesman Steve Dahlgren and other officials praised neighbors and passers-by for their efforts.
Malliet said he grabbed a fire extinguisher from off the bus and rushed down the smoke-filled aisle to make sure no one was still aboard.
Seven-year-old Kayla Kovacs was looking for a playmate in the otherwise quiet residential neighborhood near Hammersley Park when she spotted trouble.
"There was smoke coming up really fast'' from the bus, she recalled, snug inside her father's arms at the scene an hour after the attack occurred.
Kayla ran seven houses down to alert her father, Charles Kovacs, who arrived on the scene moments later with a fire extinguisher of his own. Charles Kovacs said he helped spray the fire and checked inside while his wife, Erica, helped a firefighter give oxygen to one of the victims.
"He was burned pretty much head to toe,'' Erica Kovacs said of the man she helped. "He was worried about his fiancee. I think she was on the bus, too.''
A shaken Madison Mayor Sue Bauman arrived on the scene about 7:30 p.m.
"I'm just totally blown away at this point,'' Bauman said. "We want to think this sort of thing can't happen here. I don't know what prompted it or anything about the individual. But to do something like this, something had to go wrong. I don't know what or how.''
Madison Metro spokeswoman Julie Maryott-Walsh said she knew of no threats to harm buses or passengers.
"My gut feeling is that this is a very isolated incident and that people don't need to be afraid to ride Madison Metro,'' she said. "We'll see what the investigation shows.''