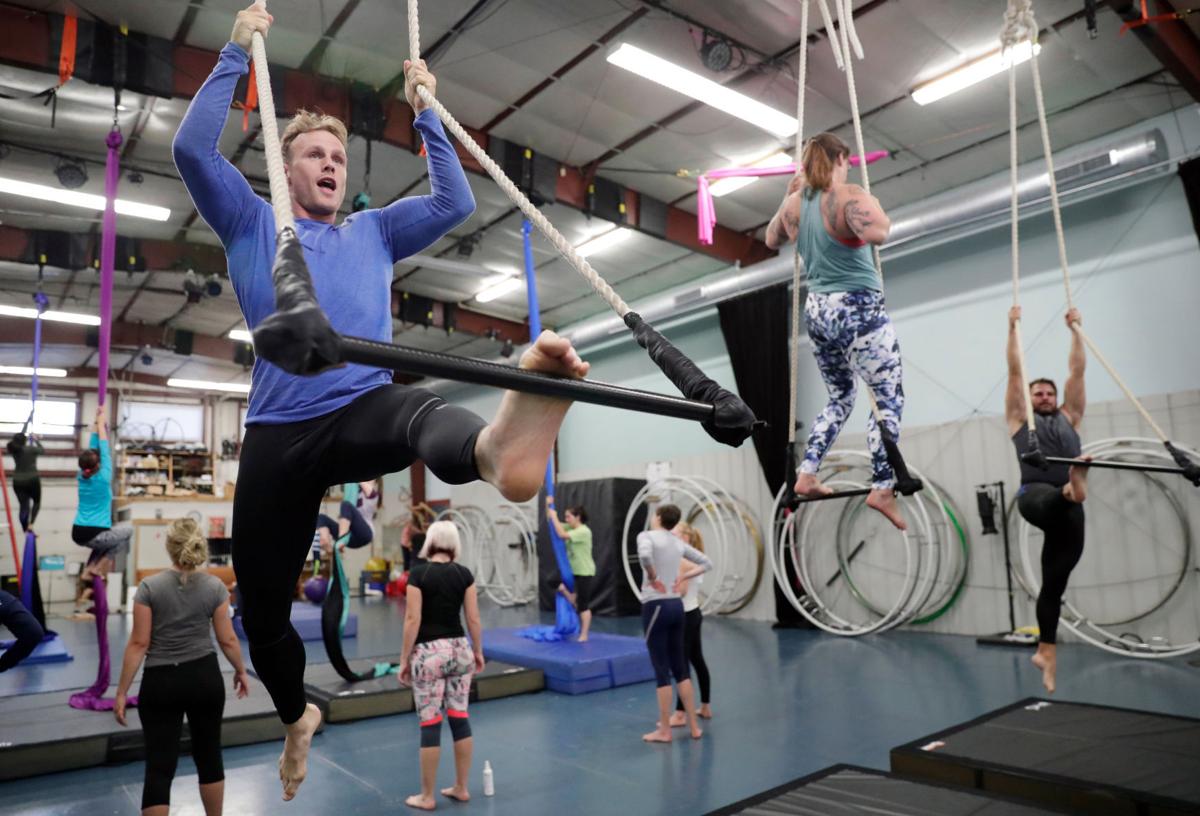 About two dozen people in two different circus arts classes, some hanging from strands of fabric while doing acrobatics or swinging from a trapeze, fill an old car dealership on an early fall evening.
Such a crowd was not unusual, said Madison Circus Space board member Josh Casey.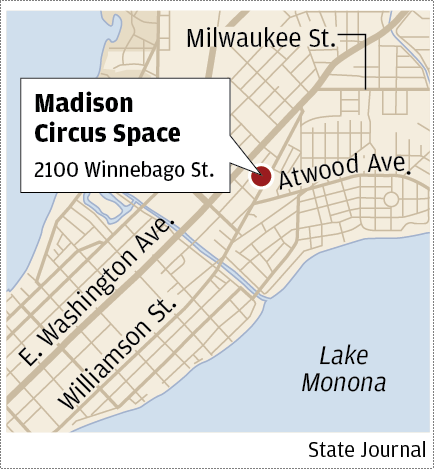 Just hours earlier, three classes — with a fourth waiting — shared room in the 4,800-square-foot used-car dealership and repair shop turned circus arts facility at 2100 Winnebago St.
In order to ease competition for space and overlapping classes — and with the impending demolition of their current home — Circus Space leaders are trying to raise $1 million for a new, larger facility specifically designed for circus arts.
The new facility will be part of CohoMadison, a co-housing development planned for the same site. The current site — part of a group of two buildings that includes Winnebago Studios and Sector67 — will be demolished to make way for the new development.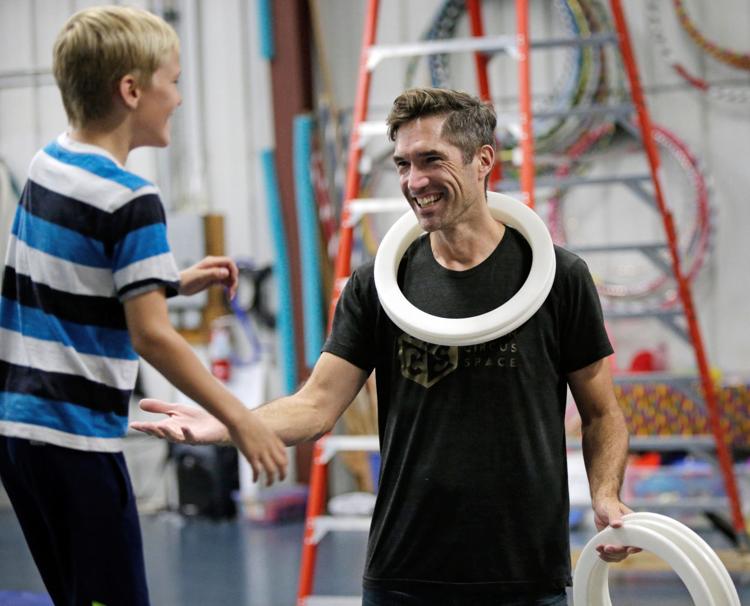 "It's very exciting for us. Being torn down and without a home, we didn't really know what would happen," Casey said. "The upside of that is we've kind of been bursting at the seams the past few years."
Like the old space, the public will be able to watch performances by members or traveling acts, take trapeze or German wheel classes and drop in to practice their juggling or acrobatics skills in the new, approximately 10,000-square-foot facility.
Unlike the old building, the space will be designed with the circus arts in mind.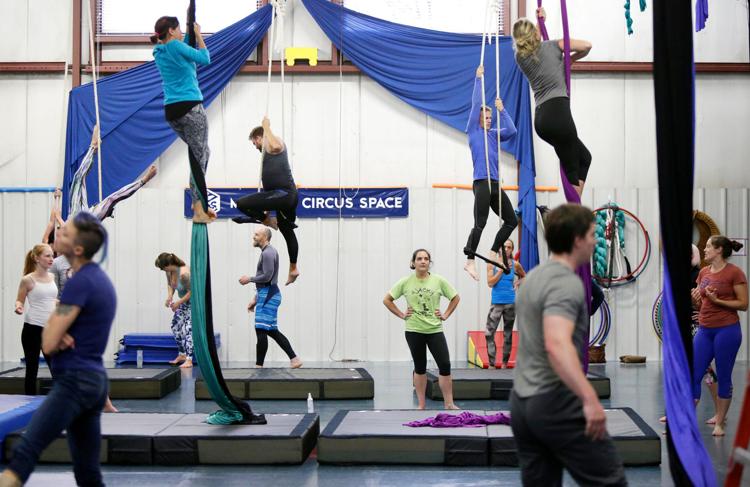 More spaces for dance classes and a higher ceiling for a high-flying trapeze setup will be part of the design, Casey said. He said the new building will allow them to expand class offerings and engage more youth.
"This new space is going to be something that gets us more opportunities to do more things," said Elly Craig, a 2016 junior national champion in German wheel. "Right now, Circus Space is incredible, but it's just a big room."
Craig, 18, of Mazomanie, has been practicing the German wheel — essentially a human-sized hamster wheel in which the rider can do tricks as the wheel spins or moves back and forth — seriously since about 2012, she said.
For Craig, practicing at the Circus Space with Madison's "wheeling" community was a big factor in her becoming one of the world's best German wheel artists.
"I seriously don't know where I would be without MCS," she said. "It's really become a second home for me."
Already, the group has raised $431,000. Casey said they've just started a public phase of their fundraising campaign that will include crowdfunding, a public event in the spring and attempts to break world records.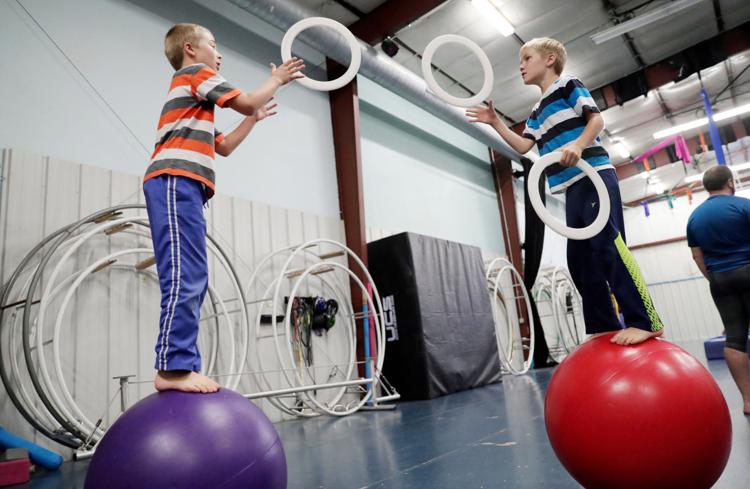 Since the space opened in 2013, the organization has grown from about a dozen members to about 60 today. Members, who can use the gym to train, plan shows and teach classes, pay $50 a month to use the space.
The space offers about 25 classes today, up from three when it opened, Casey said.
As demand for the space has increased, performers and groups have struggled to find space to rehearse their routines, waiting lists for classes have grown and more classes have started to overlap, according to the Circus Space.
In some cases, Casey said, people wanting to attend public shows have been turned away because of limited space to watch performances. In the new space, there will be more room for spectators, he said.
While there are other area circus arts troupes, like Cycropia, and chances for children to learn about the circus through Wild Rumpus camps, Casey said the Circus Space, a volunteer-run nonprofit, is unique because it allows a wide variety of people to participate in circus-related arts.
The closest similar models are for-profit circus schools, he said, and the nearest space dedicated to circus arts is in Chicago.
"The more we travel around, the more we realize how unique and special the Madison Circus Space is," Casey said. "Our model that we've created is very Madison and unique. ... We are a conglomeration of these niche communities that have come together."
Brad Hinkfuss, president of the president of the Schenk-Atwood-Starkweather-Yahara Neighborhood Association, said the Circus Space has added to the area's artistic offerings.
"What's great about things like the Circus Space is it provides meaningful and creative opportunities to engage not only our youth but people of all ages," Hinkfuss said. "To have that be a part of your neighborhood is great."
Although they could maximize profits by not including artists in redevelopment plans, Adam Chern, partner at Accipiter Properties, which owns the current cluster of buildings and is the developer of the co-housing project, said they were kept in mind when designing the project.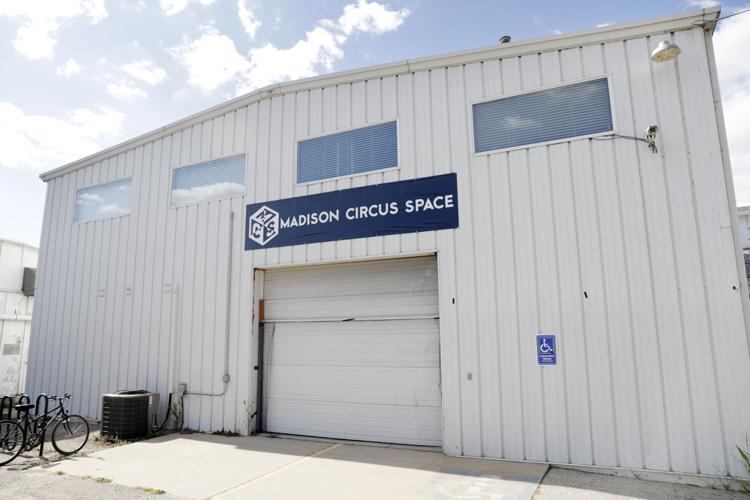 The new space is being developed as a "build-to-suit" building, he said, with the plan for the Circus Space group to eventually own the facility.
"We value what happens in these spaces. ... It's been our goal to approach redevelopment in a positive way that preserves those artistic uses," Chern said. "There's definitely been commentary about how it must be difficult to have so many artists as tenants, but it's been nothing but pleasant."
Construction timelines are preliminary, but Chern said construction is expected to start in 2018. The project was approved by the Madison City Council last week.
Casey said Circus Space hopes to move in a few months after construction begins and hopes that most of the work on the new building can be completed before tearing down the current space to minimize the amount of time without a space.
[Editor's note: This story has been updated to reflect a correction. The original misstated the number of buildings that will be torn down to make way for the new Circus Space and co-housing project. Two buildings, not three, will be torn down. Those include a building in which Ford's Gym leases space for storage. However, the main Ford's Gym facility at 2114 Winnebago St. will be unaffected.]
Be the first to know
Get local news delivered to your inbox!