Daniel Sandlin was relying on a tarp-covered tent, portable heater, blankets and the company of two dogs Tuesday to keep from freezing as temperatures hovered around zero at an illegal Far East Side campsite he often shares with his mother.
"It's just cold," Sandlin, 23, said about sleeping outside. "We have family around, but we don't have nobody really we can go to."
Madison homeless advocates said that with potentially deadly wind chills Tuesday through Thursday, there will be shelter space available this week for anyone who wants it both at night and during the day.
"It's crowded but it's available," said Karen Andro, who runs the homeless ministry for First United Methodist Church.
Jeff Turk, media director and board member for Friends of the State Street Family, said that since the forecast became clear last week, his group has been checking in on Downtown's homeless and urging them to get to shelter.
From their offices on Thierer Road on Madison's Far East Side, Ben Jackson and Will Brewer — both outreach workers and case managers with homeless services agency and shelter provider Porchlight Inc. — have been doing much the same thing with those, like Sandlin, who are living out of tents in little-noticed woods near commercial and industrial areas.
"We'll be checking in on the folks, bringing out liquid propane to them," Jackson said. The liquid propane tanks are for the portable heaters Porchlight provides with money from First United.
Forecasters with the National Weather Service were calling for lows Tuesday and Wednesday night of minus 27 and minus 31 respectively, with wind chills Wednesday ranging from minus 45 to minus 55.
On Tuesday, an emergency shelter set up by First United Methodist Church Downtown was bustling with people who needed a place to stay, volunteers managing food services and day care services, and partner organizations dropping off food and supplies like diapers, baby wipes and hand warmers.
Andro, who manages the emergency center, said the programming is intended mostly for families and single women, but anyone in need is welcome, she said. The hope is to provide not just shelter, but some extra stability to families who would have to deal with the stress of not knowing how or where they could keep their children warm.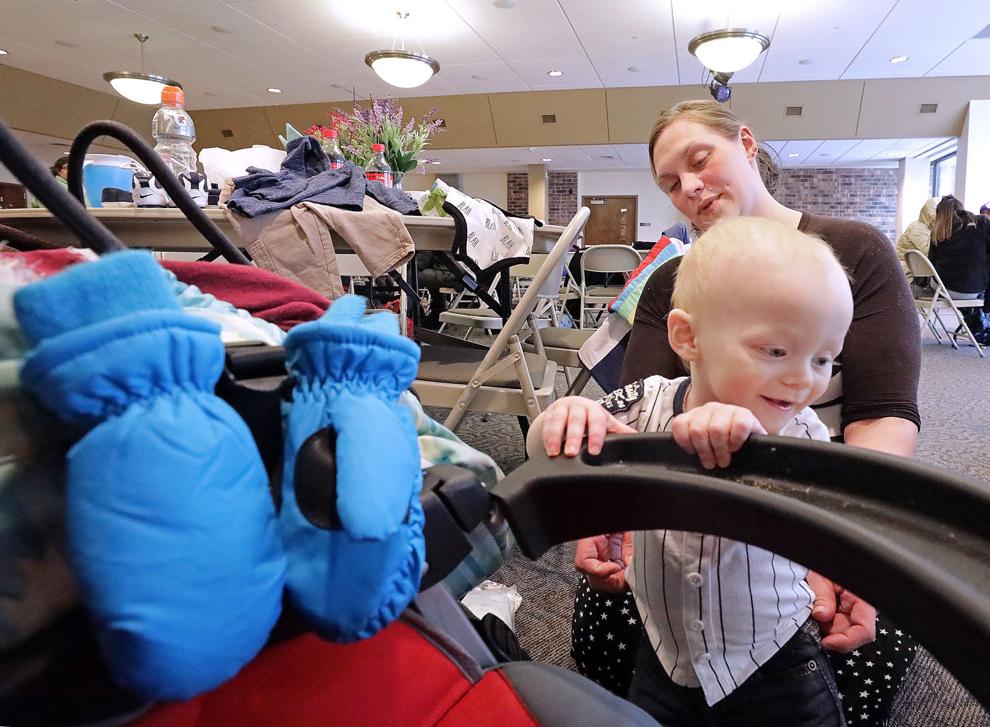 The church has set up cots with blankets for visitors who need to sleep or unwind. Volunteers include barbers, musicians and medical providers.
Coretta Vanhook, 52, has been homeless for about three weeks and staying at The Salvation Army women's overnight shelter for that time. She took a shuttle bus from The Salvation Army to the church Tuesday.
"I just didn't have anywhere else to go," Vanhook said. "It's a miserable situation to be in, and the weather just makes your situation even more terrible."
The First United center is working as an extension of The Beacon, the city's homeless day resource center. Normally, those using the church's space would use a room set aside for families, but with the extreme weather, more people have been filing into The Beacon for shelter, causing the overflow.
Partnerships paramount
Joel Girard, a homeless services specialist, said The Beacon is seeing about 50 to 100 more people than on an average day.
Run by Catholic Charities in partnership with Dane County, the city and the United Way of Dane County, The Beacon has been a central point for coordinating services, working with The Salvation Army, Porchlight and other overnight shelters to keep people out of the cold. It is also managing shuttles between shelters and day centers.
The partner organizations bring food and cold-weather necessities like hats, gloves and socks to hand out. Volunteers have also been calling both Andro and The Beacon to help out.
Jeanne Erickson came to volunteer at the church to manage its nursery area from Today Not Tomorrow, a local nonprofit providing services to families in need. About a dozen children and even some infants played or napped in the nursery or in the fellowship hall at the church Tuesday. Erickson said offering the nursery gives parents some respite to know their children are safe.
"I would love to see it 12 months out of the year, not just when it's 60 below," Girard said of the outpouring of support.
Kat Koski, who has been homeless for more than two months with her daughter, her daughter's fiance and grandson, also called on others for help. She said compassion and generosity stopped with the holiday season. Koski said she was glad First United opened its doors for the homeless.
"It shows people have hearts still," Koski said. Without the emergency shelter, she said she and her family would have either stayed in the library — where they are sometimes told they have too many bags to stay — or riding on Metro Transit buses to stay out of the brutal wind.
Different kinds of shelter
Counts of local homeless from January and July 2018 found 614 and 640, respectively, although most of them were in shelter. The vast majority want permanent housing, advocates say.
Rufus Miller, 66, who goes to The Beacon regularly and was there Tuesday, said he's been trying to find housing for a long time. He's been homeless for about three years.
"We need help here. We need affordable housing," Miller said.
There are still some, maybe 15 to 20 people locally, who prefer to live outside, Jackson and Brewer said. Jackson took a Wisconsin State Journal reporter by four of their campsites in wooded areas on the Far East Side on Tuesday.
"A lot of it's mental illness," Jackson said of those living outside. "You're dealing with people who are smoking crack, smoking meth, doing heroin, extreme alcoholism."
Some people choosing to live outside can be extremely resourceful, he said, noting one campsite he came upon where working solar panels had been installed. Many have legitimate concerns about being victims of theft or assault while in temporary shelter, he said.
Stanley Ott, 70, was among those who said he preferred living outside.
"I am set up very wonderfully here," said Ott about his campsite near some railroad tracks in an industrial part of the Far East Side.
Ott said he's a Vietnam veteran who gets about $3,900 a month in Social Security and disability payments for his PTSD diagnosis.
"God gave me this paradise to live in for no more than generator gas," he said. "I can ride out the cold snap no problem."
Andro said that under state law, it's possible to get homeless people who clearly present a danger to themselves or others into treatment or into shelter, but it all depends on "the severity and the timing" of the situation. The best thing to do in such situations is to call 911, she said.