Floodwaters were receding under long-awaited sunny skies, but on Monday as temperatures warmed another problem emerged from Madison's lakes: a resurgence of bacterial algae blooms.
With higher temperatures and calm winds forecast for the rest of the week, the algal scum could spread and add to the lakes' woes after a summer in which bacterial outbreaks caused a record number of beach closings.
The underlying cause of hazardous bacterial blooms is an overabundance of the nutrient phosphorus. Rain has been carrying phosphorus off farm fields and city streets for many decades.
Algae outbreaks aren't unusual this time of year. As the water starts to cool and sink, nutrients that have built up near lake bottoms can start rising toward the surface, setting off explosions of what scientists call "cyanobacteria" — commonly called blue-green algae.
But heavy rains that fell across the Lake Mendota and Lake Monona drainage basins Aug. 20 almost certainly washed a big new load of the fertilizer into the water. Monday's blooms were likely a result of that storm runoff, said Public Health Dane County and Madison program manager Kirsti Sorsa.
"We often see cyanobacteria blooms after storms transport nutrients into the lakes," Sorsa said.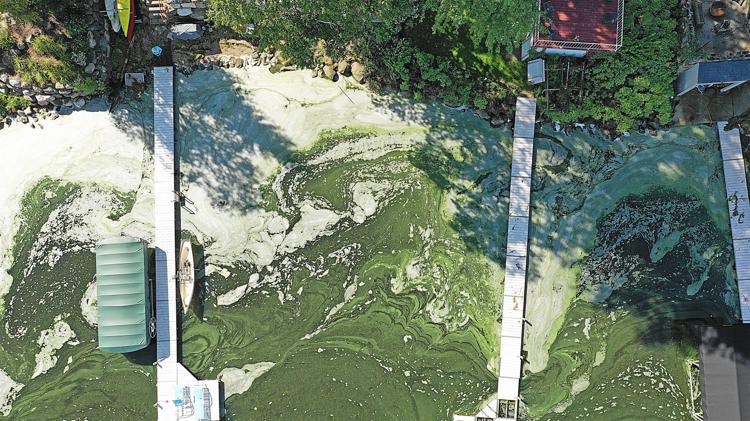 The public health department observed bacterial algae blooms Monday at James Madison Park on Lake Mendota and B.B. Clarke Beach on Lake Monona, Sorsa said.
The characteristic pea-soup green waters could also be seen on Lake Mendota near Spring Harbor and at the Marshall Park boat launch in Middleton.
The outbreak didn't require any new beach closings. All area beaches have already been closed since the flooding began because of the likelihood of contaminants and other hazards in the water.
There are many types of bacterial algae and only some cause illness. The public health department was analyzing water samples from B.B. Clarke and James Madison for toxins associated with algae, Sorsa said.
Public health officials recommend against people or pets wading into suspected algae outbreaks. The toxins can cause digestive, respiratory and neurological sickness along with skin rashes.
Richard Lathrop, a UW-Madison expert on freshwater lakes, said it will be months before analysis is completed to determine how much phosphorus the August storm washed into the water.
Lathrop said it won't be possible to say with certainty whether the phosphorus that fertilized the bacterial colonies seen Monday came from the recent rain, or if it had been in the lake all along.
"There's a lot of nutrients in the bottoms of the lakes already," Lathrop said.