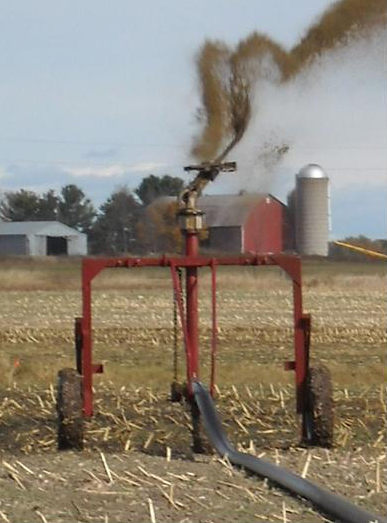 A group of residents fighting the growth of industrial farms in central Wisconsin is seeking to halt a practice by the big farms they say poses serious health threats: the application of liquid manure through aerial spraying.
Sustain Rural Wisconsin Network (SRWN), is asking a towns association to create a model ordinance towns could pass to stem the use of the manure spraying systems, which opponents say can expose neighbors to viral and bacterial pathogens found in untreated manure.
"These sprayers are being promoted as innovative technology," said Bob Clarke, president of SRWN, "when in fact they have the potential to expose the people to disease outbreaks, severe diarrhea, and growing antibiotic resistance."
Some towns — including the town of Rosendale, home to the state's largest dairy operation — already passed measures to ban the spray systems.
State Department of Natural Resources Secretary Cathy Stepp and Agriculture Secretary Ben Brancel recently wrote to the leaders of the Wisconsin Towns Association and Wisconsin Counties Association asking them not to discourage use of aerial manure application, despite health concerns.
"As leaders of your respective associations, we encourage you to work with your members to make sure they do not adopt local ordinances that restrict the use of approved and accepted technologies unless it can be documented and demonstrated that there are environmental or public health risks associated with them," Stepp and Brancel wrote.
Not 'shooting cow pies'
Wisconsin Towns Association Executive Director Richard Stadelman said it was unlikely he would recommend the association adopt a model ordinance towns could use to ban the practice of manure irrigation. He said there is a lot of misunderstanding
about how the process works.
"Some people think we're shooting cow pies way up in the air," he said. "We're not."
The DNR, which has come under harsh criticism from SRWN and other groups for not doing enough to regulate the applicators, has undertaken new studies of the aerial systems and their health impacts and is convening a group to consider new regulations.
Andrew Craig, a nutrient management specialist with the DNR, estimated there are about six large, permitted industrial-size farms that have the aerial application system — identical to an irrigation system — and are using it on a limited basis. He said one or two farms are using the application method regularly.
"It's not very common," Craig said, "but it's going to become more common."
Craig said there are two types of aerial applicators. One uses a center pivot system, identical to large irrigation systems, with downward facing nozzles. Another is a mobile system that looks like a giant lawn sprinkler and sprays the liquid manure more into the air than the center pivot machines. Manure is piped to both applicators via a pipeline from the farm. Craig said some of the underground pipelines run as many as five miles.
Currently, farms generally truck liquid manure to outlying fields and spread it directly onto the ground.
But Craig said aerial systems are less expensive for farmers and allow them to be more precise in how they apply manure to their fields and crops.
System is more precise
Mike Dummer, a grain and hog farmer near La Crosse, said he has used manure irrigation for nearly 25 years. He said a big advantage is that it eliminates the use of trucks and wear and tear on local roads. He also said it allows for precise application on crops even while they are growing.
"We're spoon-feeding the crops," Dummer said.
You have free articles remaining.
Even though the irrigation system is near some rural homes, Dummer said there have been few complaints over the years. "We work hard to be good neighbors," he said. "A lot of it is just common sense. A lot of times we spread at night when the wind is down and people have their windows closed."
Chief among the concerns from groups such as SRWN is that aerial application can result in pathogens from the manure being picked up and spread by the wind. The federal Environmental Protection Agency has identified 160 pathogens in manure capable of causing disease in humans.
And in a February 2011 letter to the DNR, the Wisconsin Division of Public Health cited an aerial irrigation study from the Idaho Department of Environmental Quality that warned the practice "may contribute to microbial risk under high wind conditions."
Also, research has shown manure lagoons on big farms contain antibiotics, which can be a factor in the potential increase of human resistance to antibiotics.
Craig said regulations already in place control some use of the aerial applicators.
For example, statutes require that the rigs not be used closer than 500 feet to an occupied home. Laws also control distances from wells and groundwater supplies.
Holes in state regulations
But critics such as Clarke say more regulations and oversight will be necessary. He said, for example, the DNR has no best management practices — rules that govern when and how the devices are used. For example, he said, there are no rules to stop a farmer from using one of the aerial applicators on a windy day.
Craig agreed there are some holes in the state's regulatory scheme, especially the absence of best management practices.
"That's one of the things we're trying to get a handle on," he said.
To fill in such gaps and to consider other concerns, a work group on the subject of aerial irrigation was formed by the UW-Extension. It will be made up of DNR and university experts, local government officials, farmers and representatives from concerned citizens groups.
This is the second incarnation of the work group; the first came under fire from Clarke and others for including operators of large farms but no citizen activists. That group first convened last fall and met a couple of times.
Craig defended its makeup, including the absence of any representatives from groups critical of aerial spraying and industrial size farms in general.
"We wanted to have a technical group to get a handle on what we were dealing with," Craig said. He added the meetings were open and people not on the panel were allowed to sit in on the two sessions.
In addition to participating in the work group, Craig said the DNR commissioned studies from UW-Madison on the pathogen content of liquid manure and the potential for the pathogens to be carried through the air.
Complaints drive efforts
Even with the agency's efforts to study and possibly boost its regulatory efforts, critics fear the DNR, hit hard by budget cuts and already behind in its inspection and permitting issues for other programs, will not be able to adequately oversee use of the aerial applicators.
Lynn Utesch, with SRWN, said he sees minimal enforcement on large farms in Kewaunee County and elsewhere in northeast Wisconsin.
"Who is going to be checking on these?" asked Utesch. "Right now it is very much a paper process. Any inspections that are done are due to citizen complaints."
Craig said the 12-person agricultural runoff staff has two vacancies. Even so, he said the agency has tried to increase its number of manure audits in which inspectors check to make sure farmers are following their manure management plans. He agreed, however, that the system is "mostly complaint driven."
"We're relying a lot on the contacts we receive from the public," Craig said.