There are boxes of pork shoulder, push carts stacked with containers of macaroni and cheese, seasoned pork ribs and key lime pie.
At least one cart was overflowing with packages of ground hamburger, while another held whole slabs of beef ribeye that can sell for over $150 a piece.
And all of it was outside, baking in the August sun next to the loading dock of the Middleton Costco.
This was supposed to be the week in which the 153,000-square-foot warehouse store celebrated its 10th year in operation. Instead, the store, which can draw thousands of people a day from around the region, is in the midst of a major cleanup and restoration after record rains cut power for over 14 hours and covered the floor with nearly a foot of water and sewage backup from Monday night into late Tuesday morning.
The store is far from alone.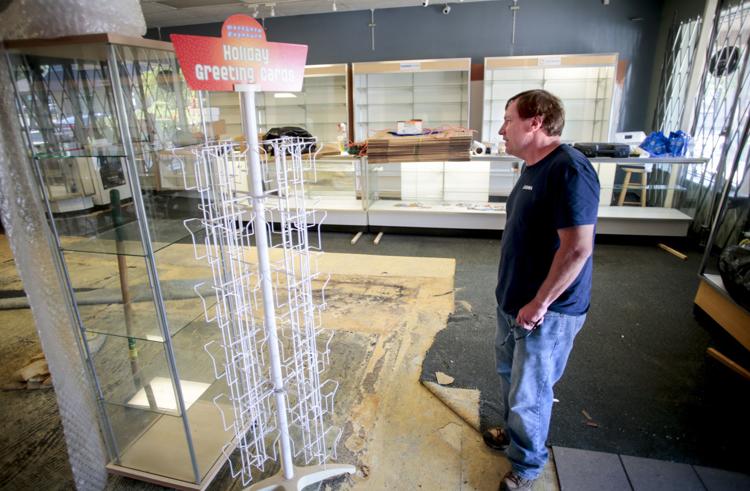 Most of the stalled vehicles that littered streets and roads in southern Wisconsin have been removed, but businesses throughout the region are dealing with the aftermath of the historic rain event. Carpet is being torn out and pitched along with soaked inventories. Wet vacs and dehumidifiers are running non-stop, and for many there is worry about how to pay for the damage that in most cases is not covered by insurance.
"Right now we're trying to sort through everything to assess the damage, but it could be $100,000," said Ward Lundgren, owner of The Camera Co. at 6742 Odana Road in Madison. The store does not have flood insurance.
"It's going to hurt. It's going to have a major impact," Lundgren said.
Lost were Nikon and Sony camera bodies, lenses and photo albums. Camera straps and picture frames dried on the sidewalk Wednesday while other inventory not touched by the water has been moved into storage or to the company's East Side location at 4232 East Towne Blvd., Lundgren said.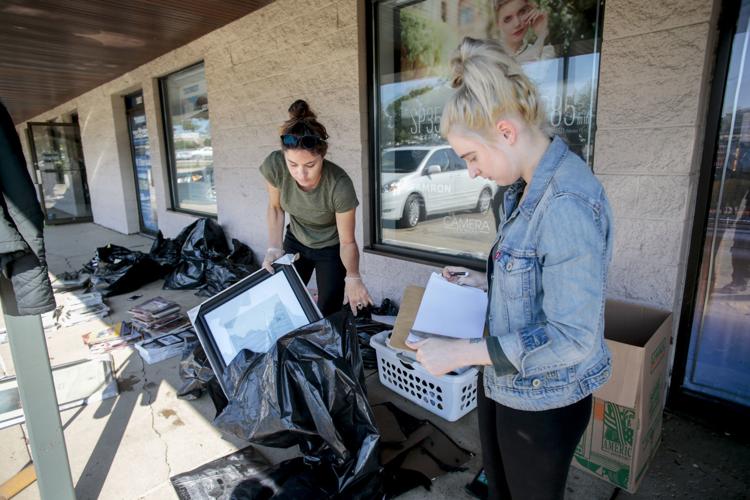 The store, and many other shops on the north side of Odana Road, back up to a large detention basin that doubles as soccer fields. But on Monday night, the continued deluge that dumped more than 9 inches of rain on the city's Far West Side filled the basin and spilled out over parts of Mineral Point and Odana roads. East of the detention basin, Schwoegler's Park Towne Lanes, 444 Grand Canyon Blvd., will need new lanes, according to a post on its Facebook page. Many of the shops in the strip malls along Odana Road had nearly 2 feet of water.
At Yuan Spa, a massage studio at 6716 Odana Road, owner Flower Du said her insurance will not cover the flood damage and she'll likely have to borrow $10,000 to $30,000 to make repairs to the business she opened in 2015. She'll need new flooring and massage chairs, but her massage tables were salvaged.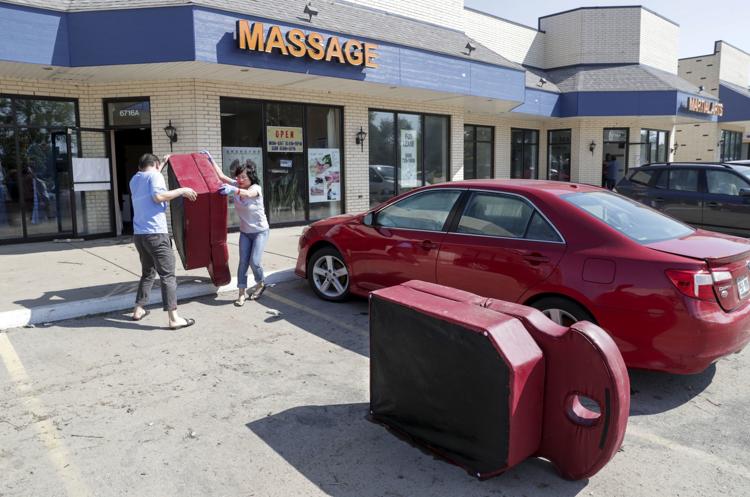 Losses not covered
Sohail Siraj opened Best Brains, a business that tutors students in reading, math, writing and other academics, in 2013. He lost books, paper records that had been stored in boxes on the floor and in filing cabinets, and may have to replace carpeting at his business, located in the White House Shoppes, 6710 Odana Road. He had not checked with his insurance agent as of late Wednesday morning.
"With a small business you have a limited budget," said Siraj, who also has locations in Sun Prairie and Brookfield. "I was not expecting how high the water would be."
Next door at Wisconsin Martial Arts and Fitness Center, owner Charles Dean, who teaches Karate and Brazilian Jujitsu to about 80 students, is unsure if he will have to replace the lower portion of his walls, but he knows he will have to replace carpeting. He was able to salvage his mats and equipment but lost televisions, gaming consoles and furniture in the lounge area for students and parents.
Dean previously had flood insurance but, unbeknownst to him at the time, his insurance company dropped the coverage from his policy last year. He was among those along the corridor who said it's time the city looked into the detention pond and its limits.
"If it backs up, it's going to happen again," Dean said. "I've got to be optimistic. That's how my students are and that's how my team is."
Many others hit by Monday's flash floods were likely also learning this week that their losses were not covered by insurance. In Madison, just 145 properties are covered by the National Flood Insurance Program, according to the Federal Emergency Management Agency. The village of Cross Plains has 17 properties in the program, while Mazomanie has 23 properties enrolled; both were hard hit by flooding Monday. In Middleton, 21 properties are in the program, but it was not known Wednesday whether Costco was among them.
On University Avenue, a common spot for flooding, the Whole Foods Market is closed and won't reopen until at least Monday, according to the company. All phone calls to the store were being transferred to the Milwaukee store, and a person who answered said the store had suffered water damage and electrical problems.
Costco management in Middleton declined to comment Wednesday, and messages left at the company's headquarters in Issaquah, Washington, were not returned.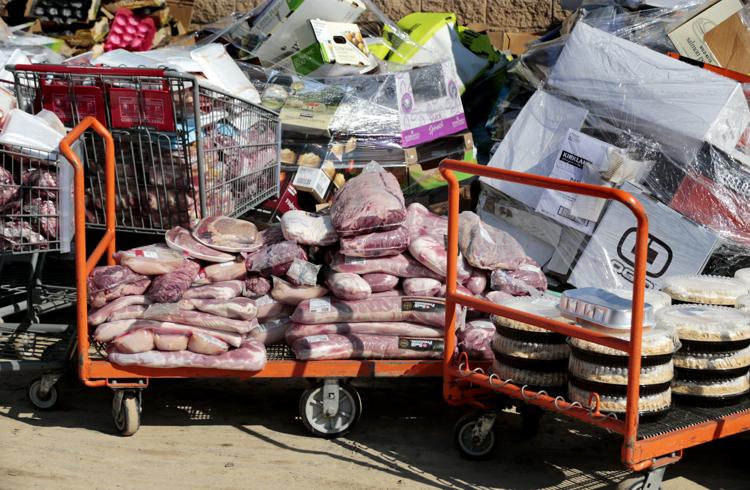 Camping out
But for Collin Jahnke, the store, known for its free food samples, rotisserie chicken, big-screen televisions and walk-in vegetable and fruit cooler, became a refuge. Jahnke and about 60 others who became trapped in the area by the rising waters spent the night with about 20 Costco employees sitting on sofas and sleeping on mattresses in the second-floor break room. Some employees kept their feet out of the water by sitting on the checkout counters while taking a break from providing their overnight guests with an unlimited supply of popcorn, muffins, energy bars, bottled water and dry clothes.
"We just thought we'd have to sit it out a little bit," said Jahnke, who lives near Capital Brewery in Middleton. "They took a (crummy) situation and made it semi-enjoyable because they always remained calm, they were well organized and constantly were checking on people."
Jahnke isn't even a Costco member. He had gone to Monk's Bar & Grill with his girlfriend, Raechel Ramirez, but after leaving the restaurant their car stalled in standing water. They pushed the 2013 Dodge Dart into the Costco parking lot at about 8:30 p.m., moving it two more times to keep out of the path of the water. At about 10 p.m., employees from the store, which had closed around 6 p.m. after losing power, began asking people in the parking lot to come inside. That included some who had earlier been rescued from high water by the Middleton Fire Department.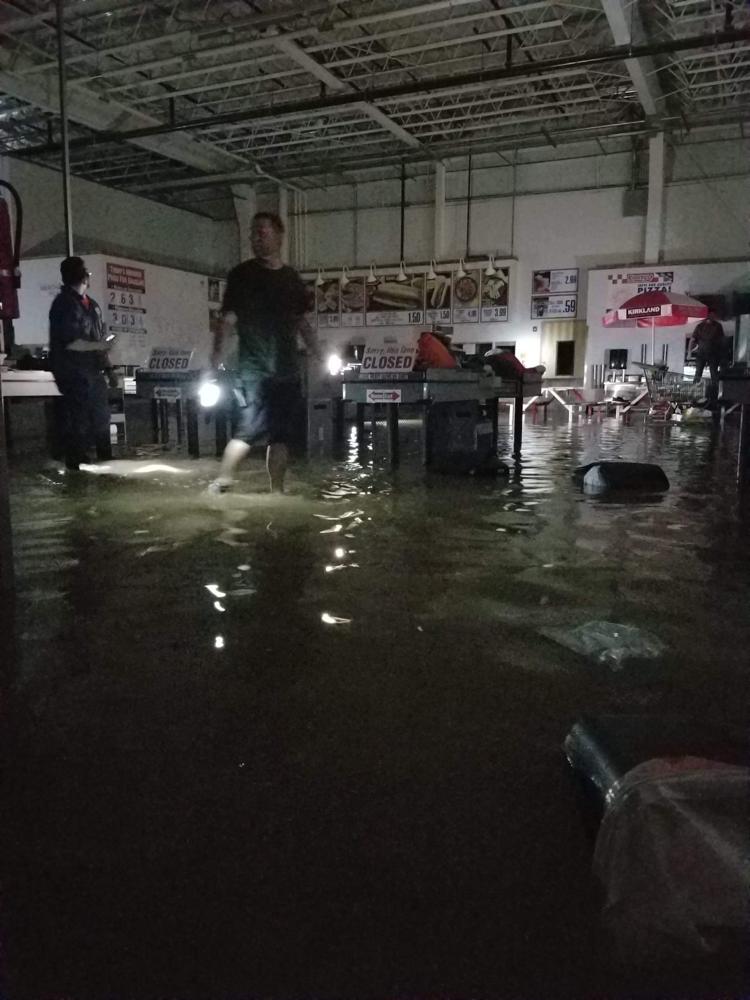 Water began coming in the front door of the store at around 10:30 p.m. but later began seeping in around the base of columns and small cracks in the foundation. The main bathrooms also backed up, Jahnke said.
"The smell was just rot. That's the best way to describe it. A sewage and rot smell," said Jahnke, 27. "I went nose-blind. I grew accustomed to that smell."
Jahnke said he slept for only about a half-hour. Throughout the night they could hear shelves collapsing. The store was dark without power and they left at about 8:30 a.m. out a back door to walk to nearby Ball Body Shop, where Jahnke is an estimator.
Jahnke grew up in Sauk County and is used to flood advisories but never expected to see this kind of event in an urban area. He also will have a new place to shop.
"I never thought I would be in danger until Monday," Jahnke said. "I will most definitely get a membership."