LONE ROCK — Gary Ilminen's passion for motorcycles began with a minibike.
It was the late 1960s in Hurley, a northern Wisconsin community on the Michigan border famous for its snowmobiling and skiing cultures, lumber and mining history, countless taverns and streets named after rocks and minerals like taconite, gold, copper, granite and hematite.
But for the teenage Ilminen, the washboard-like dirt roads and forest paths of Iron County were the draw. This is where Ilminen modified the governor of his 1968 HPE 2501 Cat Mini-Bike to push its top speed to 35 mph, about 10 mph faster than the manufacture's setting.
He had no idea at the time that he'd reach higher speeds, own several motorcycles and develop a craving for salt.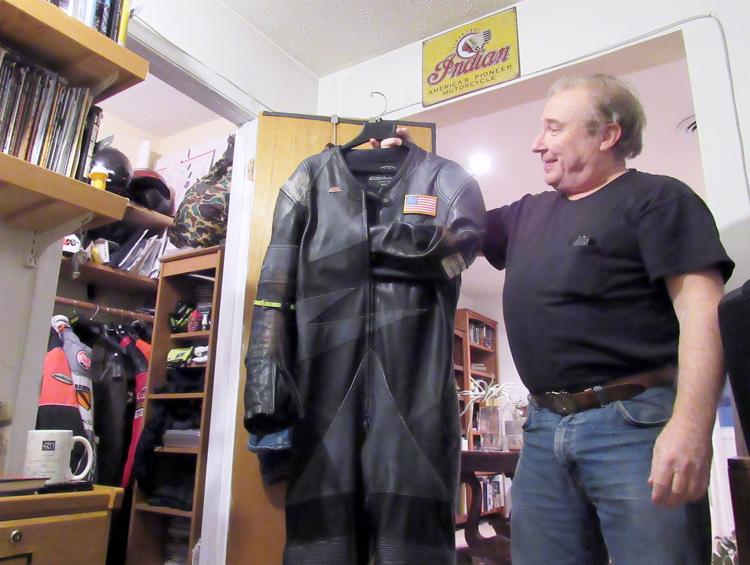 In 2014, Ilminen — a nurse, author and historian — used a 1974 Honda 350 four-cylinder motorcycle — which he purchased in 2010 at an estate auction in Viroqua for $600 — to set a land-speed record at the Bonneville Salt Flats of western Utah. Wearing a one-piece protective leather suit he nabbed for $30 at a resale shop in Mazomanie, Ilminen slowly throttled his bike to hit 80.102 mph, a record for a production class motorcycle of its size.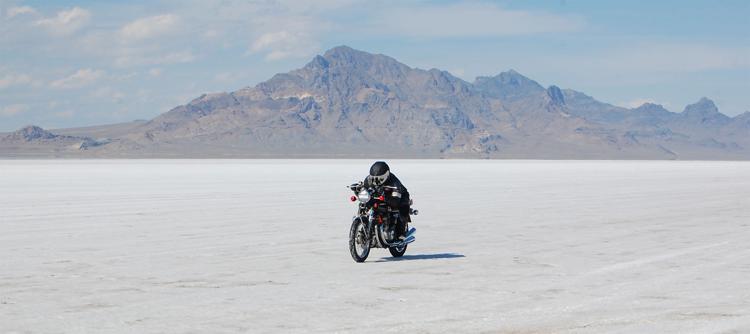 "The salt feels really rough," Ilminen, 62, said last week as we stood in his Lone Rock garage that is home to 11 motorcycles. "They caution you 'don't accelerate fast, don't change direction fast and don't slow down fast. Do everything real gradual.' That's why the short course I ran on was 5 miles long." 
Ilminen, a frequent contributing editor to national motorcycle publications, has written a book about his adventure that included three other prior trips to Bonneville. The 88-page book, released in September by TouchPoint Press, recounts his record run, the restoration of his bikes and a bit of history about the Salt Flats and efforts to preserve the landscape there.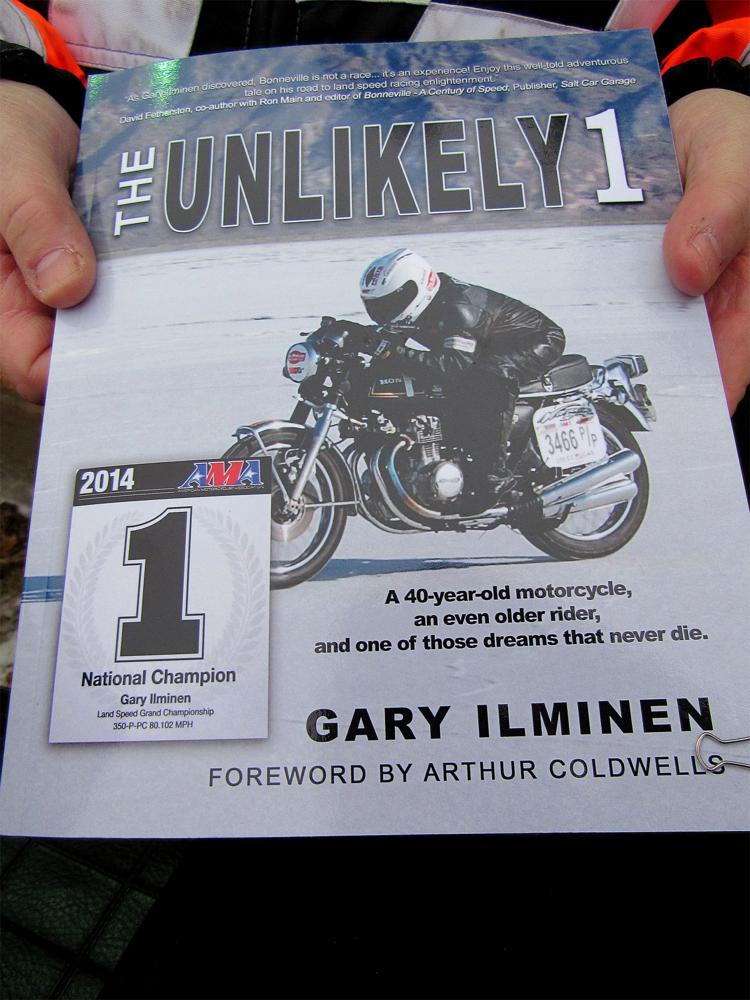 The book also sheds light on the motorcycle culture of the Madison area with mentions of Bill Whisenant, owner of Motorcycle Performance on University Avenue, who rebuilds Ducatis he races on the Salt Flats, and Vetesnik Power Sports in Richland Center. There's also a back-cover blurb from Peter Egan, an Elroy native, Vietnam War veteran and UW-Madison graduate who has written about cars and motorcycles for Road & Track and Cycle World magazines and lives near Cooksville, just south of Stoughton.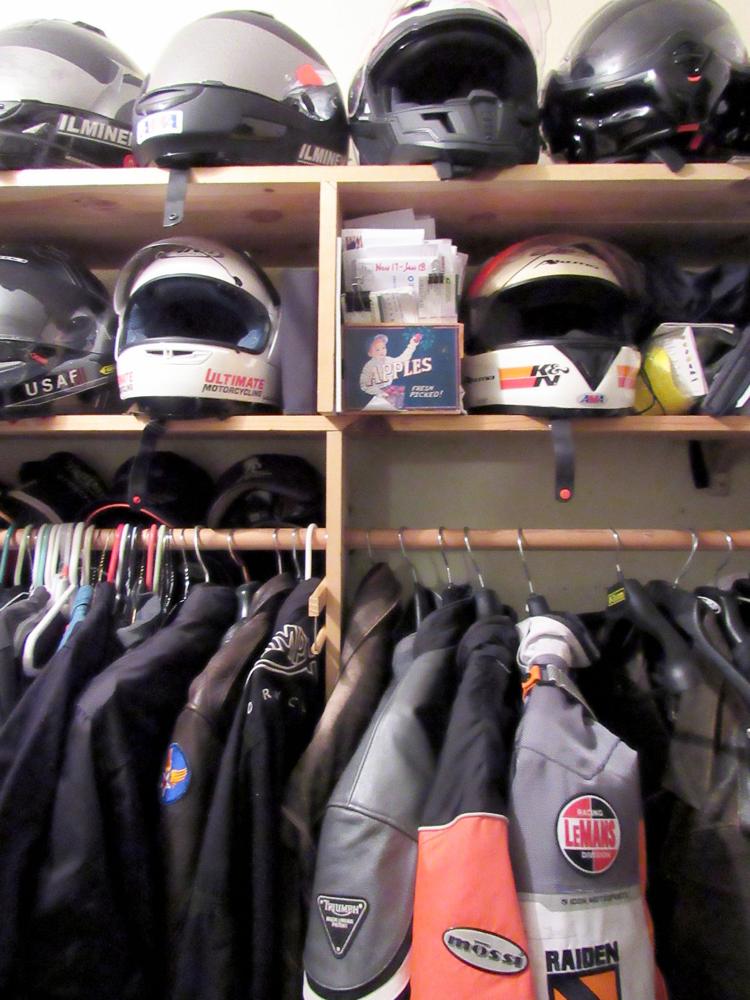 "Like all the best motorcycle books, it makes you want to get out there and try it yourself," Egan wrote.
But the book is also about not letting age get in the way of achieving a dream. Ilminen's was formed in 1970 when his brother, Randy, brought home a copy of Cycle magazine that featured stories and photographs from Bonneville. On the cover of the magazine was a rocket-like ship and its driver posing on the barren landscape.
You have free articles remaining.
"Don't abandon dreams just because you get older," Ilminen said. "I found my self standing on the salt at age 59. There's a lot of inspiration there."
Bonneville has been a destination for speed freaks for over 100 years. Many picture rocket sleds that can top 1,000 mph but the American Motorcycle Association hosts the AMA Land Speed Grand Championship, also known as the Bonneville Motorcycle Speed Trials, at which Ilminen set his record. According to the AMA website, classes are determined by engine displacement, modification levels and various degrees of streamlining. The event allows hundreds of competitors on bikes ranging from 50cc minibikes to 3,000cc monstrosities a chance to clinch records sanctioned by the AMA and Fédération Internationale de Motocylisme.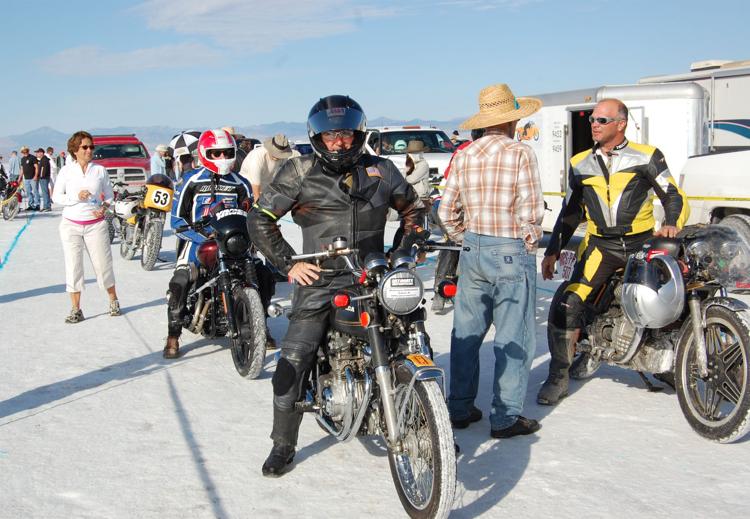 "Speed racing is one of the few motor sports where you can be a yocal like me with no budget, no big money and no big sponsors and go out there and have a legitimate shot at a world record or a national record," Ilminen said. "And I'm living proof."
Ilminen works out of his house as a clinical quality analyst where he reviews medical records for Optum Services, a Tennessee health care company, and spent six years writing a book on health care best practices that was published in 1999. He also is an associate online editor for Ultimate Motorcycling magazine and has written for other publications about the Black Hawk War and Chief Black Hawk.
Ilminen has a degree in mechanical design and drafting from Gogebic Community College in Ironwood, Michigan, and spent 10 years in manufacturing that included stints with Wick Homes in Mazomanie and Cardinal Glass in Spring Green. He changed course, returned to school and in 1987 earned an associate degree in nursing that has led to what is now a more than 30-year career in health care.
That's how he met his partner of 22 years, Jacci Shauger, a hospice nurse in Baraboo. They share a home together that includes a 24-foot-wide by 36-foot-long garage that now stores two Harley-Davidsons, one Triumph, seven Hondas and one Yamaha amid the snowblower and lawn mower. There's also a 1979 Sno Runner, a cross between a snowmobile and motorcycle that's designed for snow. The 25-foot workbench is jammed with tools and parts and much of the garage's ceiling is covered with flags, signs and posters. One is from the 2005 movie "The World's Fastest Indian," the story of Burt Munro, a New Zealand man who spent years rebuilding a 1920 Indian motorcycle and in 1967 set a land-speed world record at Bonneville.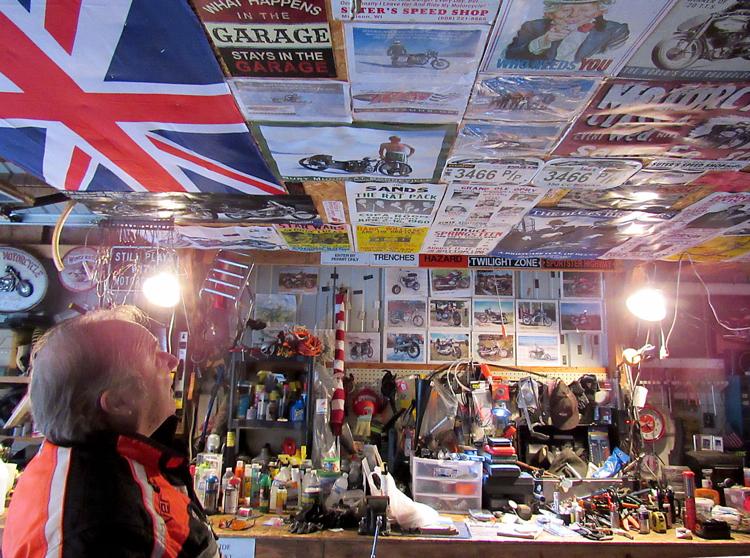 Shauger, who had no idea about Ilminen's motorcycle obsession when they first met, has been instrumental in helping with the logistics of Ilminen's four trips to Bonneville and took many of the photos in the book.
"Bonneville isn't what you think it is. You think it's just these guys out there for speed," Shauger said. "There's just a whole lot of stuff going on. If someone needs a part you hear it on the loudspeaker. It's just a whole different world and everybody helps everybody."
Ilminen's first trip to Bonneville was in October 2009 when he used his restored Honda V30 Magna with a 500cc, liquid-cooled V-4 engine to hit 104.5 mph but was short of the record in its class of 112 mph. In April 2010, Ilminen returned with the Honda 350 and set an initial record of 72.6 mph only to see it eclipsed later in the competition. In 2012, he again used the V30 Magna bike with hopes of topping 113 mph but wind and rain closed the course and prevented Ilminen from competing.
The fourth trip to the Salt Flats was in August 2014 when Ilminen paid $750 to enter a new class, a 350cc Classic Production class. Ilminen's first run hit 80.2 mph, 6.2 mph faster than his best speed in 2010. On the second run he hit 79.9 mph for a two run average of 80.1, a record that still holds. Shauger also hit it big that day winning $678 on penny slots at the Rainbow Casino in nearby West Wendover, Nevada.
The bike has been retired but Ilminen still takes it out on day trips through the Driftless Area that includes the Lower Wisconsin State Riverway. He's even added saddle bags.
"At some point the record speed will be broken — records are made to be broken — and the cycle of rewriting history will continue," Ilminen writes in his book's epilogue. "That will be a happy day for me and the new record holder; it will mean somebody else's dream has come true at that place of legend."
"Speed racing is one of the few motor sports where you can be a yocal like me with no budget, no big money and no big sponsors and go out there and have a legitimate shot at a world record or a national record." Gary Ilminen, motorcycle racer
Barry Adams covers regional news for the Wisconsin State Journal. Send him ideas for On Wisconsin at 608-252-6148 or by email at badams@madison.com.