HAZEL GREEN — We were likely in Illinois as we searched the grass for Wisconsin's Point of Beginning.
This was the spot on the west side of the Fourth Principal Meridian, where a surveyor more than 185 years ago began mapping the state to create one-mile square sections that would create hundreds of townships throughout what was then part of the Michigan Territory.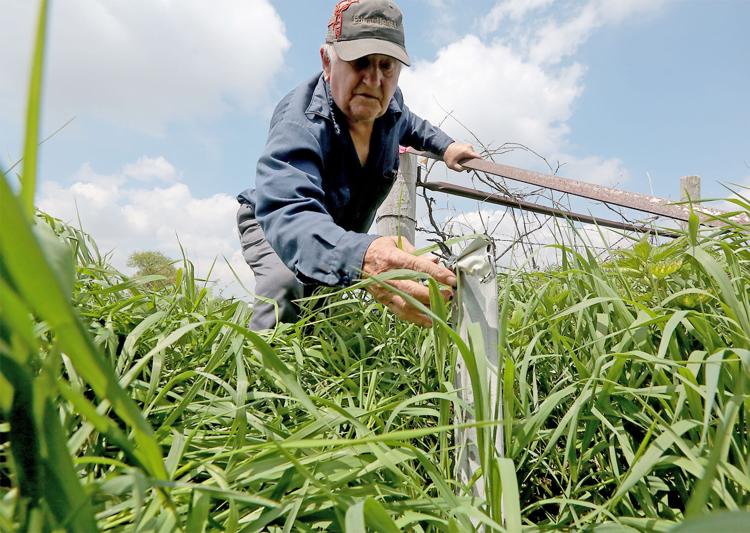 Today, every property deed in Wisconsin includes a description based on the first survey marker set here in 1831 along what is still a narrow gravel road on the state line. A Wisconsin Historical Marker along Highway 80 a half-mile to the west explains the Point of Beginning, but we wanted to see the actual spot, which turned out to be barely visible in the tall green grass next to a cornfield.
"I would say that is it," quipped Wayne Pearce, a lifelong resident of Hazel Green who, along with his wife, Glenda, served as our tour guide. "It's not a very good marker, is it?"
But at least it's marked.
We came to Lafayette County not in search of the state's beginning but to get a look at Rustic Road 66 that this month came close to becoming history itself in a debate over inadequate road funding, local control and the benefits of tourism.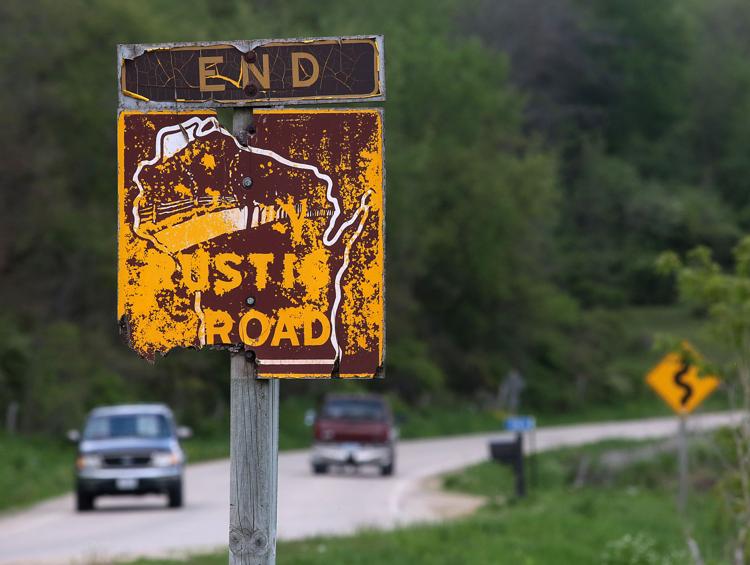 The town of Benton told the state's Rustic Roads Board late last year that it would not spend money to install signs supplied by the state to mark RR-66, a 7.5-mile collection of four roads just north of the Illinois border and east of Hazel Green. Kennedy, Buncombe, Ensche and Beebe roads show off historic lead mining sites, old railroad beds and the Fever River. It became part of the Rustic Roads program in 1993 with the town and village of Benton working together to install roadside signs provided by the state.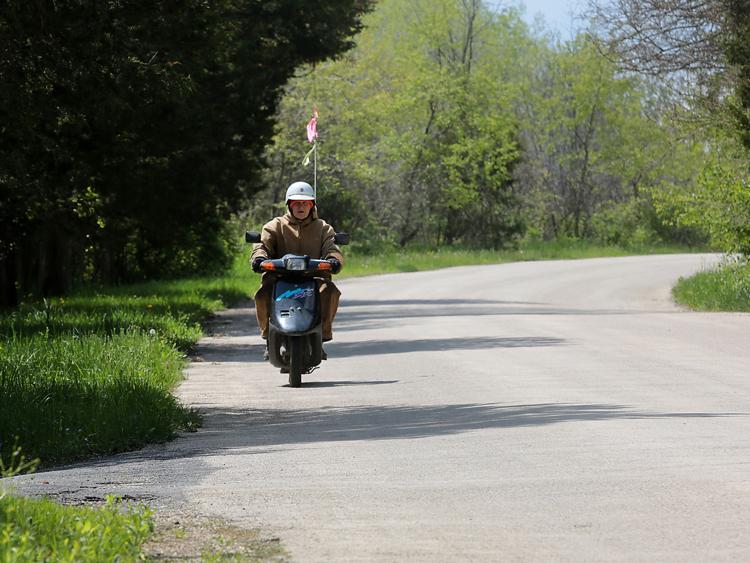 Over the years, most of the signs that mark the roads of RR-66 have disappeared, been vandalized or simply rotted away off their posts. Over the same time, state aid for road maintenance has dwindled and budgets to maintain town roads have become increasingly tighter for town governments. And with the town seeing little monetary return from the Rustic Road system, the town board declined to continue its participation.
"Nobody ever left us any tips or anything," said Don Simon, 79, Benton's town chairman and a retired grain farmer. "We're strapped for money. Our costs for maintaining roads are going up and what we get isn't. So we're in a pretty good bind. Keeping the roads up is our first priority."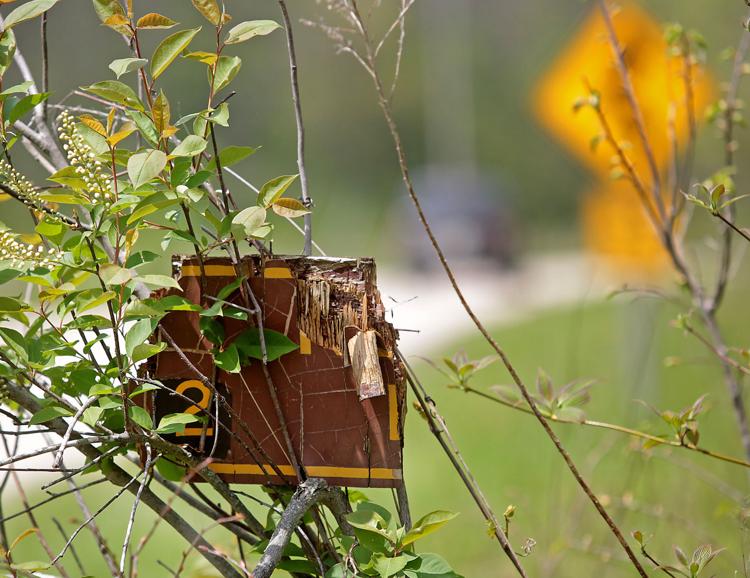 The state's 120 Rustic Roads showcase all that is rural and scenic, range from under a mile to 37 miles in length, cover 724 miles through 59 counties and are marked with — what has become over the past 42 years — familiar brown signs with yellow lettering.
The 10-member Rustic Roads Board was ready to vote earlier this month to remove RR-66 from the program but in a last-minute reprieve, the state Department of Transportation's sign division changed its policy and will now pay for the installation of new Rustic Road logo signs throughout the state, said Jane Carrola, coordinator of scenic byways and Rustic Roads for the state Department of Transportation.
You have free articles remaining.
A Rustic Road was not removed from the program in Carrola's more than 25-year tenure, but she believes there may have been one or two removed prior to her arrival. Corrola, who retired about 10 days ago, is hopeful the change in sign policy will temper concerns of town governments around the state that will no longer have to choose between filling potholes and chip-sealing or putting up signs marking Rustic Roads.
"I think it's a win for the local governments and a win for the Rustic Roads program," said Corrola. "I do look at this as a choice program. Roads, like people, mature, situations change and so once in a while this might occur. But overall the Rustic Roads program is very popular."
The program was created in 1973 by the state Legislature "to preserve what remains of Wisconsin's scenic, lightly traveled back roads." To be approved by the 10-member board, a Rustic Road needs to meet criteria including natural features, native vegetation, vistas, speed limits of 45 mph or lower and limited development or improvements.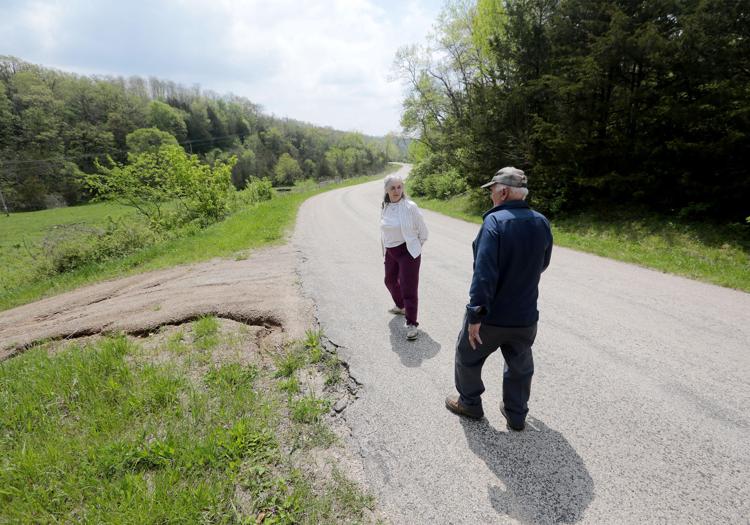 About one-quarter of the roads in the program are gravel. Two members of the board also drive the nominated roads independently before a vote is taken, Corrola said.
The most recent additions are RR-118, a 26.3-mile loop in Forest County through the Chequamegon-Nicolet National Forest, and RR-119, a 27-mile meander through Washington Island off the tip of the Door County Peninsula. The newest Rustic Road is Peck Station Road in the Walworth County town of Lafayette, west of Alpine Valley Music Theatre.
The less-than-two-mile stretch of roadway is between Highway ES and Highway A east of Highway 12. Signs will be installed and the state's Rustic Road website updated in June, said Kathy Seeberg, executive director of the Walworth County Visitors Bureau in Delavan. The Google Street View of the narrow roadway shows farm and marsh land, gently rolling hills and, as if to punctuate its rural character, the Google car taking photos of the roadway followed a combine for part of the trip, made in October 2012.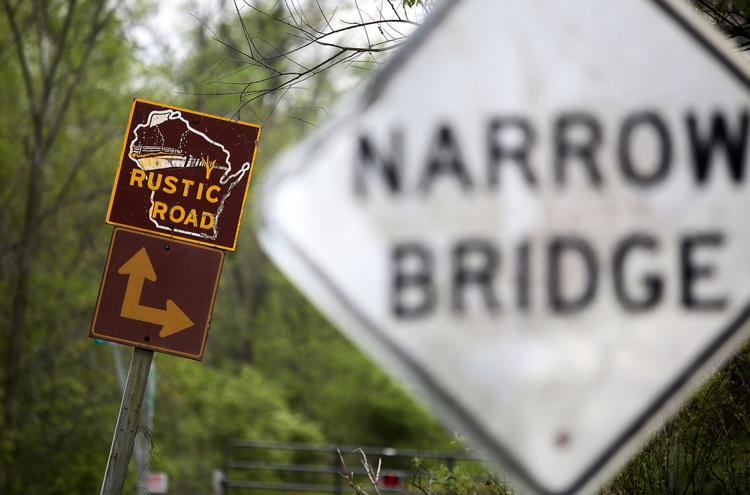 Rustic Road 66 in the town of Benton is the epitome of what qualifies for the Rustic Road program.
This is lead mining country and remnants of the industry that helped develop this part of the state in the 1820s and '30s can still be found in the form of rock piles, tin sheds, old barns and abandoned railroad beds. The route includes stretches of Bull Branch Creek and barbed wire fences lined with dozens of blue bird houses, each of them numbered. A spectacular oak tree, that was likely alive before the lead miners arrived nearly 200 years ago, serves as an impromptu sign post for Buncombe Road.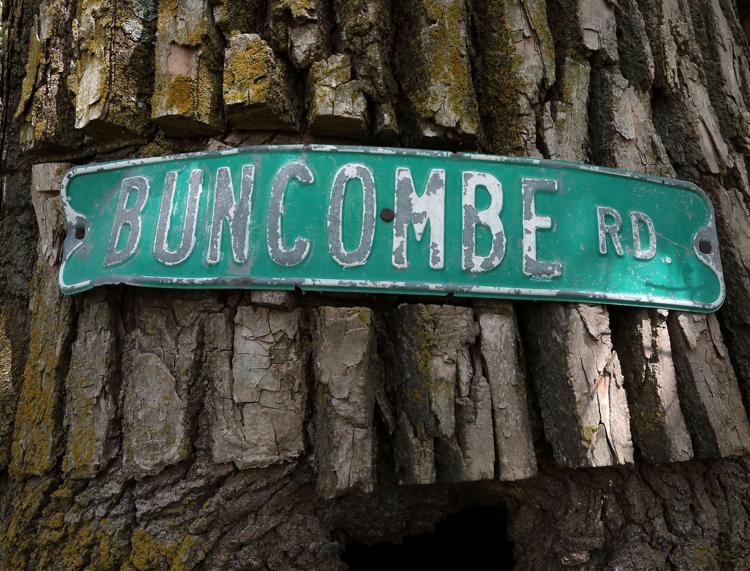 "My wife and I have a convertible Mustang so we ride it and we do see a lot of people," said John Berning, Hazel Green's fire chief who also works in the village's public works department. "It's unbelievable the amount of lead ore industry that was down here."
There are remnants from a roadside memorial on a concrete bridge on Buncombe Road near Highway W while most of the Rustic Road doubles as an ATV route that takes travelers past at least one garlic garden, wild turkey, deer and grazing cows and calves.
None of those features would disappear without the Rustic Road designation but it might mean fewer visitors who come with motorcycles, bicycles and convertibles to explore and take in the scenery. Some make pit stops at the two bars in Hazel Green, the Wigwam and Gangsters Bar & Grill. The latter is in a former bank where lunch can include homemade goulash and the Gangster Burger that towers six inches high and includes fresh smoked bacon and three-quarter-pounds of beef. The downtown also has a bank and two hair salons — but the antique store is out of business.
"We don't have too much of a Main Street anymore," said Miranda Hinderman, 35, whose family has owned Gangsters for more than 40 years. "A lot of people do day trips and a lot of people love those old back roads. A lot of people look for those as destinations."
Barry Adams covers regional news for the Wisconsin State Journal. Send him ideas for On Wisconsin at 608-252-6148 or by email at badams@madison.com.