The Hilton hotel brand is expanding its presence in the Madison market along with a local hotel development company that continues to grow its portfolio.
Construction of a 106-room, four-story Tru by Hilton hotel is scheduled to begin early next year at 8102 Watts Road on the Far West Side.
The $5.8 million project, scheduled to open in early 2018, will be next to the Hampton Inn & Suites and Homewood Suites. Those Hilton-branded properties are operated by North Central Group, a Middleton-based company that is behind the Tru project and building the 165-room AC Hotel by Marriott in Downtown Madison.
"Today's announcement marks an exciting chapter in the Tru by Hilton brand, and we're thrilled to be a part of it," Jeff Lenz, president and chief development officer of NCG said. "We're eager to get started on bringing this innovative concept to life and new Hilton brand to the west side of Madison."
Hilton Worldwide unveiled the Tru brand in January and has over 200 projects in the works. The properties are described as mid-scale hotels for business and leisure travelers and designed to attract younger customers with public spaces that include an open lobby made up of four zones where guests can work, play, lounge and eat.
Complimentary amenities include breakfast, mobile check-in, a fitness center and a 24-hour market that offers snacks, light-meal options and single servings of beer and wine.
Final approvals for the hotel came last week from the city's Plan and Urban Design commissions.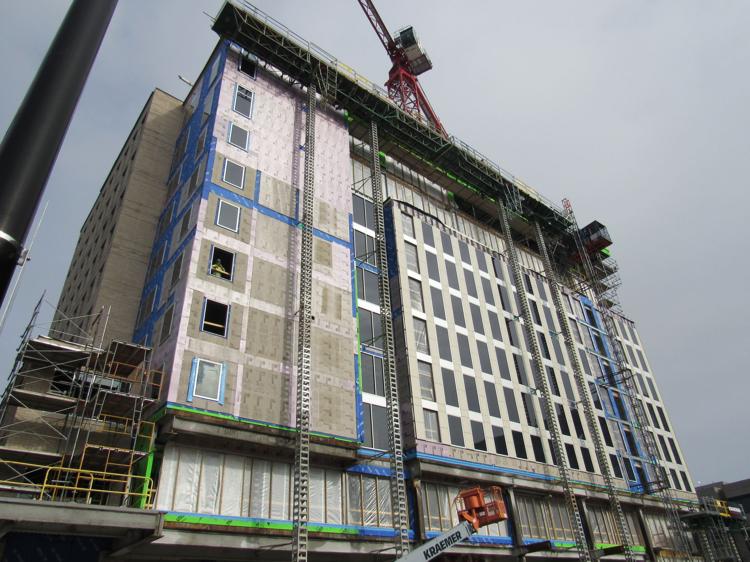 North Central Group was founded in 1981 by David Lenz and has grown to 30 properties in Arizona, Illinois, Iowa, Minnesota, Nebraska and Wisconsin. It has nine already open in the Madison area, under brands like Courtyard, Homewood Suites, Fairfield Inn & Suites, Hampton Inn, Residence Inn and Hilton Garden Inn.
The AC Hotel at the corner of North Webster Street and East Washington Avenue, a block from the Capitol, is scheduled to open next year.
The 10-story project on the former Pahl Tire shop property includes an Eno Vino Wine Bar & Bistro on the 10th floor and an outdoor terrace on the hotel's ninth floor. The hotel also offers views of the Capitol, lakes Mendota and Monona and East Washington Avenue.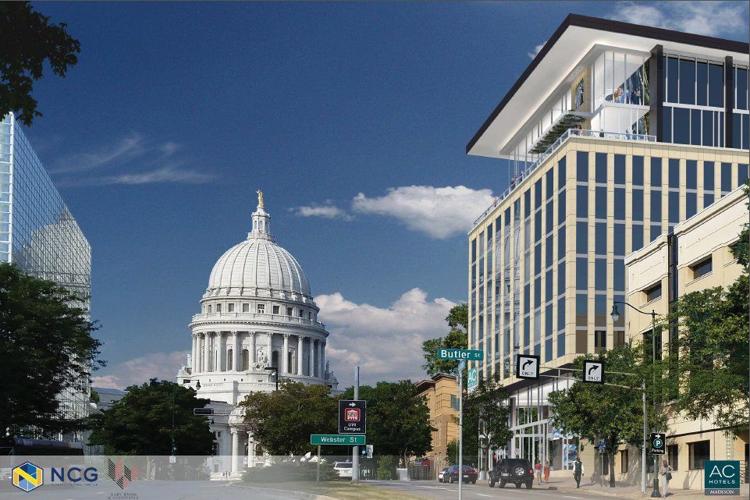 The 46,725-square-foot Tru by Hilton will be another addition to the rapidly expanding hotel market in the Madison area.
The project will be located along the Beltline near the Princeton Club, create 30 full-time jobs and have parking for 97 vehicles and 11 bicycles, according to plans submitted to the city.
"Tru is a disruptive brand, as evidenced by its statement-making entrance to the midscale category and now the Madison market," said Alexandra Jaritz, global head for Tru by Hilton.
"We know the brand will have broad appeal to travelers who span generations but have a similar 'zest for life' mindset." At its core, Tru is value-engineered to provide guests with a contemporary, consistent and fresh experience in an affordable way, while at the same time being operationally efficient to our owners.
Be the first to know
Get local news delivered to your inbox!