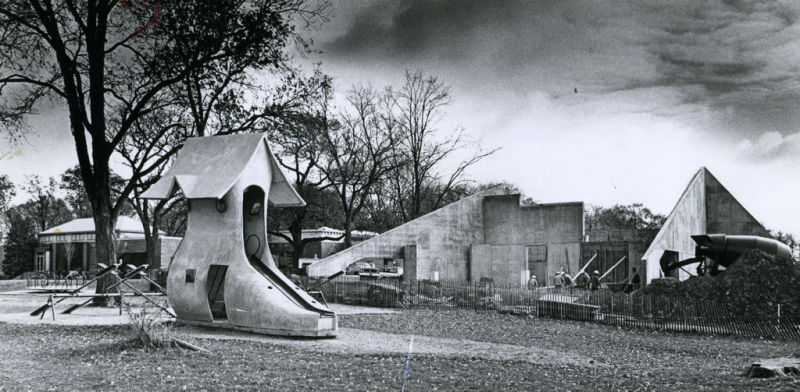 An enduring Madison mystery has been solved: Who built the Old-Woman-in-a-Shoe playground slide at Vilas Park, why, and when?
The slide, featured last week in the State Journal series "Madison in 100 Objects," is a familiar attraction, but no one knew its history. City parks, newspaper and museum archives revealed nothing. There are no markings on the slide to suggest its origin.
The story's publication brought an explanation: The slide was constructed in 1962 by volunteers from Lathers Local 111, who framed it with metal lath, and Operative Plasterers and Cement Masons Local 204, who smoothed the plaster onto the frame, said James Chitwood, who was one of the lathers who built it.
Another lather, the late Don Robinson, who grew up just a few blocks away, "did all the brain work," said Chitwood, 80. A third, Bill Brodd, 83, also volunteered.
Separately, children of the three men contacted the State Journal after the story was in the newspaper. Memories are fading, but Chitwood and Brodd confirmed the general information, as did a son of Robinson, who died in 2002.
Bob Blanchar, a plasterer on the job, happened to take a photograph of it, and the print is dated September 1962.
Chitwood said the lathers made the metal frame around the slide, and covered it with the lath, which was then plastered. The slide was erected first and set in a concrete slab, which explains why the slide hasn't moved in all these years.
Chitwood said the city's lathing and plaster contractors, under the direction of Warren Walder, had been adding "a nickel for every hour we worked" to set up a fund that would promote the unions' work. The materials for the slide were paid for from that fund, the workers volunteered their labor, and the slide was to be dedicated to George Morell, a lather/contractor who had died years earlier, Chitwood said.
The slide endured, though anonymously. One more firsthand source came forward with an explanation for that.
Alvie Nelson, 89, longtime director of the nearby Vilas Zoo, confirmed that Walder was the driving force, and the original plan specified that a small plaque would be placed on the shoe slide.
"Walder came to me and asked for help in getting permission for the plaque from the city parks people, but there was nothing I could do. The parks people said there would never be a plaque on that darn shoe," recalled Nelson.
And no identifying marks were ever placed on the slide, which was crafted and designed by local tradesmen as a gift to Madison.