The pandemic proved to be even too much for State Street.
There were freaks but no organized fest.
Of course people dressed up, wandered and tried to get into the Halloween spirit. But unlike in past years, when tens of thousands of garbed up people stood shoulder to drunken shoulder, Saturday night's blue moon affair may have been the most subdued since the annual tradition was born in 1977.
Restaurants and bars operated at reduced capacity. The more organized Freakfest, established in 2006, was canceled, so there were no stages with live music. Officials with the city, public health and UW-Madison all encouraged people to stay away from the iconic street on what typically is its biggest night.
The street had plenty of room for buses, bikes and skateboarders. Police seem to outnumber those in costume, and outdoor beer gardens were largely empty at 8:30 p.m.
Brooke Marquardt, 38, was dressed as a white unicorn, and her partner, Joe Camp, 34, wore a steampunk outfit that included a large, pointy metal nose. They have been coming to State Street for Freakfest and Halloween for the past nine years.
"We're sad that Freakfest isn't happening but we figured we'd take our chances, come down and see if anybody's dressed up," Marquardt said.
"Usually there are people with really elaborate costumes and I'm not expecting that tonight, which is a little disappointing," Camp said.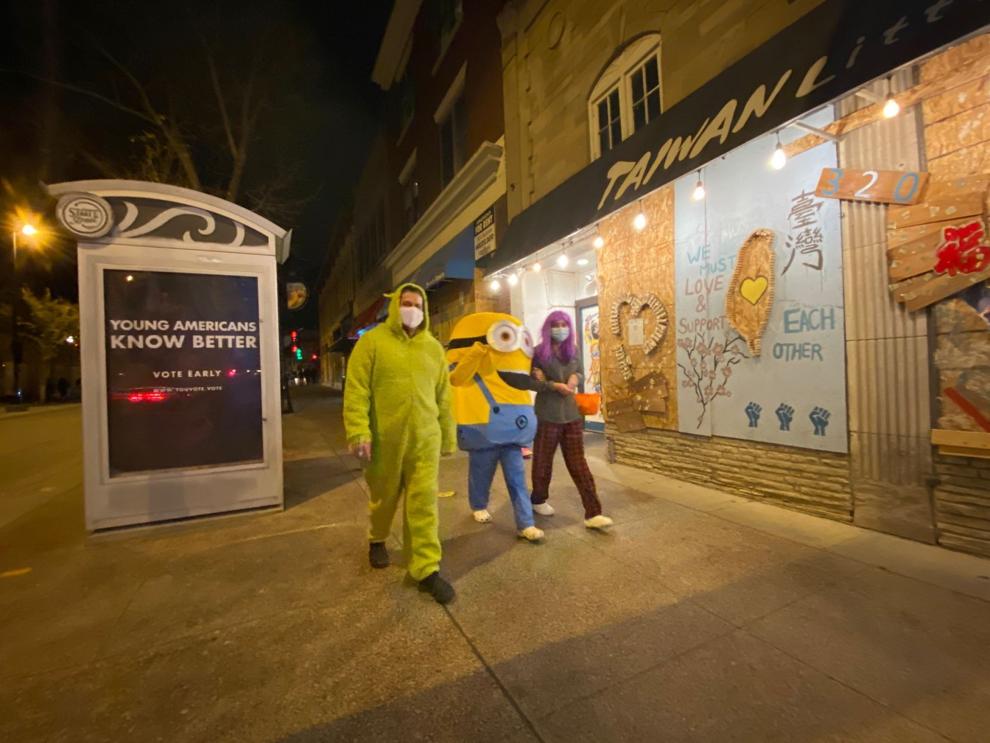 The subdued nature of the day was encouraged by Public Health Madison & Dane County, which has been trying to contain COVID-19 as it swells throughout the state. On Saturday, the state reported 59 more deaths, bringing the total to 2,031. Over the past seven days, 28.8 percent of those tested have been positive, an all-time high.
The Wisconsin Badgers, who now have at least 22 positive COVID-19 tests, were also forced to scrub their football game at Nebraska, further quelling the downtown vibe.
The stools inside the Irish Pub were turned upside down Saturday on the bar and on tables, as customers aren't allowed to socialize or drink inside, only in the outdoor patio.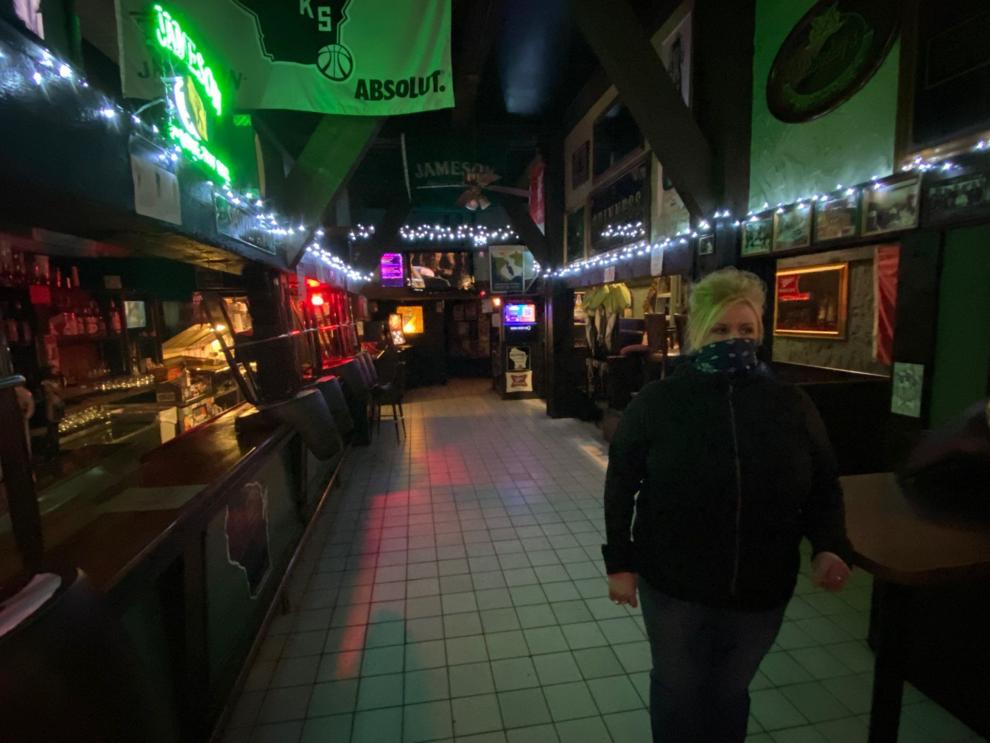 For Jess Dye, the loss of massive Freakfest/Halloween crowds is another in a series of financial blows that have included the loss of fans at Badgers football games, violence following the killing of George Floyd and a State Street atmosphere where many businesses still have boarded up windows and doors.
"It would have been a very big night," said Dye, who has launched a Go Fund Me page in an effort to keep the business afloat. "It's a real different tune this year."
It was also a bit strange beyond the Downtown as health officials in early October encouraged families throughout Dane County to adjust their trick-or-treating plans. They recommended people going out only with those with which they live, wearing masks, sticking to their own neighborhood, bringing along hand sanitizer, social distancing and letting candy sit "for a day or two" before eating. For those handing out candy the recommendations included setting bowls in a non-confined space to avoid bottlenecks of children, prepackaging candy so there isn't rummaging in a candy bowl and creating alternative delivery systems.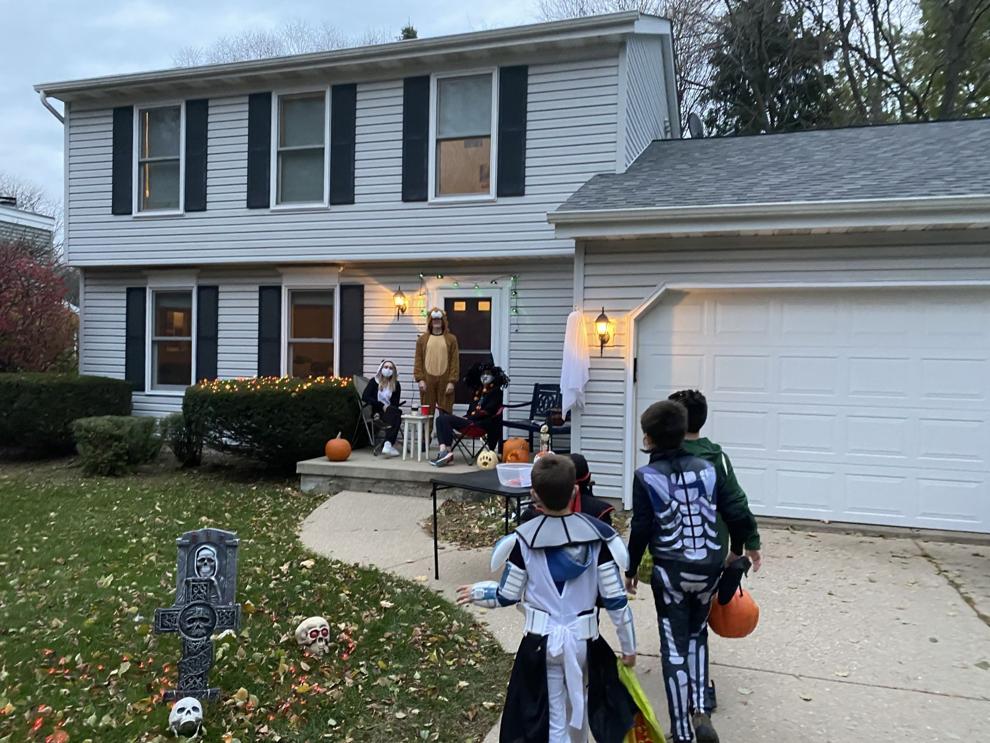 Mild temperatures in the upper 50s made for near-perfect conditions for area trick-or-treaters and allowed some homeowners to sit in their driveway around fire pits. A year ago, snow blanketed the ground.
In the Wexford Neighborhood on Madison's Far West Side, some of the randomness of Halloween was reduced thanks to a map posted on the neighborhood Facebook page showing which homes were taking part in handing out candy.
Doorbells, however, were silent.
Jami and Bob Cook dressed as a witch and lion, respectively, but stayed on their front porch. They set up a table on the nearby sidewalk where children could grab Reese's Peanut Butter Cups or Kit Kat bars.
"Most everybody's had a mask on," Jami Cook said. "It's nice because we haven't all seen each other and there haven't been community events for Wexford. So it's nice for the little kids. We're out here for them."
Several Dane County communities had no official hours for trick-or-treating, with the village of Cross Plains taking the extra step of not recommending the activity. In Deerfield, a drive-thru event was hosted by the Deerfield Volunteer Fire Department which handed out prepackaged goodie bags while the Chamber of Commerce offered up a socially distanced pumpkin hunt.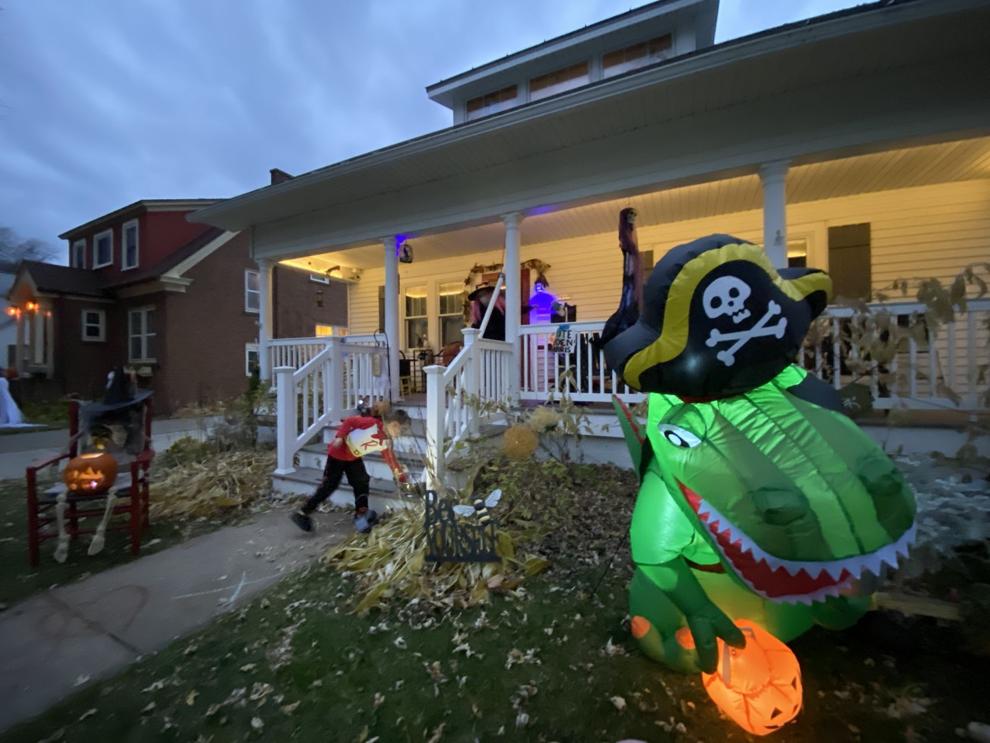 On Hubbard Avenue in Middleton, Linda Atkins spent $5 on a 10-foot piece of PVC pipe to deliver miniature Snicker's and Milky Way bars from her porch, down a flight of steps and into a colander to children as they approached her house, built in 1923.
"We're just maintaining our distance," Atkins said. "There's fewer kids but it's worked out."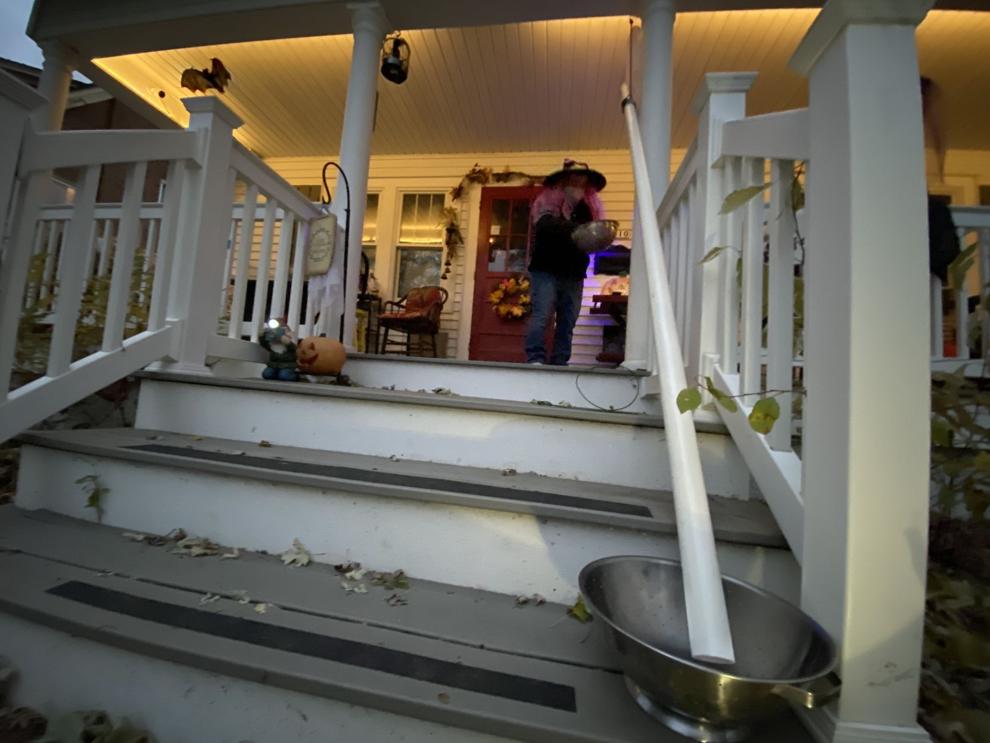 In the village of Oregon, where there were no set trick-or-treating hours, some families set out candy on tables in driveways and sidewalks on Friday evening while others took part in a Halloween-themed event Saturday to raise money for a $10 million public library that would be more than three times the size of the existing library constructed in 1995.
The village has kicked in $6 million for the project while about half of the $4 million in private funding has been secured. The gifts have included two anonymous donations of $500,000 each and another $80,000 raised at a brat stand in June, said Jenny Nelson, president of the library board.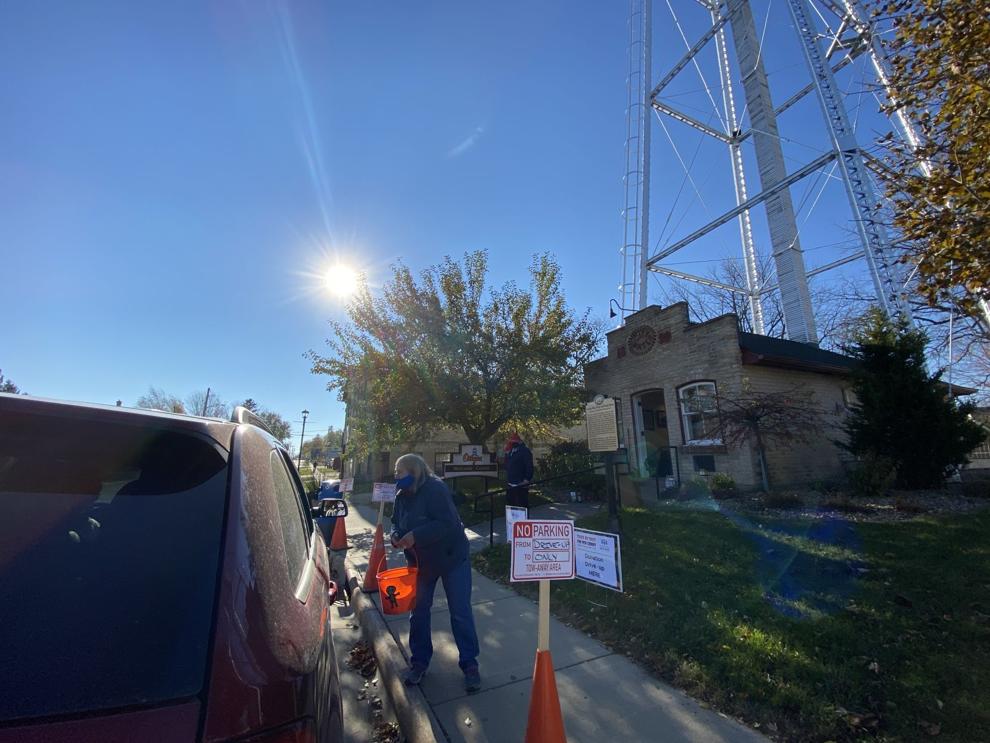 Saturday's fundraiser drew a smattering of attendees on a wind-whipped day and included a story walk around the library and donation locations in the library parking lot and underneath the village's historic water tower. Volunteers at both handed out some of the 500 pumpkin-shaped cookies donated by Fosdal Home Bakery in Stoughton in exchange for $6,484 in donations collected in orange buckets over three hours.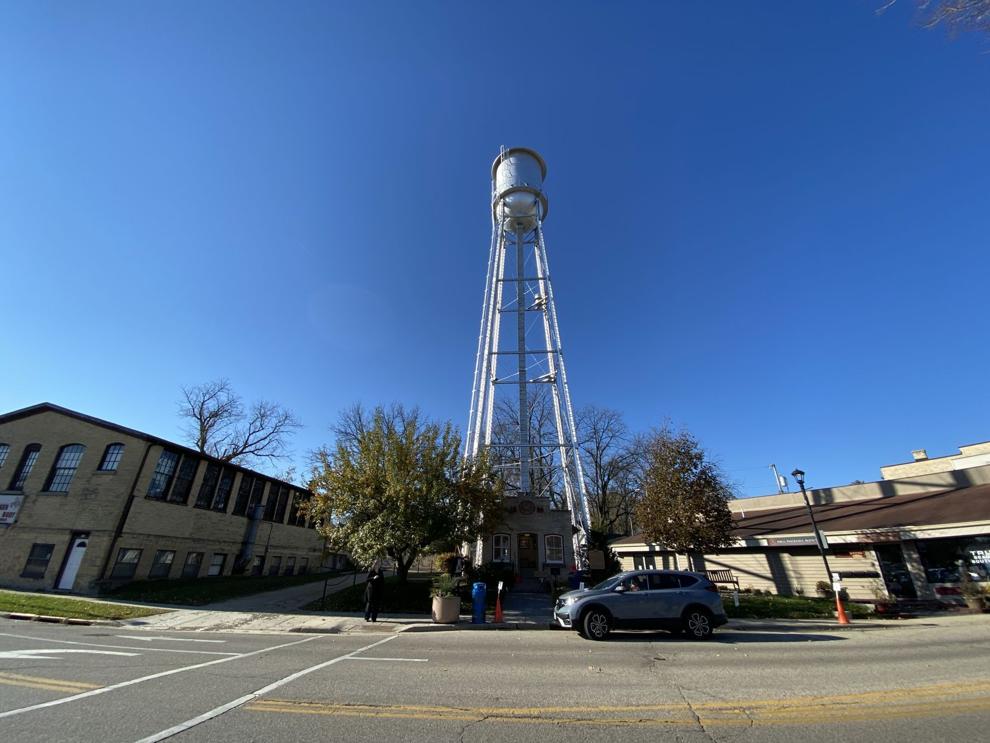 Over the past four years, the community has raised $750,000 for a new food pantry and another $1 million for a youth center.
"This is a community investment," Randy Glysch, a village board member who also sits on the library board, said of the new library project. "We want to do it right."