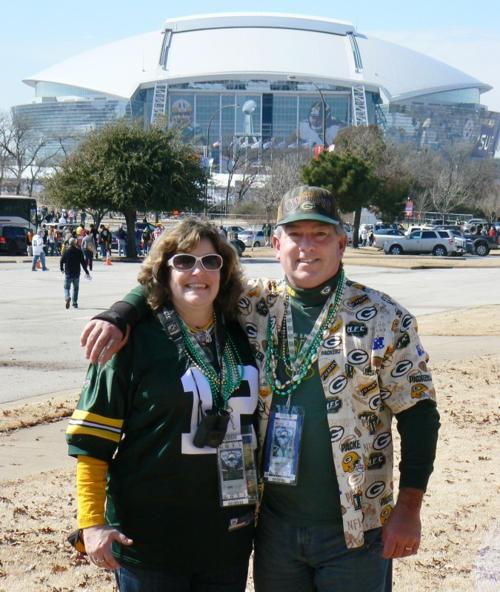 After driving from Madison to Dallas, after waiting more than two hours in line outside Cowboys Stadium last Sunday and then clearing security, Craig and Laurie Mathews were finally inside and ready for what promised to be the sporting event of their lives.
They handed their Super Bowl tickets to a member of the event staff.
"Your tickets have been deactivated."
In that moment, a dream began to turn into a nightmare.
Craig Mathews, 54, is a Madison native and West High grad (1975) who said there have been Packers tickets in his family going back to 1922.
Mathews himself has had season tickets since the late 1990s, and when the Packers invited all season ticket holders to participate in a Super Bowl ticket lottery, Mathews eagerly entered.
In the week prior to the Packers-Bears National Football Conference championship game, Mathews received a letter saying if the Packers won, he would be eligible to purchase two Super Bowl tickets. He'd won the lottery.
"It was exciting," Mathews said recently. He even called the Packers to make sure it was legitimate. The letter had not been on Packers stationery.
"Is this a scam?" Mathews asked.
He was assured it was not, and after the Packers beat the Bears to advance to the Super Bowl, Mathews bought two tickets. They cost $800 each. The tickets arrived Jan. 27, 10 days before the big game. Their seats were in section 425 A.
Craig and his wife, Laurie, drove to Dallas on Feb. 4, the Friday before the Super Bowl. They stayed with a cousin of Laurie's in Fort Worth.
The day of the game, Mathews said, they got to the stadium around noon — more than five hours before kickoff. They wanted time to take it all in, get inside and look around.
But the line to get inside Cowboys Stadium was — in Mathews' description — worse than your worst amusement park ride experience. It took two hours and 15 minutes for them to reach a ticket taker.
When they were first told their tickets were "deactivated," Mathews said, they were directed to a more senior event staff member who said, "We do have an issue with those seats."
The issue — which Mathews would not learn until later — was that the temporary seating where their tickets were located wasn't finished.
Mathews was told to go to "ticket reconciliation," which was located in a stadium parking lot a quarter mile away. They had to push their way through the throng to get back out of the stadium.
When they reached the lot, they were told a shuttle bus would be coming momentarily to take them to a holding area.
"We were being told different things," Mathews said. "They weren't in tune with each other so we didn't know what to believe."
It took 30 minutes for the shuttle to arrive. It drove them to a lot on the other side of the stadium, and what Mathews described as a "holding cell" surrounded by a chain link fence. He estimated there were about 200 people inside the fence. Some were shouting and pointing fingers, while NFL personnel tried to keep everyone calm. It was now a couple of hours before kickoff.
Then, salvation: A man walked from inside the stadium to the holding area and shouted, "All your tickets have been reactivated! You are free to go inside the stadium!"
Mathews said he was more exhausted than happy when the announcement came. But they reentered the stadium, and this time the ticket scanners waved them through. "Have a good day!"
They had to walk all the way around the stadium again, inside this time. When they got to their section, it was blocked off with thick tape. The reactivation report was wrong; their seats were not available. There was more waiting and confusion — it was now a half hour until kickoff — and then they were herded into a packed freight elevator which began a descent to the lowest level of the stadium.
Mathews glanced at Laurie. She had quietly begun to cry.
They wound up watching the game on TV in a ground level stadium bar, except they didn't really watch, because at least until halftime they kept asking if there wasn't some way they could get into the stands.
Published reports estimate some 400 people with Super Bowl tickets were not allowed to see the game.
Standing in the bar, Mathews was asked by NFL personnel for his contact information, and since getting back to Madison he's received several e-mails from a league vice-president of marketing offering one of two options by way of apology: 1) a cash payment of three times the face value of his tickets, along with tickets to next year's Super Bowl in Indianapolis; or 2) free tickets to a future Super Bowl of his choosing, along with hotel accommodations and airfare.
Class action lawsuits have also been filed. Mathews said that at this point, he and Laurie are "weighing our options."
They drove back to Madison last Monday, arriving about 1 a.m. on Tuesday.
"It was a long drive home," he said.
Contact Doug Moe at 608-252-6446 or dmoe@madison.com. His column appears Monday, Wednesday, Friday and Sunday.