The goal: Giving 1,000 bikes to Madison-area kids for free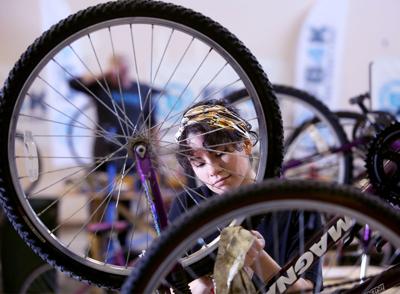 At Free Bikes 4 Kidz Madison, there's one cardinal rule: No kid should be without a bike.
So in the FB4K warehouse, hundreds of shiny, refurbished bicycles stand ready for their new owners. Hundreds more will join them within the next month.
Free Bikes 4 Kidz Madison aims to clean, repair and tune up 1,000 donated bicycles by March 23 to be distributed free through community centers and other program partners. A related program will create bike repair stations and train young mechanics to help out neighbors — so those like-new bikes can be kept in good shape.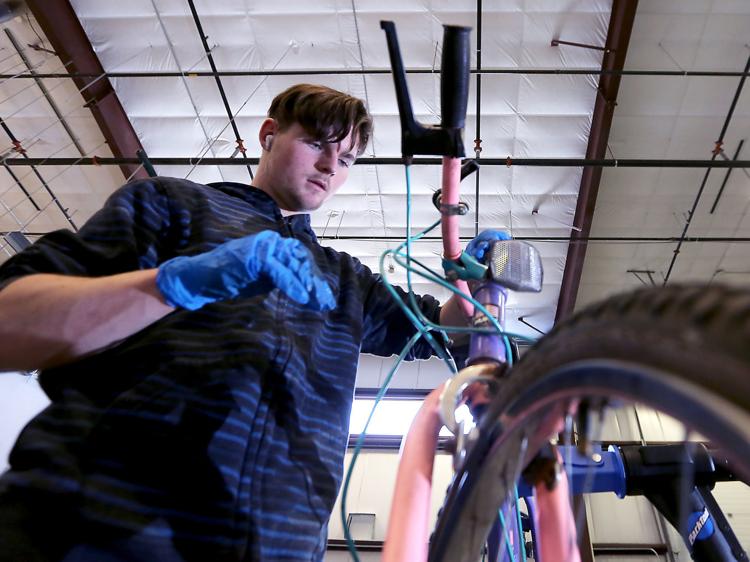 "It's a game changer, I think," said Andy Quandt, executive director of Free Bikes 4 Kidz Madison. "I think if you're able to give 1,000 bikes to people who normally don't have access to a bike, it changes the whole infrastructure of our city, possibly. ...The more people start riding their bikes – that's where the real power is."
"The real joy is in giving bikes and the kids that get them," he said. "It gives them a sense of ownership, a sense of responsibility, promotes healthy lifestyles – there's just nothing bad about it."
Headquartered in a bright, lively warehouse space off Rimrock Road, the effort is requiring piles of new bike tires, pedals and grips, a lot of bike lubricant and the elbow grease of scores of volunteers. The room is set up like an assembly line: First, volunteer "cleaners" remove the grime on each bike. Next, "preppers" replace anything worn out: tires, grips, saddles, pedals. Finally, "mechanics," some of them on the FB4K staff, tune up the bike and do a safety check.
"We're the cleaning crew – which is cool because you don't have to be intimidated if you don't know much about bikes," said Sinead McHugh, co-owner of Short Stack Eatery, as she and others from her restaurant volunteered with rags, spray bottles and brushes one Monday morning.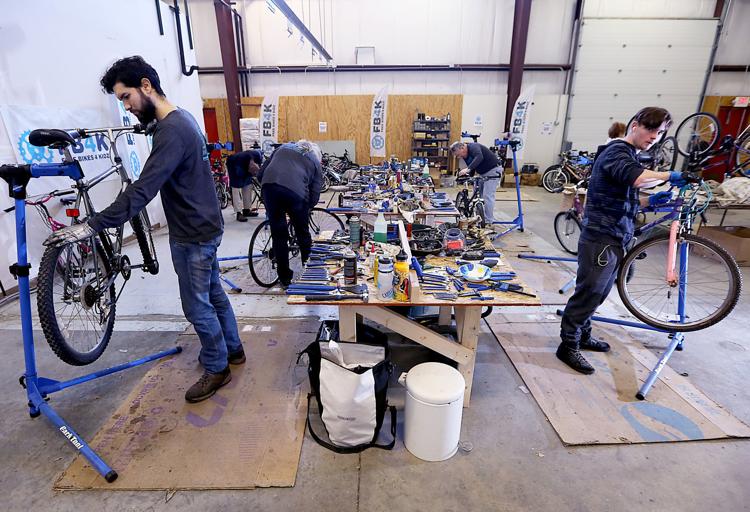 Closing the gap
Free Bikes for Kidz Madison started last year as a smaller pilot program, refurbishing about 390 bikes and distributing them through the Boys & Girls Club of Dane County. This year the operation has nearly tripled in size, thanks to a $27,500 grant from Madison Community Foundation's "Mad About Bikes" program.
Mad About Bikes aims to create a network of services to help close the gap between bicycle haves and have-nots. Many area bike groups are involved.
The Wisconsin Bike Fed, for example, will help design and build outdoor bike repair stations near community centers that the Bike Fed's Baltazar De Anda Santana hopes will become "gathering places for the community." They and other related projects will be funded by another $59,200 grant from MCF.
"Rather than give out bikes and say good-bye, see you next year, (we'll say) let's work together with community centers to keep these bikes working and in shape," said Pepe Barros, a staff mechanic for Free Bikes 4 Kidz Madison and executive director of the bike advocacy group called Down With Bikes!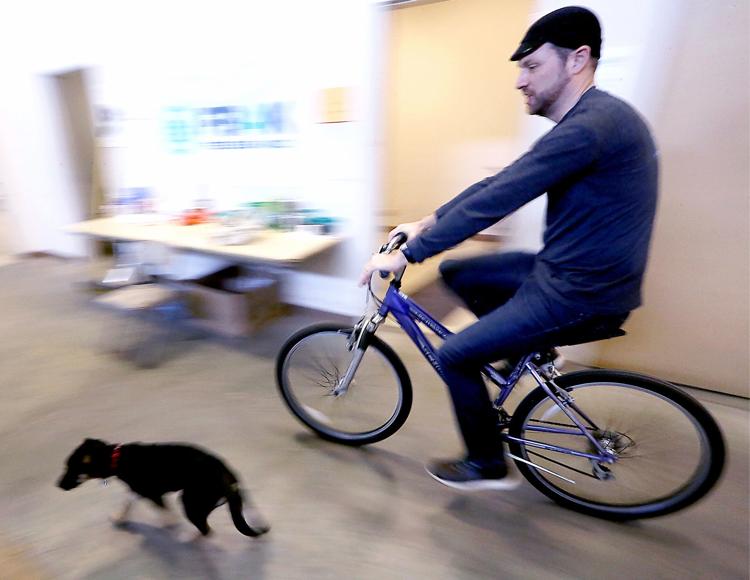 A memory for every kid
Quandt modeled Free Bikes 4 Kidz Madison after a similar project in Minneapolis. Terry Esau, an avid Twin Cities cyclist, got the original Free Bikes 4 Kidz rolling after he heard about a family in 2008 that really wanted a bike for a child for Christmas, but couldn't afford one.
Esau knew plenty of families with out-grown bikes gathering dust in the garage. He rallied his bicycle club to refurbish 250 donated bikes that year.
The next year the number grew to 750. And to 1,500 the year after that.
Last fall, Minneapolis' Free Bikes 4 Kidz gave away close to 8,000 refurbished bikes. The idea has spread to Atlanta, Salt Lake City, Seattle, Detroit and beyond.
"We'll be in nine cities by the end of this year," Esau said.
The program is "very intentional" and works closely with community centers to find kids in need, he said.
"We're making sure these are going to families that couldn't afford a Walmart bike, let alone a bike from a bike shop," Esau said. "This is an opportunity to give back. …You probably remember your first bike. We want every kid to have that same memory."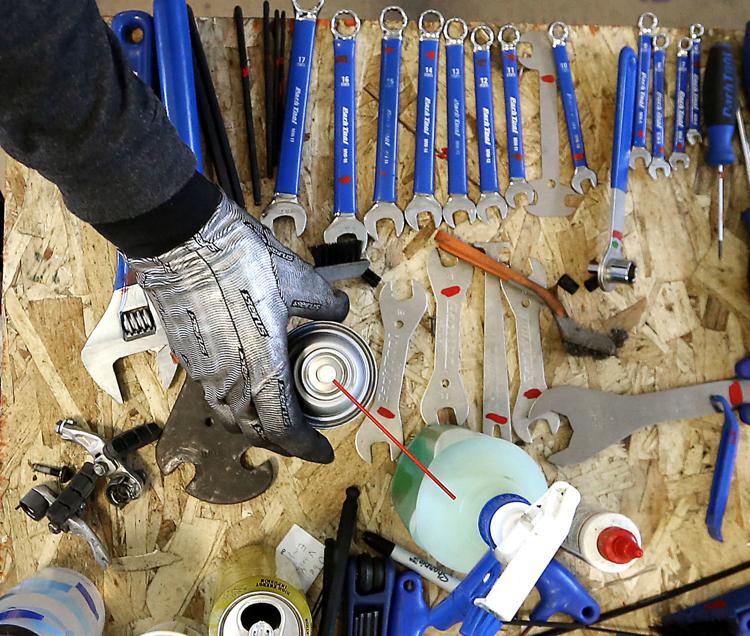 A 'pop-up bike shop'
Madison's 1,000 bikes were all collected on January 13, then brought to 167 E. Badger Road, a donated warehouse space that for 10 weeks is serving as "a pop-up bike shop," Quandt said.
"We do one bike collection a year," said Quandt, who asks that owners hang on to additional used bikes for now and bring them to the annual collection event in January 2019. The project does not have storage space to keep bikes from year to year.
"That's the beauty of this – we collect all the bikes in the beginning, fix them up and give them away," Quandt said. The rented trucks that haul the refurbished bikes to community centers on give-away day are all donated, as are 1,000 bike helmets from SSM Health.
"My hunch is that the Madison population can sustain a thousand bikes a year. But we may find out that it's more than that," said Quandt, who is seeking a major sponsor for 2019.
"It depends on how many bikes you can collect. And once you collect those bikes, you need the staff to manage that."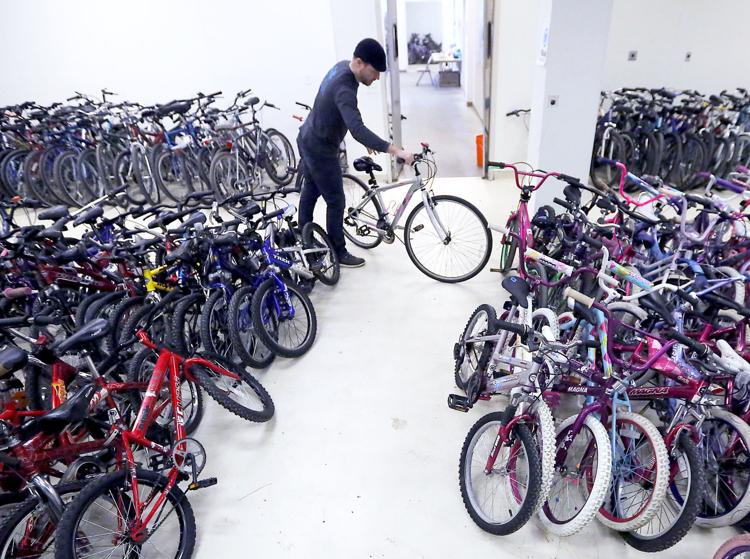 41 bikes for 41st birthday
Quandt threw a party on his 40th birthday last year, asking friends to come and fix up 40 bikes that day. On March 1 he'll turn 41 — with a party and a 41-bike challenge.
Quandt, who worked in bike shops all through college at UW-Madison, found his way back to bicycles after a career that included several "real jobs," as he calls them.
"I'm a bike mechanic first," said Quandt, who owns the Bikemobile, a mobile bike service that does repairs in clients' driveways, or anywhere in Dane County they want bike work done. He also fulfilled a long-time dream when he recently bought and re-opened his childhood bike shop, Gib's Bike Shop in Lake Mills.
As soon as Free Bikes 4 Kidz Madison finishes its work in late March, he'll head back to those jobs.
In the meantime, volunteers are still needed at Free Bikes 4 Kidz Madison – including work or school groups, Scouts, clubs and individuals. Quandt's own kids, ages 8 and 10, sometimes drop by to work an hour or two.
Quandt himself triages the donated bikes, separating out the most valuable ones for an online auction at www.32auctions.com/fb4kmadison2018 that helps fund other parts of the program.
Bikes beyond repair are salvaged for parts.
"We steal as many parts as we can before we throw the bad bikes away," he said. "There are some where the wheels are smashed but the tires are good. There are some where the frame is bent but every part on the bike is good."
When the big days come on March 24 and 25, 1,000 preselected kids will be fitted for a bike helmet, then introduced to a personal shopper who will take them to see and try out eight refurbished bikes their size.
"The kid gets to choose their favorite of those eight bikes," said Quandt, "so they get that childhood experience of picking out their own, new bike."