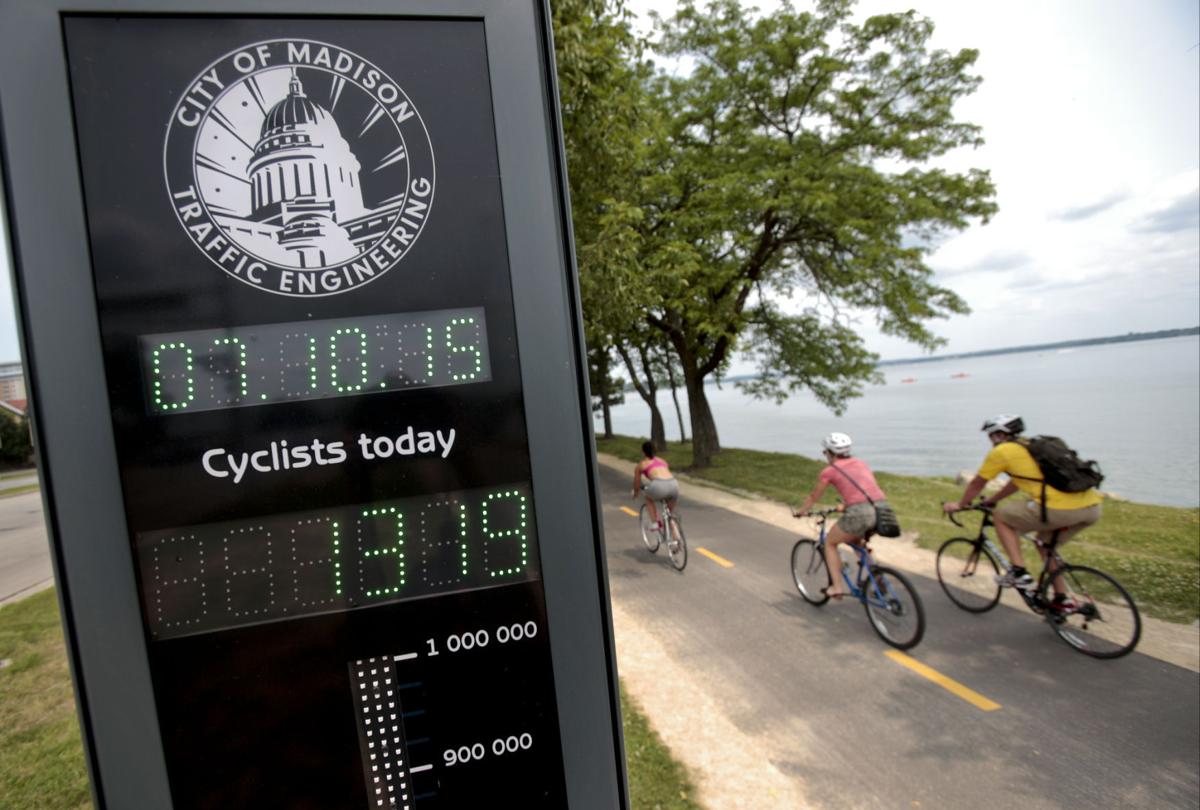 After seven years of effort, Madison has become one of only five cities to reach platinum-level status as Bicycle Friendly Communities, the League of American Bicyclists announced Monday.
Wisconsin's capital city joins Boulder and Fort Collins, Colorado; Davis, California; and Portland, Oregon, in achieving the top recognition awarded so far from the group's Bicycle Friendly Communities program.
No city has reached the highest level possible, diamond.
Madison, which has been working on platinum status since 2008, has nearly 75 miles of off-street bicycle paths, 120 miles of on-street bikeways, designated safety zones at intersections and bike parking at the majority of businesses and institutions, the Wisconsin Bike Federation said.
More than 5 percent of commuters travel by bicycle, the federation said.
Some recent developments leading to the platinum designation include contra-flow lanes on one-way streets, a diagonal road crossing with bicycle signals on the Capital City path, a green crossing with bicycle signals on the popular Southwest Path, multiple bike turn boxes and the new Cannonball path between Madison and Fitchburg.
In addition, Bike to Work Week expanded to Bike Week with activities aimed at families.
"When the City of Madison joined with local bike enthusiasts to begin the process to achieve platinum status, many people thought it was an unreachable goal," mayor Paul Soglin said in a statement.
"What a great recognition for the incredible bike paths, bike lanes, our relationship with Trek and B Cycle, cycling amenities and the welcoming nature of our city toward cyclists."
Fitchburg achieved silver status, Middleton and Monona received their first honor (bronze), and Sun Prairie got an honorable mention.
Wisconsin now has 18 communities on the bike-friendly list, including honorable mentions.
"The Wisconsin story is more exciting to me than Madison getting platinum," Dave Cieslewicz, executive director of the bike federation and ex-Madison mayor, said in a statement. "We've been saying for years now that we have to redouble our efforts at the local level and this shows the positive results of that work."
UW-Madison obtained gold status earlier this month.
Before Monday, Wisconsin was ranked ninth among states by the League of American Bicyclists. It's not clear if Monday's developments will alter the state's ranking.
The group bases its bike-friendly determinations on the "5 Es" — engineering, education, encouragement, enforcement, and evaluation and planning.