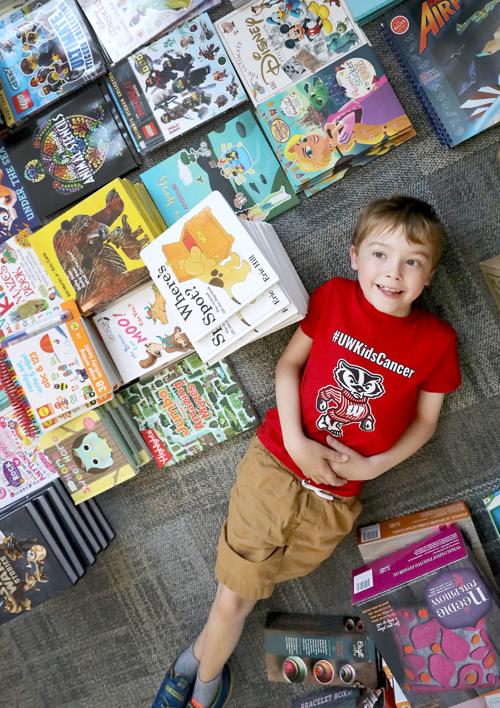 Six-year-old Cormac Bower has spent more time in the hospital than many people 10 times his age.
Last summer, Cormac was admitted to American Family Children's Hospital four times for inpatient chemotherapy to treat his acute lymphoblastic leukemia, the most common type of childhood cancer.
When representatives from the hospital's Child Life Department offered toys, he'd always request Legos, but the hospital had Legos only one of the four times he asked.
Before Cormac's seventh birthday on July 29, Cormac's mother, Carrie Casey Bower, began a toy drive, collecting toys and books for Child Life. Bower started by creating a Facebook event, hoping to get maybe 100 toys, just from people she knew. After the first day she had 50.
Then, friends began sharing information about the effort. Soon, Bower had 100 toys, then 400. She's up to about 925, with her sights set on 1,000.
The gifts took up so much space in the family's home near Camp Randall Stadium, Bower moved them to an empty room at her sprawling Fitchburg office. She works for Grand Leisure, which designs and sells patio furniture.
Bower, her husband, Phil, Cormac, and Cormac's brothers, Tommy, 11, and Finn, 9, plan to deliver the toys to the hospital July 25.
The hospital's supply of toys is lower in the summer because most toy drives happen around the holidays, Bower said.
"So that kind of planted the seed, I like to say," she said. "There are kids who are here all year round."
Giving spreads
Birthday fundraising is becoming a common feature on social media among adults, and children are also holding philanthropic birthday parties.
Cormac's fundraiser led the family of a first-grade classmate of his at Blessed Sacrament School to raise funds to benefit the Dane County Humane Society.
"I think it has inspired the kids to be giving in the way that they behave with each other," said Jenny Bernhardt, about the class her daughter, Ellen, was in with Cormac this last school year. "They're just a really giving and caring group."
The compassion and generosity the Bowers have shown "has just kind of trickled on out to how the kids behave toward one another and I hope in their community, too," she said.
For Ellen's seventh birthday in March — a cupcake and cookie bake-off — the Bernhardts told guests that if they wanted to bring a gift to please consider donating to the Humane Society. They raised a modest amount of cash — about $14 — and a box of dog and cat toys and treats.
"And they donated Barbies," said Ellen, about presents that were aimed at her. She still wound up with gifts for herself, just fewer, her mom said.
"Ellen really loves getting gifts like every other child in the world, right?" Bernhardt said. "And I think it's important for kids to get gifts on their birthday, too."
Before sending out the invitations, Bernhardt talked to her daughter a lot about the fundraiser, so the young animal-lover understood that "she gets to make her presents go a little bit further and help animals" at the same time.
"One day, Ellen, you came to me and you just said, 'OK, I think I've decided I'm OK. I'm OK with doing donations,'" Bernhardt said to her daughter.
Tech's impact
In recent years, there's been "an explosion of visible, public, and digital and crowd-sourced fundraising techniques for nonprofit, philanthropic, and community efforts," said Mary Beth Collins, executive director of the Center for Community and Nonprofit Studies at UW-Madison.
"Every time we turn on the TV, watch a sporting event, go to the grocery store, and go on social media, we see information about worthy causes and ways that we can pitch in," Collins said.
You have free articles remaining.
Technology and an expanding awareness of philanthropic activity has changed the game for both adults and children, she said.
The scale of the Bowers' fundraising probably exceeds prior generations and that's likely based on technological and contemporary factors, Collins said.
Heidi Hagberg, a spokeswoman for GoFundMe, said the for-profit crowdfunding platform doesn't have a category for birthdays. Users categorize their own fundraisers, but anecdotally she said the website has seen many children, parents and families raise money for a cause together.
Children step up
In the past two or three years, the GoFundMe has seen more young people wanting to take action, Hagberg said. "We've coined it as 'the next generation of change makers.' "
She said the site has a "Kid Heroes" program, where every month it honors a child who's making dramatic change in their community.
Hagberg works closely with the "Heroes," who she said notice ways they can improve their communities or their world. Sometimes they'll approach their parents with the idea of starting a GoFundMe campaign and the parents are surprised they know what it is, she said.
Children are modeling the activism of their elders and taking part in demonstrations, both Hagberg and Collins noted, citing March For Our Lives, a student-led protest in support of gun control.
Or they're just noticing something that needs to be done in their community, "like feeding the homeless or starting a lemonade stand to raise money for a friend who may be struggling," Hagberg said. "This next generation is truly inspiring."
Wish list
In Cormac's case, Bower created an Amazon.com registry wish list for toys and books. The hospital has the greatest need for items for babies and teens, she said.
Some people who donate write a gift receipt through Amazon, and it's been gratifying to read some of the stories about why they're giving, Bower said. "That the children's hospital helped their son or their nephew ... It sort of puts it all in perspective a little bit."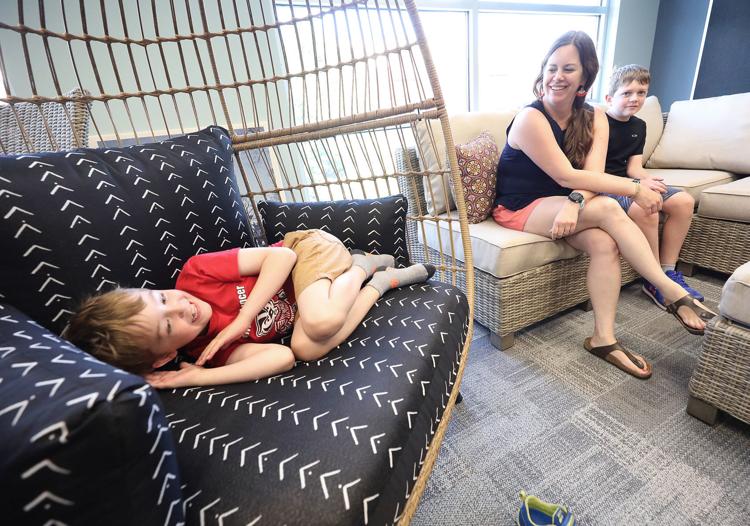 UW Health spokeswoman Toni Morrissey emailed a statement from the Child Life department calling the donation from the Bowers generous and thoughtful.
Items purchased from the hospital's "wish list" help it fill its playrooms and other spaces "with an assortment of toys and activities, giving children the opportunity to have a number of choices for playroom or bedside play," the statement said.
Cormac's successful toy drive has gotten a lot of exposure. He's been on the radio, TV and was featured in a local blog.
"I saw you! You're famous! You're a movie star!" Cormac said, explaining his discomfort with the attention, but in an excitable way.
"I think when you look back on it, it'll probably seem really cool," his mom told him.
Delightful distractions
Bower remembers last year, when the family tried to watch Fourth of July fireworks from a lounge at the hospital with others who had to spend the holiday there.
"And so I want him to kind of help out to make sure that regardless of what time of year it is, that the kids who are there have some distractions," said Bower, who got involved in cancer fundraising after her mother died of lung cancer at age 63. She sits on the UW Carbone Cancer Center's Emerging Leadership Board.
Cormac's longest hospital stay was 12 days. A year and a half into treatment, he's now in "maintenance" mode. That'll go through May 2021 and means a lot of pills at home and going into the hospital once a month for chemo.
Bernhardt, who also raised money for the Humane Society for her wedding, said a birthday fundraiser can teach children to be involved citizens and good community members.
"We live in a world of so much abundance," she said. "And I think as parents, when we have holidays or birthdays, there's such an influx of things that quite honestly, many of us don't need, but make our children happy, at least for a short time."
Be the first to know
Get local news delivered to your inbox!