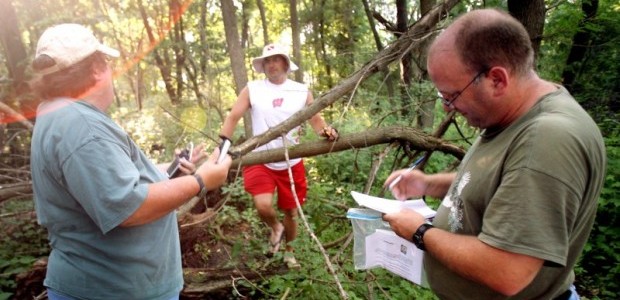 N 43° 25.990, W 088° 11.470.
Converge upon these latitude and longitude coordinates the weekend of Aug. 12 and you will find yourself in the heart of Regner Park in West Bend. Site of the fourth annual West Bend $1,000 Cache Ba$h, Regner Park is "ground zero" for GC2E0MD, the official geocaching code used to track, or log, the number of people attending the event.
By basic definition, geocaching is a high-tech treasure hunt traditionally requiring Global Positioning System units to find hidden containers, or caches, all over the world. In 2010, Groundpeak Inc., based in Seattle, launched geocaching applications for the smart phone, and anyone with a Wi-Fi connection and strong cellular signal can join in on the game.
Globally, five million geocaching teams are registered on www.geocaching.com, the main geocaching website, up one million from last year.
Trademarked as the "Geocaching Capital of the Midwest," West Bend welcomes geocachers from across the country and around the world during Cache Ba$h weekend. The event is one of seven geocaching mega-events in the United States and 15 in the world this year, meeting the criteria for a mega-event by simultaneously logging 500 or more geocaching teams.
"We're estimating attendance around 2,000 people for Cache Ba$h this year," said Craig Farrell, executive director of the West Bend Area Chamber of Commerce. "One of the unique things about our mega-event is that it stays in one place from year-to-year. We've continued to improve our facilities at Regner Park, improving our stage, bandstand, and adding a new kid-friendly splash pad area for cooling off."
The event is named the $1,000 Cache Ba$h because of the $1,000 in cash and additional prizes awarded to registered geocaching teams in a raffle at 6 p.m. Aug. 13. Teams earn raffle tickets based on the number of designated geocaching containers they find before then.
Tami Mauland, a Wisconsin geocacher and one of the main "hiders" for the event, has been involved with the West Bend $1,000 Cache Ba$h for all four years.
"All levels of geocachers come to the event," she said. "We have at least 50 new caches this year, including night caches, multi-caches, and a few more water caches (accessible only by boat) on Little Cedar Lake."
With 750 registered geocaching containers already hidden within a 10-mile radius of downtown West Bend, the new geocaches launched at the mega-event will bump that count past 800.
"West Bend is geocaching central 365 days a year," said Mauland, who recently hid her 501st container under her personal geocaching account. "Because of the proximity and variety of geocaches, this is a great place to come and get a bunch on any given weekend."
Throughout the West Bend $1,000 Cache Ba$h weekend, participants will have the opportunity to participate in geocaching events such as geo-golf and geo-bingo and attend Geocaching 101 presentations held by the Wisconsin Geocaching Association.