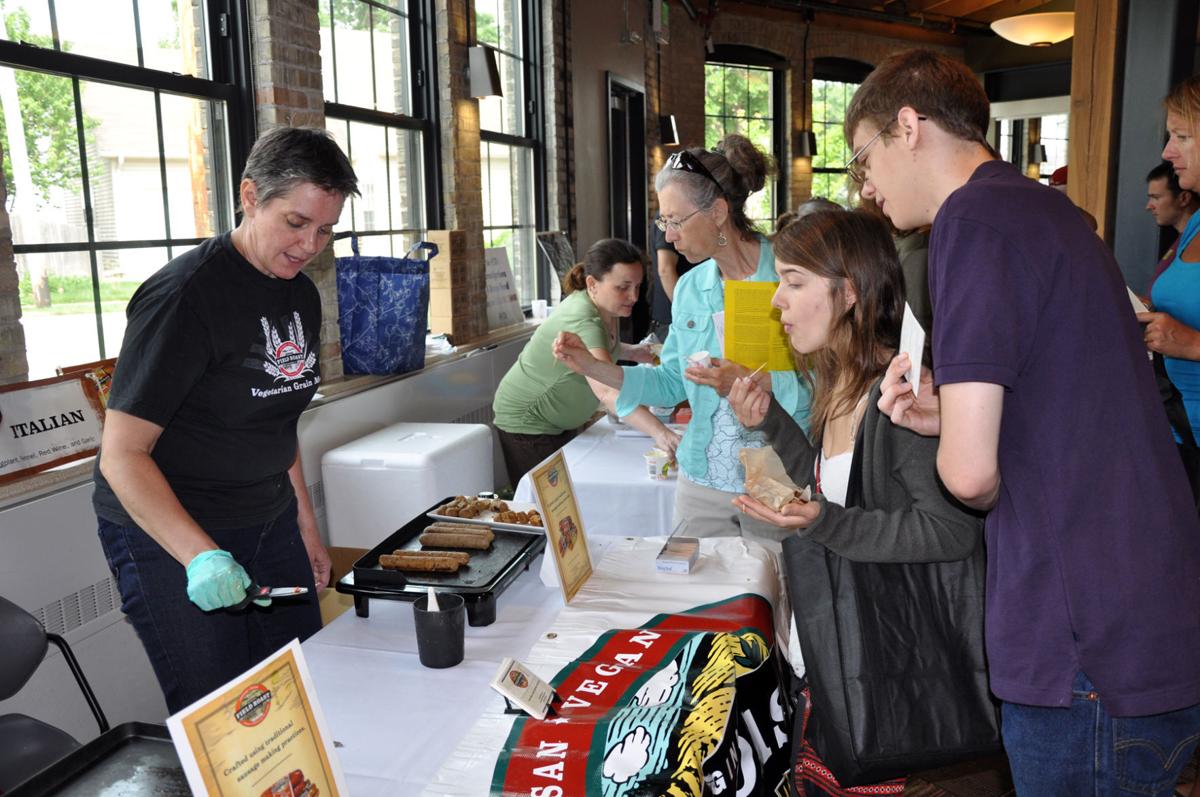 Those who love animals have a variety of ways to work on their behalf. One of the simplest is just by creating community.
That's part of the impetus behind Saturday's Mad City Vegan Fest, which will be held for the fifth year at the Goodman Community Center. It's been a hit from the get-go, and is expected to draw about 2,000 people to sample food, gather information and listen to speakers on vegan-related topics.
"So many people feel isolated because our society revolves around food, meeting around food," said Hannah West, the event's founder and now the executive director of the Alliance for Animals and the Environment. "When you lose that opportunity to connect with people you used to eat food with, you need new people to eat food with or you need people to help you along. It might not be as statistically important for the animals, but I think it's important for us as humans to create a sense of belonging."
The event is a project of the Alliance for Animals and the Environment, but organizers know that animal rights and ethical choices aren't what drives everyone to veganism. Some make the choice for health or the environment, and the festival tries to offer a range of topics to appeal to a variety of vegans.
"I think we've really made an effort to make everything at the festival be resources and information to support people who want to be vegan or are already vegan," said Dave Friedman, a festival organizer and founder of the Madison Area Vegetarian Meetup Group. "The speakers address the reasons, but the core of the festival is the resources."
Speakers include Kristin Lajeunesse, who spent three years traveling the U.S. and eating at hundreds of vegan restaurants. Her book, "Will Travel for Vegan Food," was released in April. Another speaker, Madison native Lorri Houston, has founded two farmed animal sanctuaries. Dietitian Matt Rusignano addresses a topic many previous festival attendees had wanted to hear more about: veganism for athletes. Rusignano is a marathoner, triathlete and cyclist.
"There's the perception that it's kind of contradictory to be a vegan and an athlete, so the group thought it was important to bring in someone who could defy that stereotype," Friedman said.
One presenter is a repeat from last year – Dama Wells-Foster, who with her husband owns a vegan restaurant and holistic center called Sol D'Licious in Kenosha, will demonstrate quick and easy vegan cooking.
You have free articles remaining.
"There's definitely a perception that when you go vegan there are fewer options at restaurants and with convenience foods," said festival coordinator Gina Stuessy. "There are a lot of options in Madison, but I think people assume they'll have to start cooking more at home if they go vegan so it's nice to have quick and easy recipes to fall back on."
And, as festival organizers have found out, their market isn't just vegans in Madison. The festival has drawn people from throughout the U.S., particularly from surrounding states and more rural parts of Wisconsin.
The festival began when West, inspired by the Portland VegFest, was on a break from her studies at UW-Madison and thought she'd try to organize something similar here. The Alliance for Animals and the Environment offered financial support, though now the group organizes it.
Approximately 1,300 people came the first year, when it was also held at the Goodman Center. Originally the hope was to have it somewhere where there could be more walk-in traffic, such as near campus or State Street.
"So all the people that came really made an effort to come there, so that really felt good," Friedman said.
Organizers said if it grows larger — besides the crowd, the exhibitor slots also filled this year — the festival might have to look for a new home but for now is scheduled to be at the Goodman Center again next year.
Stuessy said the survey after last year's festival showed that those who attended were about one-third vegan, one-third vegetarian and one-third omnivores. There were also families who attended together, and a range of ages.
"We got a lot of positive comments from people who were vegetarian and this helped them go vegan or they had been vegan and want to go back," Stuessy said. "Or we heard from omnivores who never had given it much thought before but the fest made them feel capable of eating more vegetarian and vegan options."
Rules for exhibitors are that there can be no graphic images on display, and a video available about conditions for animals on factory farms can be watched in a secluded viewing area and children must get permission from their parents to watch.
"We try to keep Vegan Fest a positive atmosphere because I think veganism is great," West said. "I feel like it deserves a celebration."