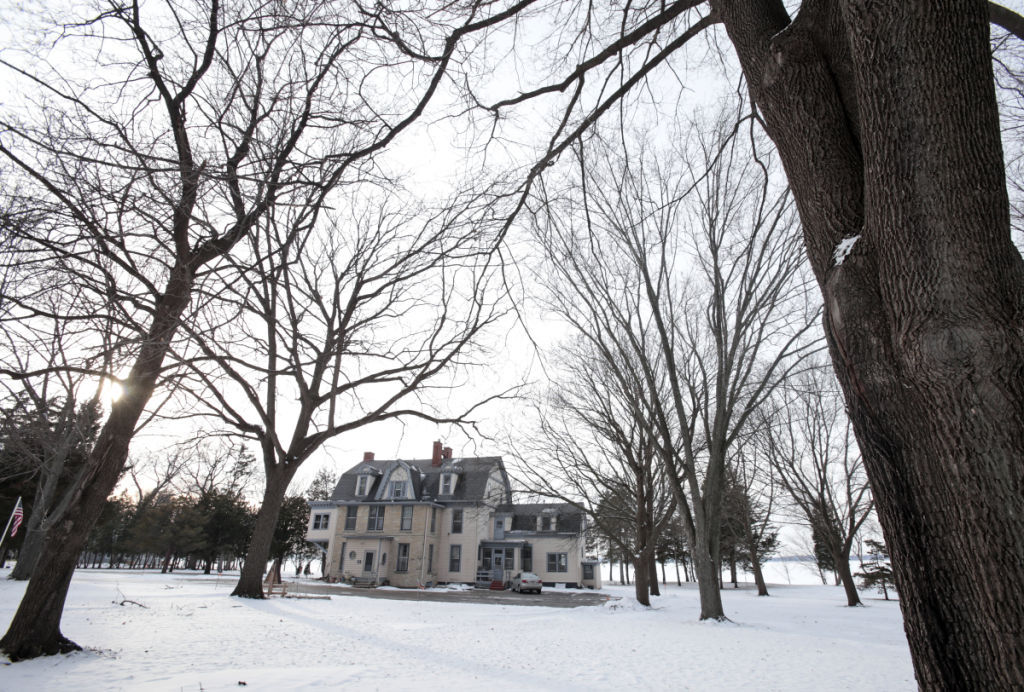 A Catholic religious order that owns a large tract of undeveloped land on Lake Monona has fallen silent about the parcel's future.
The historic property in Monona, known as San Damiano, is owned by the Norbertines of Saint Norbert Abbey in De Pere. In January, Norbertine officials said they were having the property assessed for possible sale.
That was six months ago. Abbot Gary Neville, who leads the community of priests, did not respond to repeated calls and emails seeking an update on the property's status. Communications coordinator Katrina Marshall said she could not comment.
The possibility of a sale has drawn intense interest in Monona. The nearly 10-acre site, 4123 Monona Drive, is one of the largest remaining privately owned undeveloped parcels on the lake.
Some residents want to see the land remain in its pristine state. Others hope it is sold to a for-profit entity so that the land becomes taxable. (It currently is tax-exempt.)
"There are lots of people who dream of doing something with that land and having a public presence there, but as I've said before, the city isn't in a financial position to do anything like that," Monona Mayor Bob Miller said.
He's been assured he'll be notified when the Norbertines have news to announce. So far, nothing. "Stay tuned," Miller said.
The lone house on the site, a 14-room mansion, was built in 1888 by Allis-Chalmers heir Frank Allis. The house passed through several owners, including former Madison Mayor Adolph Kayser, before it was donated in 1928 to the Norbertines.
Most recently, it served as a friary for an aging community of monks, the last of whom moved out this spring.
There will be noticeable activity at the site Thursday. St. Norbert College, a Catholic liberal arts college in De Pere founded by a Norbertine priest, is scheduled to hold an alumni event at the friary that evening.
The invitation describes the gathering as a wine-and-cheese reception and prayer service. It refers to San Damiano as "a spectacular property on 1,000 feet of Lake Monona shorefront."
St. Norbert College president Tom Kunkel is expected to attend, according to the invitation, as are several Norbertine priests.
You have free articles remaining.
Discrimination claim
An escalating dispute between a student and a professor at UW-Baraboo/Sauk County is raising interesting questions about the use of biblical sources in an academic setting.
Student Rachel Langeberg says she encountered unconstitutional hostility toward her religious beliefs during the spring semester when she attempted to cite Bible passages in a group slideshow presentation.
The assignment in the criminal justice class called for students to discuss various theories for why people commit arson, said Langeberg, 18, of Baraboo. Langeberg believes arson and other crimes occur because people are born with an internal bent to do wrong, a religious concept known as "sin nature."
"I believe that Jesus is the son of God and I'm just following him with my entire life," Langeberg said in an interview. "That affects everything I do and everything I say because I love Jesus more than anything."
In her group's slideshow presentation, Langeberg cited Jeremiah 17:9 ("The heart is deceitful above all things, and desperately wicked: who can know it?") and Matthew 15:19 ("For out of the heart proceed evil thoughts, murders, adulteries, fornications, thefts, false witness, blasphemies.")
Langeberg said her position was an appropriate part of a larger presentation on arson and its possible causes.
"In the class, we were focusing on the secular humanist perspective," she said. "We just wanted an alternate viewpoint. I was not trying to say, 'This one is for sure' and 'This one is not for sure.' "
As required, Langeberg submitted the slides to professor Annette Kuhlmann two days before the presentation. What happened next is now part of a file at Liberty Counsel, a Florida-based Christian law firm that is representing Langeberg in her dispute.
According to the law firm, Kuhlmann responded by email to Langeberg, writing that "while I can personally appreciate and respect your religious life, we are living in a society that separates church and state. The University of Wisconsin is a secular institution. Religious contemplations and the Bible belong to a different realm and not academic sources."
Langeberg said she took the religious references out because she was told she'd fail the assignment otherwise. She is seeking a written apology from the professor and an acknowledgement that the professor wrongly censored her.
Richard Mast, an attorney with Liberty Counsel, said the university now is claiming that all sources used in similar classroom presentations must be "peer-reviewed." This, however, is an after-the-fact justification that was not part of the original class syllabus, he said.
Unfortunately, we will not be getting the university's side of this. Kuhlmann did not respond to requests for comment. A spokeswoman for UWBSC initially said the university could not comment because of federal student privacy restrictions.
Langeberg then offered to sign a consent form allowing the university to talk about her. At that point, Alex Hummel, a spokesman for UW System, said the university could not comment because of the potential for litigation.
Reporter Doug Erickson explores matters of faith, values and ethics. You can reach him at derickson@madison.com or 608-252-6149.