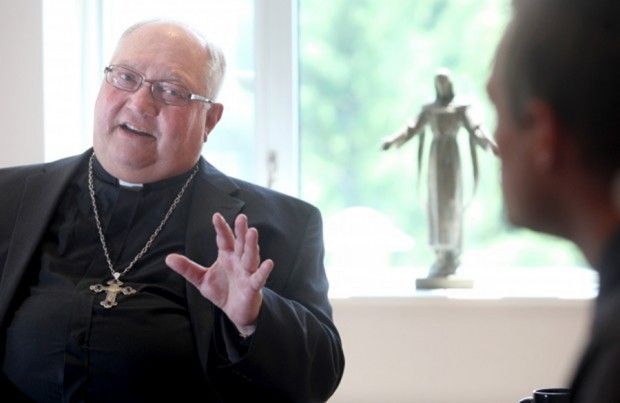 Madison Catholic Bishop Robert Morlino halted a public speech Wednesday night at UW-Platteville and switched the venue to a Catholic student center after a reporter in the audience refused to leave.
The bishop's action followed the appearance at the event of nine protesters opposed to his leadership. They demonstrated with signs outside Doudna Hall, the site of the lecture, and some filed into the hall to hear Morlino speak.
During the opening minutes of the talk -- titled "Why Does Evil Exist?" -- Morlino asked that no unauthorized photos be taken or recordings made after hearing the clicks of a camera, said Brent King, a spokesman for the Madison Catholic Diocese, which includes Platteville.
This is not a request Morlino typically makes, King said, but he felt it was necessary because he was aware of people in the audience with an apparent desire to stir up controversy. Also, the reporter in attendance, later identified as Steve Prestegard, editor of the Platteville Journal, was taking photos, which the bishop found distracting, King said.
Morlino asked Prestegard to stop taking photos and to delete the ones he'd already taken, according to audience members. When Prestegard declined, Morlino asked him to leave.
Prestegard declined that request, too, at which point Morlino told the crowd of 80 or so people that he would be ending the talk.
"He very nicely asked the reporter, human to human, if he would leave, and the reporter tried to make a big deal out of it," said UW-Platteville junior John Skinkis, 25, who was in the audience. "So the bishop said, 'Well, if you won't leave, then I'll have to.'"
The talk was then moved to St. Augustine University Parish, the Catholic student center on campus, which is private property owned by the diocese.
Prestegard, in an interview Thursday, said his exchange with the bishop was polite, but that neither side was inclined to budge.
"He didn't raise his voice or anything like that, but he clearly wanted me out of there," Prestegard said. "I told him it was a public place, built by taxpayer money, and that I was there because he's a public figure and I was interested in what he had to say. I was pretty sure he had no authority to make me leave."
Prestegard said he did not try to attend the rest of the lecture at the student center because he did not want the situation to escalate.
Catholic students on campus had invited Morlino to speak.
"Bishop Morlino came as a spiritual father to talk to students, not to make news or create a controversy," King said. "His decision (to halt the lecture) was in reaction to a group of seven or eight non-students who were clearly there with another agenda, and also because of the somewhat distracting photos being taken by someone he did not know."
Joyce Clark, one of the demonstrators, said in an interview that Morlino has "destroyed" parishes in Platteville. She was a member of St. Augustine for 37 years before leaving two years ago out of disgust, she said.
The sign she held at the event said, "What you have done to the parishes of our community is evil."
Her comments reference Morlino's decision in 2010 to install traditionalist priests from a conservative order at Platteville parishes, including St. Augustine. Hundreds of members at St. Mary's Parish in Platteville signed petitions seeking the priests' ouster.
When that didn't happen, many left. The parish's 77-year-old school soon closed due to plunging donations.
"We just wanted to make sure the students on campus were aware of why they see so few of us (at St. Augustine's) anymore," said Clark, who now attends another parish in the diocese.
She said Prestegard did not seem to have any agenda in attending the event. But UW-Platteville senior Lucas Klosiewski, 22, secretary of the Catholic student center, said Morlino was right to be wary of the press.
"I think most of the people in the audience were students, and we were there to learn," he said. "The reporter added kind of a negative vibe. It's pretty commonly known that the media can really talk negatively about certain things."