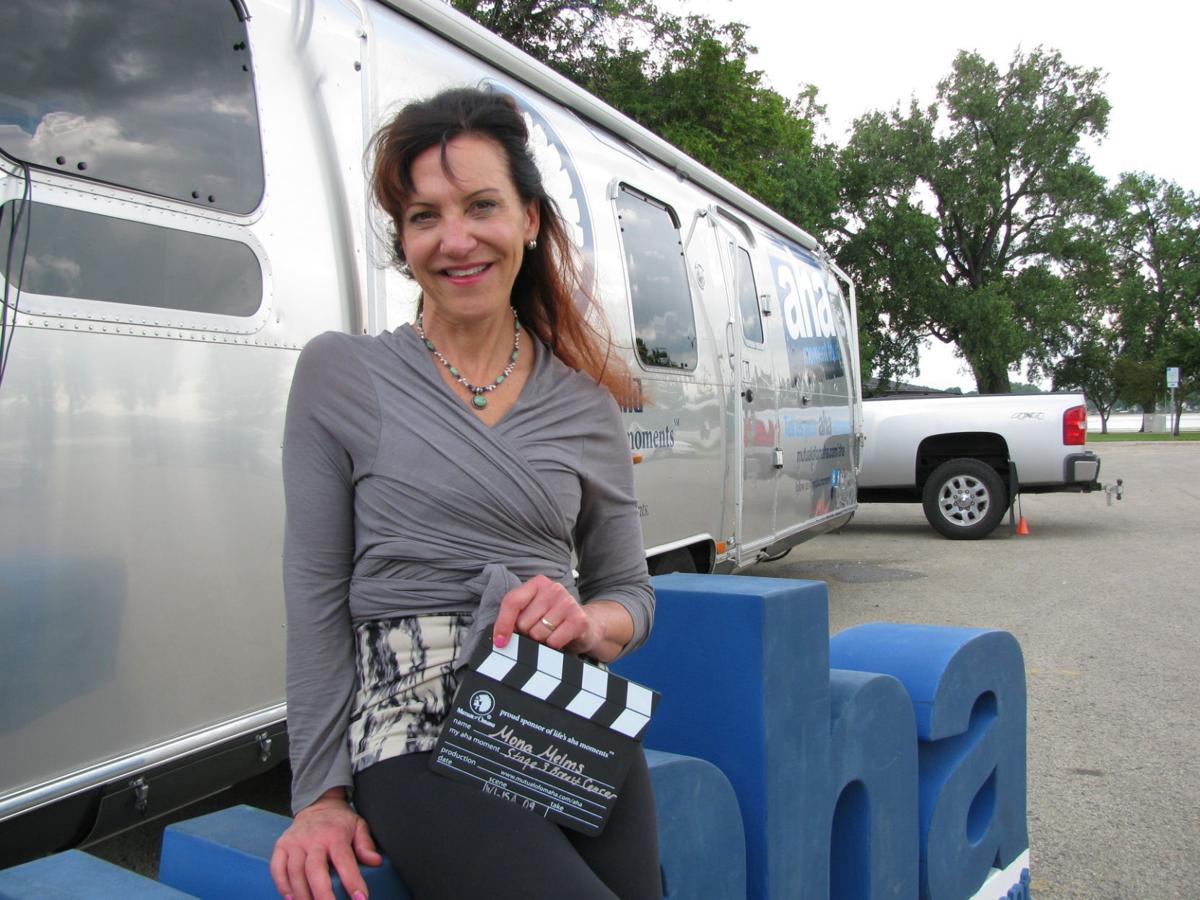 Mona Melms rarely watches TV. So when a researcher with Mutual of Omaha called her about auditioning for one of the insurance company's "aha moment" commercials, she had to ask her husband what the person was talking about.
Melms warmed to the idea, which is how she recently ended up in a mobile television studio at Madison's Brittingham Park. With a camera rolling, Melms, 59, of Madison, said, "My name is Mona, and this is my aha moment."
I sat in on the taping, and the experience was unexpectedly moving. I say "unexpected" only because Mutual of Omaha is a for-profit business, so there's a PR aspect to all of it, of course. Mutual of Omaha wants to sell more of its products, so it helps if consumers develop warm feelings toward it.
But there's also undeniable power in the concept of an aha moment. The company defines it as "a moment of clarity, a defining moment where you gain real wisdom — wisdom you can use to change your life."
Mutual of Omaha airs commercials in which real people share life-changing experiences. This summer, for the sixth year, the company sent a mobile television studio around the country to find these real people.
The Airstream trailer spent two days in Madison, the 13th stop on a 20-city tour.
People could wander in off the street and tape a segment. But to ensure a variety of stories, researchers with the company found people like Melms.
"Twenty-four years ago, I was diagnosed with Stage 3, possibly Stage 4, breast cancer," Melms said, speaking into the Mutual of Omaha camera.
"I was a young mom with two little girls, a 2-year-old and a 4-year-old."
You have free articles remaining.
Her diagnosis was grim — she probably wouldn't survive more than a year, 18 months if she were lucky.
"That moment made me take pause," Melms said, "and that moment made me say to myself, 'What will I do this next year? How will I live gracefully?'"
It was "a pretty incredible moment about the preciousness of life, and about the importance of sharing yourself with everyone you love as deeply as you can in whatever time you have left," she said.
She was very ill for a long time, but Melms believes her positive attitude was part of the reason she survived. "I learned to live with my cancer instead of thinking about dying with my cancer," she said in an interview.
She eventually returned to work as a nurse manager at a local hospital. But two weeks into it, sitting in a board meeting, she decided to change careers.
"I loved all the people I worked with, and I loved the hospital, but I looked around and thought, 'No, I'm not going to do this anymore.'"
She became a health and wellness expert, throwing herself into fitness training.
Eight years ago, she opened Melt, a fitness and nutrition studio in Downtown Madison with the tagline, "Defrost Your Mind. Discover Your Body."
"Now I help people find within themselves ways to thrive, not just survive," she said. "There will always be little obstacles in our way, but if you can just embrace every day and find a way to push through those, the sun will be shining at the end."
A panel at Mutual of Omaha will select 10 finalists from the hundreds of auditions. The public will then weigh in through online voting. The winning audition will air as a commercial next spring.
Reporter Doug Erickson explores matters of faith, values and ethics. You can reach him at derickson@madison.com or 608-252-6149.