Christa Fisher opens a cabinet in her office and fills a cloth shopping bag with some of the supplies inside: Bibles, pencils, postage stamps, calendars; a few pairs of clean socks. She checks the walkie-talkie on her belt, picks up a stack of yellow request forms, and goes to work.
She heads through a security door and down a barren corridor to a jail cellblock. Four men in blue jail-issued scrubs come to greet her through the bars, as a TV plays in the background.
"Have you got a Daily Bread in there?," asks David Hill, 39, as Fisher looks through her shopping bag and hands him the devotional booklet he asked for on his yellow request form. Then, she leans forward and asks him how things are going.
Fisher receives about 100 of these yellow sheets a week, filled with appeals for things such as reading glasses or simply the ear of a nonjudgmental listener. She is one of two chaplains at the Dane County Jail, called to serve inmates at a time of their lives filled with unknowns.
Jail is a "depressing" place, she acknowledges. But every day, she finds joy in her work.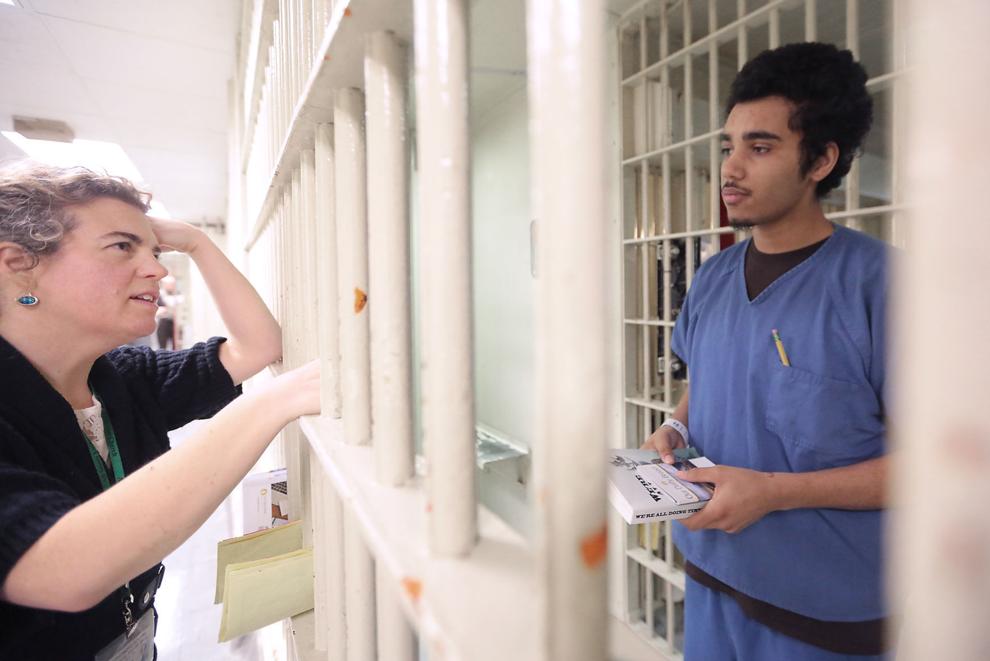 Fisher, who works full-time, is charged with serving the spiritual needs of the 800 male inmates housed in the jail at any one time. Julia Weaver, who works part-time, serves the jail's female population of 60 to 100 inmates. Both chaplains also are called to serve the friends and families of those incarcerated, plus the jail staffers themselves.
"When the chaplain comes, it just brightens my day," said Richard Brown, 23, during Fisher's visit to his cellblock.
"You get a new reading or something. Seeing the chaplain keeps me up, keeps me lifted."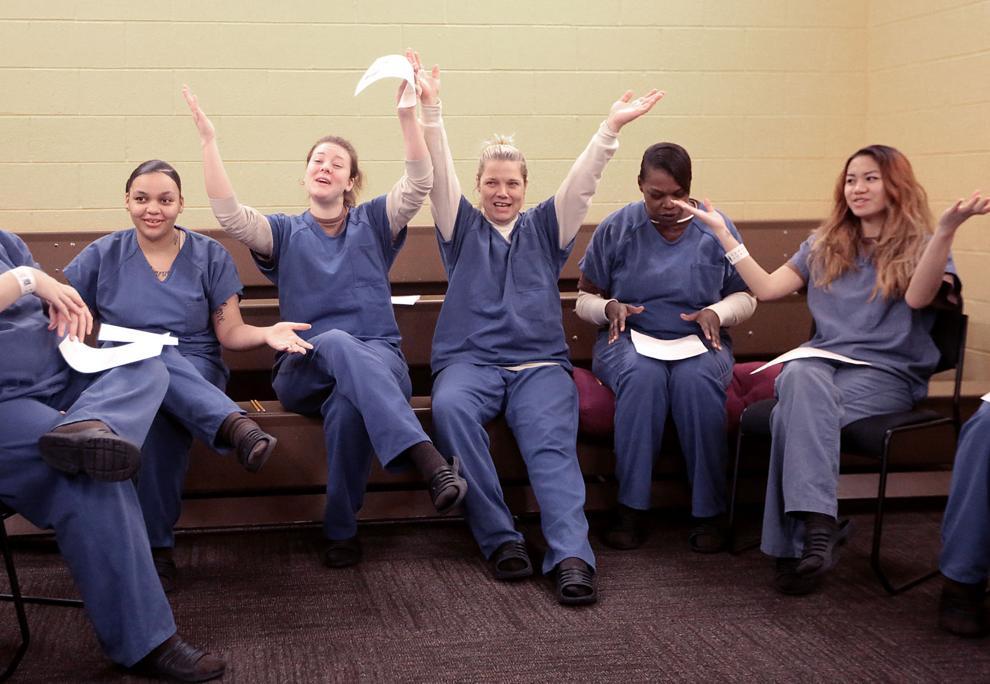 Marking a big anniversary
Fisher's and Weaver's salaries are paid by area churches through the Madison Area Jail Ministry, marking its 50th anniversary this year. The ministry was started in 1967 at the urging of then-Mayor Otto Festge as a program of the Madison Area Lutheran Council. In 2016 its name was changed to reflect the many congregations that now support it — not only Lutheran, but United Church of Christ, Episcopal, Methodist and others across Dane County. The chaplain's office also coordinates visits by clergy from other faiths.
The jail ministry runs a tutoring program staffed by volunteers, and provides for practical needs such as warm winter coats for people being released from jail in winter.
"Incarceration is exceptionally complicated, and the people whom I serve are people, they are full human beings, with the full range of emotions and life experiences and joys and hopes and desires that all of us have," Fisher said.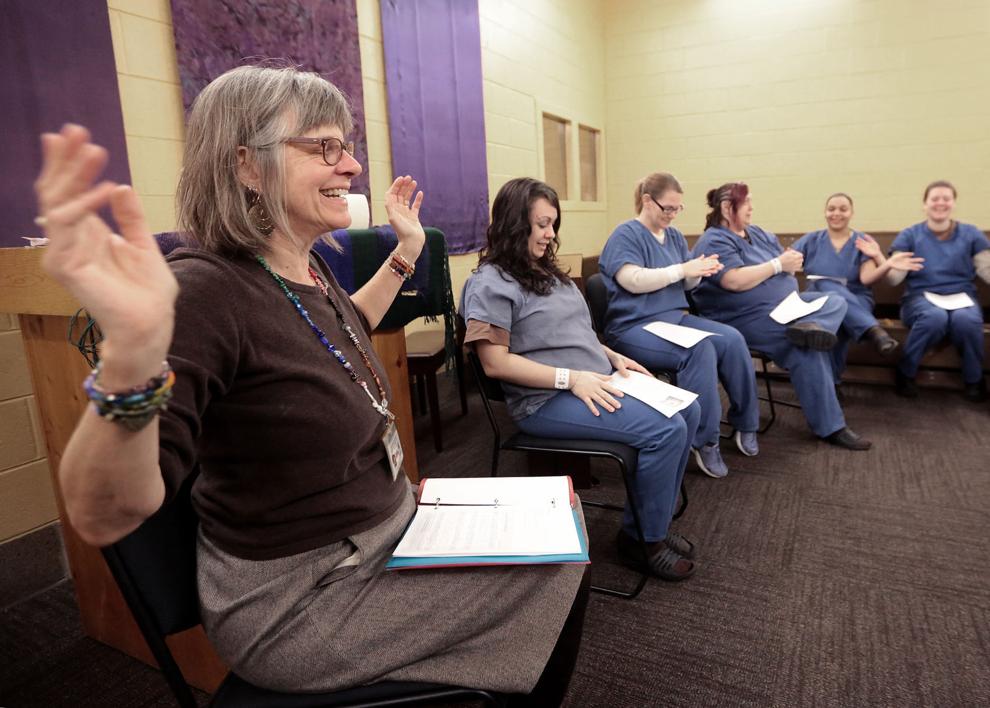 Much of her quest with them inside the jail is "How can we find purpose in this?," she said.
"A lot of people come to me and say they believe God put them in jail: 'God has a reason I'm here. God put me here.'
"Well, I'm not going to say they're wrong, because sometimes they convince me they're right," she said. "I would never say that God wants anyone to be locked in a cage — I would never, ever say that. But sometimes they convince me, that this experience has saved their life."
Beyond spiritual support
In the jail, the chaplains occupy an office next door to the mental health staff. The high school education teachers' office and medical staff are located nearby.
Along with holding weekly worship services and one-on-one spiritual counseling at the jail, both Fisher and Weaver also run support groups out of area churches for people just out of jail or in work-release programs and preparing to leave soon. The groups talk about deeper issues — relationships, parenting — and everyday logistics, such as getting transportation to a job.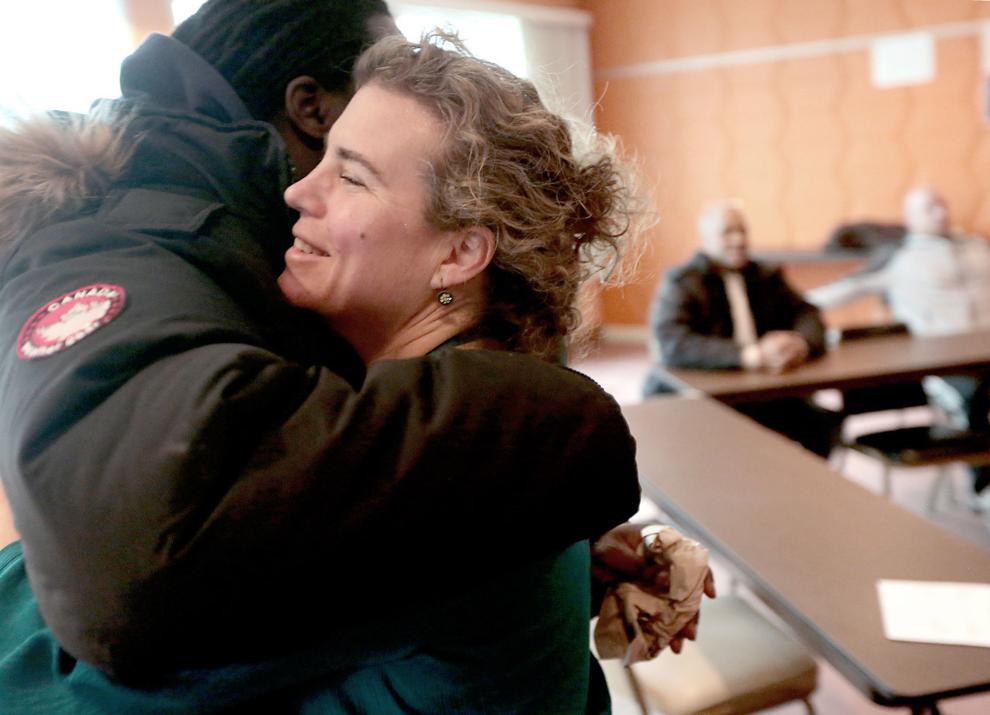 Some 16,000 men move through the Dane County Jail each year, landing there for a "wide spectrum" of reasons, Fisher said — often related to addiction, drug and alcohol use, domestic violence or other issues. Weaver sees the results of sexual abuse and human trafficking in many of the women she ministers to, she said.
And yet "there is so much caring that goes on," Weaver said. "There's hope every week...(in) the way the women take care of each other, and the staff as well."
She recounts how recently, when a local woman who many of the inmates and jail staff knew well died of a drug overdose, the jail community rallied to grieve and give one another spiritual support.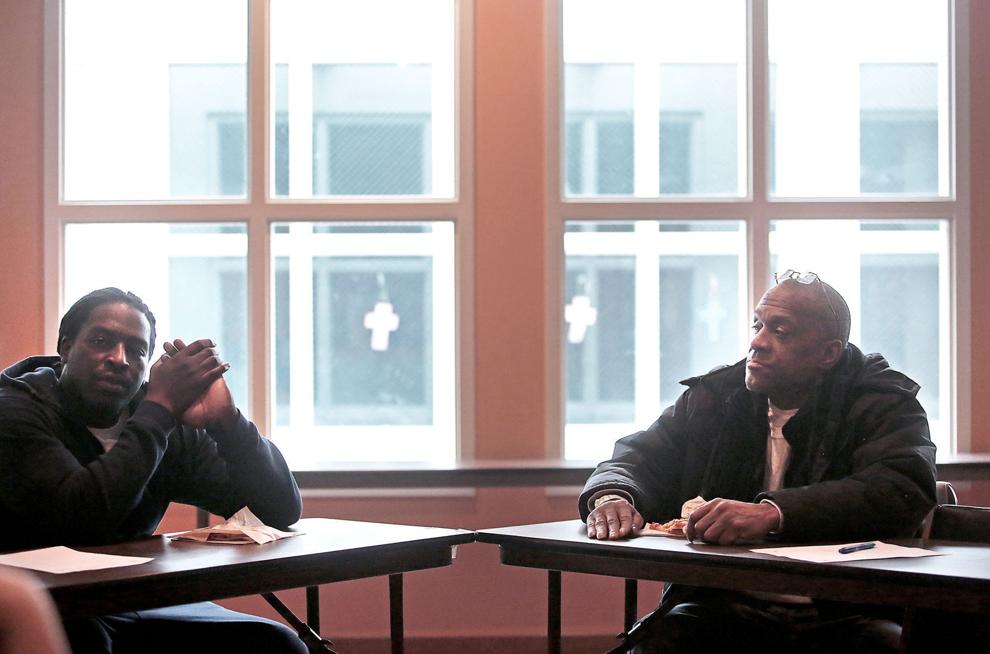 In Weaver's worship services, each female inmate is asked to say a prayer for another woman in the room, a ritual that creates intimacy and goodwill. Her weekly service last Thursday was designed to touch on Passover, Maundy Thursday, Good Friday, Holy Saturday and Easter Sunday all in one.
"I appreciate what Chaplain Julia does," said Iisha Murphy, 36, after a worship service held in March. "It gives me a chance to come down here and meet other women, to hear their stories and know that I'm not alone."
'Transformation of men'
The jail ministry plays a "significant" role in helping inmates re-join the community, said Dane County Sheriff Dave Mahoney.
The vast majority of inmates are there for nonviolent crimes, and having a strong spiritual network in jail can help them maintain connections with the outside, he said.
"I see transformation of men when they are in this circle of support," agreed Fisher, who said she often meets inmates who come from such a hard life she can hardly imagine it.
"Sometimes I hear people's stories and I think, 'How can people even survive this?'"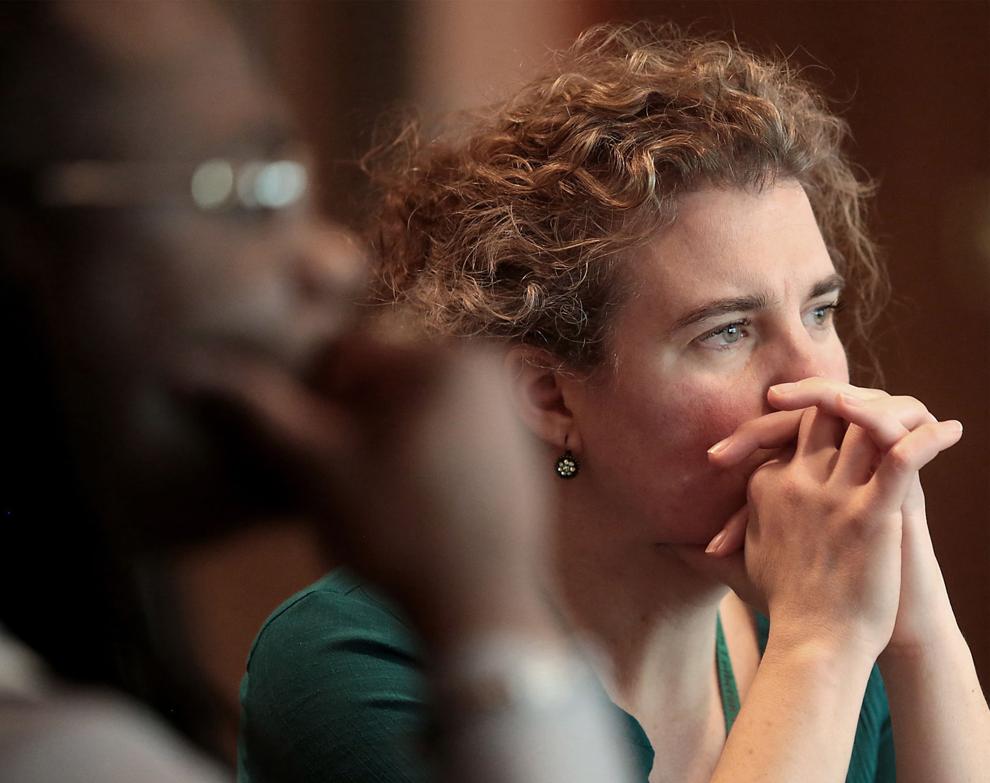 The chaplain's job, she said, is primarily to listen.
"I listen to people tell their stories, to talk through their pain, their fears, their hopes, their doubts, their sorrow, their joys, their good news and their bad news," she said.
A member of Lake Edge Lutheran who was ordained only last week on Palm Sunday, Fisher discovered jail ministry while doing her chaplaincy residency for seminary. She worked as a student alongside Weaver and took over the job of longtime jail chaplain John Mix after he retired.
Weaver, ordained in the United Church of Christ — and an artist when she is not working at the jail — also runs the Backyard Mosaic Project, ongoing art workshops that give women with a history of incarceration a sense of community and a way to creatively express themselves.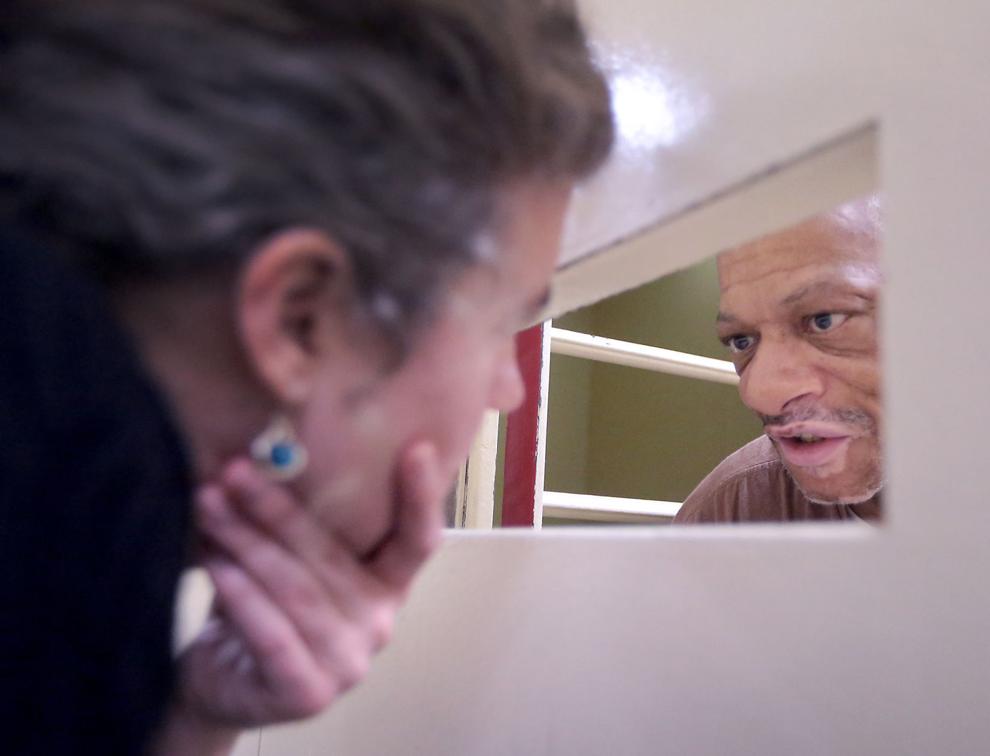 'Fasting from drugs and crime'
In the jail on a recent Thursday, things run a little behind schedule as Weaver waits for inmates to be brought in for her 2 p.m. worship service. It takes place in a dedicated room painted in colors of warm gold, draped with banners designed and woven by women in Weaver's "Tapestry Project" workshops.
"I've been here 15 years, and I've known some of these women for 15 years," Weaver says. "They come back."
A guard stops in to explain the delay: More women have asked to attend worship than the 18 the room is designed to hold. Jail personnel must sift through "keep separate" orders so they don't send in women who vehemently don't get along.
"There are a lot of personal issues," Weaver explains after the guard leaves. Worship needs to be "a safe place."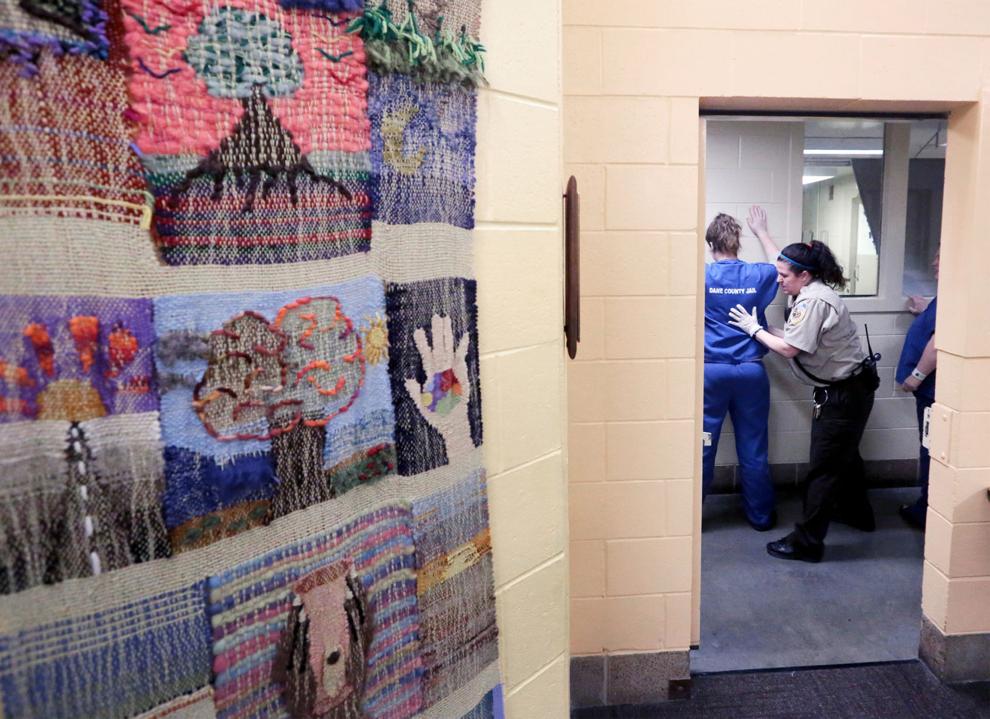 Eventually, the women arrive. They sit in a circle, dressed alike in blue prison-issue scrubs and rubber sandals. Weaver has set out boxes of tissues.
Before she begins speaking, the door to the room is locked from the outside.
The worship is both revealing and cathartic, a roller-coaster ride of joy and sadness, regrets and hope. Weaver has been doing a weekly series about Lent. She begins with a reading from Exodus 17, then leads the women in song. The discussion turns to fasting.
"Everyone here is fasting today from drugs or from crime," Shelby Koch points out in a group discussion. "I think one of the hardest things I've done is give up my lifestyle."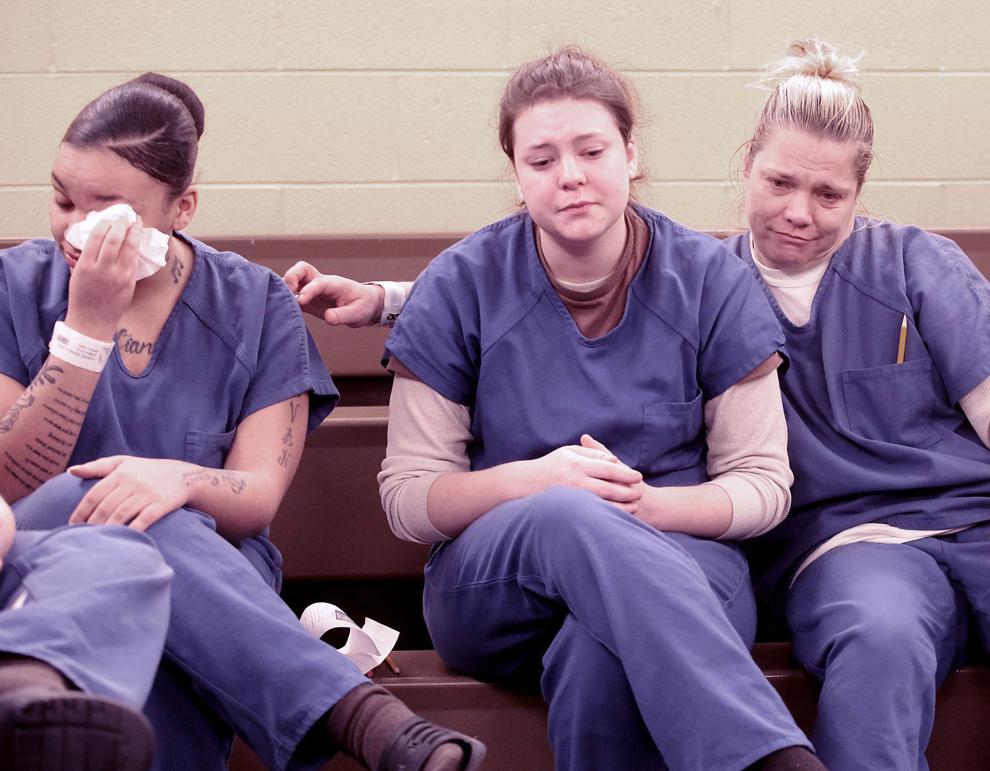 The women talk about other sacrifices they've made in their lives. About trying to give up negative relationships. About the pain of being separated from their children. About the distress of yielding control, the control they crave and sometimes abuse, and having everything in their days regulated and defined by incarceration.
The worship "is a chance to hear other stories and to see other people. A lot of people here have never had anybody believe in them," said Shanna Olson, 40, after the service and before being patted down and returned to her cell.
"Chaplain Julia will listen to your stories," she said. "She'll meet with you one on one. It's an outlet for people — not just about faith, but to have someone believe in you. To give you hope."