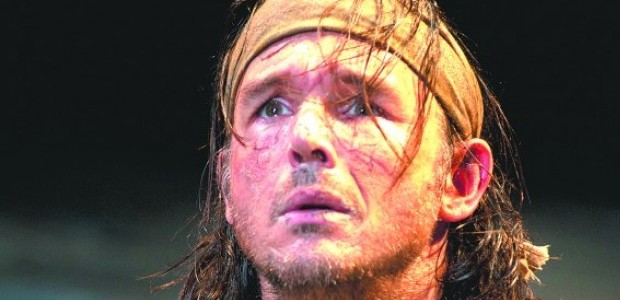 People know me as: American Players Theatre actor David Daniel. Most just call me David … or Daniel. Or Dee, Big D, Heavy D, Double D, Dee Dee, D Square, Two D or not to D, Dee Diggity Dog. I've been called that and a whole lot more.
Coming up next: I conducted workshops as part of River Valley Middle School's production of "Twelfth Night," which will be performed at the Spring Green school at 12:30 p.m. and 7 p.m. Thursday and at 10:15 a.m. Friday (free and open to the public). I also play Laius' man in "Oedipus Rex by Sophocles: A Verse Translation by David Mulroy," a new audio release by University of Wisconsin Press. And this summer at APT I'll be watering the writhing growth of Jim Ridge's "Richard III" as Buckingham; I'll also play Oscar, agent to America's premier theater family in "The Royal Family" and the overprotective father Calchas in "Troilus and Cressida."
Your training: My acting training is a mash of my father, the U.S. Army, every student I've ever met in a classroom, the University of Delaware's Professional Theatre Training Program and without a doubt the fantastic group of people that make up APT, onstage and off.
What do you do as APT's education director? I'm the latest in a long line of torch bearers that bring APT's particular philosophy of staging the classics into the classroom. That philosophy has always centered on language — giving life to the words and giving them room to breathe, stretch and reach out to us. We don't teach theater (well, yes, we do that, too); we teach through theater. We have an outstanding Teacher Advisory Panel that helps us construct workshops that reach various state and federal education standards.
What are the job's rewards?: Students often ask at APT if we ever want to be famous. There's ne'er a shred of meanness in the question but I can't help but droop a little every time it's asked. You could draw a few suppositions from that kind of question: 1. Being here means you're not famous already; or 2. Performing for me (the student) is a stop along the way to something better. Ultimately, some think, "If you were good you wouldn't be here performing for me." BAM! They don't realize that they deserve the best. These kids, these people right here in Wisconsin have just as much right (and NEED) to expect and demand the BEST dance, sculpture, music, painting, poetry and theater as anyone else, anywhere else in the world. Part of my job (and its biggest reward) is helping them realize that.
Tell us about River Valley Middle School: Each year Sue Quale (yep, she's one of those crazy teachers who goes out of her way to help create a hundred opportunities for her students to explore, grow and shine) directs an abbreviated version of one of the Shakespeare plays in APT's upcoming season. APT has been very lucky and honored to be invited to the performances. There's a crazy energy when the students know their grown-up-professional counterpart is out in the audience. No less crazy is the energy of the grown-up-professional actors waiting for the show to start so they can finally have some idea of what to do with their own version of a character. And between you, me and the lamppost, sometimes a bit of business or an idea from the middle school production makes into the production at APT. Steal from the best!
Most memorable moment on stage: It is either playing Hotspur's death scene in "Henry IV" with Matt Schwader holding me in his arms (dreamy!) just as a light sprinkle floated through the lights … or … being accidentally scalped onstage by my friend during a "Romeo and Juliet" sword fight ... or that play about a stinky foot (or as some may know it, "The Cure at Troy").
— Interview by Gayle Worland