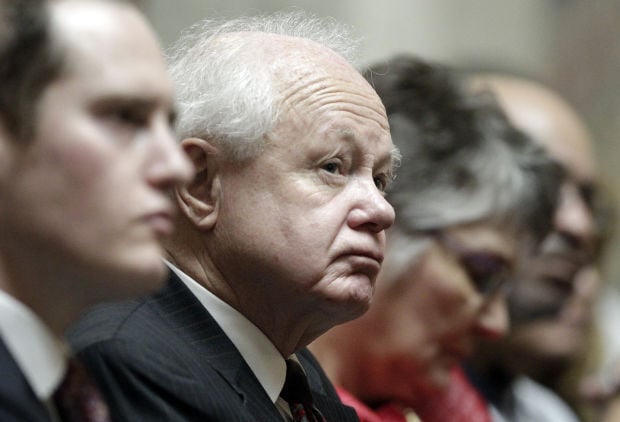 As the longest-serving labor leader in Wisconsin at the time of Act 10, Madison Teachers Inc. executive director John Matthews kept a close eye on proposed legislation that had to do with labor and education.
When he learned then-Gov. Scott Walker was going to introduce a "budget repair bill" to plug a hole in the state budget, he knew a fight was coming, potentially as big as the 1976 Madison teachers strike Matthews helped organize.
"I said, 'There's going to be this legislation that's introduced that's going to be designed to eliminate collective bargaining for the public sector,'" he said, to which the president of MTI at the time responded, "We're not going to work; we're going to the Capitol."
In the years after public employee unions lost the right to collectively bargain over benefits, workplace conditions and all but an inflationary wage increase, the school district shifted to less expensive health insurance options for employees.
"That's just one of the impacts of losing the right to have a seat at the table," Matthews said.
Matthews, who after his hire in 1968 helped grow the Madison collective bargaining agreement from four pages to 150, said both employers and employees benefited from collective bargaining prior to Act 10 because employees were able to share complaints with management and create a better work environment for all employees.
"It's a continuing process that the employees find very satisfying almost all of the time and now we have the situation where employers just say, for example this year, 'We're not going to give you a wage increase to maintain your purchasing power. We're not going to give you the cost-of-living index,'" he said.
Matthews, who retired in 2016, said the inability of wages to keep up with inflation has been the main reason many teachers in Wisconsin chose to retire early, leave the state to pursue better working conditions elsewhere, or find work in another industry entirely.
Without collective bargaining, he said, "employers suffer, education suffers."
Editor's note: This story is part of a series marking the 10-year anniversary of Act 10. Click here for more stories from people who experienced the historic events firsthand. 
---
Act 10: Full Coverage 
---
Watch now: The Great Divide | 10 stories about Act 10
The most seismic political story of the last decade in Wisconsin began on Feb. 7, 2011, when Republican Gov. Scott Walker informed a gathering of cabinet members of plans to unilaterally roll back the power of public sector unions in the state. He "dropped the bomb," as Walker would describe it afterward, four days later.
The audacious proposal, to be known forever after as Act 10, required public employees to pay more for pension and health insurance benefits, but also banned most subjects of collective bargaining and placed obstacles to maintaining union membership.
The proposal laid bare the state's deep, at times intensely personal, political divisions as tens of thousands of protesters descended on the Capitol. The month-long, round-the-clock occupation drew international attention, but failed to stop the bill.
A decade later, the aftershocks of one of the biggest political earthquakes in Wisconsin history continue to be felt. Taxes have been held in check, and state finances have improved. But public unions are vastly diminished and the state is more politically divided than ever.
Here are 10 stories from people who experienced the historic events firsthand.