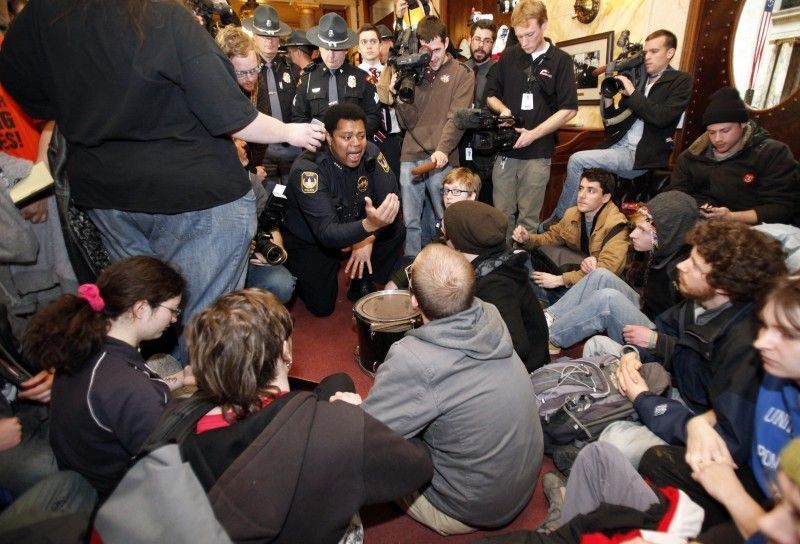 Ten years after the introduction of Act 10 led to hundreds of thousands of protesters to descend on the state Capitol, protests and civil unrest have once again become a common occurrence in Wisconsin and the nation.
Former Wisconsin Capitol Police Chief Charles Tubbs, who oversaw law enforcement at the Capitol during the Act 10 protests, looks back on that era and said he's proud the strategy that he and his fellow members of law enforcement used at the time, a strategy that emphasized voluntary compliance, communication and emphasis on peace.
During the protests, Tubbs, who now serves as the emergency management director for Dane County, said out of 1.5 million people over 37 days, there were only 16 arrests — nine of which protesters requested to be part of the historical record.
He said things got heated at times, such as when protesters and lawmakers, such as former Rep. Joe Parisi, D-Madison, along with the Rev. Jesse Jackson, were locked outside the Capitol building. During the protests, some protesters were forcibly removed from the Capitol, in one instance by state troopers.
"The value of human life was very important to me," Tubbs said. "To do it differently, other than voluntary compliance and nonviolence, would have put us in a very negative, significant situation. We would have possibly lost lives and injured a lot of people.
"So my focus was to uphold the Constitution, keep public trust and have an existing plan on resolving this issue at the state Capitol," he added.
Tubbs grew up in the 1960s, a previous era of civil unrest. As a child he attended a civil rights march and recalled being fearful of whether the police would beat his parents, as he had seen happen to other civil rights marchers on TV.
Luckily, that didn't happen to them, but it was an experience that stuck with him.
"I remember this to this day. I vow to God, if I'm ever in a place of leadership, ever in an opportunity to do the right thing, I will not allow people to be beaten, mistreated and mishandled by anyone," Tubbs said. "I will never, ever, ever forget that."
During the protests, Tubbs said he met with a group representing the majority of unions and special interest groups each morning at 7 a.m. to plan out the day and how peace would be kept. He also met with other law enforcement and lawmakers to inform them of updates on the situation, with voluntary compliance being the mission.
When a court ordered the Capitol be vacated, Tubbs emphasized communication. He met with with leaders of the protest groups, and eventually led them out of the Capitol's Martin Luther King Jr. Boulevard entrance. He recalls there being one stubborn protester, who law enforcement eventually got to leave.
Editor's note: This story is part of a series marking the 10-year anniversary of Act 10. Click here for more stories from people who experienced the historic events firsthand.
Editor's note: This story corrects the description of the civil rights event Tubbs attended as a child.
---
Act 10: Full Coverage 
---
Watch now: The Great Divide | 10 stories about Act 10
The most seismic political story of the last decade in Wisconsin began on Feb. 7, 2011, when Republican Gov. Scott Walker informed a gathering of cabinet members of plans to unilaterally roll back the power of public sector unions in the state. He "dropped the bomb," as Walker would describe it afterward, four days later.
The audacious proposal, to be known forever after as Act 10, required public employees to pay more for pension and health insurance benefits, but also banned most subjects of collective bargaining and placed obstacles to maintaining union membership.
The proposal laid bare the state's deep, at times intensely personal, political divisions as tens of thousands of protesters descended on the Capitol. The month-long, round-the-clock occupation drew international attention, but failed to stop the bill.
A decade later, the aftershocks of one of the biggest political earthquakes in Wisconsin history continue to be felt. Taxes have been held in check, and state finances have improved. But public unions are vastly diminished and the state is more politically divided than ever.
Here are 10 stories from people who experienced the historic events firsthand.