Leah Oppelt was out at the Great Dane Pub & Brewing Co. on the Far East Side for a beer-and-chocolate pairing eight years ago when she invented what would become one of Madison's favorite ice cream flavors.
Oppelt was eating salted caramels and cheese curds and drinking a beer flight. "I remember just thinking 'sweet and salty,'" she said.
She said she thought up probably 15 ideas in all. What some ice cream lovers now know as This $&@! Just Got Serious has salted caramel ice cream with sea salt fudge and salted cashews.
Oppelt said she was tired of almonds and peanuts, and found it interesting that cashews were rarely incorporated into ice cream.
The prize, four free pints of ice cream a month for a year, didn't do her much good because she was a competitive bodybuilder at the time and stayed away from the stuff. She wound up giving a lot of it away.
Oppelt, 46, had recently moved to Madison from La Crosse and had just joined Facebook, where she saw the contest advertised.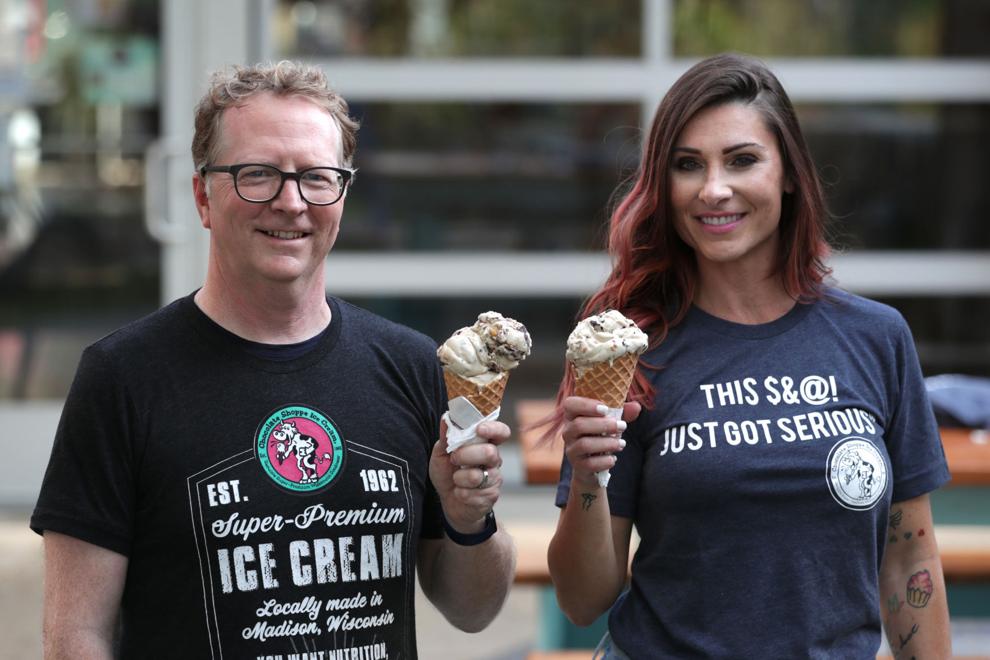 With the name, she said she was going for something fun.
"So many things are very boring and plain," she said. "I just wanted to do something completely off the wall."
Oppelt, who grew up in Pasadena, California, and has worked in provider support for Exact Sciences since March 2019, said she didn't expect Chocolate Shoppe to accept her flavor's name because of the word written out in symbols. "But I think the name actually added to the success of the product," she said.
She said she knew she couldn't put a swear word in the name, so she left it open-ended. "You could certainly fill in a different word there potentially, like 'stuff.'"
Oppelt forgot about the contest and didn't know she had won until radio station WMMM (105.5 FM), which helped promote the contest, left her a voicemail.
After she signed a waiver giving Chocolate Shoppe the rights, the company wound up making the ice cream pretty much the way she submitted it, she said. The company got it trademarked in 2018.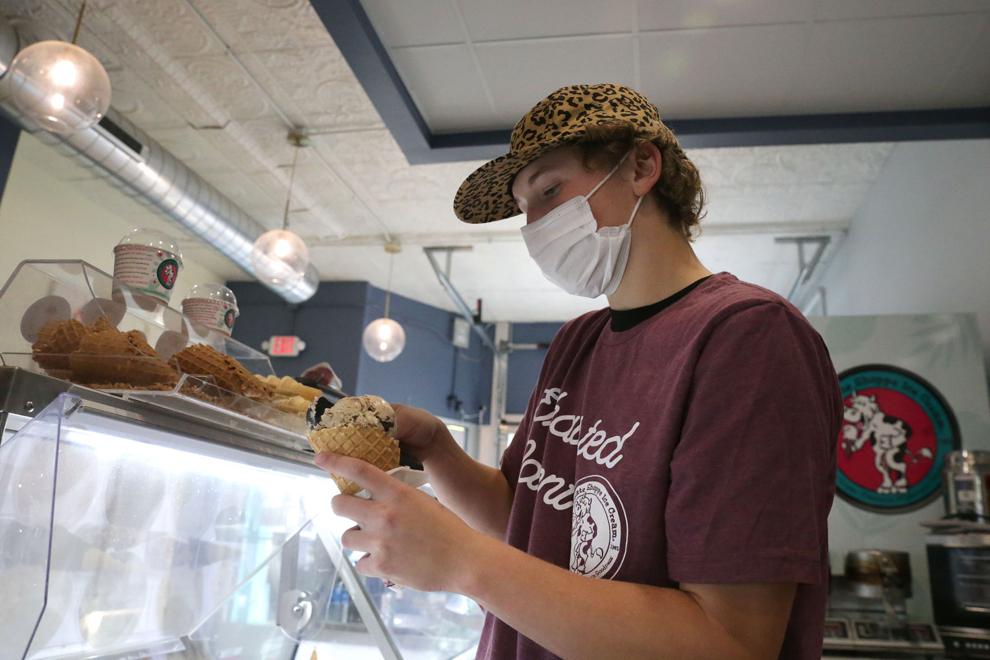 Second-generation owner and CEO Dave Deadman said Chocolate Shoppe had been running the Create-A-Flavor Contest for about 10 years. It was a COVID-19 casualty in 2020 and 2021 because the pandemic limited access to the ice cream stores. The contest should be back for 2022, he said.
The company promoted the contest in its stores and some of the other places where its ice cream is sold. Organizers screened out the flavors that were impractical to make and put the top 25 flavors to a public vote on the company's website and in the stores.
With a couple of minor tweaks, what Oppelt submitted would become a defining and award-winning flavor. "Serious," as Deadman calls it, quickly became one of Chocolate Shoppe's top flavors.
What sells best at the grocery store isn't always what's most popular in a cone or dish, where the top three generally rotate between Zanzibar chocolate, Serious and cookie dough, he said.
The company produces about 5,000 three-gallon cartons of Serious each year for ice cream stores, slightly less than Zanzibar, Deadman said.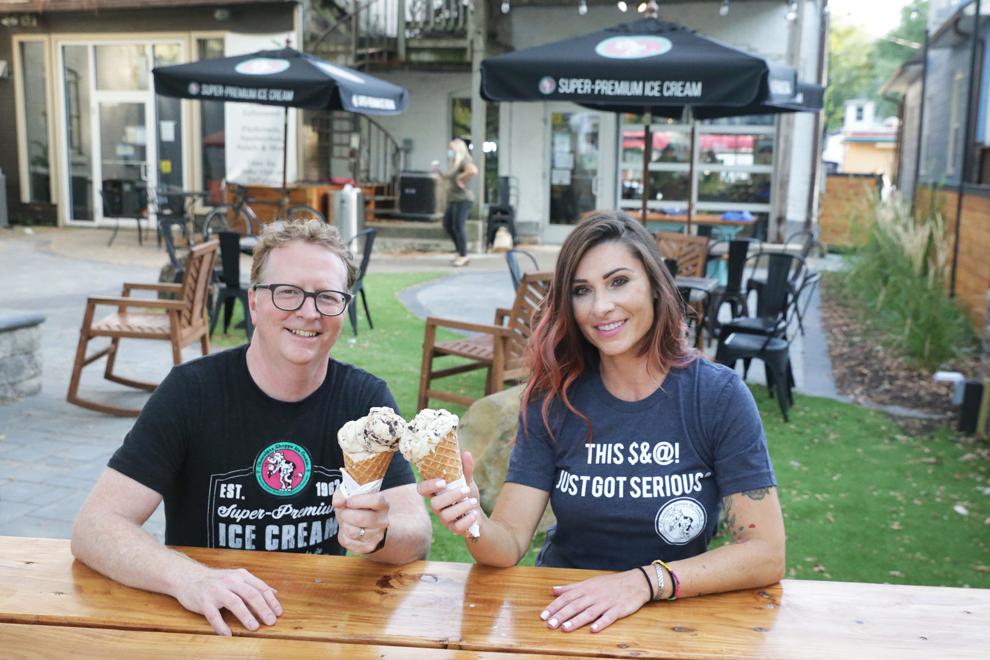 Whether This $&@! Just Got Serious is her favorite flavor, Oppelt said, is a tough question.
"I'm always trying to live in the present moment," she said. "And so, if I go to the ice cream store, I just get whatever is most appealing to me in that moment. I'll be honest, the last time I went to Chocolate Shoppe, I got their cotton candy (ice cream)."
Kitty Kitty Bang Bang (cheesecake ice cream mixed with a sweet raspberry ripple, Oreo cookies and soft chocolate chunks) and Exhausted Parent (Bourbon-spiked espresso ice cream swirled with bittersweet chocolate chunks) are two other contest winners that have stuck around, Deadman said.
In 2013, This $&@! Just Got Serious was named the best new flavor by the National Ice Cream Retailers Association at its annual meeting in St. Louis. That year, 22 new flavors were submitted by association member companies. Oppelt said that honor won her more free ice cream.
Serious also took first prize this year at the World Dairy Expo for best ice cream with caramel.
When Deadman and Oppelt met for the first time this week to talk to a reporter, Deadman gave Oppelt 10 cards good for a free ice cream cone or dish and four This $&@! Just Got Serious T-shirts.
Oppelt didn't take full advantage of her original prize when she won the contest. "At the time, I was actually dieting for a bodybuilding show, so I really couldn't eat that much ice cream," she said. "I would go in and get the free ice cream and then I would give it away to people."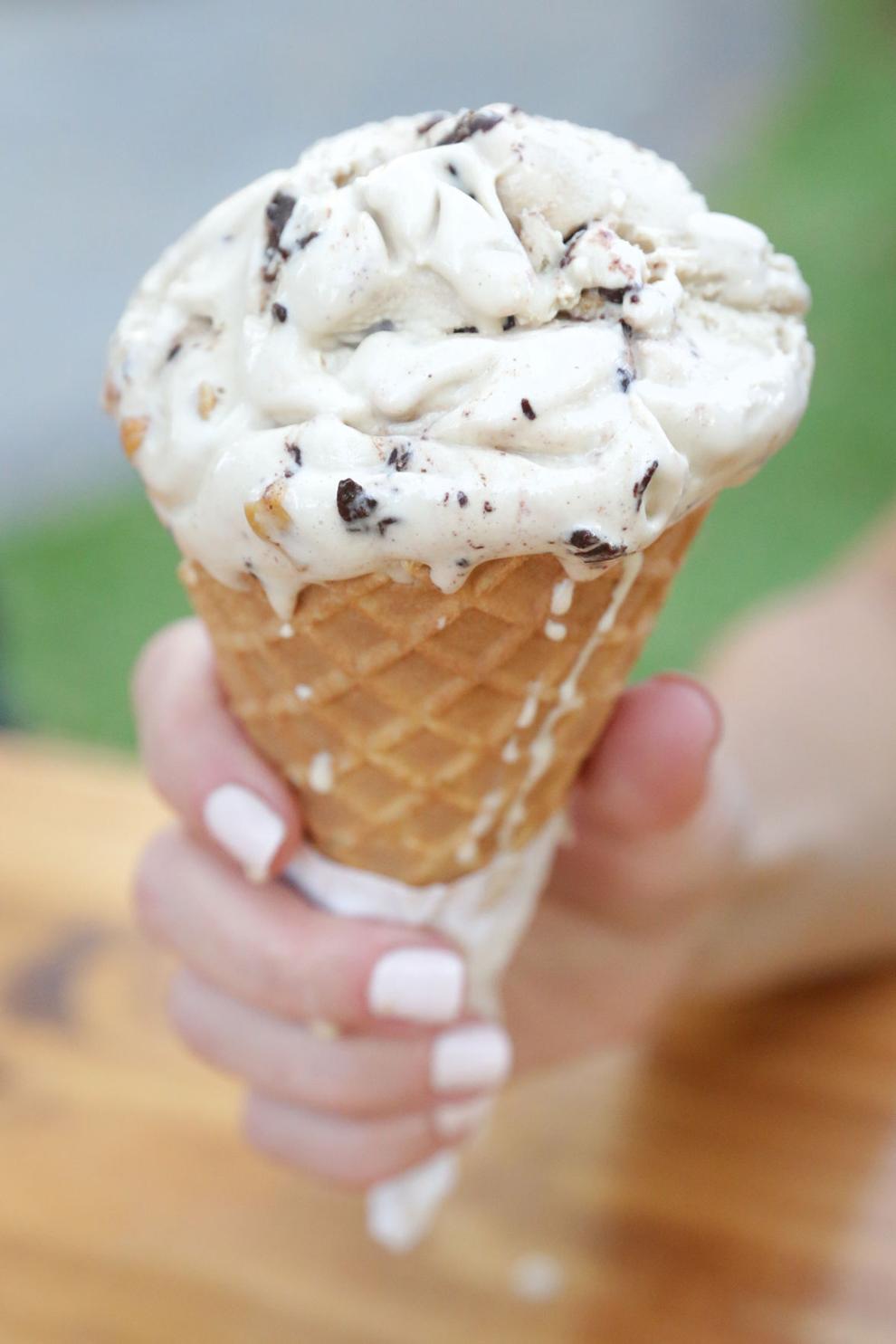 Having a lively name influences what people think of the flavor, Deadman said. "Because it could have easily just been 'salty caramel, chocolate, cashew flavor,' and people would have been bored with it. But This Just Got Serious is just a fun name. And people are like, 'What is that?' And then they love it because it's a great flavor."
Oppelt said by design, the name is mysterious and doesn't give away the flavor.