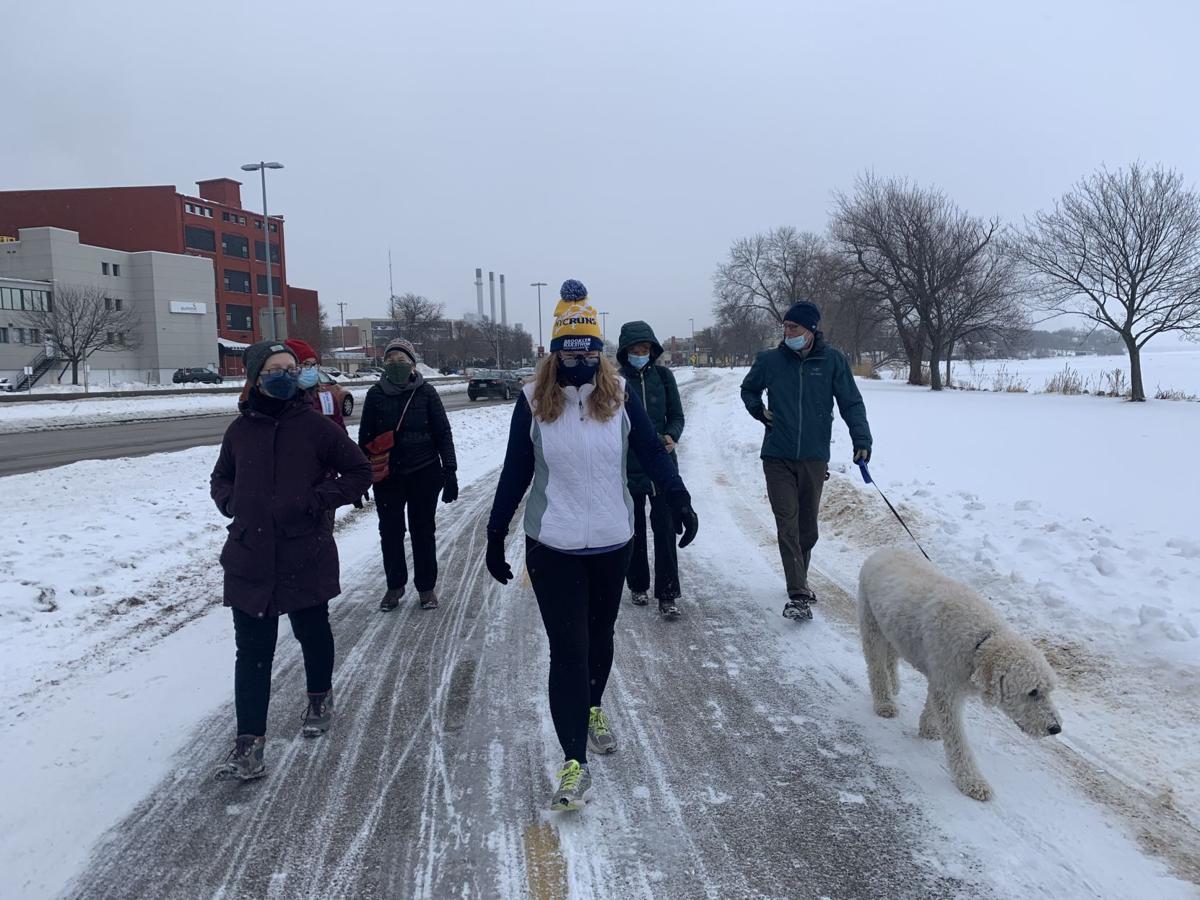 "I can say I've walked in all 72 counties," says Liebig, noting that the club has saved all its maps and directions so that future members can access those materials.
The Madison-area group is part of the nonprofit American Volkssport Association, and the only affiliate club in Wisconsin. Liebig, 60, joined almost 20 years ago.
Because of the club, which organizes a monthly 10K or 5K walk, Liebig said she's gotten to meet others who also enjoy a good walk. The routes are well thought out, she said, and usually involve history or have another theme, so walkers see interesting sights.
One year, the group did a Frank Lloyd Wright walk in Madison that passed buildings designed by the famous Wisconsin-born architect. The group has also incorporated other Wright sites in Wisconsin into its walks over the years.
Dairyland Walkers has about 220 members, most over 50. Liebig, the group's membership coordinator, said she wishes the club had more younger members.
The group's goal is to hold a walk every month. For its year-round, seasonal walks, people can walk on their own by picking up a map and directions. The club also promotes small group walks for members twice a month, Liebig said.
In January and February, club members typically meet to walk at East Towne and West Towne Malls, but those events have been canceled this year due to the pandemic. The next walk is March 13 in Middleton. All walks are open to the public and have a $3 fee.
The group has explored state parks and hiking trails in communities around Dane County. Liebig lives near DeForest and said the group has walked along the paved trail there next to the Yahara River. The group has also gone to Lake Farm Park to walk along part of the Lower Yahara River Trail. Middleton is also a popular destination.
"We've been able to get out and see a lot of things that I probably wouldn't have seen otherwise," Liebig said.
Volkssport
It helps to be part of a network of clubs throughout the United States, said Liebig, who has participated in an American Volkssport program to walk in all 50 states. She and her husband, Tony, have done 42.
"I would have never been able to, or would have thought of, seeing so many different sites in the United States," Liebig said.
The organization originated in Germany in 1968 and was brought to the United States in 1976, she said. The local club celebrated its 25th anniversary in July.
Every other year American Volkssport holds a national convention in a different area of the country, and the next one is scheduled in Madison in late June, with walks planned all over the state. "I'm a little less optimistic than some of our other members that we'll be able to pull this off" because of COVID-19, Liebig said.
The Mayo Clinic says that because walking is possible for most people and doesn't require special skills or equipment, it has become the most popular form of physical activity in the United States.
The clinic, headquartered in Rochester, Minnesota, advises people to make walking enjoyable. "If you don't like walking alone, ask a friend or neighbor to join you. If you're energized by groups, join a health club or walking group."
Let's get moving
Jen Tooley, 55, is a regular in a newer walking group in Madison, which is also part of a national organization. She has rarely missed EverWalk's two-hour walks, held the first Saturday of each month, starting and ending at McPike Park on Madison's Near East Side.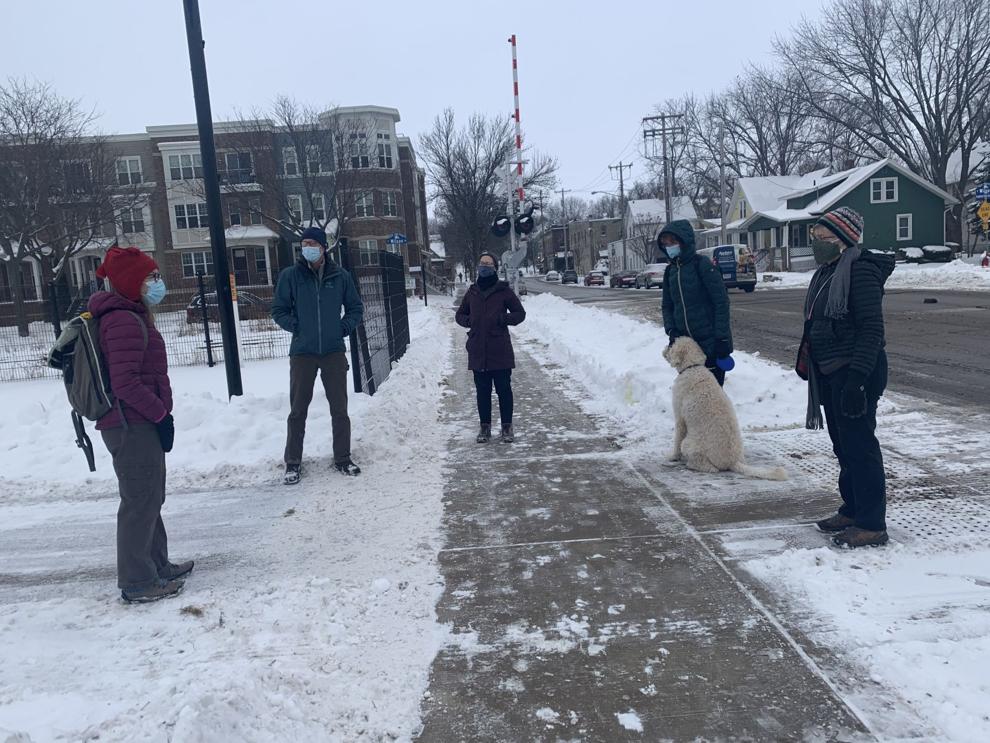 Tooley, who also runs, said if she could pick one form of physical activity to do above all others, she'd choose hiking. She walks two or three times a week, on the days that she doesn't run, and goes hiking every week.
"So the hiking and the walking go well together, but running is efficient," said Tooley, branch executive director of the Sun Prairie YMCA. She said she tries and get a walk in on the alternate days that she doesn't run.
"I really appreciate being able to be out with other people because I run by myself and it's a solitary act, which I enjoy, but the walks allow you to talk and be social," she said.
Susanne Galler, 51, the local EverWalk organizer, said "the goal is to get everybody moving."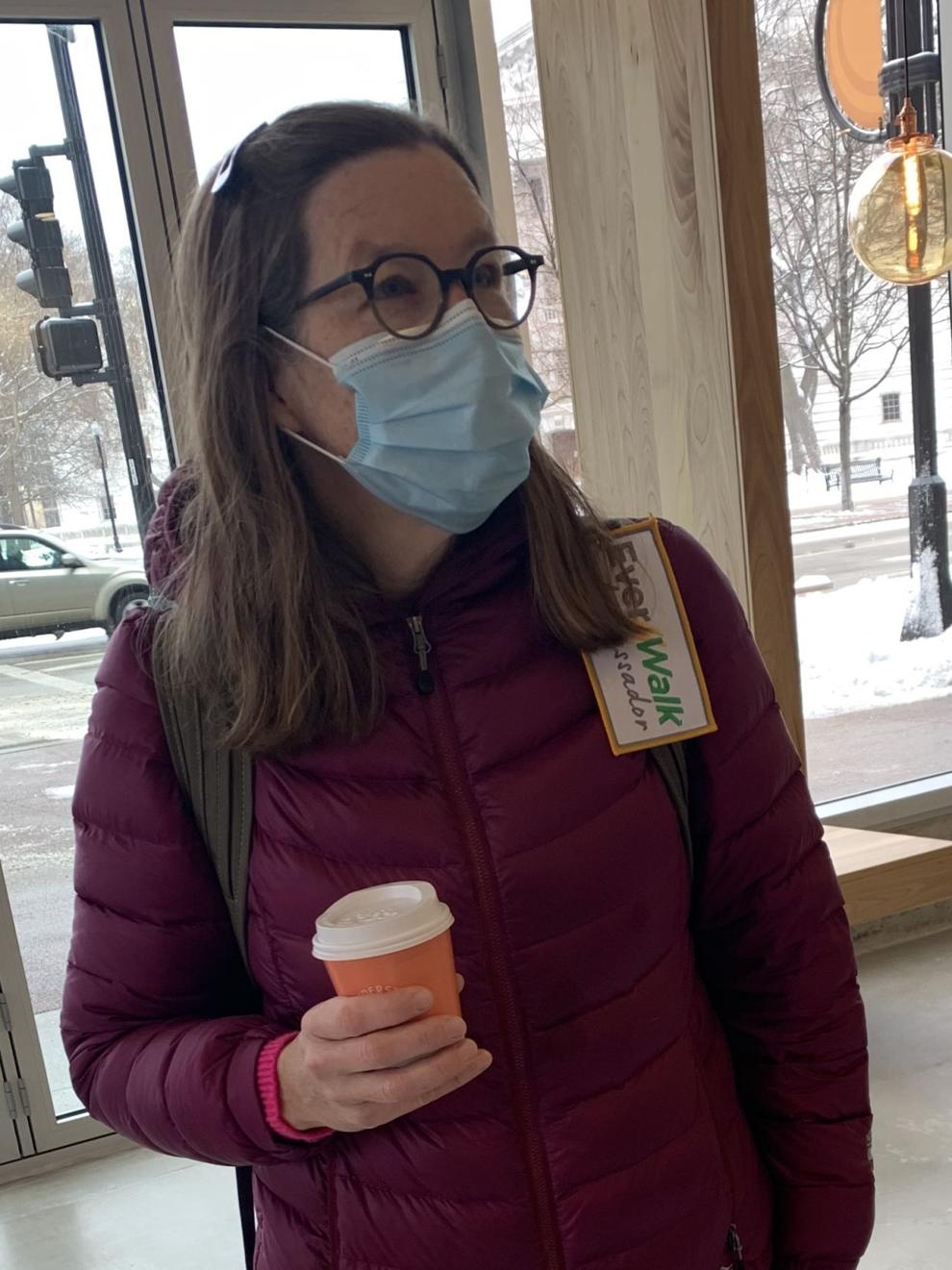 She started the Madison EverWalk chapter in October 2019, and the group has been joined by 24 members on Facebook. She plans the routes in advance and said she'd never gotten more than five people on a walk until this month, when she had seven, including herself and this State Journal reporter.
Walkers logged about 10,000 steps, or close to 3.7 miles.
For the first walk she planned, Galler posted some flyers and set up an Eventbrite, but no one showed up for the walk on a rainy day. "I walked by myself on the route for the first one," she said.
The national organization has been encouraging, she said. Galler has stuck with it and said she's trying to build it up gradually, adding, "a pandemic didn't help."
Madison's EverWalk went on hiatus in March due to the virus. When Geller started it up again in September, she required participants to wear masks.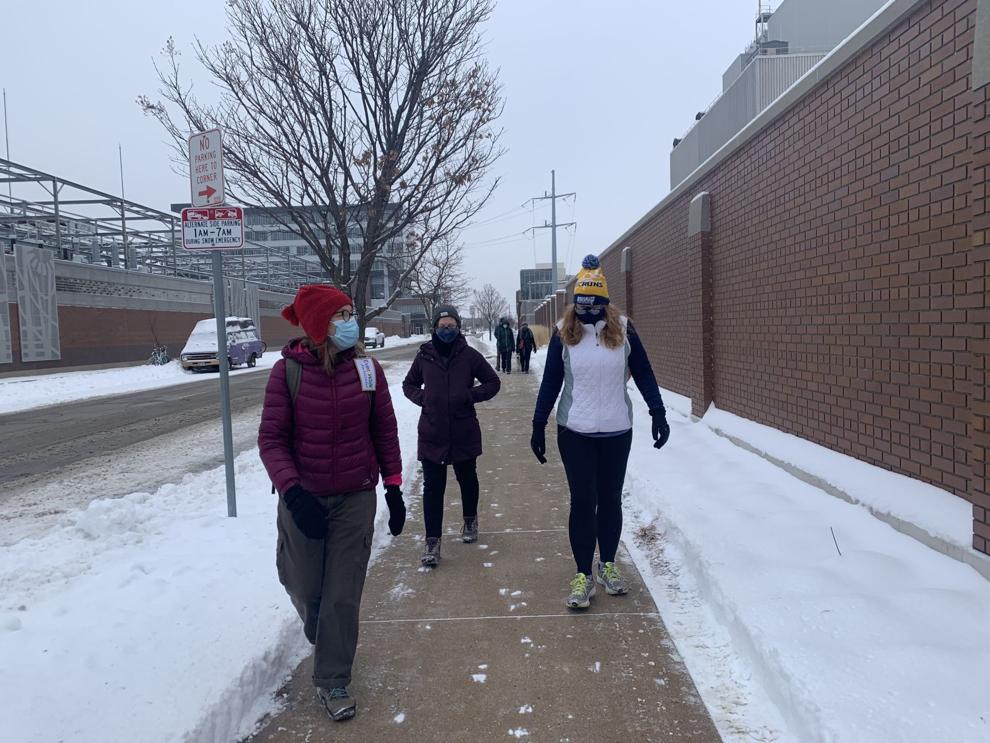 A famous founder
EverWalk was founded in 2016 by endurance athlete Diana Nyad, who made history at age 64 by swimming the 110.86 miles between Havana, Cuba, and Key West, Florida.
Nyad started the group with her trainer and longtime best friend, Bonnie Stoll. They call it the biggest walking initiative in America.
Like Dairyland Walkers, the Madison EverWalk is the only chapter in Wisconsin. EverWalk is always free, Galler noted. "Some people are unlikely to see value in something that is free, but not me."
Galler hasn't owned a car in 20 years. She walks, bikes and takes buses the seven miles to work from her home on Williamson Street to her job as an occupational therapy assistant at Oakwood Village assisted living community on the Far West Side.
EverWalk came up in Galler's Facebook feed as something active to do and she said she made "an innocent inquiry" to see if anyone was walking in the Madison area. That's when she was asked to to lead the local monthly groups.
She was mostly running then, and still likes to run. At work she was facilitating fall prevention workshops and promoting "walking health" for the aging, and she saw EverWalk as a good opportunity to do something outside.
Community is key
"It's community. It's getting to know our neighborhoods," Geller said. A few months ago, she planned a walk to Garver Feed Mill and highlighted the local businesses along the way.
She said she likes to highlight murals, public art, and "just what's going on." The group usually stops to pick up coffee along the way and on the recent walk up to the Capitol Square, the group visited Wonderstate, a new coffee shop.
Geller, who has lived in Madison for 25 years, said she also likes to explore underappreciated parts of the city and tries to develop routes that incorporate less-traveled streets. "Everyone who's come has mostly lived here for decades, but we're seeing (the city) differently through either each other's eyes or just from walking."
Last February, when Geller went to her hometown of Virginia Beach, she organized an EverWalk along its boardwalk and had a few people show up.
Walking groups are becoming a trend, she said, because running, "it's not for everybody." She's had people bring their children or their dogs. "The joy is that we can set the pace for anyone," she said. "There's no judgment. It's just meant to be fun."
A September story in The New York Times, "An 'Awe Walk' Might Do Wonders for Your Well-Being," detailed how people who took a fresh look at the objects, moments and vistas that surrounded them during brief, weekly walks felt more upbeat and hopeful in general than walkers who didn't.
"The findings are subjective but indicate that awe walks could be a simple way to combat malaise and worry," the story said. "They also underscore that how we think and feel during exercise can alter how the exercise alters us."
Tooley has long known the value of walks and hikes. Lately she's appreciated how EverWalk can be part of her mix. "I've lived here a long time, but when you walk and you walk with other people, you notice different things and you see different things and you get to understand how different people relate to the city. It's just a really, really engaging and enjoyable activity."
Fave 5: Features reporter Samara Kalk Derby shares her most memorable stories of 2020
The year 2020 was relentless. For most newspaper reporters, almost every story, even if it wasn't directly related to COVID-19, was touched by it. Reading and writing about the virus has been exhausting and dispiriting. 
So, going through the stories I put together this year, some of my favorites were the ones that gave me and others a break from the all-consuming virus.
Recently, I learned of a black-throated gray warbler at Turville Point woods, next to Olin Park, that's rare to Wisconsin and had been hanging around far out of its normal range. In reporting the story, I joined a birding Facebook group and got to talk to some enthusiastic birders. Bird people are good people. And birding is a rewarding pandemic pastime.
Another recent non-COVID story was one that previewed "Beyond the Ingenue," a production by Music Theatre of Madison made available online. The show spotlighted 11 trailblazing women from Greta Thunberg to Ruth Bader Ginsburg through original songs by local woman. I enjoyed talking to the songwriters and performers, and learned more about some prominent women, as well as about less well-known historical figures like Lavinia Dock, a social activist and pioneer in nursing education. 
The arts are vital to a community's character, and it's encouraging to see local theater groups soldiering on without live audiences and with a dramatic loss of ticket revenue.
I wrote a number of stories this year about Madison institutions being able to weather the pandemic, and one that was close to my heart was about the survival of the Madison Children's Museum. In visiting children's museums in other cities, I know that what we have here is special and worth fighting for.
Writing about restaurant closings can be sad, but they can also celebrate their subjects. That was the goal in writing about Sunroom Café closing for good. While many of the other restaurants that closed in 2020, had large, devoted followings, I'm choosing Sunroom because it had been in its second level State Street location for 25 years under the same owner. There was simply nothing else like it.
"I run by myself and it's a solitary act, which I enjoy, but the walks allow you to talk and be social."

Jen Tooley, EverWalk participant