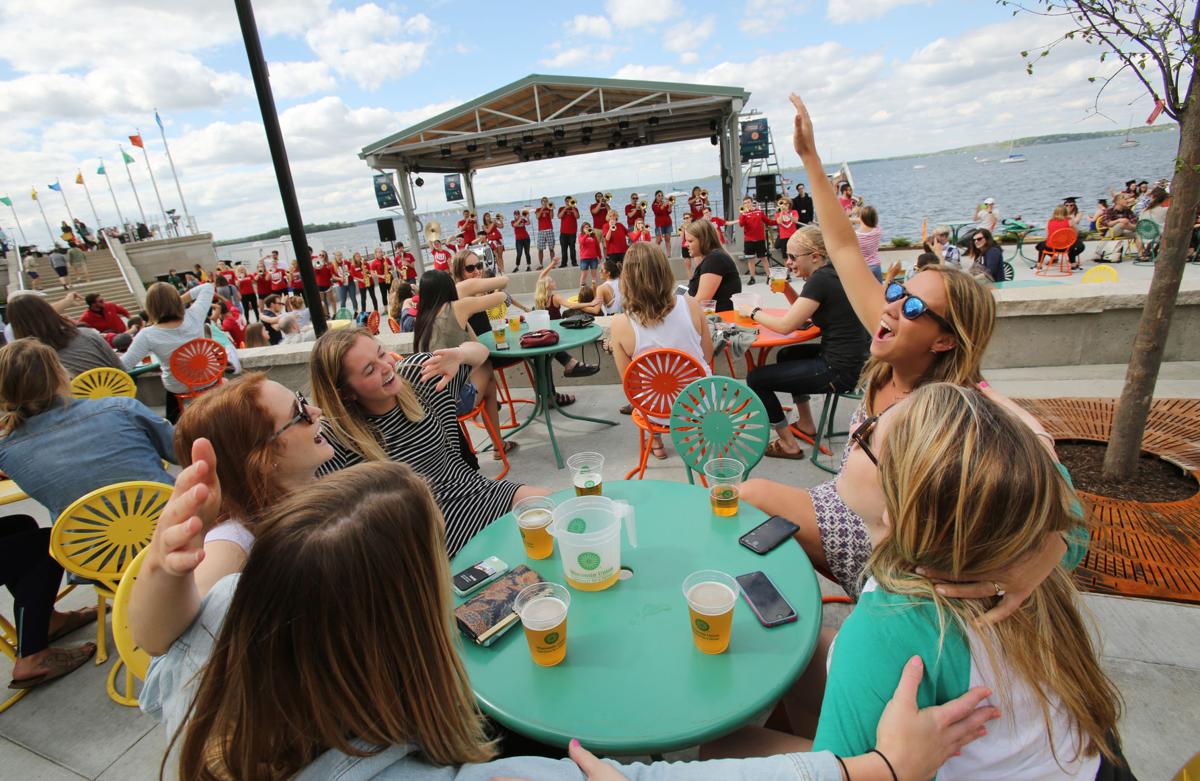 Terrace season is on with live, outdoor music, films and art activities at the Memorial Union Terrace, just at a reduced capacity.
The lineup of free concerts begins June 11:
Beo Quartet, June 11 at noon
Pat McCurdy, June 11 at 7 p.m.
Donna Woodall and Marquis Hill, June 19 at 7 p.m.
Cork 'n Bottle String Band, June 24 at 7 p.m.
Don't Mess with Cupid, July 2 at 7 p.m.
Bear in the Forest, Deryk G. and Sylvie Lou, July 10 at 7 p.m.
Handphibians, July 15 at 7 p.m.
Steely Dane, July 23 at 7 p.m.
Telethon and Half Catholic, July 31 at 7 p.m.
Performances presented as part of the Sugar Maple Music Festival, at 7 p.m. Aug. 5, have yet to be announced.
Terrace music programming, with the exception of shows by Woodall and Hill, is presented by the Wisconsin Union Directorate Music Committee, one of 11 UW–Madison student-run committees and six clubs at the Wisconsin Union.
Woodall and Hill are being presented by the Wisconsin Union Theater in collaboration with Arts + Literature Laboratory.
The WUD Film Committee will host its Lakeside Cinema free film showings beginning at 9 p.m. June 14:
"Dazed and Confused," June 14
"Finding Nemo," June 28
"Raiders of the Lost Ark," July 12
"Do the Right Thing," July 26
"Lilo and Stitch," Aug. 9
"Wet Hot American Summer," Aug. 23
Music and movies will be canceled in the event of rain. Additional events may get added throughout the summer. For up-to-date listings, visit TerraceSummer.com.
Terrace Art Zone is a series of free art projects hosted by the Wisconsin Union's Wheelhouse Studios. There will be printmaking from 5-7 p.m. on June 9, weaving on June 23, mobile making on Aug. 4, and object marbling on Aug. 18 while supplies last.
In the case of rain, Art Zone will move indoors to Wheelhouse Studios on the Union's lower level. Wheelhouse will also host Paintacular, its annual, free group paint night on the Terrace, from 3-5 p.m. on Sept. 6 or while supplies last.
Last summer, the Terrace's famous yellow, green and orange tables and chairs were only available by reservation. Seating is now available on a first-come, first-served basis. Last season, customers ordered food and beverages online, and the items were delivered to the table. Menu items can now be ordered in person. There were no events in 2020.
Union spokesperson Shauna Breneman said the Terrace increased seating by about 500 chairs Wednesday because of changes in campus health and safety protocols.
She said that puts the Terrace's increased capacity at about 34% of normal capacity. The Terrace now has about 1,700 seats, while its full capacity is about 5,000. Effective Wednesday, visitors can move tables and chairs around to best accommodate groups.
"We are continuing to operate at a reduced capacity out of an abundance of caution and will continue to evaluate our capacity and other health and safety practices throughout the season," Breneman said.
The entrances on the west and east ends of the path alongside the Terrace are now closed. If the Terrace is approaching capacity, visitors will be asked to enter and exit via the path between Alumni Park and Memorial Union, where a Union staff member will be counting guests.
Breneman said guests will be able to stand and dance and don't need to sit in their chairs. Effective Wednesday, she said, visitors can move around freely.
Visitors are no longer required to wear masks, but Breneman said unvaccinated visitors are encouraged to wear them indoors.
Public Health Madison and Dane County allowed COVID-19 restrictions to expire Wednesday with no new orders replacing them, meaning all local restrictions on the size of gatherings and the county's mask mandate have been eliminated.
Guidance from the Centers for Disease Control and Prevention says people who are fully vaccinated don't need to wear masks or social distance for most indoor and outdoor activities, regardless of size.
Current seating includes the sunburst Terrace chairs as well as Aceray tables and chairs. Breneman said the Union hasn't provided wooden tables and seating, as it has in past years, on the path by Lake Mendota.
Folding chairs will not be available for movies as they have in the past.
Madison Forward, Part 1: Region's business community pushes ahead
The pandemic had devastating consequences for many Madison-area businesses. Some didn't make it. Others found a way to limp through. The common thread in all these success stories is resilience. Here are some of their stories.