How do you defend — even hypothetically — the indefensible?
In the case of "The Assignment," the indefensible is the Nazi Final Solution and a high school assignment that becomes a community rallying point.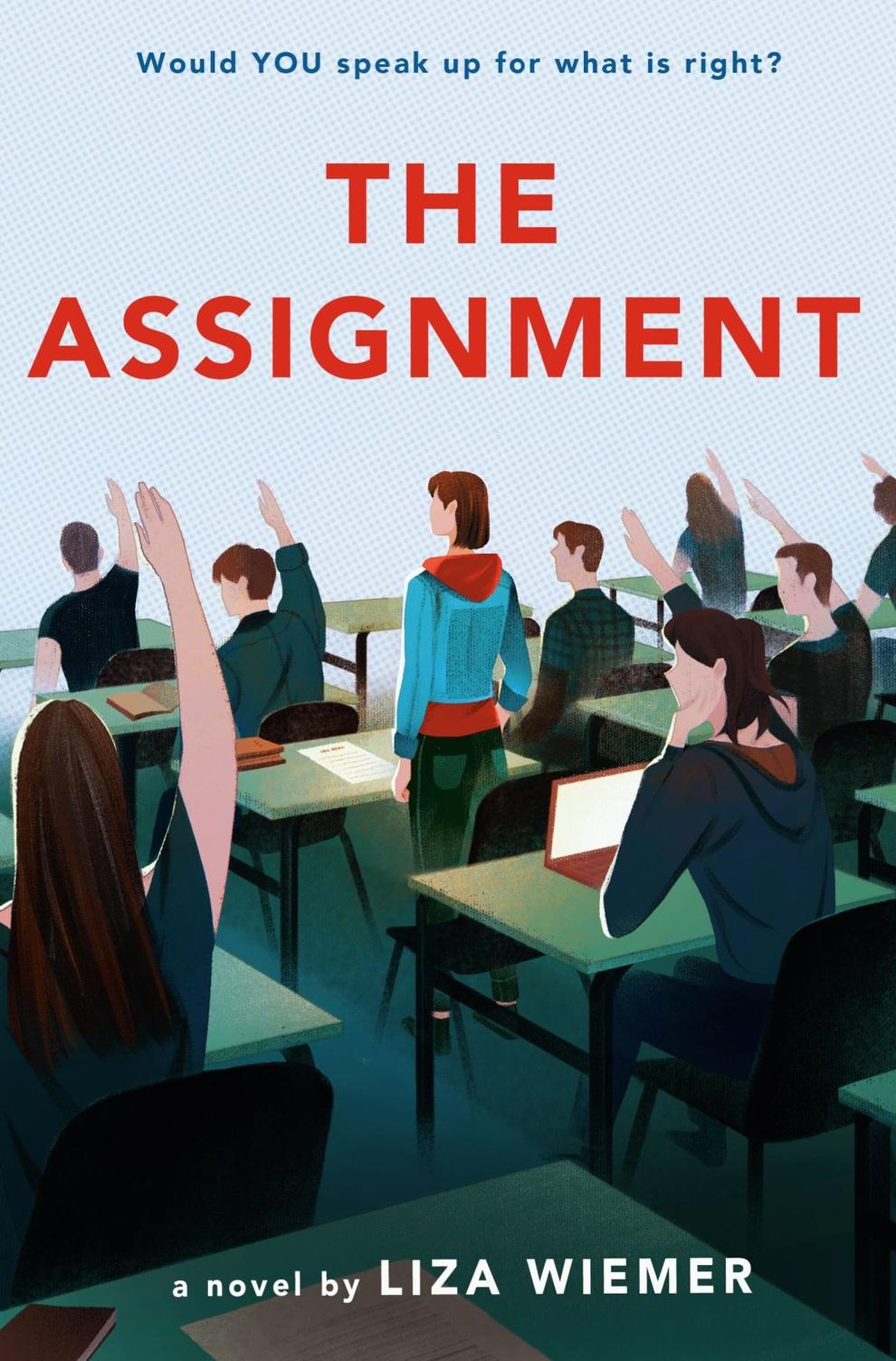 The young adult novel written by UW-Madison alum Liza Wiemer was published in August and is based on a true story.
Wiemer, a longtime educator, has also written two adult nonfiction books and another young adult novel. She lives in Milwaukee.
Q: How do you describe your book "The Assignment"?
A: "The Assignment" is about the need for decency and tolerance as well as how individuals' action can make a difference. It's about two brave teens who refused to do an assignment asking them to pretend they're Nazis and debate the merits of the Final Solution of the Jewish Question — Hitler's plan to exterminate Europe's 11 million Jews. This teacher divided the classroom into two groups. The pro side had to come up with reasons for extermination while the con side was to support sterilization, work camps and ghettos. Murder people outright or torture them by working and starving them to death. This is an inappropriate way to teach the Holocaust. Students can learn about the Nazis' actions without having to advocate for genocide. Making this into a topic to debate crosses a moral line.
Have there been other examples of assignments such as the one on which the novel is based?
When I first found out about the assignment that inspired this novel, I thought it was unique. But as I conducted research I discovered that it wasn't unique at all. There have been numerous similar assignments. While I was writing the book, people who knew about my work contacted me to share their own experiences or point out those reported in the media. Since the book was published, I've had students, parents and even teachers reach out to me to discuss assignments like the one in the novel.
In New York, a teacher had white students bid on Black students in a mock slave auction and in North Carolina a teacher gave students an assignment asking them to create a drawing or a diorama of a concentration camp. Imagine 11-year-olds building models of gas chambers and crematoriums. It's appalling.
Throughout the book, Mr. Bartley, the teacher who gave the assignment, is a complex character. How was it to write his character?
It was important to me to show Mr. Bartley as a multi-dimensional character — a regular human being. I did not want to demonize him. The vast majority of inappropriate assignments similar to the one in my novel are thoughtless and misguided. I don't believe that they're given because the educators are motivated by hatred. Teaching is a complex and challenging profession with many responsibilities and standards for accountability. Good teachers can make mistakes. It's what happens after a mistake is made that will ultimately determine the outcome.
You met and interviewed the two students who were actually given and fought a similar assignment while you were in New York for a book event. What was that like?
The series of events that led to meeting Archer Shurtliff and Jordan April were truly miraculous. I was on my way to a book signing at an independent bookstore in Oswego, New York, which is very similar to Door County. During winter, many businesses are closed, including the coffee shop I had hoped to spend the afternoon working in until it was time for my event. In desperate need of caffeine, I stopped at a grocery store. But it was pouring so hard that the parking lot was flooded. So I sat in my car and started scrolling through Facebook. That's when I saw an article about the real assignment. To my surprise, the first line stated that it took place in Oswego. After learning about the true-life assignment, I made the decision that I had to connect with these brave students. I planned to purchase copies of my first young adult novel, "Hello?," and ask the bookstore owner to send Jordan and Archer a copy along with a note thanking them for being so courageous. Turns out, I didn't need to go through with my plan. Later that day, as I entered the bookstore, I looked up and there was one of the teens. I said, "Oh my gosh, it's the world-famous Jordan!" I had recognized her from a photo in the article. That night, we had a three-way phone call with Archer. Although they inspired the novel, it is not their story. "The Assignment" is a work of fiction.
Were you ever able to connect with the teacher who was involved in the original assignment?
I made the decision not to contact the teacher. As an educator, the first question I asked myself was, "Why would any educator give an assignment like this?" There are many answers to that question, so the novel could have taken multiple directions. I chose what seemed most plausible to me. I also decided that my teacher, Mr. Bartley, would be well-respected by the principal and students. This created more challenges. Exploring and answering why a beloved teacher would give an assignment like this was part of my motivation for writing this novel.
Throughout the book you are tackling these big, important and uncomfortable issues. But also underlying it is the sweet teenage romance between the two main characters. It brought such levity to the story. Is that why you included it?
Writing this novel was emotionally challenging. Throughout "The Assignment's" three-year journey, I lived in a world cloaked in hatred. The light romance I created for my characters gave me a break and brought me joy. In darkness, we need to bring light into this world. Also, I am a hopeless romantic and believe in happily-ever-afters. I have my own love story: I married the guy I met at Summerfest the summer between my senior year in high school and my freshman year at UW-Madison. So, I drew upon my own experiences in developing my characters' relationship.
What has the reaction been since the book came out last summer?
I'm grateful and humbled by the positive impact it's had on many readers. I've received messages from students as young as 11 to senior citizens. Since the novel came out Aug. 25, I have been informed about at least 15 similar assignments. In one instance, a teacher asked if he could speak to me about an assignment he'd given.
Reflecting back, he recognized the horrendous mistake he'd made by asking students to pretend that they had been enslaved and had escaped on the Underground Railroad. He said that he should never have utilized that exercise as a means to teach Black History. It was grossly inappropriate. Although he was trying to get his all-white class to empathize, he now realizes how wrong it was to use racial trauma and to attempt to re-enact the horrific events to teach that history. The fear, the pain, the experience of what Black people endured during enslavement cannot be re-created and to attempt it is disrespectful. He said it shamed him and that he felt awful that he didn't recognize his mistake. If there had been students who wanted to speak out, they didn't. His situation wasn't unique. ... This is one of the reasons why I believe this novel is important. It shows how critical it is to be an upstander instead of a bystander.
How is the novel already being used in school curriculum to teach social justice and the Holocaust?
What makes this book unique for not only Holocaust education but for social justice is how it connects the past to the present. Racism, antisemitism and other forms of hatred are a part of today's reality. This novel shows that connection, allowing for meaningful reflection and discussion. It helps build a solid foundation for upstanders. Silence is not the answer. I'm happy to say that teachers are already utilizing this book in their classrooms.
What are you working on next?
I just finished a picture book and started another. They are a departure from writing young adult novels and I'm really excited about them. I usually write about tough topics. These have been a much-needed break.
Photos: Take a tour of Madison's Little Free Libraries
Little Free Libraries -- those charming boxes of free books with a ubiquitous presence in Madison -- launched here in 2010 and are now found in all 50 states and more than 85 countries. By one estimate, Madison has more than 400 of the modest neighborhood boxes. Here's a sampling, looking at various parts of the city. See if your neighborhood is represented.