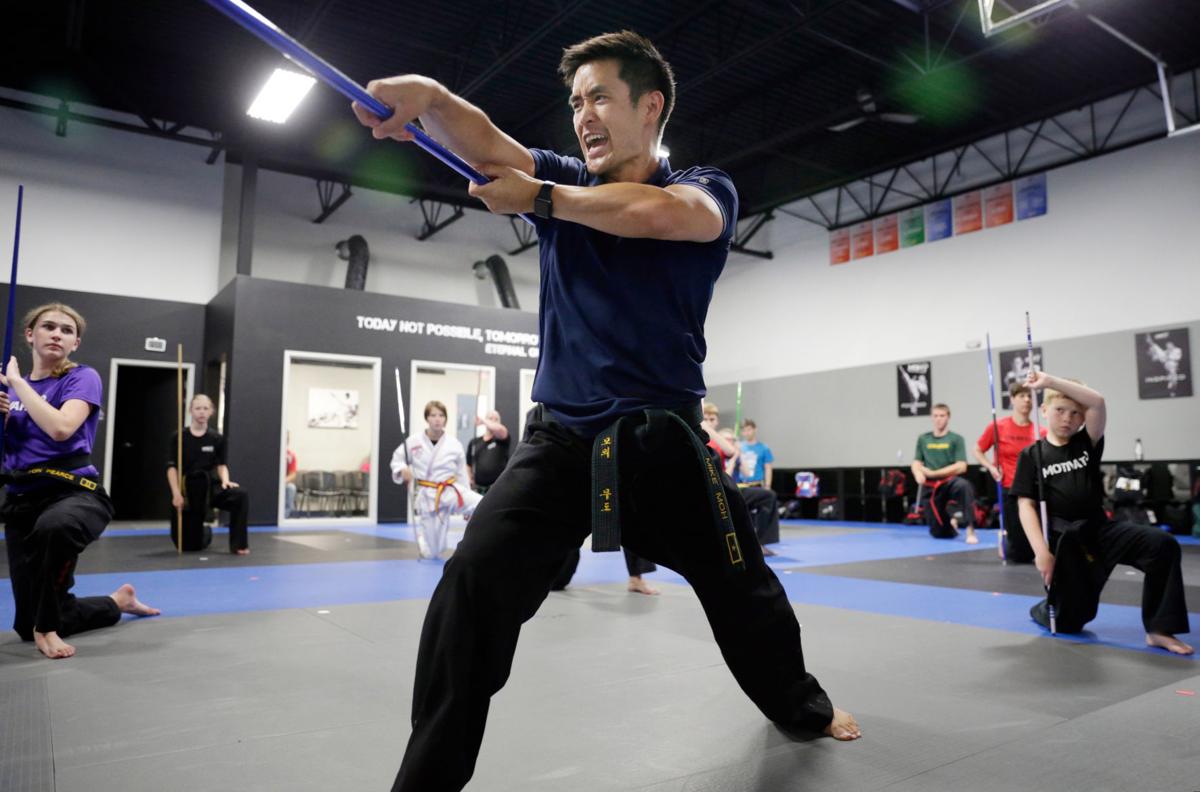 WAUNAKEE — In his martial arts studio he's called "Mr. Moh." But to television, IMAX movie and comic book fans, he'll soon be known as Triton.
Mike Moh, an "electrifying" fifth-degree Taekwondo black belt, veteran of "American Ninja Warrior," small-town business owner and father of three, will play the underwater-breathing, superhuman-power-wielding, green-skinned character in the upcoming ABC-TV series "Marvel's Inhumans."
He already has a small but recurring role on Fox's "Empire" — as Steve Cho, Empire's PR director. Moh's "Empire" appearances are filmed in Chicago, where he was earlier this month.
"One day I'm at a table read (of a new script) in Chicago, sitting across the table from Demi Moore and all these A-list stars, trying to do my best and stay quiet," said Moh, during a break from teaching at his school, Moh's Martial Arts, in Waunakee. "And the next day I'm here, teaching kids in a town of 12,000. It's kind of a cool double life I have."
This week Moh will be off to San Diego for the famed Comic Con. He and other stars of "Inhumans" will appear there to heighten the buzz about their new sci-fi comic-book-turned-IMAX-movie-turned-TV-drama. There will be parties, panels, appearances — but by the time "Inhumans" is on national TV, Moh hopes to be home in Wisconsin.
Growing up with Jackie Chan
It's been an unusual path to show biz.
Moh, 33, grew up in the Minnesota suburbs of St. Paul and got hooked on Taekwondo through pop culture.
"Jackie Chan movies, Ninja Turtles, Power Rangers," he said. "Once I started (lessons) at 12, I was there every day. My mom would drop me off at 4 p.m. every day, and pick me up at 9. So I got my black belt in two years, which is pretty quick for a kid. I put in time every single day."
Moh's parents had emigrated from Korea, "and I think having something that kind of connected me to my Korean culture — and Taekwondo is a Korean martial art — helped connect me mentally to the art," he said.
The spectacular high kicks and aerial spins of Taekwondo were exciting, too.
"A lot of my friends were playing video games like 'Street Fighter,' and I just thought it would be cooler if I could do the moves myself, instead of just clicking buttons."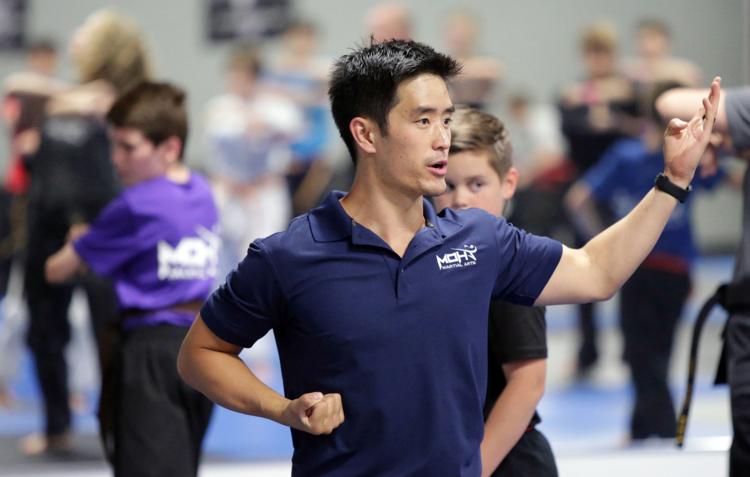 Moh met his future wife Richelle when both were kids, training at the same dojang. Richelle was four years older and achieved her fifth-degree black belt before Mike did (she still outranks him, since she started earlier).
But it was years later that the two reconnected and started dating; they opened a martial arts studio in Minnesota with Richelle's mother. While Moh had just finished his marketing degree at the University of Minnesota, a mentor told him the world-famous martial arts film star Jackie Chan was looking for extras for his movie "Rob-B-Hood," and said Moh should submit an audition tape.
"That was in 2005. He was looking for some martial artists who could do flips and acrobatic, Hollywood-type stuff," Moh said.
"I submitted a tape, and like a week later I was in Hong Kong for two weeks working with Jackie Chan — who was my idol growing up."
"It was a very small role, part of the stunt team," he said. What impressed him most was Chan's humility.
"He was sweeping the floor, hanging out with the whole set," Moh said. "Now I look back at that and say, wow, that's something that no stars would ever do. He basically wore all the hats: He was the janitor, he was the director, he was the fight choreographer; he was the acting coach, he would hang out with everybody, even me, who was brand new. That made a real lasting impression on me — how humble and hard-working he was. He wasn't above any job."
Moh had acted in high school musicals, though never contemplated an acting career. But he returned to the Midwest pretty revved up.
"He couldn't stop talking about it, how amazing it was and how much he loved to be on set, and the whole experience of it," recalled Richelle. "We didn't have a family yet and we were pretty mobile, and always up for an adventure, so I said, 'I don't want you to have regrets in the future — to say, "What if?" ' "
So the couple packed up and moved to L.A. Moh earned his Screen Actors Guild card doing mostly commercial work and his wife landed a job with Mattel.
Making Waunakee home
But big-city life lost its allure once they started having children.
"We were both used to living in suburbia, with yards, where you could run around the yard," Moh said.
Richelle started talking to Mattel-owned American Girl in Middleton about getting a job in Wisconsin (she's now its director of product development). Soon the Moh family — along with Moh's parents and Richelle's mother — all settled in Waunakee.
"I decided — look, if I never act again because I'm in Wisconsin, I'm OK with that. Family comes first," Moh recalled.
"I did my research on Waunakee, and I knew they didn't have a children's/family martial arts program. I thought it would be the perfect fit for our family, but also for the town, to have something like what we have here" now.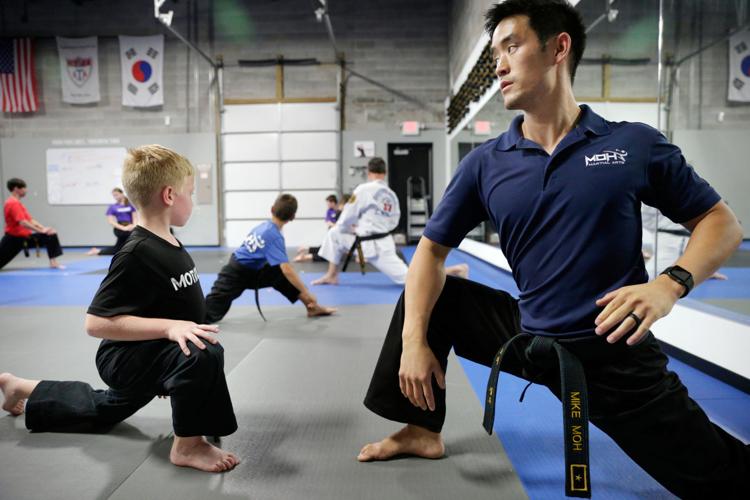 Moh's Martial Arts — which quickly outgrew its first two locations, and now is at 204 Moravian Valley Road — today has 320 Taekwondo and 40 kickboxing students in its 4,500-square-foot space. It also runs summer camps. (A montage of clips from Moh's Taekwondo and acting careers are on the school's website at mohsmartialarts.com)
Moh's work in the performance world has been a big plus for students like Quinton Bradley, who this year won not one but two Taekwondo world championships.
"I was fairly decent when I came to Mr. Moh, but he upgraded me to a new level," said Bradley, 18, who moved to Waunakee from Milwaukee about four years ago.
"What Mr. Moh has above other instructors is his performance. He's an actor, that's what he does, and he instilled that performance intensity in me that elevated me to another level. (In competitions) you're putting on a show for the judges and everyone around you, and you want to be the best performer out there."
Bradley calls Moh "super-energetic. Outgoing."
"He's just electrifying," he said. "When you're in a room with Mr. Moh, already the atmosphere has changed. He has an aura around him, he knows what he's talking about, he's confident and he can make everyone smile, no matter what they're doing."
Becoming 'Inhuman'
While growing his school, Moh stayed involved in TV production thanks to his small role in "Empire," he said. (He also appeared three years in a row on "American Ninja Warrior" before it moved to network TV.)
"Empire" led to other auditions. Which also led Moh's manager in L.A. to pitch him for the "Inhumans" role.
Doing a screen test for Triton in front of executives from Marvel, ABC and IMAX "was probably one of the more nerve-wracking moments of my life," Moh said.
"But I think years and years of martial arts competitions, and the prior experiences of me auditioning for different parts that I did not get, helped me. I felt like I nailed the audition. A couple of days later, I found out I got the part."
"Marvel's Inhumans" will roll out in an unusual way: The first two episodes of the TV series will be presented as a feature film in IMAX theaters beginning Sept. 1. Starting Sept. 29, each of the first eight hourlong episodes will air weekly on Friday nights on ABC.
Based on the superhuman, sci-fi Marvel comic by the same name, "Marvel's Inhumans" follows a royal family led by Black Bolt, who has such a powerful voice he cannot speak, or he will destroy what surrounds him. The family "pet" is Lockjaw, a 2,000-pound dog with the ability to teleport people.
"All Inhumans have this genetic anomaly that is inside of them," planted there by aliens, Moh explained. Triton is the "recon man," stealthily scouting out ahead of his allies.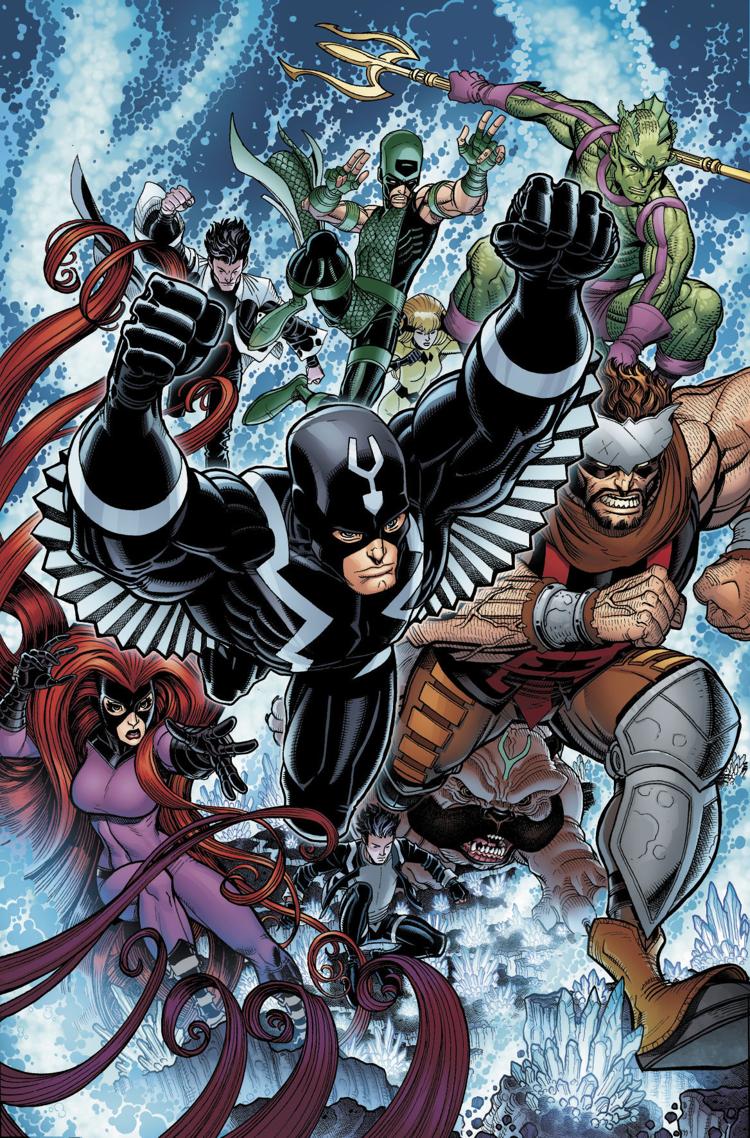 Moh had to spend three hours in the makeup chair before every shoot to take on the otherworldly look of Triton, who can breathe underwater and has superhuman strength, speed and agility.
Photos of Moh in costume were not available yet from the producers — but Triton is visible for a split second in the official "Marvel's Inhumans" trailer on YouTube that has already drawn more than 7.7 million hits.
Moh is "the perfect fit for the character of Triton," Scott Buck, executive producer of "Marvel's Inhumans," said in an email. "We needed someone who was believably athletic, but also able to convey the intelligence and poise inherent in this member of the Royal Family."
The cast includes some of Moh's longtime idols, including former "Lost" and "Night Shift" star Ken Leung, who plays Karnak, Triton's brother.
"He's paved the way for a lot of Asian-American men in media — (and) I get to work side by side with him," Moh said.
The filming of "Inhumans" earlier this year in Hawaii "was pretty amazing to see," said Richelle Moh, who traveled to visit the set. "I'd been on one set of something else he'd been on earlier in his career, and it was cool, but the enormity of this new project could really be felt.
"I was incredibly proud just how far he's come in a business that's incredibly difficult to find successes in," she said. "It was pretty overwhelming but a very cool experience."
Moh is already living his dream, he said — running his own martial arts school. But he'd love for "Marvel's Inhumans" to continue for future seasons. And he notes that the world of action films is ready for a new, young generation of Asian-American actors.
"I'd like to do bigger roles, now that I've done smaller roles — now that I've tasted a certain level of success in my acting career," he said. "Just like martial arts: You get a degree higher. You get more advanced."
Stay tuned in
Get the latest information on hit TV shows and more with our weekly newsletter!