Sun Prairie jazz gets an elite repeat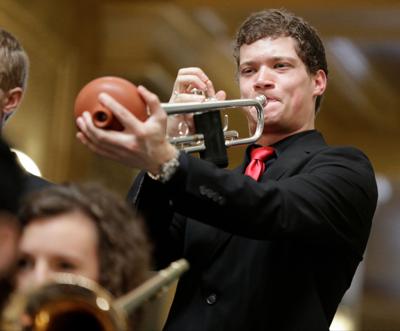 High school junior Andy Paulson heads to New York City this week — where he expects to be surrounded by students from many regions and walks of life, all with one common love: Jazz.
Paulson, a 17-year-old trombonist with the Sun Prairie High School Jazz Ensemble I, is one of 19 Sun Prairie students bound for the "Essentially Ellington" competition held Thursday through Saturday at Jazz at Lincoln Center.
The experience "is life-changing," said Paulson, who went to the competition when Sun Prairie was invited there last year, too.
In fact, this is the fifth straight year — and 11th time overall since 1998 — that Sun Prairie's premiere high school jazz ensemble has won a spot in the top-flight "Essentially Ellington" competition.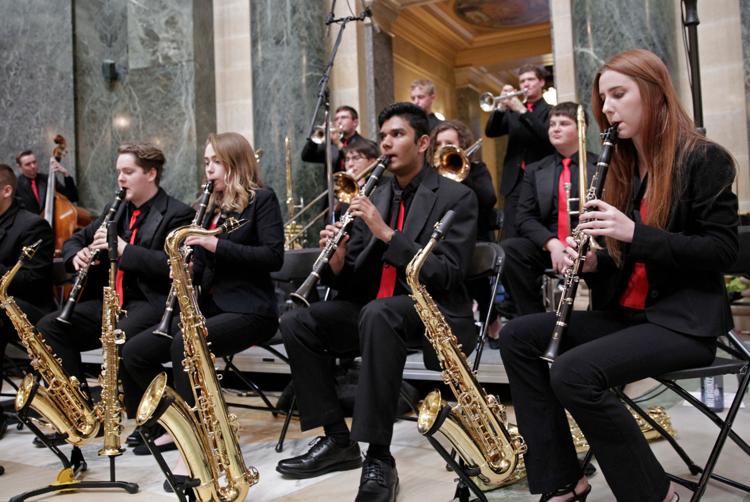 That's an extraordinary feat by any measure — but even more amazing because the band is an extracurricular activity, not part of the regular school day. Students have to show up early before school — at 6:45 a.m. Wednesdays and Fridays — and late on Monday evenings to rehearse.
"We have kids working hard, and enjoying it," said jazz band director Steve Sveum, a Sun Prairie High School band teacher since 1985.
An opportunity like "Essentially Ellington" "really validates their hard work," he said. "And they are working very, very hard. They spend a lot of time with me, but they spend hours and hours outside (of rehearsal) as well — listening (to jazz recordings), transcribing solos, working on their parts and getting extra lessons and tips on the side."
In "Essentially Ellington," the Sun Prairie group will compete with 14 other bands, many of them trained in dedicated schools of the arts or academies where jazz is part of the academic day.
Still, "competing" with those bands doesn't really feel like a contest, Paulson said.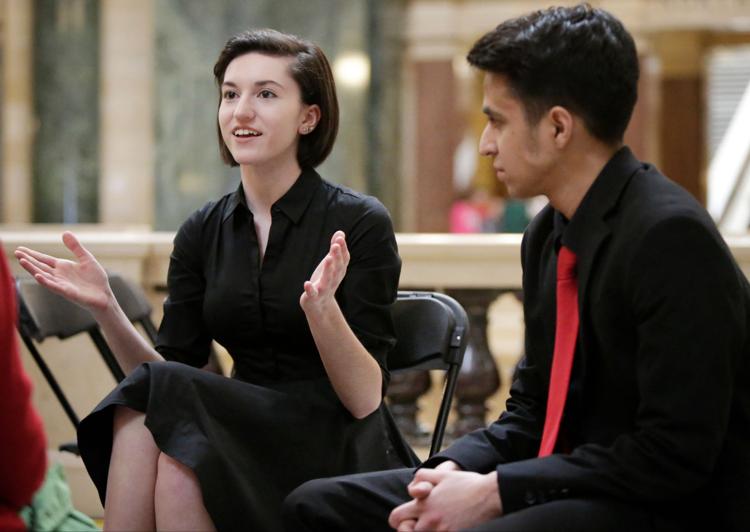 "Everybody cheers for everybody. Everybody wants everybody to succeed," he said. "It's just so much fun you can't help but smile when you walk away from it."
The event's 15 finalists were selected from nearly 100 high school jazz bands across the U.S. who sent in an audition recording. Judges will pick a trio of bands to perform in a concert Saturday night with soloists from the Jazz at Lincoln Center orchestra.
"It's like the Super Bowl of jazz" for high school students, said Terri Lamprech, the mother of pianist Jennifer Lamprech, a Sun Prairie High School senior heading to "Essentially Ellington" this week for the third year in a row.
"The kids get to meet incredible musicians, like Wynton Marsalis," she said. "They get to learn so much from some great, great people. I get goosebumps when I walk into Rose Hall in Lincoln Center. And to see the growth in my daughter — I get tears in my eyes."
Lamprech is co-jazz chair of the Sun Prairie Band Boosters, an active group with its own website that supports the school district's instrumental music program, comprising 750 students in grades 6-12.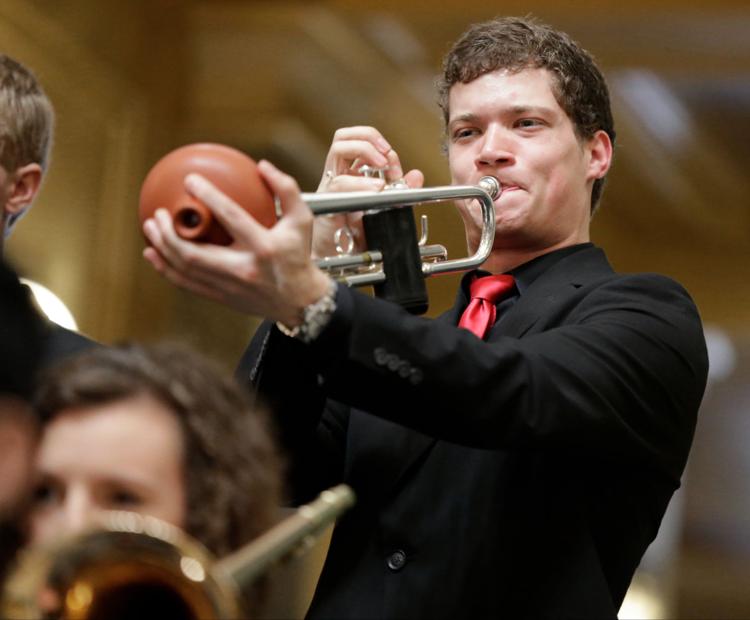 The Boosters raise most of the approximately $35,000 needed to send the district's top jazz band on its New York trips, much of it through area restaurants and local businesses that donate raffle prizes.
The raffle concludes at the jazz band's public send-off concert held at the Sun Prairie High School Performing Arts Center at 7 p.m. tonight.
Individual donations are also a "huge" part of fundraising, Lamprech said.
"We just spread the word, and people are very generous and very supportive of the group. Sun Prairie is just known for a great music program. We've got strong teachers on all levels, and the community just backs us up, year after year. It's amazing."
Sun Prairie's top jazz band is indeed "one of the best in the area," said Linda Marty Schmitz, president of the Madison Jazz Society.
MJS helps support and promote jazz in all area schools, she said.
It sponsored a visiting guest soloist from its recent Capital City Jazz Festival to do a jazz clinic for Sun Prairie's Jazz Ensemble I.
In New York, the band will perform three pieces by Duke Ellington: "Bojangles," "It Don't Mean a Thing If It Ain't Got That Swing" and "Flaming Sword." The performance will be webcast live at 1:25 p.m. Central Time Friday at www.jazz.org/live.
The band came in eighth place last year, but placed among the top three bands in 1998, 2004 and 2008.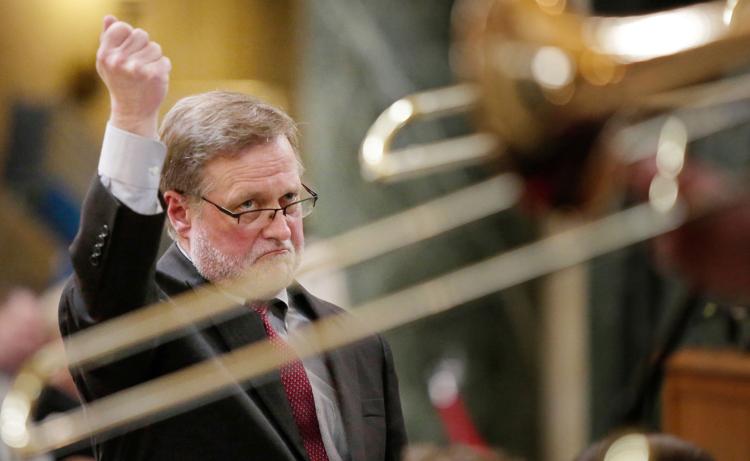 The student musicians credit their director for much of their success.
Sveum "is just very passionate about jazz," said drummer Jonathan Alcantara, 18. "To come in the morning, and having rehearsals that early in the day — it takes a certain passion to keep doing that. It's just amazing to see him keep bringing that energy to rehearsals. And even though sometimes we might look tired, our teacher just keeps pushing us forward."
"He's very professional in what he does," added Robert Rockman, 18, who plays guitar and vibraphone with the band. "He's not in any way micromanaging what we do. He gives us a set of rules or guidelines, and says now do what you will. It's very much up to us to take what he said and run with it."
Along with performing, the students at "Essentially Ellington" get to jam with other young musicians and do a Q&A with the Jazz at Lincoln Center orchestra.
Best of all, they get to hear and learn from their peers, they said.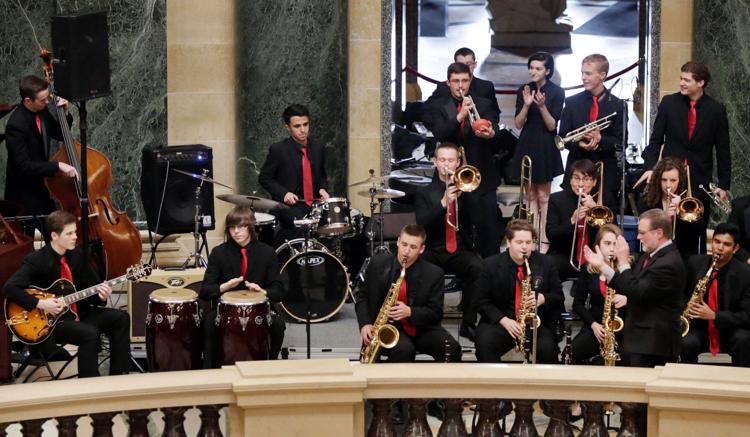 "There was actually a tune last year that was played by eight different bands. A cool thing about this competition is that you can interpret the music in so many different ways," Paulson said.
"Each of those eight different bands made the tune sound unique, and had their own certain style and sound."
"For three days, we're surrounded by people who know how much work this is," Rockman said of the competition.
"It's one thing when someone goes to a concert and says, 'It sounds really great.' But to know how many hours it took to practice — every single band knows how much it takes. And like everyone says: It's so supportive out there."