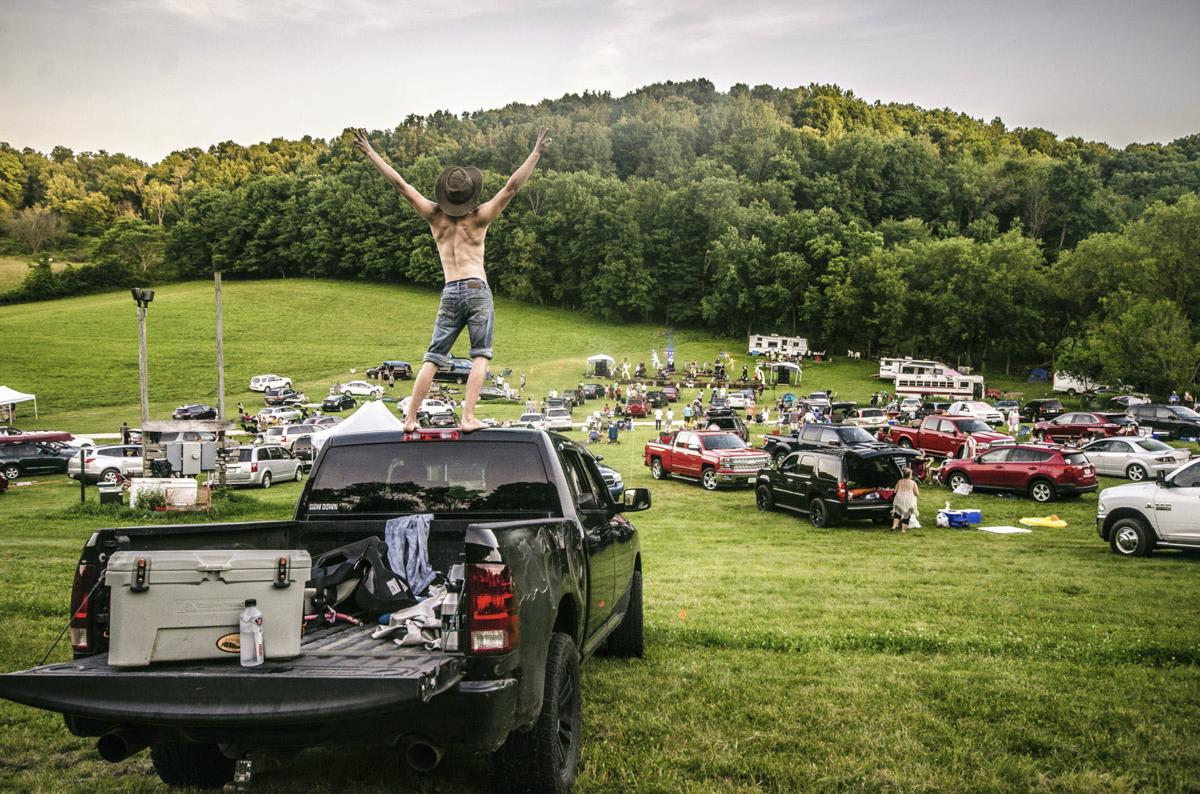 Like so many other musical groups, The People Brothers Band saw almost all of its summer festival shows dry up when the COVID-19 pandemic hit. But the band was able to stay active and keep some fans happy by performing once a month at Driftless Music Gardens near Hillsboro.
The popular Madison-based rhythm and soul band has played four shows this season as part of Driftless' drive-in concert series.
With most performances canceled since mid-March and some going online with limited success, musicians and music venues have had to get creative to keep the music flowing and the fans dancing or tapping their feet in real time. In most cases, that's meant finding outdoor spaces — farm fields, backyards, patios and rooftop decks — where the socializing can be done at a distance.
Tim Lochner, guitarist and singer for the multi-vocalist People Brothers, is renting to own the farmland that makes up Driftless, 65 miles northwest of Madison, with four other band members, plus his wife, Crickett Lochner. "We plan on farming music for a living and farming as a hobby," he said.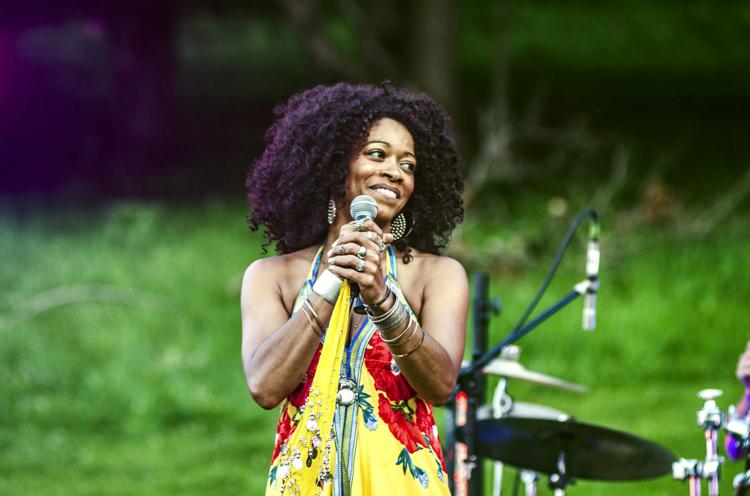 The venue, which Lochner describes as "a natural amphitheater," has hosted 15 shows this year.
He said the land is uniquely suited to hold shows, as COVID-19 restrictions have prevented most large gatherings that don't have the space to allow people to spread out.
People Brothers has its last Driftless performance of the season Sept. 26, and tickets went fast. Most Driftless shows have sold out, and Lochner reports no problems with mask-wearing and social distancing rules.
"We felt like if we could make it safer than going grocery shopping, we could do it," he said.
Singer and guitar player David Hecht is confident about the safety of the two well-attended music events he put on recently from the back of his home on South Dickinson Street on Madison's Near East Side. About 150 people showed up on the field at Marquette Elementary School to hear Hecht on two recent Friday evenings. He's hosting a last performance Friday of what he's been calling "Coming Together, at a Distance."
Hecht hatched the idea after friends and neighbors told him they were starved for live music. From his vantage point on the makeshift stage, Hecht thought the crowd — which included his 91-year-old mother — was responsibly spaced out on their blankets and camp chairs. Some brought picnic dinners and wore masks when they weren't eating or drinking.
"I feel like everybody, me included, we all have our judgments about this whole pandemic and what's right and what's wrong," Hecht said.
Hecht hasn't played an indoor show since March and feels lucky to have had a number of outdoor gigs this summer. "Once the real cold weather hits," Hecht said, there'll be no place to play.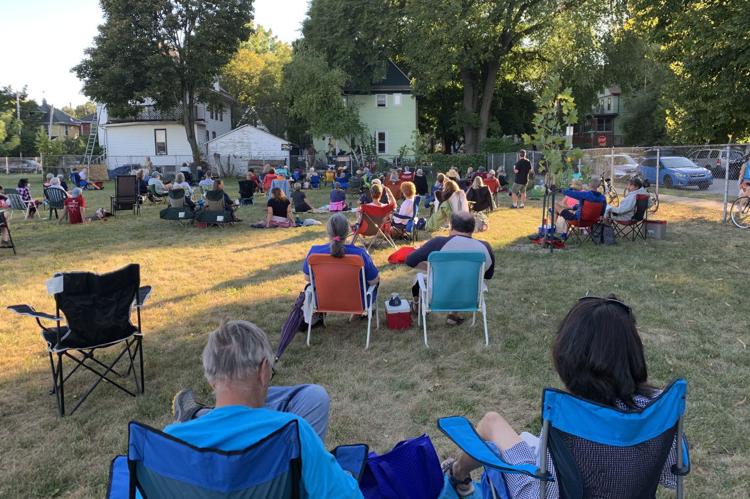 'Socially spaced vibe'
A number of local restaurants and bars have been offering live music outdoors with safety in mind, including: Lazy Oaf, Otto's, Garver Patio at Garver Feed Mill, Essen Haus, Come Back In, Up North, The Cider Farm, Bos Meadery, Sal's on Livingston Street, Tyranena Brewing Company in Lake Mills, The Lone Girl Brewing Company in Waunakee, and the Tiki Bar at the East Side Club.
Kevin Abercrombie, who owns Lone Girl, said free bingo at noon followed by live music from 2 to 4:30 p.m. during "Sunday Funday on the Rooftop" has provided some sense of normalcy.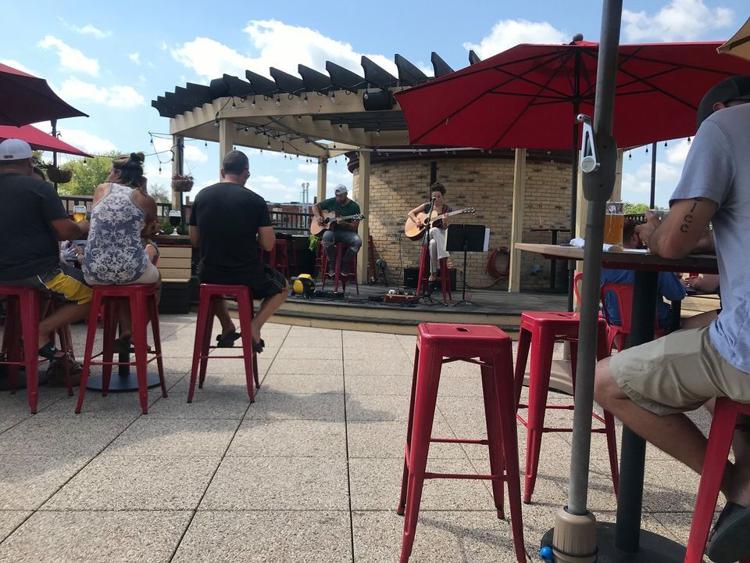 Because of restrictions, the restaurant and brewery can't have more than 100 people on its roof, which regularly reaches capacity. But customers sitting on Adirondack chairs or picnic tables on the patio below can still hear the music.
The rooftop has a "socially spaced vibe," Abercrombie said. "What COVID has taken away from us, Mother Nature has provided with beautiful weather."
Otto's Restaurant and Bar on Madison's West Side offers music from 5:30 to 7:30 p.m. Tuesdays through Saturdays, rain or shine, on a deck the restaurant's managing partner and executive chef, Karl Granberg, remodeled two years ago. He installed a permanent awning with heaters, fans and curtains.
Live music will continue through the end of October unless it snows, Granberg said, adding he's thankful for a professional staff and talented musicians.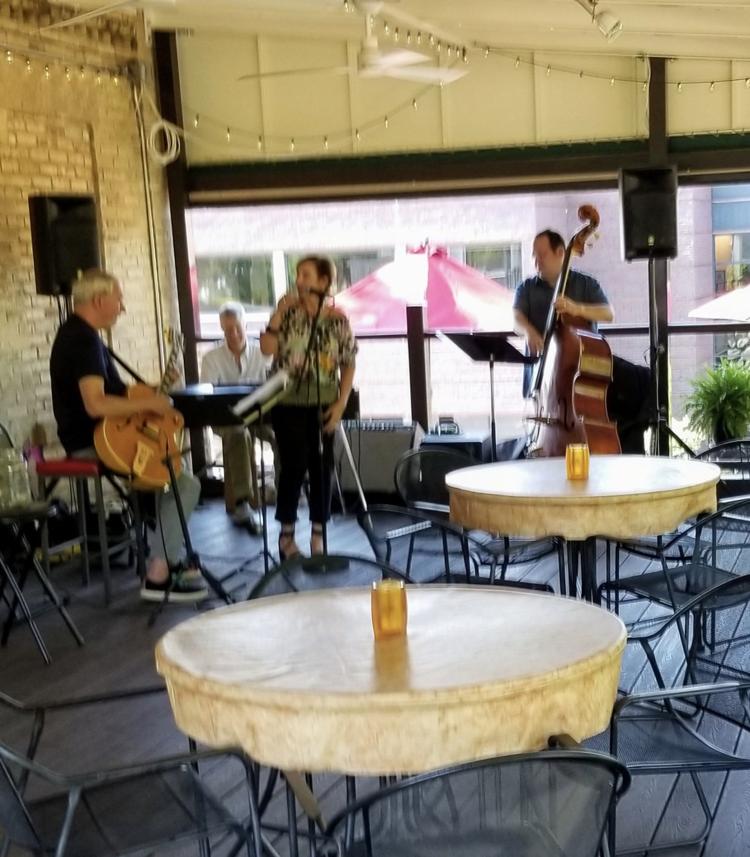 "I feel that it's meant a lot to people being able to enjoy dinner and a show with everything that's going on in our communities," he said.
Craving live music
The East Side Club's Tiki Bar has provided a refuge for those wanting to socialize at a distance on its large backyard green space on Lake Monona, and offers live music from 5:30 to 8:30 p.m. on Wednesdays and Thursdays.
It normally hosts an outdoor music series every other Thursday, which in the past has been a bigger production, said Alissa Berner, the club's general manager. This year, the club has invited solo acoustic acts to play.
Music is scheduled for the rest of September, weather permitting. Berner said the regular music schedule has been a hit this summer.
"I think it has meant a lot to people to get out of their homes and be somewhere that feels almost 'normal,'" Berner said. "What better way to brighten your mood and forget the troubles of the pandemic than with music and a beautiful lake view?"
Phil Lyons, who plays trombone with Hecht in the nearly 20-year-old Primitive Culture, said there were about 170 people at their Sept. 4 "Coming Together, at a Distance" event, and about 140 people at their Aug. 21 show featuring David Hecht & The Who Dat, an offshoot of Primitive Culture.
This Friday's event will feature the Free Love Trio with Hecht, Lyons and Jon Vriesacker, a violinist with the Madison Symphony Orchestra.
People are missing live music intensely, Lyons said. "Everybody has been in pretty much withdrawal."
Lyons, who also plays bass, and is a member of Madison bands VO5 and Steely Dane, said one of the saddest things for him is that his Google calendar keeps reminding him of the gigs he doesn't have this year.
"I don't think Steely Dane will play again until we are well out of this pandemic with a proven vaccine," Lyons said. "It's too hard with a 14-piece band with multiple singers and horn players."
He said he's grateful to have had the Marquette series, where he and his band members were able to distance themselves. The band passed a bucket for tips, and donated part of it, about $200, to the Madison Area Music Association's MAMA Cares COVID Relief Fund to help musicians struggling during the pandemic.
"If you make your living playing music and all the bars are closed and people are postponing their weddings for a year and everything, it's tough," Lyons said.
Back at Driftless Music Gardens, the partners refer to their events as "tailgates" and have set a self-imposed limit on cars. They can have up to 2,000 people on their grounds, but because of the virus, they've decreased their capacity to 100 vehicles, Lochner said, "to keep it manageable."
The cost varies depending on the show, but they generally charge $60 for a car with four people, or $50 for a car for one or two people.
They're not allowing camping this year because of COVID-19, but next year they plan on having 15 private campsites. They're also not selling beer or merchandise or requiring physical tickets. Everyone checks in with their license plate number. "So there's really no point of contact between any of our staff or volunteers," Lochner said.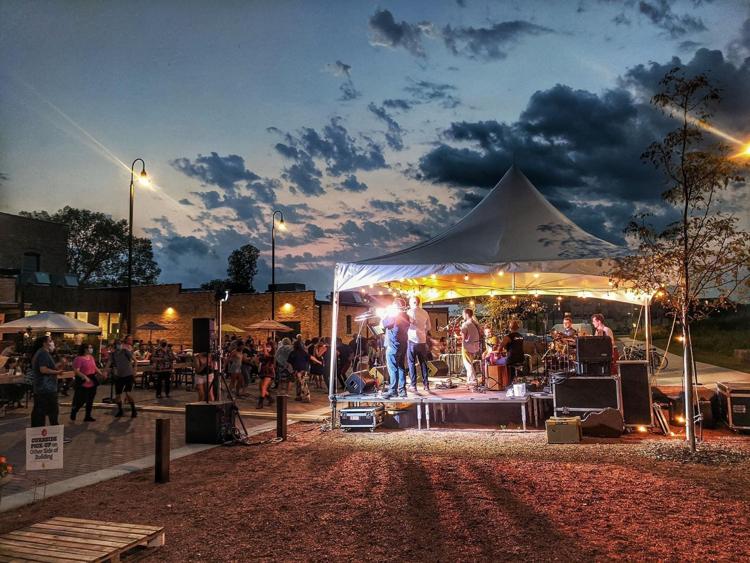 Shows are generally in the late afternoon with guests putting their lawn chairs and grills next to their vehicles. A couple of shows were rained out and had to be rescheduled for the next day.
While so many businesses have been devastated by coronavirus restrictions, Driftless has had its most successful season since it was founded in 2016. Lochner said about half his audience comes from Madison.
They used to be "self conscious" about their large space, Lochner said. "It was hard to fill that space, and the COVID thing happened. A light went off and we thought, 'Man, we can use the space finally to our advantage and fit a bunch of cars in here.'"
10 Madison restaurants with enhanced outdoor seating thanks to city's Streatery program
Outdoor seating has been a lifeline this summer for some restaurants lucky enough to have it, but it comes with challenges, and worse, an approaching end date with colder weather on the way.
About 87 restaurant and bar owners are taking advantage of the city's "Streatery" program, modeled after efforts around the world to help restaurants during COVID-19 restrictions by helping them increase their outdoor dining areas by extending into streets, parking spaces, parking lots and alleys. Twenty-six other applications are pending in Madison.
The efforts are in response to public heath data that suggests that al fresco dining is a safer option than eating indoors in restaurants. Or as Chicago Tribune columnist Mary Schmich put it, "a restaurant patio is a calculated risk."
Here are 10 Madison restaurants and bars taking part in Streatery.
Concerned about COVID-19?
Sign up now to get the most recent coronavirus headlines and other important local and national news sent to your email inbox daily.