Hundreds of music lovers and vinyl record collectors gathered at local record shops around Madison Saturday to browse through newly printed albums and slightly worn vintage records for Record Store Day, an international promotion event.
Around noon at Strictly Discs, 1900 Monroe St., about five hours after the store opened, dozens of people still stood in line to get access to the shop's stock of hundreds of records — spanning genres from classic jazz to alternative rock to modern pop and more — as well as the hundreds of limited edition, Record Store Day releases, such as rock band Pearl Jam's "Live at Easy Street" concert album and an alternate recording of Bob Dylan's "Blood on the Tracks" from 1975.
Strictly Discs has been participating in Record Store Day since it debuted in 2008. Strictly Discs co-owner Angie Roloff, 43, said that 11 years ago, she hadn't expected Record Store Day would become such a big, annual event.
"It's about the spirit of independent record stores and bringing people together with a shared love of music," Roloff said.
Each year for Record Store Day, record shops around the world have promotions on merchandise, sponsor contests and invite bands and DJs to perform. About 1,400 stores participated in the first Record Store Day, according to the event's website, but in the years since, more and more stores have began participating, spurring a revitalization of vinyl sales across generations.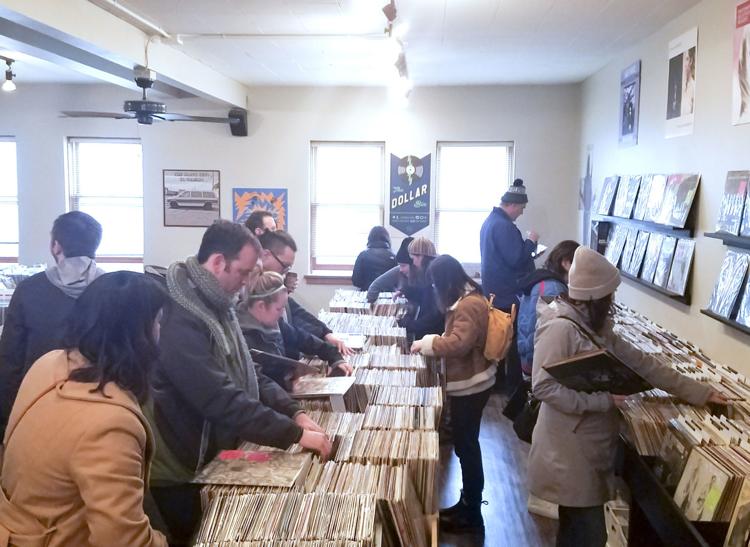 MadCity Music, 2023 Atwood Ave., also has been a participant since the beginning, owner Dave Zero said. He said Record Store Day is always difficult to coordinate, but it's fun to see regulars and newer fans alike come into the store.
"There's a lot of people that come here for the limited edition releases, and that's a good draw, but there are also a lot of people that skip right past them for the older records," said Zero, 42.
Collecting has become a passion for many music fans, Roloff said. Like all collectors, it's often the thrill of the hunt that draws people to record stores, she said. Whether they're returning to their hometown shop or visiting a new one on vacation, collectors are flipping through boxes of records for albums from their favorite bands or rare, first-press editions.
It's not just the rarity, though, many record collectors say. Vinyl records from analog recordings rather than digital just sound better to them. The quality is warmer and more dynamic than what you could ever get out of an MP3 file.
"If you're willing to give up sound quality because of inconvenience, you're not a true music lover," said Scott Smith, 57, of Sheboygan.
Smith, who said he has a collection of about 2,500 records of all genres, came to Strictly Discs with some family members just for Record Store Day. His brother Andy Smith, 60, said his brother was willing to make the drive and even pick him up in Brookfield along with his son Jordan Smith, 24, because it's their favorite record store.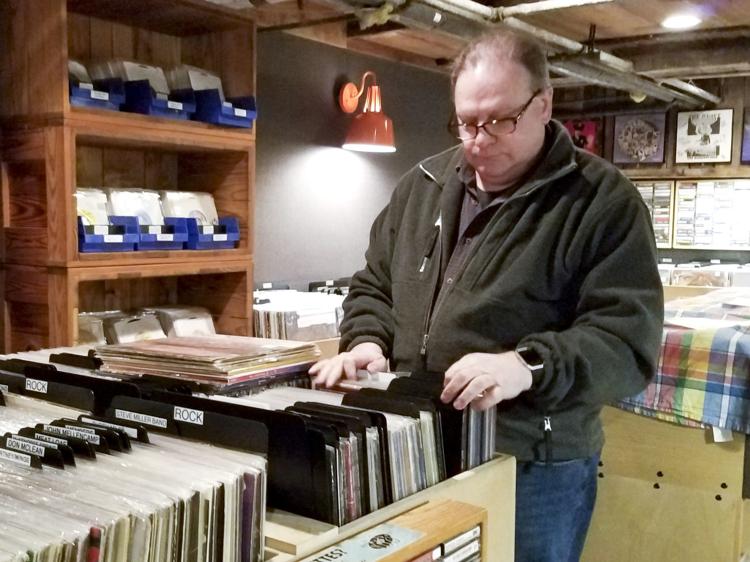 Record collecting became a family event about six years ago, Andy said, after his son had gifted him a turntable. Jordan had just listened to a vinyl record for the first time shortly before Father's Day and thought of his dad, who loves 1970s and 1980s rock.
Since then, Andy's collection has grown to more than 800 records, and Jordan has collected about 50 to 70.
Jordan, who plays trumpet and collects mostly trumpet concertos or jazz records, said the entire experience of listening to music on vinyl is different.
"There's a certain mindfulness to it," he said. "It's a lot different from pulling out my phone and pressing play on a playlist on (online music streaming service) Spotify."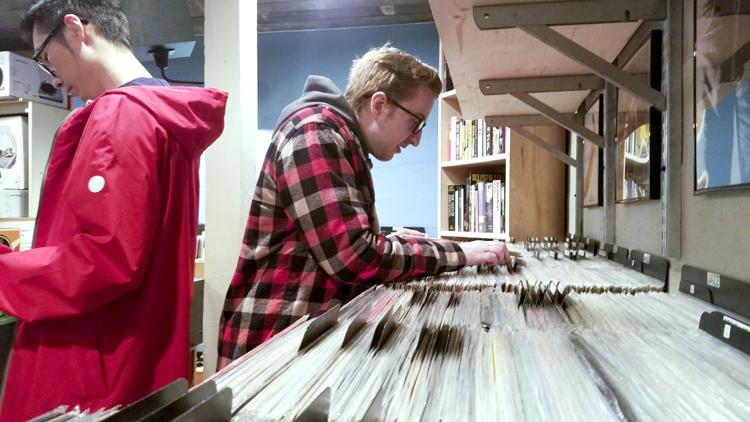 Roloff said listening to vinyl records makes you be present in the moment. You have to take the time to set the record on the turntable and be there to turn it over.
"You're not going to go on a run with a record," Roloff said.
Molly Neubauer, 27, of Madison, and her dad had shopped at Strictly Discs on Record Store Day the past four years, but this year he couldn't make it, she said. She still came to shop on her own, picking up albums by the bands Weezer and Violent Femmes, as well as a vinyl copy of the soundtrack to "Spider-Man: Into the Spider-Verse," a movie that came out last year.
"It just sounds different," Neubauer said. "Especially vinyl compared to, like, a YouTube video."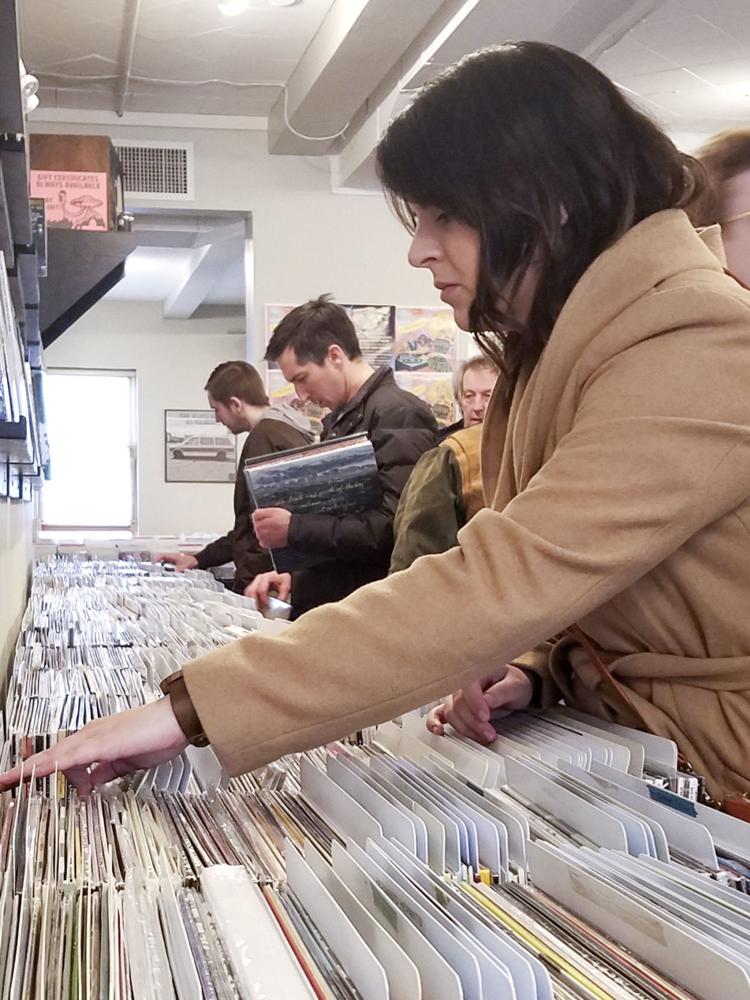 Tori Houseman, 26, who recently moved to Madison, said she and her boyfriend just wanted something fun to do, so they went out to MadCity Music. Houseman has a collection of about 120 records, she said, mostly in the indie rock or emo genres.
Houseman had heard of Record Store Day a few years ago but had never gone to one before because she had to work, she said.
"It's cool to see everyone out here for their passion," Houseman said. "I know Madison has a really good local music scene, and I think people support that by coming out to to support local music businesses."
"If you're willing to give up sound quality because of inconvenience, you're not a true music lover." Scott Smith, a shopper from Sheboygan