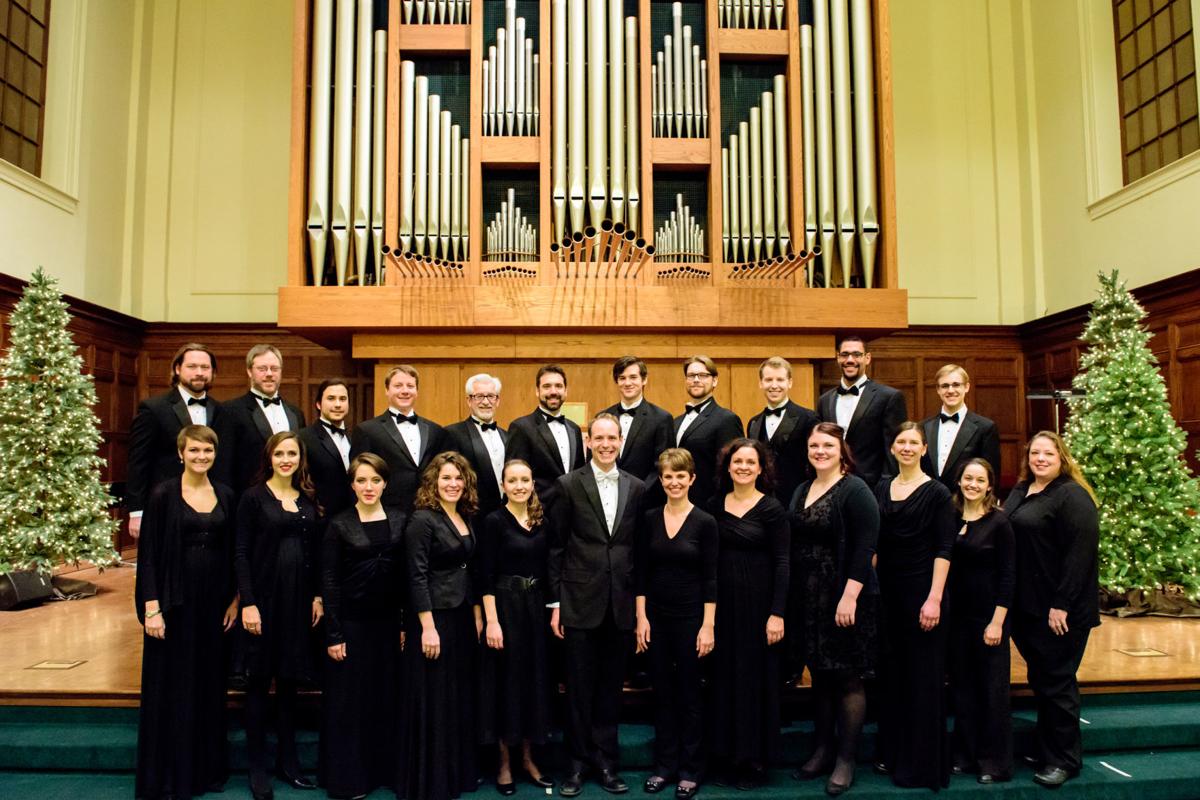 Traditionally Madison Choral Project, a highly regarded professional choir of two dozen singers, has found a way to weave music and readings together in its December concerts.
But this year is a little different.
Many of the words in MCP's performances next weekend were penned by young people, in keeping with the concert title: "Hope in the Future."
The theme came to artistic director Albert Pinsonneault last year, when a dose of hope seemed just the thing to bring to audiences in the dark nights of winter.
"We're living in a time when there seem to be lots of challenges for our society moving forward – and they are political, and environmental, and existential, and who we want to be as a country," he said.
"It can be easy to feel very overwhelmed and kind of distraught about the future. So when I was thinking about what I would like to say at this point in time, I really wanted to focus on a hopeful message for the future."
The conductor teamed with a friend, Eagle School English teacher Jenn Sauer, to find young writers across Wisconsin who could offer their own thoughts on "Hope in the Future." Sauer put out a call to students in grades 6-12, and MCP "got all kinds of wonderful submissions," Pinsonneault said.
"Given this focus on hope, the voices I really wanted to hear from are the young people, the people who are the next generation, and what they see in the world and what they want to do about it," he said.
Wisconsin Public Radio's Noah Ovshinsky will read the works by young authors as they are intertwined with musical works in "Hope in the Future." The concert will be performed at 7:30 p.m. Saturday and 3 p.m. Dec. 16, at Christ Presbyterian Church, 944 E. Gorham St.
The writers include Sylvia Knauss, an 11th grader at West High School; Laila Ahmed, a 7th grader at Eagle School, Fitchburg; Alice Shipley and Addie Wineka, 6th graders at Rome Corners Intermediate School, Oregon; Elizabeth Barganz, a 7th grader at Johnson Creek Middle School in Johnson Creek; and Elizabeth Leary, a 9th grader at River Falls High School in River Falls.
In another youth connection this year, MCP has invited four teenagers from Madison Youth Choirs to perform with the adult professionals in the choir. MCP's "choral scholars" include Melia Allan and Nathaniel Johnson, 12th graders at West High School; Savon Vanderbloemen, a graduate of McFarland High School; and Samantha Wilcox, an 11th grader at Sun Prairie High School.
Now in its seventh season, Madison Choral Project is composed of experienced musicians from Madison but also from Chicago, Milwaukee and elsewhere. This year the group will also perform in Milwaukee, taking "Hope in the Future" to the Cathedral of St. John the Evangelist on Dec. 18.
Of the nearly two dozen writings by young authors that Pinsonneault received, many focused on equality, including LGBTQ+ rights, he said. One student wrote about mental illness.
"Basically nobody talked about politics," he said. "We had very few submissions that talked about the environment, which surprised me," while others painted a broader picture of need and hope.
"It was fun to take everything they said, and then to find music that lit on similar themes," said Pinsonneault, who selected the program pieces. "We're really trying to create this seamless sort of story, or narrative" connecting one work to the next.
The program will build from a somber place to one of brightness and joy. That follows in the Christmas and Hanukkah traditions, as well as the symbolism of the winter solstice, he said.
"All these things have in common that this is a time of darkness," he said, "and that we're also anticipating the arrival of something that will give us hope."