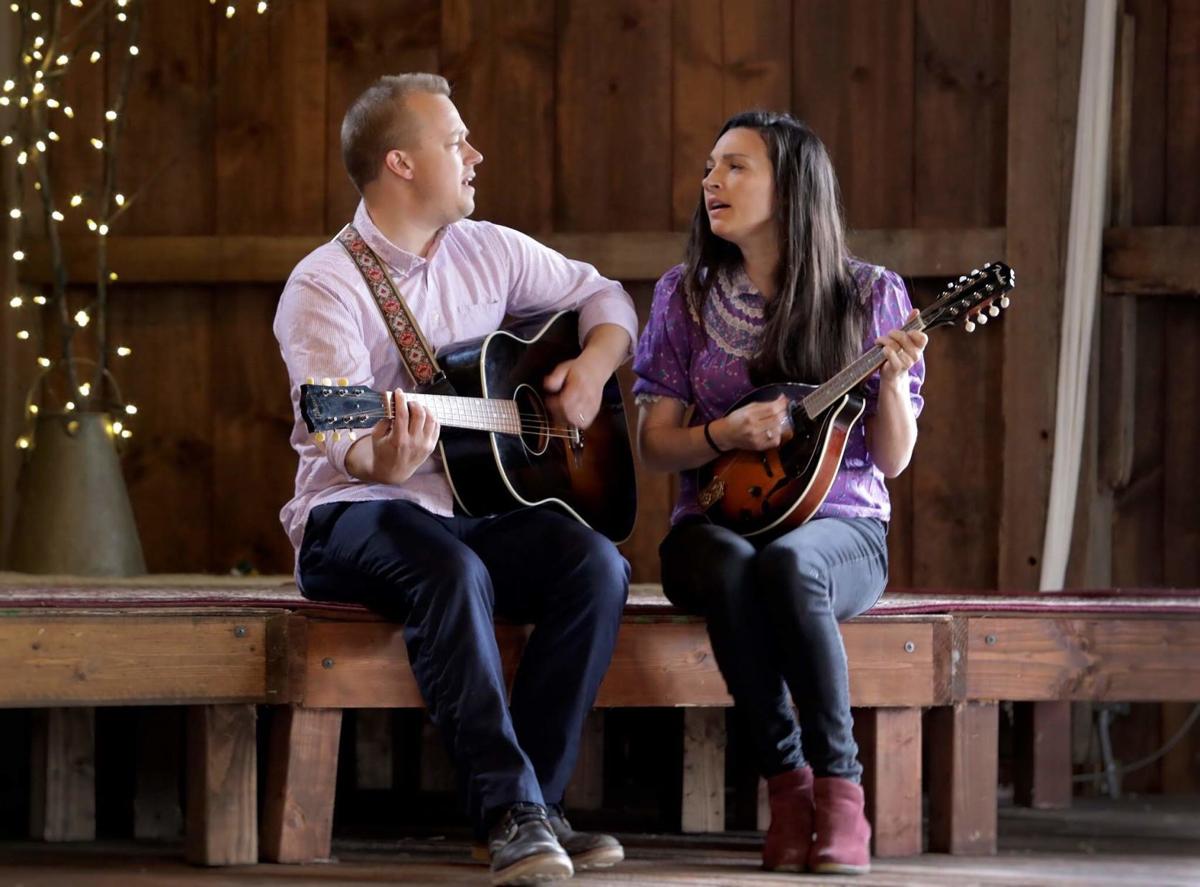 As bars and concert venues have closed in response to the COVID-19 coronavirus pandemic and social distancing has been widely adopted, local musicians have been unable to do what they do best — bring people together.
It's generally been a bummer for The People Brothers Band, an eight-piece rhythm and soul group that regularly plays around Madison. Most members are full-time professional musicians who depend on income from gigging, said guitarist Tim Lochner. And while their livelihoods have "come to a screaming halt," he said, not being there for people during an extremely difficult time has been the hardest part.
"We don't play music for the money," he said. "We do it because we love bringing people together and connecting with the audience, and we yearn to do that again sometime soon."
Lochner, who also books shows for Harmony Bar and Grill on Atwood Avenue, has been holed up at Driftless Music Gardens, a venue in the countryside about 50 miles west of Baraboo. The band hosts annual music festivals there in June and August, but even those shows are in question due to COVID-19.
"We put a lot of planning and effort and money into those festivals," Lochner said. "So, yeah, that would be a huge hit. We're in the music business from other angles, and everything is on hold."
Weathering the storm
The concert-promotion company that books bands at the Sylvee, Breese Stevens Field, High Noon Saloon, the Orpheum Theater and the Majestic Theatre has canceled or postponed most of its concert dates through April.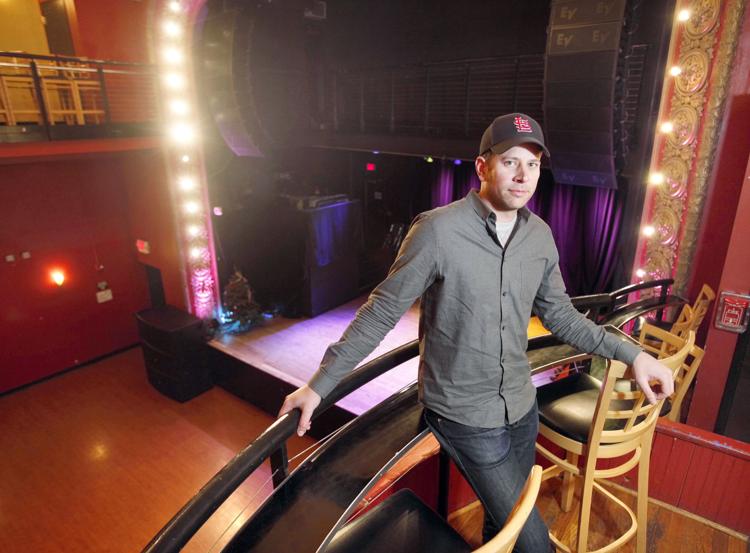 Matt Gerding, co-president of FPC Live, said the company is "committed to weathering this storm" and expressed confidence that the local and regional music industries will survive the shutdowns. Like much of the nation, FPC Live is taking things day by day, watching the news and adjusting on the fly.
"We're following the (Centers for Disease Control and Prevention) guidelines as closely as we can, looking at what's in the best interest of the company and the general community, and making decisions as we go," he said.
FPC Live is working on a plan to support the streaming efforts of individual artists, many of whom have seen their income streams dry up overnight.
"A lot of local and regional artists that depend on payouts from gigs for the majority of their income are wondering what's next for them," Gerding said. "We're heartbroken for our local artists staring at a situation where they simply don't have a place to play. It's hard to see."
'Hopeful and skeptical'
All sorts of gigging musicians are feeling squeezed. Kivi and Pray, a local duo of singer-songwriters that regularly plays weddings and other events, is anticipating a loss of between $10,000 and $15,000 this summer, depending on how long the lockdowns last, according to guitarist Thomas Kivi.
"I'm planning on the whole summer being shot," he said. "But maybe if we have a hard lockdown right now, we can still have a good summer. I'm hopeful and skeptical at the same time."
Kivi and his musical partner, Sarah Pray, have been gigging together for roughly a decade. Last year, they played 10 weddings between May and October. Losing those bookings would hurt, Kivi said, but the duo is more concerned with the broader implications for public health and local businesses.
"We're not alone in having a sudden and huge loss of income," Kivi said.
Kivi, who describes himself as a Luddite when it comes to social media, has recently embraced live-streaming performances on the duo's Facebook and Instagram pages. Kivi and Pray has been hosting a "Hunkerdown Hoedown" at 6 p.m. Fridays, and is planning on sessions of gospel, spiritual and hymnal songs on at noon Sundays.
"People are really appreciative, because we all have to stay in," Kivi said. "If there's a silver lining, music is still being made; it's just going online."
Other local artists have been forced to cancel extended overseas tours. Bobby Hussy is frontman of The Hussy, a scuzzy rock band that was supposed to leave Madison on March 17 for a weeks-long tour of Europe, but pulled the plug due to the cascade of international travel bans.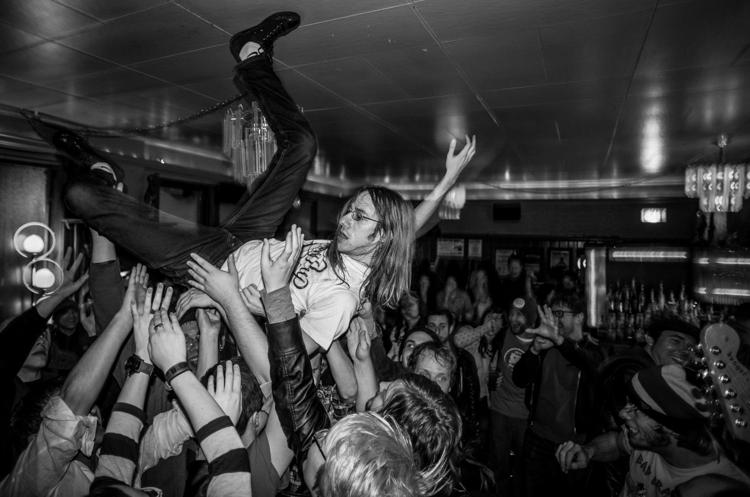 "We should be able to reschedule," he said. "All of the promoters are fairly understanding, because it's not like some inner-band turmoil where you couldn't make it work — it's a serious issue, you know?"
Income isn't the greatest consideration for The Hussy, which has historically broken even on tour. Hussy himself has part-time jobs at the High Noon Saloon and MadCity Music on Atwood Avenue, both of which are closed until further notice, but he's not sweating personal finances quite yet.
"I'm in this unique situation where I was already planning on not getting paid for three weeks," he said. "We have other jobs and we set money aside so we can tour. We look at touring as more of a vacation and less of a job. Touring is a privilege, and most bands don't get to do it. I get to go around the world and play for people who want to hear my music, and that in itself is a greater gift than money could ever give."
Hussy laments the lost connections, since he won't be traveling abroad with his friends and seeing familiar faces on the road, but he keeps things in perspective.
"I have friends who are going to be far more devastated than my little band that makes a few hundred dollars playing shows, you know? At the end of the day, a band is not a necessity," he said.
Few are spared
It's a similar story for bigger regional bands. The Bad Bad Hats played at the High Noon Saloon on March 6, which already "feels like a lifetime ago," said Kerry Alexander, frontwoman of the sugar-sweet indie-pop trio out of Minneapolis.
South by Southwest in Austin, Texas, was canceled right around the same time, which set off a flurry of tour cancellations for bands in the Bad Bad Hats' orbit.
"As the days went on, our friends who were playing larger shows kept canceling," she said. "It kept escalating, and that's when it started feeling unsettling to me personally. I was like, 'I'd really like to be home, at this point.' It started feeling really quite freaky."
A couple of the band's scheduled appearances at large festivals were canceled, followed by all tour dates in April. Before they went home to Minneapolis, the band streamed an acoustic show from their hotel room on Instagram.
"It was really helpful because people very generously donated to us, but also, mentally and emotionally, it was nice to do a normal thing by playing our songs together and interacting with fans. It was a nice break from a scary moment," Alexander said.
Not that the longer term outlook is any less daunting. Alexander estimated that three-quarters of the band's income is generated by touring. "We have a spreadsheet of our upcoming shows, and that's how we budget each month," she said. "Once the shows started going down, I think everybody had a moment of, 'Now what do we do?'"
The Bad Bad Hats are planning to live-stream more shows in April and considering recording an acoustic album, Alexander said. The down time might prove productive, but she's not placing pressure on herself or her bandmates.
"We've allowed ourselves some days to just wander around the house aimlessly," she said.
Concerned about COVID-19?
Sign up now to get the most recent coronavirus headlines and other important local and national news sent to your email inbox daily.