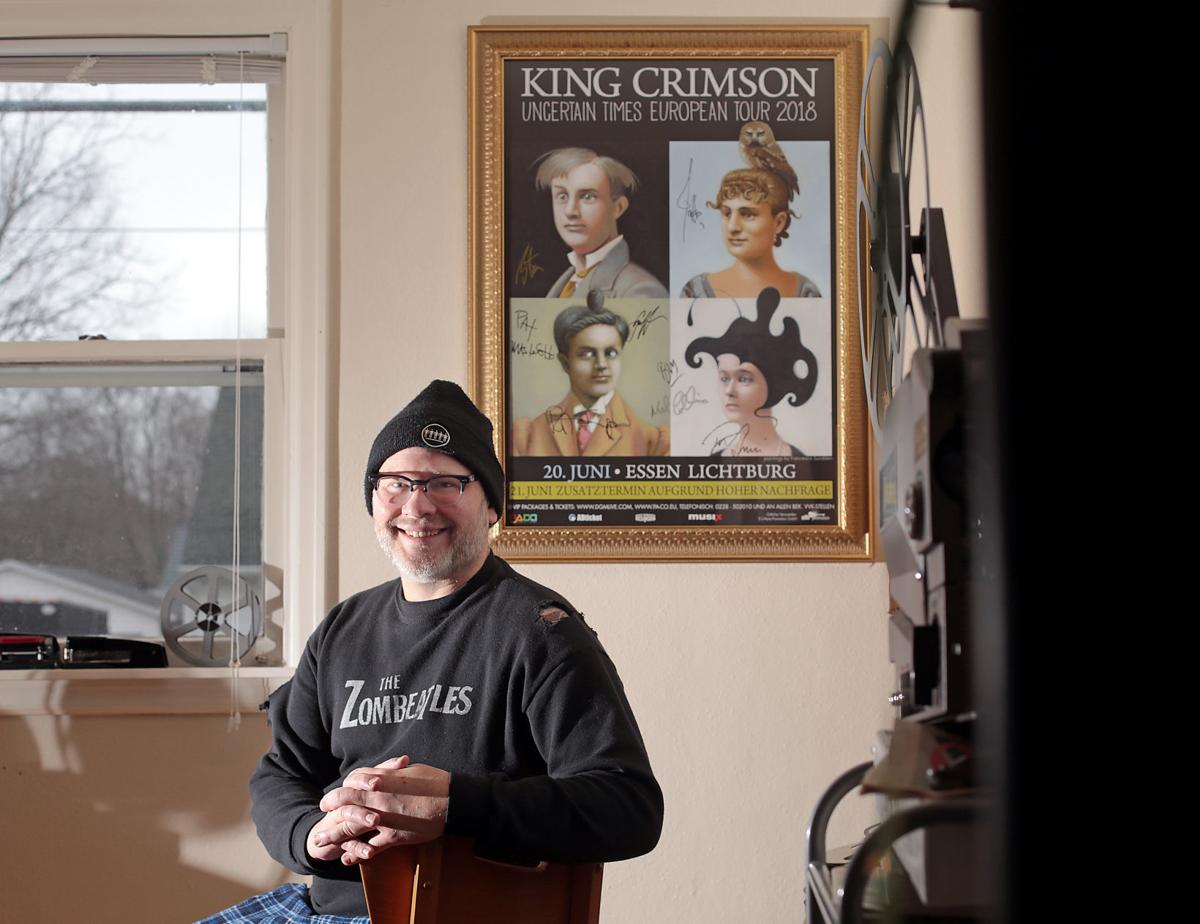 Biff Blumfumgagnge has for decades — and obvious reasons — been one of the more easily recognized names in the Madison music scene.
The multi-instrumentalist once called David Morelock, until he legally changed his name in 1992, grew up in Madison's Orchard Ridge neighborhood and is known primarily for his longtime band, The Gomers, and its live karaoke offshoots, but he's played with so many other bands around town it's difficult to list them all.
But for many years, Blumfumgagnge has also toured as the guitar technician for a couple of rock's most renowned guitarists. For the past 15 years, that's been Robert Fripp of the venerable British progressive rock band King Crimson.
The guitar tech path started while Blumfumgagnge was working at Uptown Technologies in Whitewater. In 1987, he sent a letter to Adrian Belew, a guitar virtuoso who has played with Frank Zappa, Talking Heads, David Bowie and others, but was living in Williams Bay at the time. Blumfumgagnge explained he knew how to change strings on a Kahler guitar bridge and volunteered to do that for Belew when the Gomers opened for Belew's band, The Bears, in Madison. From there, more work with Belew developed.
"I ended up doing a couple of tours with him," Blumfumgagnge said, working not only as Belew's guitar tech but behind the soundboard.
A few years later, Blumfumgagnge said, his friend John Sinks was leaving his job as Fripp's tech to join another tour and asked him if he wanted the job. He took it and began handling Fripp's guitars and soundboard.
Then around 2008, Fripp reassembled King Crimson, and while Blumfumgagnge wasn't needed at the soundboard, Fripp kept him on as his guitar tech.
Back home in Madison, Blumfumgagnge has been playing lately with local psychedelic rock band Squarewave. The band will soon issue a record called "Hazy" — whenever the coronavirus epidemic allows the plant in Ohio that makes the records to reopen.
Tell me a bit about Squarewave.
They were a band called Ivory Library. They were one of those Madison bands that should have made it but never did. And Jeff Jagielo, the main guy, is still around doing music. He lives up in Two Rivers, Wisconsin. He owns a supper club up there. So his main life is the supper club in the summer. And then in the winter he heats up and he's got a great recording studio above his garage. (Pat Connaughty from Ivory Library is also in Squarewave.) Anyway, I've been following those guys for a long time and we've been friendly. And he finally just said, "Biff, do you want to come and just play a violin on a couple songs we're doing?" I was like, "Yeah, sure!" So I played a gig or two with them and, and then it was like, "Hey, why don't you just play with us all the time?" And so I've recorded a bunch of violin on this new record. It's a lovely band. Alivia Kleinfeldt plays bass. The drummer, Brendan Manley, is in Disq. They're a popular younger band.
How often do you tour with King Crimson?
So far it's been twice a year. The last maybe five years, they've done kind of two chunks, summer and maybe fall. Or maybe spring and summer. This year they were going to do one chunk from late May to early July, more like just a six-week thing. That's what was on the docket for this year.
This has got to be a really challenging time to be a musician. Everybody's gigs are getting canceled and you don't know when you're going to be able to go back.
Me and Mary Moyer, my partner, had a couple of great tickets (for concerts at Colectivo Coffee in Milwaukee). Robyn Hitchcock's playing there. And Juana Molina, and we got the cabaret seating. We're so excited and of course, it's going to be postponed to some other time. You know, probably when I'm on the road. It's like this whole huge act of musical chairs at this point. Try to postpone and reschedule. Oh, let's move everything to September. Well, what about the September gigs that were already booked? It's a huge musical chairs game. It's not looking good.
And for you personally, you're at home and what do you do when you thought you would be on the road or performing something locally?
Well, I'm looking at a job with the Census and to be quite honest, I'm selling a lot of stuff on eBay. I've been a bit of a collector over my time and it's starting to come to the point now where I would like to have my next move be a little easier than the last few and have a few less trinkets to have to put in a crate. So I've been doing stuff on reverb.com selling musical instruments and effects. And then on eBay, I've been selling a lot of these films that I've collected over the years and luckily I'm able to stay afloat. Fingers crossed. Knock on wood.
When you're on the road with a big production, what is that like for you?
It's like being in the circus or being in a high school play. Everybody's scrambling around to make these shows happen and to meet our schedule during the day. They're long days. Usually, we have to get to a venue around 8 or 9 in the morning and then the show will begin around 8, 7:30 at night. So there's a 12-hour kind of prep time and then there's the show and then there's the teardown. So what that equals is a 15- to 17-hour day.
For people who may not know, what does a guitar tech do for a musician?
A guitar tech is responsible for a guitarist's rig — their amps, the effects floor pedal board and then their instruments. So if for instance, you're Steve Vai's guitar tech, it's a little like Nigel Tufnel's (Spinal Tap) guitar tech where you might be handing him a different guitar every song. Or you've got to hand him this acoustic that's tuned to a special way and you've got to make sure it's tuned right offstage and bring it out. I've watched Rick Nielsen's guitar tech from Cheap Trick with some interest because it's literally every song. And in Spinal Tap, I actually got to work with them once in Phoenix. Adrian Belew came and was a guest in their show. They made him play bass for "Big Bottom" and Nigel was overworking his guitar tech to comic effect. That poor guy.