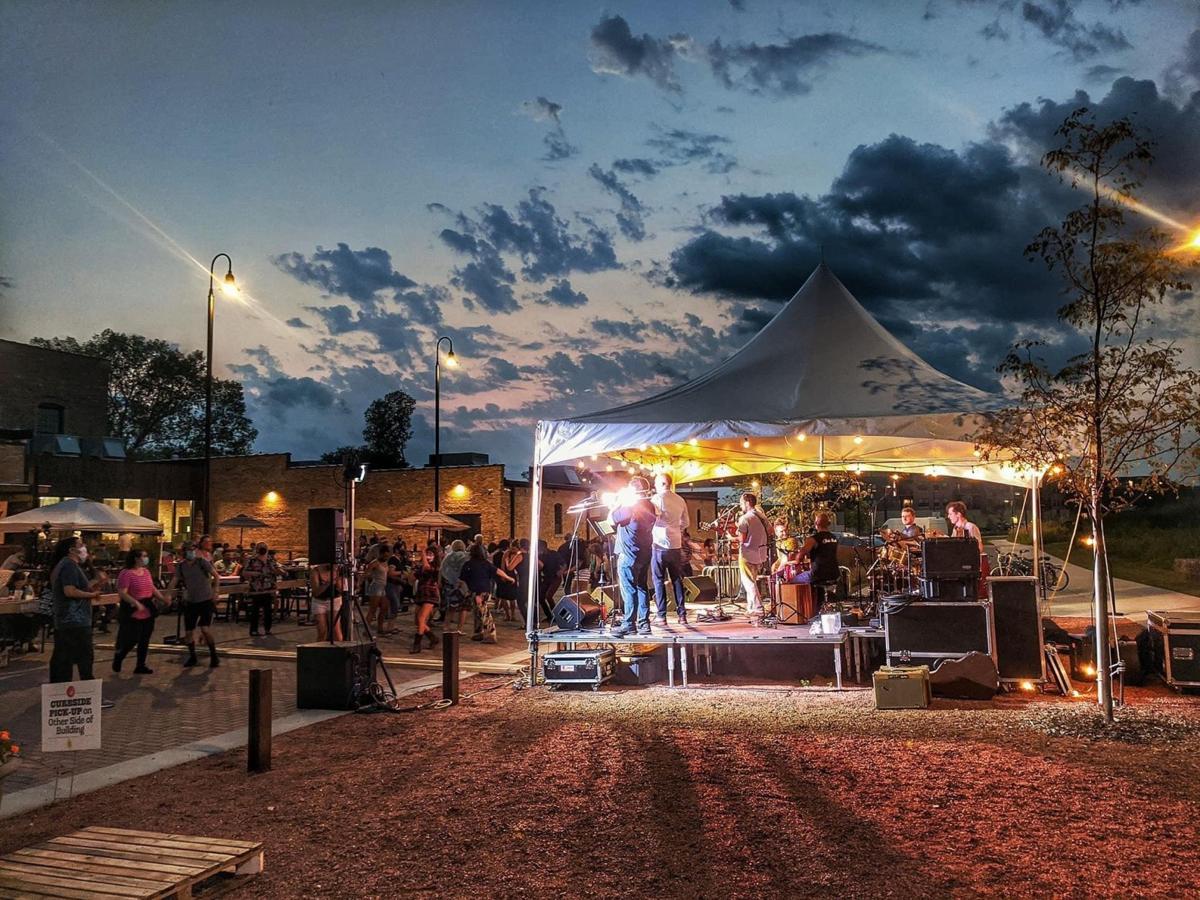 Garver Patio at the Garver Feed Mill has had to cancel most of its remaining live music programming and cap the rest at 25 people after Public Health Madison and Dane County put it on notice over local ordinances meant to stop the spread of COVID-19.
"We feel as though we were safely operating within the regulations," said Bethany Jurewicz, one of three partners in Garver Events, which runs Garver Patio.
As an outdoor restaurant, Garver Patio is able to seat up to its 190 capacity, which was boosted to 280 under the city's Streatery outdoor dining program with tables spaced six feet apart. Jurewicz said the patio never drew close to that number and only has seating for 150. She also said that many tables are more than six feet apart.
Public Health Madison and Dane County communications supervisor Sarah Mattes said after her department received a few complaints about Garver Events, a public health representative visited the business to educate about the order.
"Concerts were drawing more than 25 people together outdoors," Mattes said. "They thought since they were operating as a restaurant it would fall under the restaurant capacity requirements which is 100% outdoors with distancing between tables."
Garver Patio defines itself as a restaurant, and restaurant patio crowds don't fall under the restrictions of mass gatherings. Jurewicz said publishing a schedule of band start times signaled to the health department a scheduled event as opposed to the music being incidental to restaurant operations.
Jurewicz said promoting musical acts made for "a mass gathering" according to the health department. "As you might imagine, it's impossible to pay musicians a fair wage without promoting."
But, on the flip side, she said, if Garver didn't promote the events and relied on word of mouth and charged a cover, it would have upset customers who might just show up with no intention of paying to sit on the patio to eat and drink.
Customers reserve a three-hour block of time online and order on their phones to minimize contact with servers.
"Apparently, the second a note is strummed," Jurewicz said, music on the patio is considered a mass gathering because music equals a concert, a conclusion with which Jurewicz said she disagrees. "Concerts" are on the mass gathering list, she said, "so no exceptions."
Madison assistant city attorney Marci Paulsen said the penalty is up to $1,000 plus court costs for every violation of the ordinance, and each person over 25 outside — indoor gatherings are capped at 10 — could be considered a separate violation.
To her knowledge, no citations for violating the mass gathering limits have been issued or prosecuted in Madison since the statewide "Safer at Home" order was struck down in May by the Wisconsin Supreme Court, Paulsen said.
Jurewicz said Garver "went above and beyond regulations" and invested lots of time and money into creating what many customers considered "an extremely safe environment that was able to support the arts — one of the sectors most impacted by COVID."
She said the risk of fines for every person over the 25-person capacity limit for outdoor gatherings under COVID-19 restrictions was enough to cancel most of the rest of Garver's music schedule for the season. "We were not making much money to begin with," Jurewicz said. "It just wasn't worth it."
It was noise complaints not COVID-19 concerns that made Garver a target of the public health department, Jurewicz and others say.
"The East Side will be the East Side, even in a pandemic apparently," she said, noting that Garver drew "constant noise complaints" from six to 10 neighbors in the Eastmorland neighborhood.
Jurewicz said the sound of music bouncing off the brick building was more significant than anyone expected. So while complaints by neighbors weren't unwarranted, Jurewicz maintains they were within their licensing and "pleaded with neighbors to just let us get through this season."
Amber Gray, who recently bought a home close to Starkweather Creek, said she takes issue with "the excessive noise," and said the sound level wasn't "accurately demonstrated" in advance, even though Jurewicz said she met with neighbors six times before her Alcohol License Review Committee meeting and conducted sound tests.
Gray said she can hear the music "clear as day" inside her house. She visited the patio once and said she found the music far too loud in person as well. "It seems like a no brainer to simply turn down the volume and decibels for the small group of people for which the musicians are performing."
When noise complaints surfaced, Jurewicz said Garver changed its schedule so on Saturdays music ended at 9:30 p.m. instead of 10 p.m., and on Sundays it ended at 8:30 p.m. instead of 9:30 p.m.
They also tried to add a back wall to the stage tent, which she said did nothing. Eventually, they resorted to gradually lowering the volume, so by 9 p.m. the sound was 20 decibels under its 90-decibel limit.
Former Ald. Judy Olson contacted the public health department to support Garver, noting that not just the music, but lights and parking may be behind some of the complaints from area residents.
Olson said it's incumbent upon Garver to work with its neighbors and city council members to resolve the problems, noting that these types of neighborhood conflicts shouldn't be confused with current public health issues.
"I believe that Garver is compliant with the most important PHMDC guidelines," she wrote. "By making some adjustments, well short of drastically downsizing, canceling its program, or facing steep fines, the Patio events can operate safely and should continue."
Live music alternative
Bob Queen, who for 33 years has organized music festivals on the Near East Side, including the concert series Sessions at McPike Park, canceled this year because of the novel coronavirus, enjoyed getting to book some "Sessions" programming at $10 per timeslot on the Garver Patio in August and September.
"This was a terrific success and without a pandemic would have a successful future and make this new business venture a great addition to the neighborhood and city," Queen said.
Jurewicz said this amount of music programming was a reaction to COVID-19 restrictions limiting Garver's overall operations. It started offering free music in late June, and on Aug. 23 Queen began programming some of the Sessions musicians that had their festival gigs canceled.
"We have no intent to program this extensively on the patio once we are allowed to have indoor events," Jurewicz said.
Garver also plans to work with a sound engineer in the off-season to ensure any programming next year is less disturbing to the neighborhood, she said. "It was our first year and it's a shame our neighbors were not able to be more understanding given the situation."
Jazz will continue until Oct. 24, weather permitting, with audiences no larger than 25 people. The shows were canceled this weekend because of the cold.
Some of the jazz concerts are $20, and partially underwritten by the BlueStem Jazz, which books them, Jurewicz said.
Fred Svensson, vice president of Eastmorland Community Association, wants live music to work at Garver. "People are getting really depressed in their homes and nothing is happening," he said. "This is going longer than we thought, and we sort of need the arts to survive and we need us to survive."
10 Madison restaurants with enhanced outdoor seating thanks to city's Streatery program
Outdoor seating has been a lifeline this summer for some restaurants lucky enough to have it, but it comes with challenges, and worse, an approaching end date with colder weather on the way.
About 87 restaurant and bar owners are taking advantage of the city's "Streatery" program, modeled after efforts around the world to help restaurants during COVID-19 restrictions by helping them increase their outdoor dining areas by extending into streets, parking spaces, parking lots and alleys. Twenty-six other applications are pending in Madison.
The efforts are in response to public heath data that suggests that al fresco dining is a safer option than eating indoors in restaurants. Or as Chicago Tribune columnist Mary Schmich put it, "a restaurant patio is a calculated risk."
Here are 10 Madison restaurants and bars taking part in Streatery.