Emily Birsan arrives for a newspaper interview balancing a tiny macchiato in one hand and a tall glass of sparkling water in the other. The coffee is a treat she always buys herself at the café Bradbury's when she's in Madison, she explains. And the water — in the Italian tradition — counters the richness of the macchiato.
It's all about balance, a theme that runs through Birsan's life and her art. She's the hometown girl and the operatic leading lady. The espresso lover and the water drinker.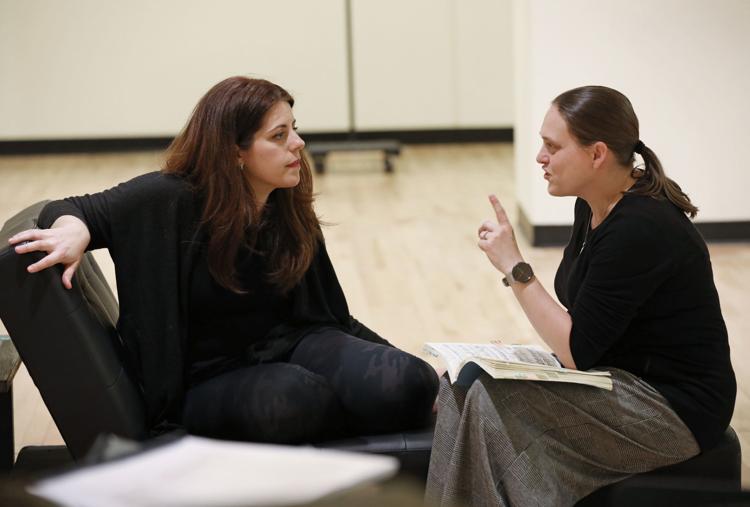 Birsan — an increasingly familiar face on stages in Madison as well as across the U.S. and in the U.K. – takes on the title role next weekend in the Madison Opera production of Antonin Dvorak's "Rusalka." And she'll be one of eight vocal soloists in Mahler's "Symphony of A Thousand," which the Madison Symphony Orchestra performs the weekend after that.
All this comes on the heels of a spectacular moment in the Wisconsin native's career — when, in February, she was called on short notice to fill the lead role of Violetta in "La Traviata" at the Lyric Opera of Chicago.
"Rusalka" is a "big sing," one of the toughest roles Birsan, 33, has taken on in her young operatic career.
"I just had Emily in mind for this role. I asked her agent if she'd ever looked at it," said Kathryn Smith, general director of Madison Opera. "Singers should not, and tend not to, accept roles that they don't know they'll be able to sing well."
Back when she was a graduate student at UW-Madison, Birsan "was always the star of UW opera and was able to sing some incredible roles," said Julia Faulkner, the legendary former UW vocal studies professor. Today she is director of vocal studies at the Lyric's Ryan Opera Center for emerging artists, where Birsan spent three years.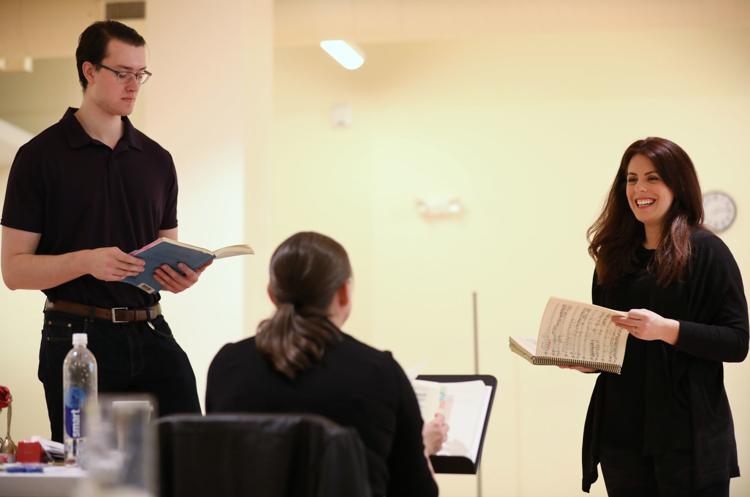 "Since she has been doing many prima donna roles for years, I have no doubt that she will deliver in an incredible way for 'Rusalka,'" Faulkner said. "… Her physicality and attention to detail, as well as a certain ethereal quality, will no doubt make her portrayal something special."
Sure enough, it wasn't long before Birsan's agent got back to Madison Opera about "Rusalka": She was ready.
Born in Appleton
Birsan's "ethereal quality" extends to her striking green eyes. Offstage she is disarmingly chatty and open, apt to strike up a conversation in a coffee shop just to know what makes a stranger tick. Those impressions might be useful on stage someday.
Sung in Czech (with an English transcription projected above the stage), "Rusalka" is about a water sprite who wants to become human in order to win the love of a prince. The role is both physically and vocally demanding.
"There's a lot of sustained lines, lots of climbing, climbing lines, kind of like Wagner, kind of like Strauss," Birsan said. "I'm a young lyric soprano … and my vocal mechanism is just starting to develop in that world."
Birsan made her Madison Opera debut as Barbarina in "The Marriage of Figaro" in 2010, played Juliet in "Romeo and Juliet" in 2016, and was Musetta in "La Boheme" in 2015. Recently she's also sung Donna Anna in "Don Giovanni" (Welsh National Opera, Florentine Opera); Susanna, "The Marriage of Figaro" and Musetta, "La Boheme" (Boston Lyric Opera); and Lauretta, "Gianni Schicchi" (Chicago Opera Theater).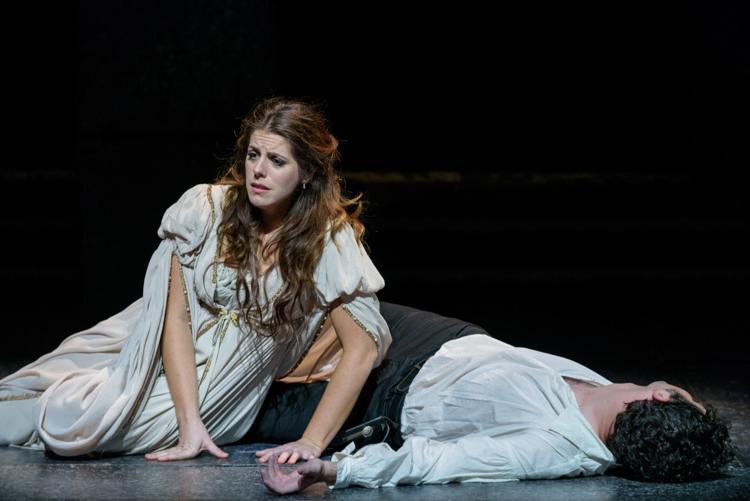 One of her mother's favorite stories, Birsan says, is how as a child she would stand in the backyard and just scream out of sheer joy.
Born in Appleton as Emily Fink, the middle child of three, Birsan spent her early years moving around. Her mother, an ELCA Lutheran pastor, was in seminary at the time, and her studies took the family from Wisconsin to North and South Carolina and Iowa. Birsan's father worked in talent management for Kimberly-Clark.
"I moved every year until the eighth grade," when the family settled in Neenah, the singer said. "And that was cool — to finally be in one place. So I do call Neenah my home."
All that moving meant a lot of time in the car, when the kids would listen to music, said Birsan's older sister, Margaret Fink.
As children, "we watched certain musical movies on repeat until we knew every single word," including "Little Mermaid" — Disney's take on the mermaid-who-wants-to-be-human tale.
And they'd make up "elaborate play-acting games for afternoons at a time," said Fink, who today is assistant director of writing programs at the University of Chicago. One of her "random memories" is how "one time after church, our little brother had fallen asleep in his car seat and my sister and I stayed in the car in the driveway with the sliding door open, listening to his little snores while my parents fixed lunch," she said.
"It makes me think about how Emily has this really special, beautiful relationship to sound, and for her, it's all about touching people and connecting."
Camping and singing
Music was always part of family life.
"My parents were sort of like folkie, Jesus-freaks kind of people," Birsan explained. "We'd go camping with three or four other families, and we'd all sing. That's kind of how I spent my summers — Joni Mitchell songs, and also American spirituals.
You have free articles remaining.
Register for more free articles
Stay logged in to skip the surveys
"All of us took piano lessons," she said. "I think our parents really taught us to value music — and art. My mom does a lot of pottery and watercolors. I think both my parents have beautiful voices and a good ear."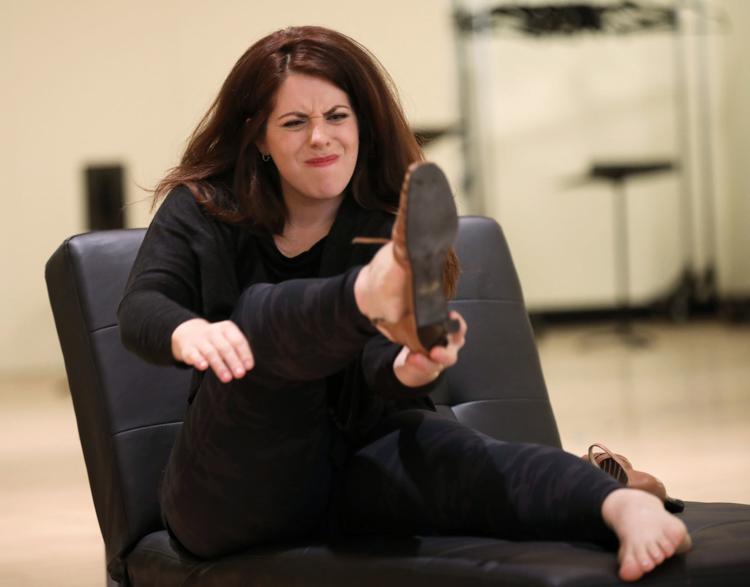 At church, Birsan played the organ. She joined the Lawrence Academy Girl Choir, an "amazing" program, she said. Her sister Margaret also sang in a choir.
Margaret "was born deaf. That was an interesting part of our childhood," Birsan said. "It really didn't make a difference for her. She went to public school, learned to speak … and didn't even learn to sign until she was about 25 years old."
Birsan met her future vocal professor, Karen Leigh-Post of Lawrence University, when still a high school sophomore, playing in the school jazz band.
"She was already very advanced as a musician," Leigh-Post said. "While she was in high school she had to make the difficult decision — was she going to focus on piano, (jazz) trombone or voice? And I think she made the right decision."
'The cool thing to do'
Birsan's love of jazz improv has served her well in classical singing, Leigh-Post said. Birsan spent her junior year of college in Vienna, Austria — where going to the opera is "the cool thing to do" — and it's there she fell in love with opera.
Birsan was lured to graduate school at UW-Madison by Faulkner. With both her undergraduate and graduate degrees from her home state, "I was a little worried that I was so 'in Wisconsin,'" Birsan said.
"It's not a bad thing, but I wasn't sure I was going to get connected to the world opera scene," she said. In the end, "I think it didn't matter for me; I just needed to develop my instrument."
Birsan's talent continued to grow at the Ryan Center. Sir Andrew Davis, music director of the Lyric Opera, noted in an email that he has handpicked Birsan to sing "in concerts in London, Liverpool and the Edinburgh Festival (including a radiant and moving performance of the role of Anne Truelove in Stravinsky's 'Rake's Progress') and in recordings of works by Elgar and Bliss." She was also contracted to cover the role of Violetta in Lyric Opera's "La Traviata."
Then the star, Albina Shagimuratova, came down with laryngitis.
"That was crazy, I can barely even describe it," Birsan said of the call to fill in for the role. "It was for a Tuesday matinee, and they called me on Monday evening around 7. Of course, I couldn't sleep the whole night."
She had already played Violetta in one rehearsal at the Lyric. "So at least I knew what it was like being in the costume and on stage with these people," she said. "All I had to worry about was singing this quintessential role.
"Maria Callas sang it, everyone sang it, and everyone has an opinion about it," she said. "It's part of the canon of opera. It was so daunting, I could not sleep, my heart was beating out of my chest. Even though I do have my own interpretation, I've done it in smaller places, like Nashville Opera and Indianapolis Opera, and took risks there on my own."
'Found my legs'
Birsan would step into the role on the Lyric stage, in front of 3,700 seats, three times.
"The first time was so memorable, because I was so nervous in the first act. I kind of found my legs in the second act, and got into the part more, the acting more, and really got to sing the text and not worry," she said.
"In the third act I finally let go. And this was when (Violetta) is dying. It was one of the most memorable moments of my whole life performing. I finally let go, and leaned back for this one high note at the end of this aria. There was a huge silence.
"It felt like 10 seconds — or five hours — and you could hear people crying and sniffling — and it made me feel like, wow, they accept me as a legitimate Violetta," she said. "A lot of people paid a lot of money to come to Chicago to see this Russian soprano that wasn't there. And I'm just this Midwest girl who's trying to sing this amazing Italian repertoire."
"I just bawled after that performance," she said. "It was just one of those adrenaline come-down things. I told my husband I can die happy."
Davis calls Birsan's Violetta a "sensational success" and said he "was moved to tears by her combination of fierce spirit and tenderness."
The role was more proof that "Emily's talent, determination and above all her world class instrument have her positioned for a major career," Faulkner said. "She stands shoulder to shoulder with the greats in the opera world today."
Buying a house
At the time she got the call for Violetta, Birsan and her husband were house-hunting in the Chicago suburbs. They put in an offer on a house the night before she went on, and found it was accepted while she was on stage at the Lyric.
Her husband Wyatt Steele works in the insurance business, in a field "so completely opposite of me," she said. "He is wonderful and loves to come to my shows.
"I like to have a balance in my work life and home life," said Birsan, who's had just a short time to unpack boxes in her new home before her next role.
"I feel like I can be Emily from Wisconsin, as well as this opera singer person — because it's a big part of who I am."