Though Jenny Robinson is only 31, her resume has a long list of former jobs: invasive species control with the National Park Service, package handler at UPS, engraver at a sign shop, a stint as a machinist and work as a quality auditor and production supervisor for Kraft Foods.
And now, handpan builder.
Robinson, who lives on Madison's East Side, began making the unusual musical instrument after she realized the job would demand many of the skills she had developed over the years.
Modeled on an instrument invented in 2000 in Switzerland, the handpan is made of two half-shells of metal. The finished product resembles a large double-sided tortoise shell (or even a small UFO from an early sci-fi movie).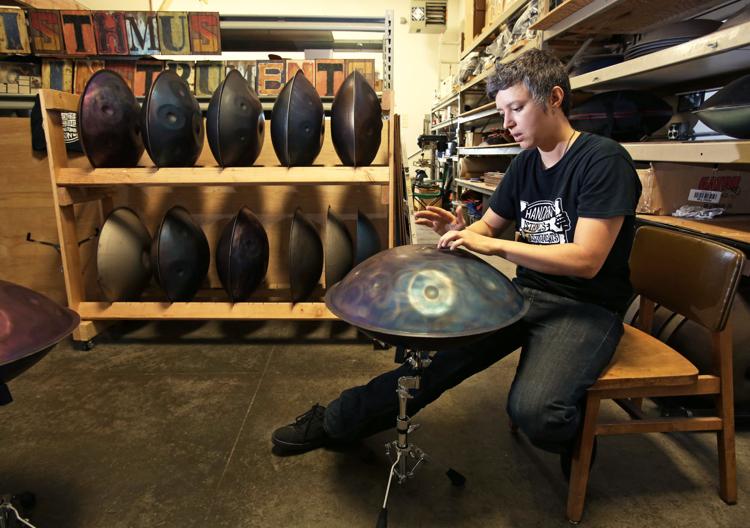 And, in fact, the music to come out of a handpan is somewhat otherworldly. The instrument's top is dimpled with eight or nine different "notes" that are played with the fingertips to create different melodies, rhythms and acoustic effects.
Though easy to play, a high-quality handpan is still rare to find. Each instrument takes months to fabricate out of a flat circle of low-carbon steel. It must be finely shaped, hammered, heated, stretched and tuned to create the handpan's distinctive sound — somewhat like a harp, a bit like a marimba, a mellower cousin of the steelpan drum.
"It has such an ethereal and haunting sound," said Lori Mankowski Gettle, a Madison radiologist who purchased one of Robinson's handpans after years of wanting one.
Gettle, who went to college on a music scholarship and is a serious oboe and percussion player in her spare time, finds the handpan "so inherently playable. There's no wrong notes. It can be very relaxing," she said.
"This instrument is so beautiful, and anyone can play it," Gettle said. But "Because they're a very technical instrument to make, very labor intensive, I wanted to meet the person who made mine."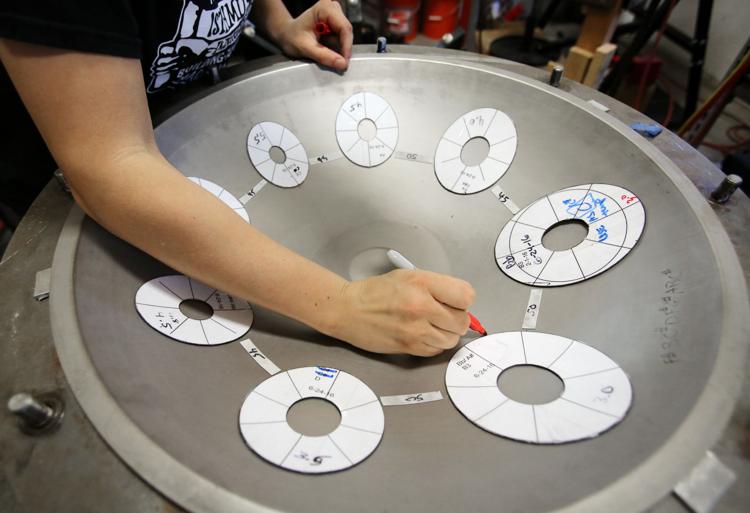 So she visited Robinson's workshop on Madison's Far East Side to pick out the handpan whose voice spoke to her, something that Robinson encourages all her potential customers to do. Some handpans sound brighter; some more earthy. They can feature a different array of notes.
One of just a few handpan makers in the U.S., Robinson spent years researching the instrument before she launched her own company, called Isthmus Instruments. Her "R&D" is ongoing, she said. The amount of time, study, trial and error she's put into studying metals and the physics of music "has almost been like getting a PhD," she said.
"As I now understand, there is a lot that goes into the tuning of these instruments: How long it's heated, what type of metal it is, how you go about shaping it and moving it, what your tuning approach is, how deep the dimple is, how thick the metal is that I'm using — the variables go on and on," said Robinson, whose latest instruments sell for $1,800 to $2,300.
Each handpan builder uses different processes, some of which remain secret. But the overall musical product works solo, with other percussion, or even nicely with stringed instruments.
Handpans can be played face-up or sideways, on a lap or resting on a snare drum stand.
Bekee Gibson of Madison fell in love with the instrument watching demonstrations on YouTube. But she realized most handpan makers are in Europe and having an instrument shipped would cost too much.
Then she heard about Robinson's Isthmus Instruments.
You have free articles remaining.
Register for more free articles
Stay logged in to skip the surveys
"Jenny is very passionate about her work," said Gibson, a web developer who bought one of Robinson's handpans.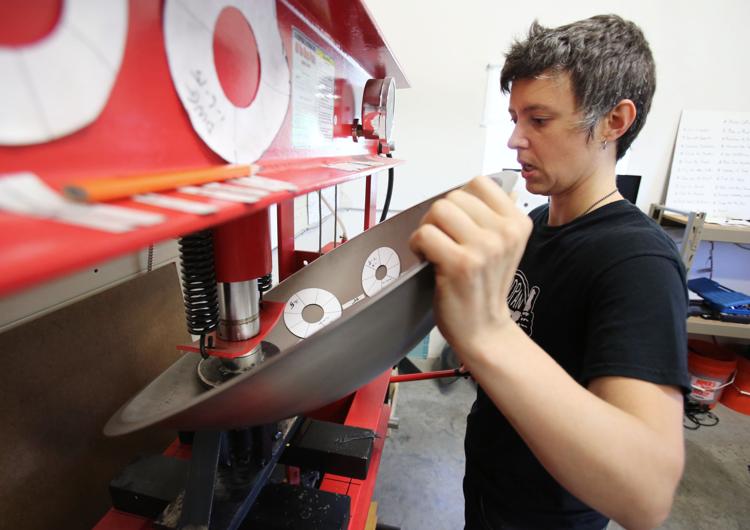 "It's a very niche instrument," said Gibson, who also plays the djembe in her spare time. "I've always been a fan of handmade instruments." The handpan "almost sounds like a harp, but it's not as heavy," she said.
Robinson grew up in Lexington, Kentucky, where she played trumpet in school and taught herself guitar and drums as a teenager. She moved to Wisconsin to earn a bachelor's degree in natural resources at Northland College in Ashland, and while there learned how to make Native American-style wooden flutes.
Robinson, who loves exploring the back roads of Wisconsin on her motorcycle, first came to Madison to visit friends and see the UW-Madison campus, then decided to make the city her home.
She enjoyed her job at Kraft Foods, she said, but missed working with her hands. So she enrolled in a two-year machine tooling program at Madison Area Technical College, and spent time working at a machine shop.
"I wanted to do something where I was making something," she said. "I've found the greatest satisfaction I've had in my life is to make, to always be building."
It was while at MATC that she saw her first videos of handpans online.
"I heard the sound, and I thought, 'That's beautiful — how do I get one?'" she recalled. "I found out they're pretty much unattainable, and there were only two people in the world at that time making them."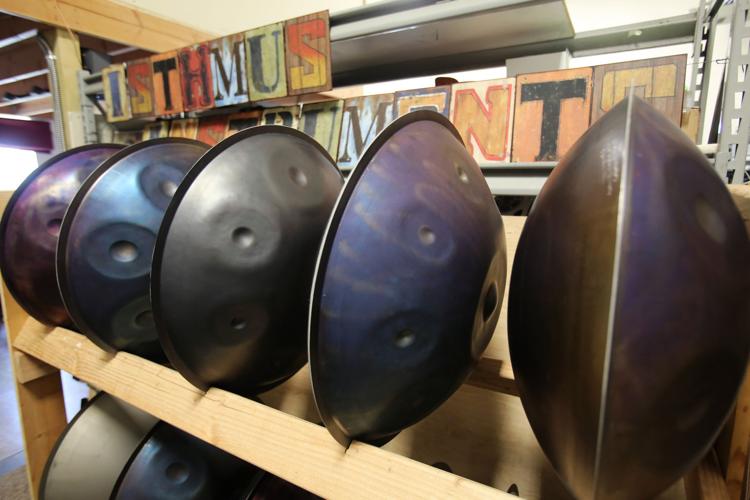 Eventually Robinson would create the die to manufacture the steel bowls she turns into her handpans. The bowl shapes are made by a New Berlin manufacturer to Robinson's specifications, but everything else is done by Robinson by hand, using a shop press, hand hammers, a pneumatic hammer and a wide range of mallets. Robinson uses a hand-me-down electric stove to heat and anneal the steel and give her handpans a remarkable range of colors.
Although she takes orders online from around the globe, Robinson would prefer to sell locally, as the instruments are difficult to ship. She plans to exhibit in the upcoming Milwaukee Maker Faire in September.
Robinson notes that the beauty of the handpan is that anyone can sit down with it and begin to create mesmerizing music.
"I don't actually need to know what notes I'm playing to have it sound good," she said.
"Take the most popular instruments, guitar and piano. You can't just sit down and play one. You have to practice and practice," she said. With the handpan, "you can get sound to come out of this and have it sound beautiful. I like that accessibility of the instrument, for wide ages of people, and a wide range of musical abilities."
"You can play these together with people. I think it can be a really fun community-building thing," she said. "Music can be an interesting bridge for people. I like that this is an accessible instrument."