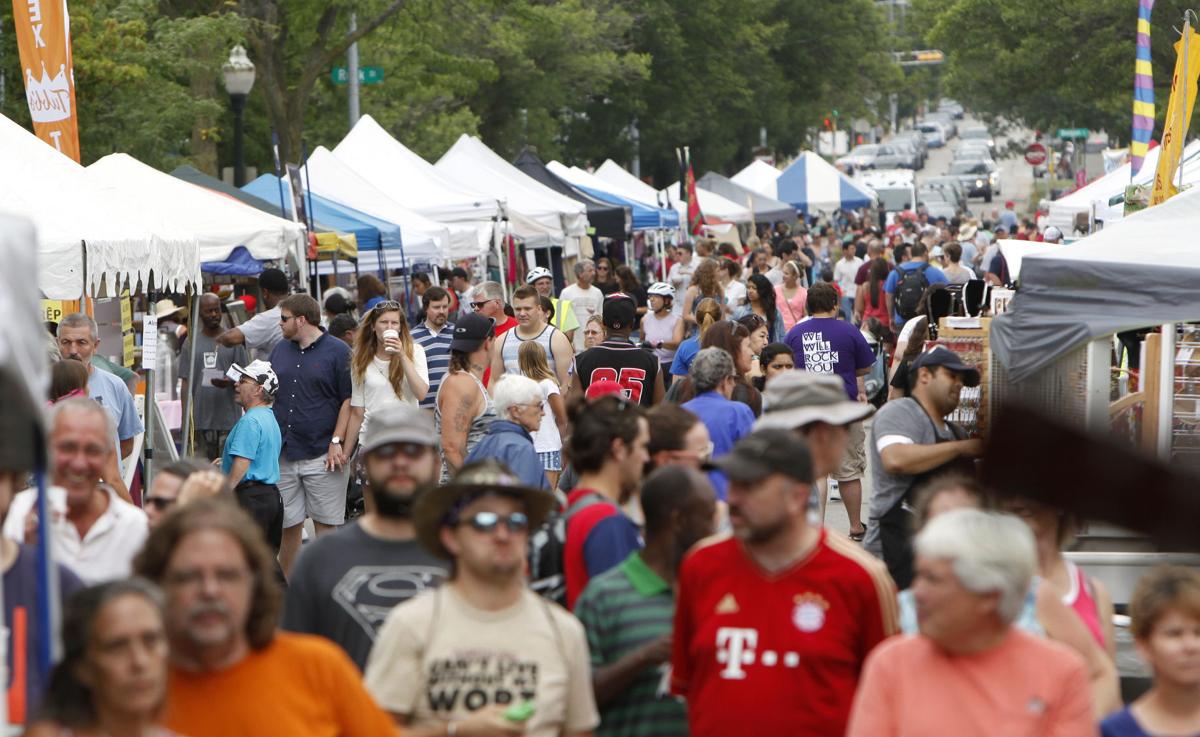 AtwoodFest, canceled last year due to the COVID-19 pandemic, will be back this summer in modified form.
Traditionally held on the 2000 and 2100 blocks of Atwood Avenue the last weekend in July, this year's event will take place July 24 for one day instead of two.
It will be contained to the parking lot of the United Way building, 2059 Atwood Ave., so the street won't need to be shut down this year as it normally would.
The idea, said Steve Sperling, general manager of the Barrymore Theatre at 2090 Atwood Ave., an AtwoodFest organizer, is to "keep it really simple but still really fun."
Sperling said four bands will play on one stage, headlined by the local disco band V05, a perennial AtwoodFest favorite.
The lineup will start with Steely Dane, another big AtwoodFest draw. The Madison supergroup, with as many as 20 musicians on stage, recreates the jazz-rock fusion of Steely Dan. The local reggae group Natty Nation and The Rousers, a 37-year-old Madison rock band, also will perform.
The festival will run from 2 to 10 p.m., with about 10 local food vendors from the Atwood and Williamson Street area.
There will be no KidsFest or arts and crafts vendors this year.
"This is a smaller, one-stage, one-day version of AtwoodFest designed to bring some music to the community and give the local food vendors an opportunity to also do something," Sperling said.
He said organizers also plan to use a small United Way parking lot across the street. "We'll put tables and chairs and umbrellas in there so people can just sit and hang out."
Hurry up and plan
Public Health Madison and Dane County's COVID-19 restrictions expired Wednesday with no new orders replacing them, meaning all local restrictions on the size of gatherings and the county's mask mandate are no longer in place.
The health department announced the move May 18, which didn't give organizers the necessary time to plan a full-scale event.
"It's too much, too late," Sperling said. "Normally we would spend months preparing for this and we can't. And so because of that, we're just trying to do a one-day thing, because that's what we feel like we can do."
"That's too big of a bite," Kallas said. "There's just no way we can bite that apple and put it on. And it didn't seem right to put something other than the full experience of Fete out there."
Kallas said La Fete has "a brand and that brand is expensive" and requires months of planning. "And we didn't know where we were going to be months ago. So, we had to cancel. We had to say, 'It's not going to happen this year.'"
The AtwoodFest main stage moving to the United Way lot should have happened years ago, said Kallas, who also helps organize AtwoodFest. "So this is kind of like a pilot. If things work the way we imagine that they can work in the United Way space, that could be a permanent move."
In that case, he said, the stage that has typically been in the Monty's Blue Plate parking lot can become an area for kids activities by day and another entertainment stage by night.
Atwood Summerfest was renamed AtwoodFest in 2014 after the Goodman Community Center stopped organizing it after about 30 years.
The Barrymore, which is reopening July 30, took over the festival in collaboration with the Schenk-Atwood-Starkweather-Yahara Neighborhood Association and the Wil-Mar Neighborhood Center, and the three groups continue to put on the festival.
Sperling said organizers held off canceling the event, hoping that something would change. Then the health department announcement came.