In this high school class, there's an unusual route to a well-rounded education: hip hop.
The multi-faceted art movement — along with its political roots, social history, use of poetry and other literary conventions, not to mention its worldwide impact on culture and the arts — is the foundation for a yearlong course at Clark Street Community School in Middleton. The course aims to sharpen academic skills but, even more, to get students engaged.
"It's what I was hoping it would be like," said Kristian Rynes, 16, who goes by the stage name Kristian B Legacy, and discovered his natural performance talents by taking the hip hop course. "This class is a movement."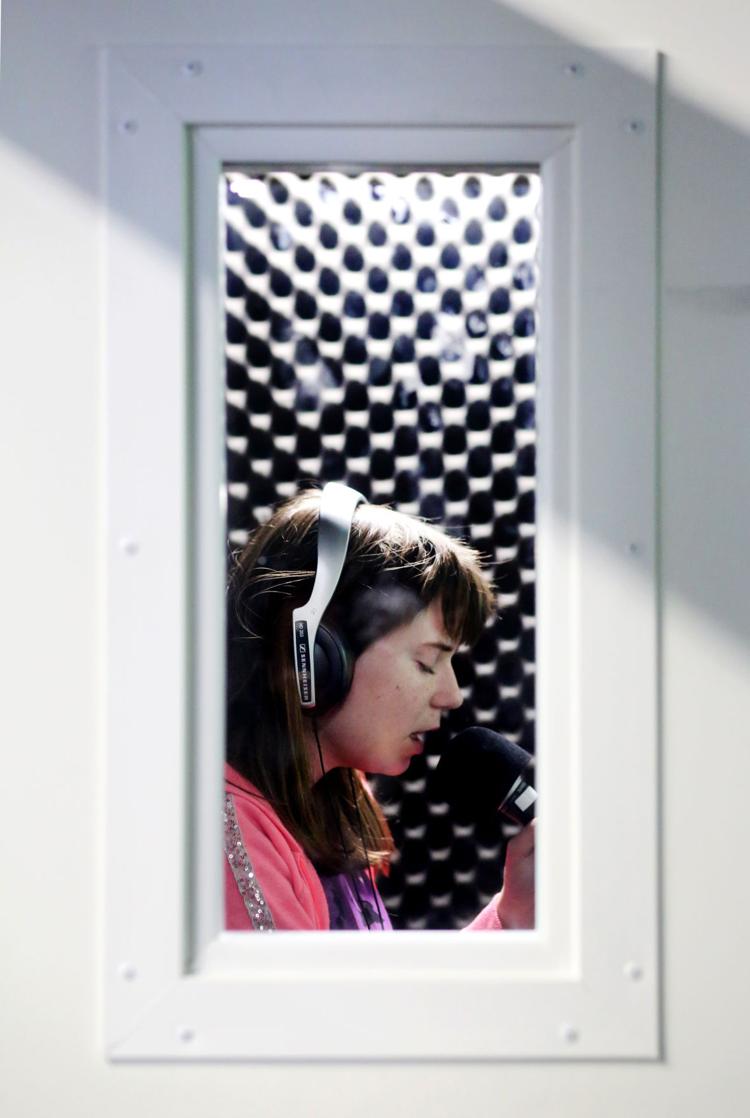 This winter Rynes and his classmates are writing, revising and rehearsing raps, then recording them in the Media Lab studio at Madison Public Library. They're designing album art and a marketing campaign with area professionals in anticipation of the limited-edition, vinyl record they'll cut by the end of the school year.
They've already studied the history of hip hop — a subculture (encompassing more than music) that grew out of political and social disenfranchisement in the 1970s. Lessons have included discussions of social justice issues, and even standard fare such as metaphors and alliteration.
"I've definitely learned a lot more about the history of hip hop," said student Yoshi Benitez, 16, who calls hip hop "a huge part of my life."
"This class offers a lot of opportunities," such as working in a real recording studio and even being interviewed by reporters, she said. "If you want to pursue music, you could start here."
As with the classic high school essay, students penning raps in the hip hop class use "similar cognitive processes: thinking, editing, evaluating," said Michael Dando, a former high school English and journalism teacher who is pursuing a Ph.D. at UW-Madison focused on multicultural education, and helped create the Clark Street class.
"But because there's this internalized investment — because this 'matters' (to students) — I've heard everything from kids from 'This is what I came to school for today' to 'I worked on my homework 'til 2 a.m., and I loved every minute of it,' " he said.
Pop culture long has served as a way for teachers to reach students, said UW-Madison education professor Carl Grant, a scholar in multicultural education and also Dando's graduate adviser.
"One of the things that Michael talks about is that you can't just take hip hop and drop it into a classroom, and say, 'Let me do a lesson using hip hop,' and call that good instruction," Grant said.
"He doesn't believe in that. You have to think about it, you have to prepare students for it, you have to know what it is you're teaching."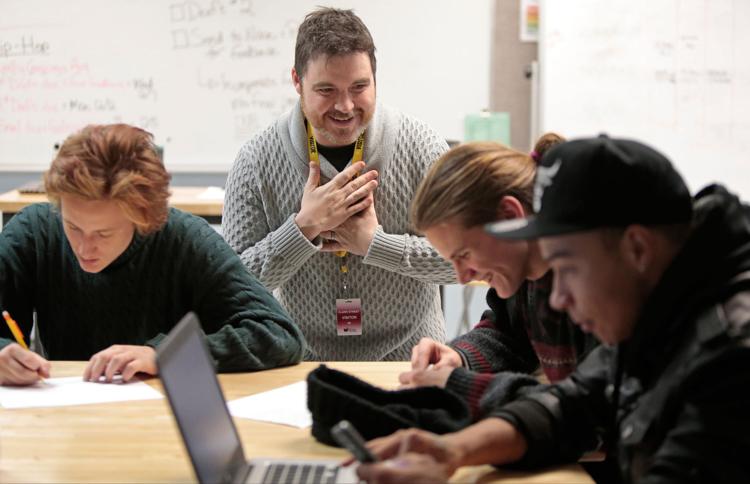 School districts are increasingly embracing hip hop as a vehicle for reaching students — including the Madison school district, which co-sponsored a "Hip Hop Summit" at the Overture Center last fall along with UW-Madison's School of Education Outreach and Partnership School Network.
In 2017-18, all four Madison public high schools will replace their "Contemporary Music Studies" courses with "Hip Hop Studies," according to Madison School District arts education coordinator Laurie Fellenz. East High already offers a spoken word course through its theater department, and Sherman and Black Hawk Middle Schools use hip hop curriculum in cross-disciplinary academics, Fellenz said.
Middleton's new hip hop course grew out of a smaller pilot project at Clark Street Community School last year. Dando had teamed up with special education teacher Matt Ecklund, who formerly taught a hip hop class at a high school in St. Paul, Minnesota. Ecklund himself had written and performed rap music since his teens, and knew firsthand how empowering it could be.
With hip hop, "I think the biggest thing — and Mike and I saw this last year — is that you can engage students who haven't been engaged in a very long time," said Ecklund, who is now dean of students at Middleton High School, a short distance from Clark Street.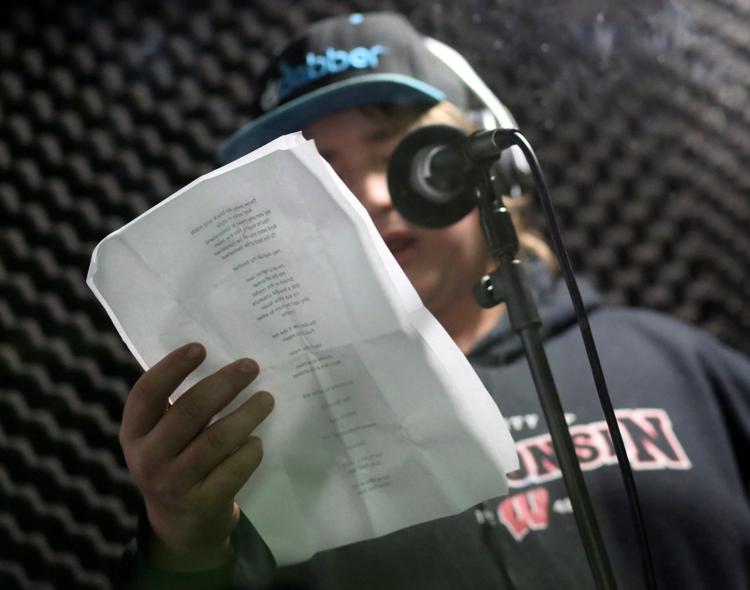 Clark Street Community School was originally founded as the Middleton district's alternative high school. About five years ago it altered its mission and now offers project-driven, "democratic" education where students help manage their own learning plan, concentrating on the subjects that they most passionately want to learn about.
Some students turned to Clark Street because conventional high school just wasn't a good fit. Others sought a different way to learn.
There are 22 students – about a quarter of the school's current population — enrolled in the new hip hop course, taught by a team of teachers and funded through a grant Dando won from the UW School of Education.
"The curriculum was designed so it meets certain social studies and English requirements," Ecklund said. "And I think there's ways to get even more creative and involve math and science."
Students are "absolutely" picking up skills, including habits that can help them keep on track to graduation.
"We're bringing them back into the classroom and saying, 'Hey, you can be successful — just look what you accomplished,' " he said. "Ultimately we want to say, 'You did it in this classroom, you can do it in this (other) classroom.' "
Hip hop "is not just rap," Dando stressed.
"There are four pillars of hip hop: rap, break dance, graffiti and DJ. So we focus on how students work with those art forms to discover their sense of self, and also to figure out how to be active participants in a democratic society, participatory citizens."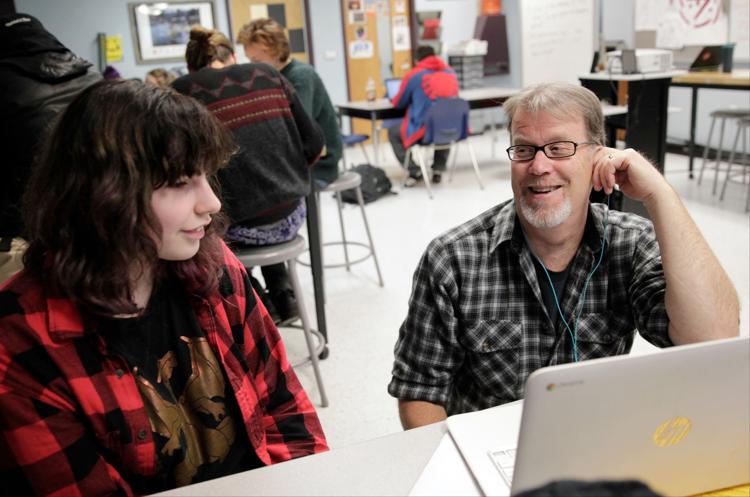 In a recent 90-minute class at Clark Street, English teacher Nikki Meyer urged students to polish and rehearse their pieces before heading to the library to record. History and social studies teacher Rick Evans reviewed a lesson on the origins of hip hop. And there was still time for students to get peer feedback on their raps.
Student Emmy Peebles, a 15-year-old who had already impressed her teachers with her prolific output in the fall, worked on revising a song.
"First quarter, I made four songs," she said. "It's easy for me because I've got a good ear, and it's easy for me to write because I've always done that.
"So it's been easy and hard at the same time, because I've never really shared before. The process we go through at Clark Street is really to get this out there, to share it and get feedback, which was kind of scary the first time."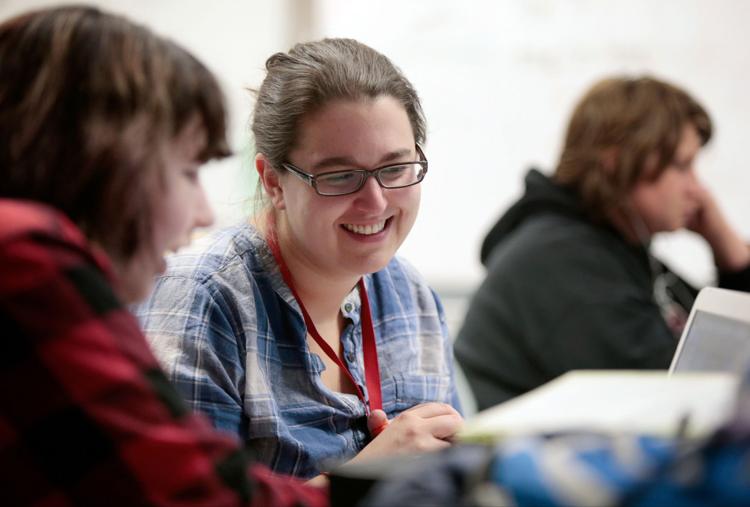 Many student songs take on heavy subjects, from abuse to depression and suicide, to one student's longing for a brother who died as an infant. The teens' lyrics can be explicit. Peebles sometimes addresses politics.
Hip hop "comes out of urban America, mid-1970s. It comes out of social and economic upheaval," said Evans, the history teacher.
"If you look at the Bronx (considered the birthplace of the hip hop movement), you're talking about an entire community that was neglected by the powers that be. So what you have is a really important social movement springing from the people themselves.
"Like the civil rights movement, you have the hip hop movement, which is about bringing people together, about bringing the resources together that you have to (in order) to create hope," he said.
"As a social studies/history person, this is as important as teaching the breadth and depth of the civil rights movement. It's not a 'Let's candy-coat something because it's popular and see if we can get kids to deal with it.' This is a part of our shared history."