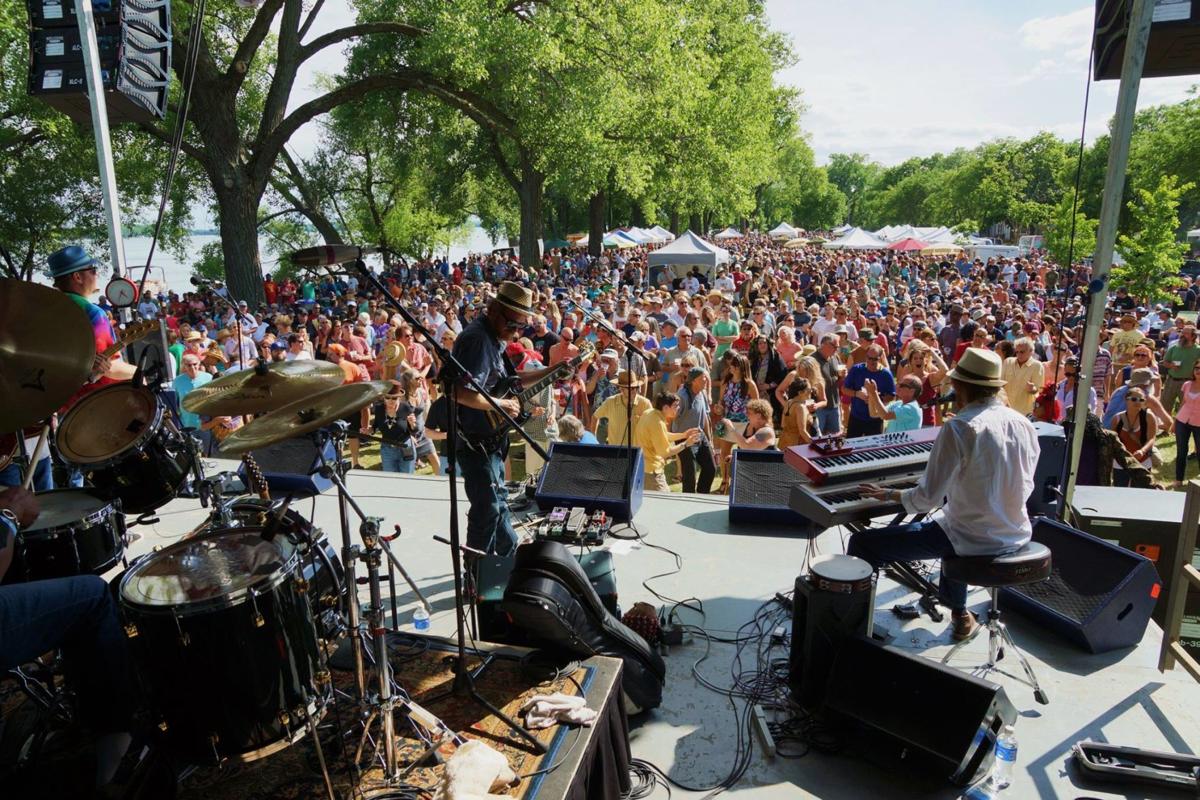 Two of the East Side's outdoor music festivals hope to be back this year, combined into one August weekend.
Organizers say "Orton-Front" will combine the Marquette Waterfront Festival and Orton Park Festival on the weekend that is traditionally the Orton fest, Aug. 26-29, if public health guidelines permit.
"They're two of the oldest East Side events. And we wanted to preserve both of them somehow," said Katherine Davey, festival co-chair for the Marquette Neighborhood Association, which puts on the festivals.
Davey said it seemed unlikely it would be safe to congregate in large groups by the second weekend in June, when the Marquette Waterfront Festival traditionally takes place. So, organizers decided to merge it with the Orton Park Festival later in August.
The idea was to keep the main elements of both, "the features and the flavors," Davey said.
Last year there were online versions of the festivals, and organizers are hoping this year to bring them back in person.
Davey said the festival can only happen as an "unrestricted event." Organizers don't want to hold an event where they have to monitor people and make everyone keep their distance.
"We just don't have the capacity," Davey said. "These events are in public parks. It would be too much. ... This event will only happen if restrictions are lifted and it's safe to do so."
The Orton Park Festival is 56 years old, and this will be the 32nd year for the Marquette Waterfront Festival, she said. "We just didn't want to have a gap. We wanted to keep them both alive this year."
Davey said the association has reached out to festival partners for both events, including Cycropia Aerial Dance, which is scheduled to perform Thursday and Friday nights, Aug. 26-27, at Orton Park.
The festival will then move to Yahara Place Park, along the shore of Lake Monona, for two stages of local bands and national touring acts on Saturday and Sunday, Aug. 28-29.
"If everything works out and we're allowed to have an unrestricted event, we will go forward at Orton," Davey said.
The association has also contacted the River Alliance of Wisconsin about the Fools' Flotilla, the annual river parade that starts at Tenney Park and ends at Yahara Place Park.
Restaurant vendors are also anxious to get back, Davey said. "We just wanted to bring everyone back with us, and this was a way to do that."
On Friday, Public Health Madison and Dane County issued a new order that removes the capacity limit for outdoor events and drops a mask mandate for outside gatherings.
The order, which takes effect Wednesday and runs through May 5, requires that people keep 6 feet apart if they aren't members of the same household or living unit.
Other events
Gary Kallas, executive director of the Wil-Mar Neighborhood Center, said "it's more than likely" the La Fete de Marquette festival in July will be canceled or postponed for a second year.
"It would be too challenging at this point to put all the pieces together, also recognizing that it's likely that there's going to be some distancing policy and requirements put on us," Kallas said.
He said it's harder to limit people at a free festival than at an event like the Dane County Fair, which announced this week its return to the Alliant Energy Center July 15-18.
"As people arrive, tell them, 'We have too many people, you can't come,' right?" Kallas said. "It's too difficult and challenging to figure out just what the playing field" will look like by July.
The Willy Street Fair, in the third week of September, is more of a sure thing, he said. "Plans are being put into place with confidence."
Kallas said he's meeting with his partners on Monday to talk about the likelihood of holding AtwoodFest, traditionally the last weekend of July. "I suspect that'll be an interesting meeting."