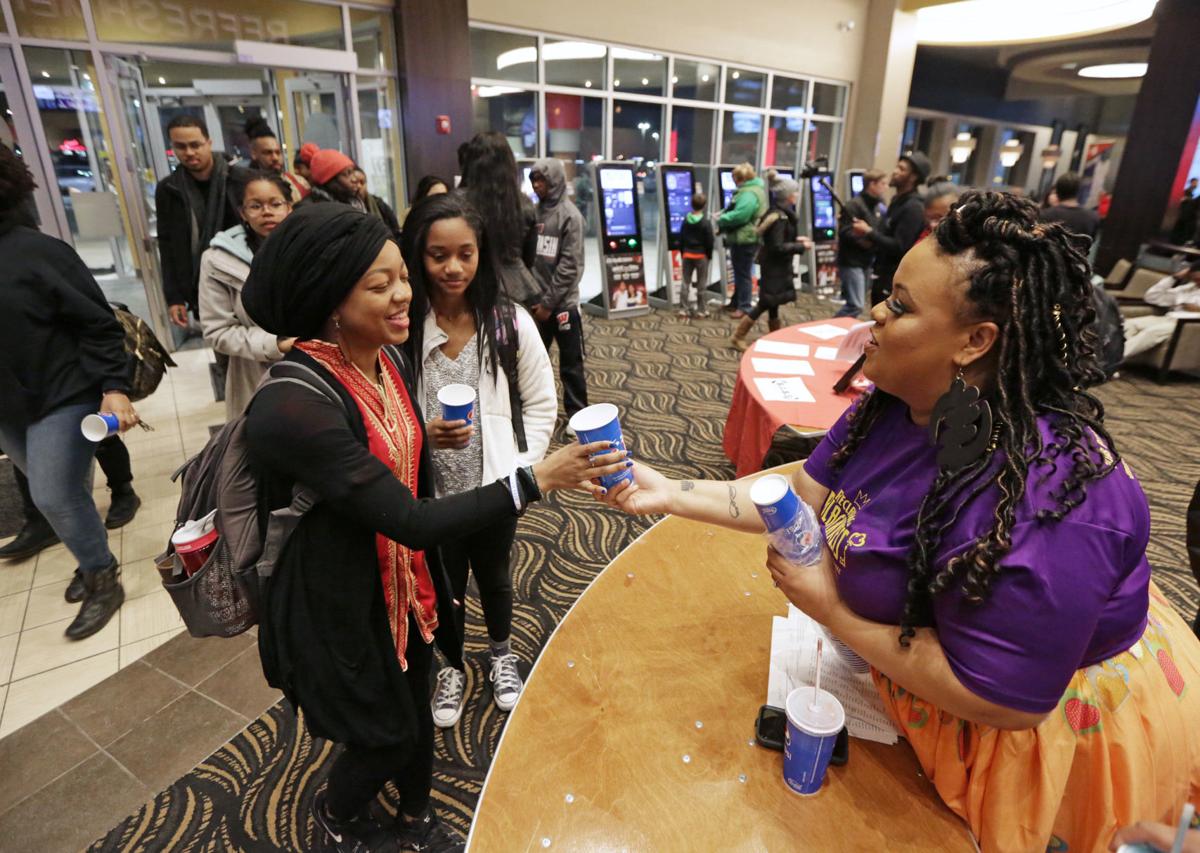 Emily Todd walked into the movie theater Thursday looking like a queen — wearing a crown, golden bracelets, a long skirt with a bold pattern and a cape over her shoulders.
Todd was at Marcus Palace in Sun Prairie to see "Black Panther," a superhero movie based on the comic books of the same name, on the night of its nationwide premiere. Not only is "Black Panther" her favorite comic book — she said she collects them — the movie also features a cast that looks like her.
To celebrate the release of the movie, Todd joined more than 100 other members of the area's black community for a private screening.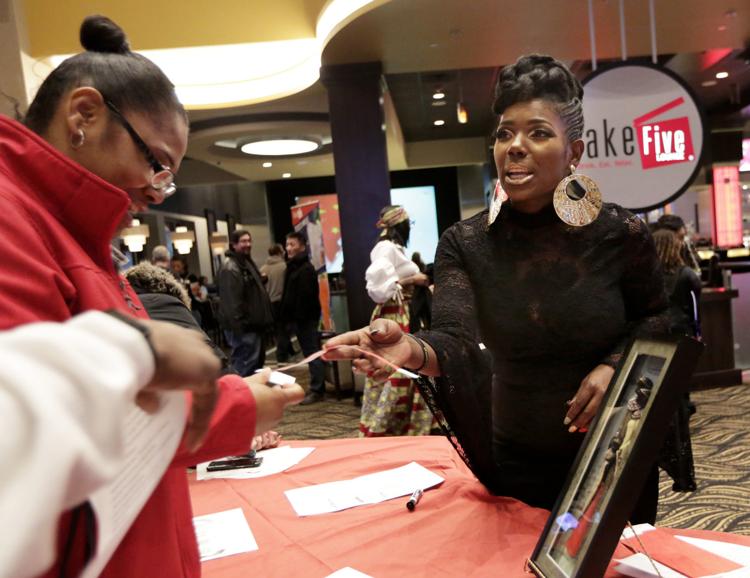 Black Panther joins a list of several other superheroes to have their own feature film. Other blockbusters produced by Marvel Studios include "Iron Man," "Captain America," "The Avengers" and the most recent "Thor: Ragnarok."
"Black Panther" is about the king of the fictional African nation of Wakanda, the most technologically advanced country on Earth. T'Challa, played by Chadwick Boseman, is not just tasked with leading the country but also protecting it as the Black Panther.
Social activist Brandi Grayson organized an event that sold out a theater as a black-only space for people to watch the movie. She said having a space for people with the same cultural background lets people of color be themselves without being guarded.
"I can't really articulate it. It's more of a feeling and appreciation and a sense of belonging that occurs when you are in a space with people who look like you," Grayson said.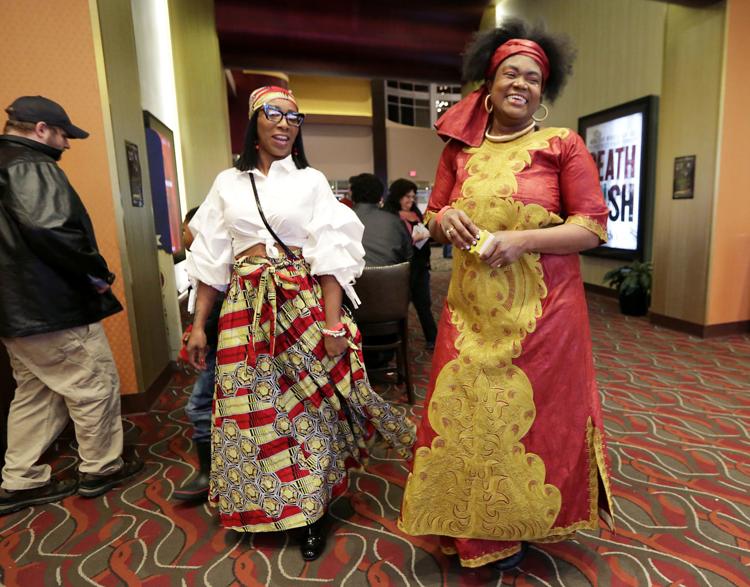 After watching the movie, Todd said that being in a theater filled with other black people was the best way she could have watched it for the first time.
"It was nice to be able to laugh and hoot and make jokes," Todd said. "There were quite a few cultural jokes and you didn't have to feel uncomfortable laughing."
Grayson said she and a few friends decided to organize the event around this movie because it wasn't like some of the other movies featuring predominantly black casts. The characters in "Black Panther" don't fit into the same mold of racial stereotypes that many black characters do in other movies.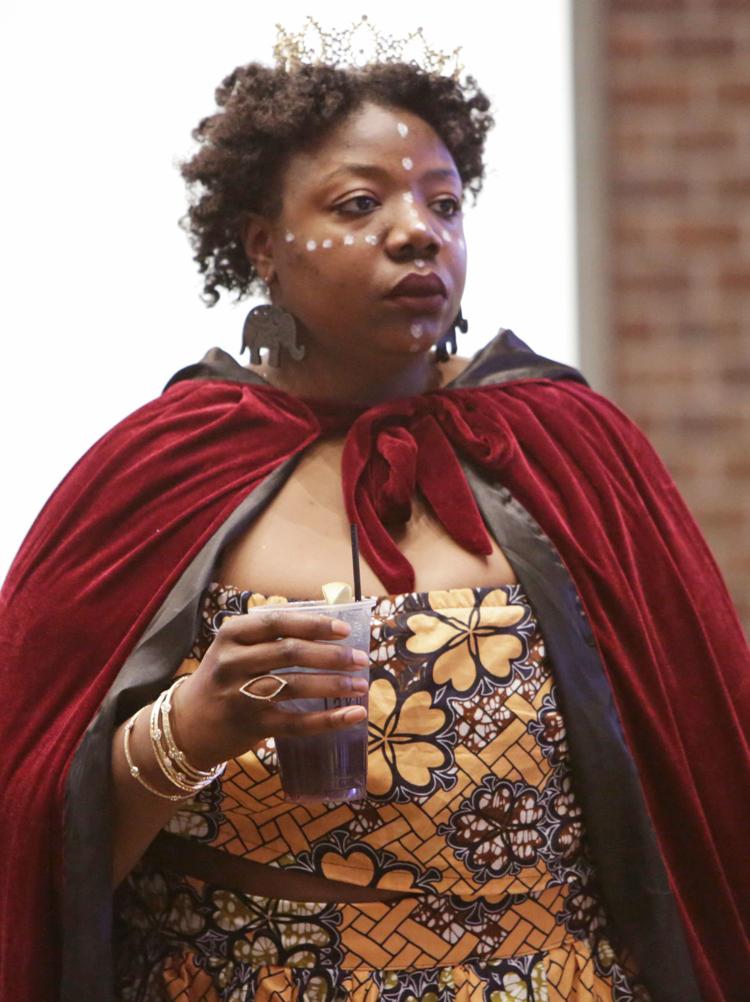 "This particular movie is rooted in black empowerment and black power — the ability to overcome, inspire, take control over what's happening," Grayson said. It's "rooted in this idea of a king. A black king."
Grayson's event is one of many around the country to celebrate the release. In the weeks leading up to the event, thousands of people of color posted on social media using the tag "WhatBlackPantherMeansToMe" to express the importance of representation in films.
"It's pretty much turned into a movement," Todd said.
Ja'Mel Ware, who grew up in Detroit, said he saw black people in almost every role from teachers to doctors to business owners. But in a city like Madison with a predominantly white population, Ware said, black children may not see people in those roles everyday, so representing people of color in prominent and diverse roles in the media may be where those children can see roles they envision themselves growing into.
"It still gives me a glimpse of hope that maybe our children can see themselves in a different kind of light," Grayson said. "Hopefully kids can see it and be inspired and know that they too can embody greatness."
As a black and Latina student at UW-Madison, Sirena Flores said that when she looks around her classrooms, she doesn't see many other people of color, so she embraced the idea of the black-only space at the private showing. She brought her 9-year-old brother, Tolan, who was dressed in a Black Panther costume, to celebrate the movie.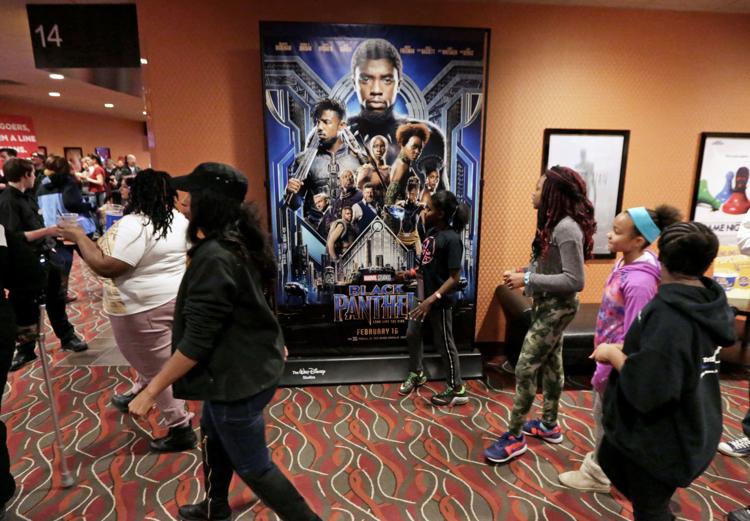 "I feel like in a lot of roles you don't tend to see black people, just like on campus you tend not to see spaces with only black people," Flores said.
Todd said it's important for her to be in "a space where you can feel among your own culture," and those situations don't happen organically for people of color in majority-white areas like Madison. Instead, people have to intentionally set up spaces and events for that to happen.
UW-Madison's Black Cultural Center also held a private viewing at the same cinema as part of its Black History Month celebrations. Program coordinator Karla Foster said "Black Panther" fit this year's theme of "Reclaiming Blackness" because it lets black characters shine in roles of power.
"The narrative of black people has not been in a positive light or in the mainstream," Foster said. "We are the superheroes."
Stay up-to-date on what's happening
Receive the latest in local entertainment news in your inbox weekly!