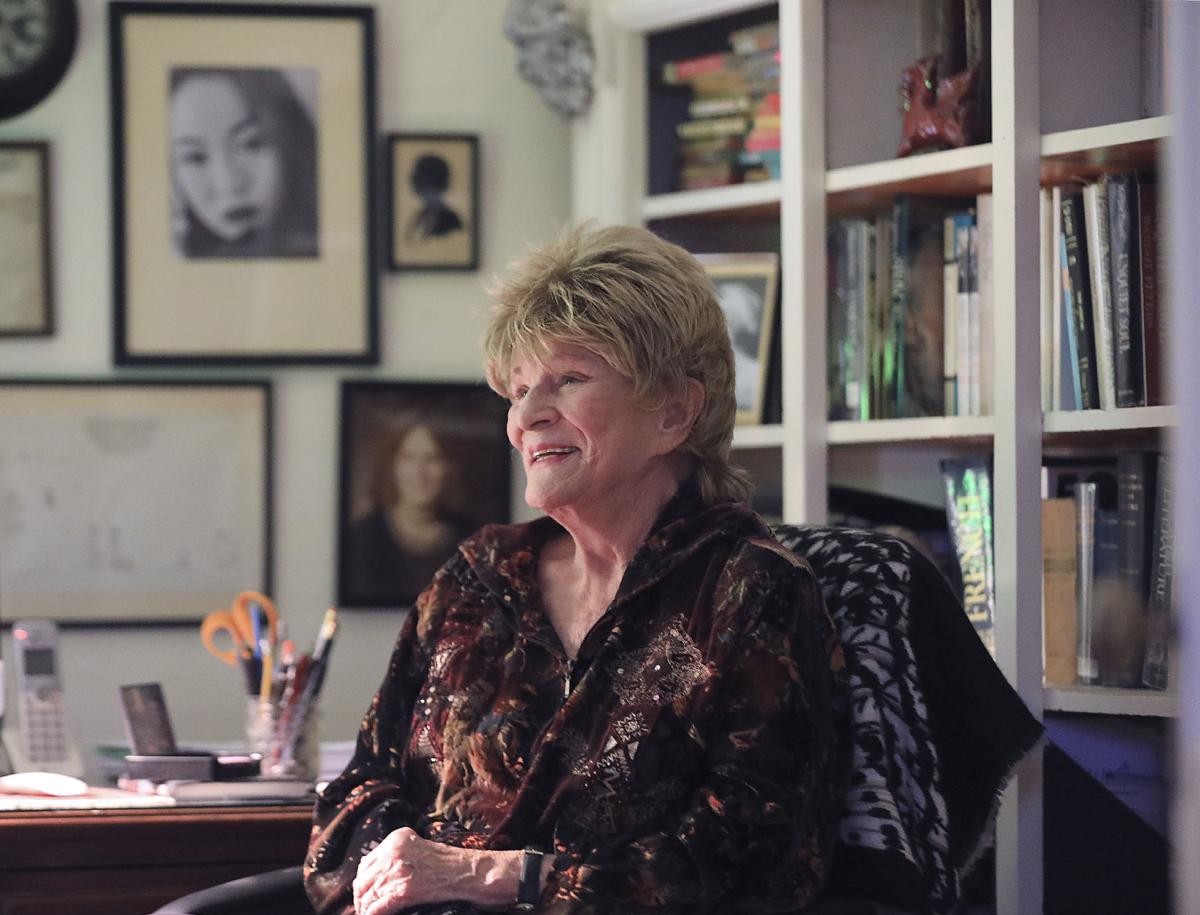 LAKE MILLS — You could feel and see the frustration.
Secluded in her historic home a few blocks from Rock Lake, jigsaw puzzles have offered an escape for Margot Peters.
Only her latest, a picture of New York City's Time Square, was incomplete. Not from a lack of ability or determination but from a bungled packaging job at a far away factory. It left the 1,000 piece puzzle missing a single rounded tab near the center.
"I think they do this on purpose," an exasperated Peters said as she showed off the work spread across her card table. "This is my COVID love. I love puzzles."
Resignation to the unfinished is a foreign concept for Peters. Maybe that's why she finds the finality of murder so enjoyable and is bent on finishing the latest book of her award-winning, prolific career.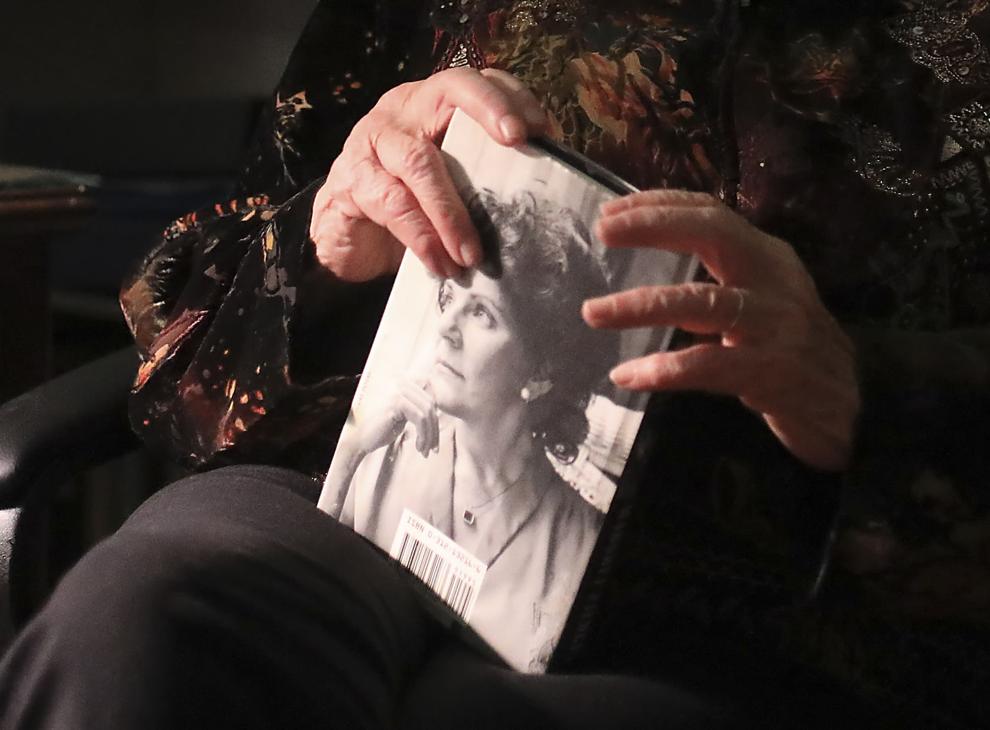 Breast cancer has come for Peters, 87, known for her biographies of the Barrymores and the thespian power couple of international regard, Alfred Lunt and Lynn Fontanne, who lived in an estate in the Waukesha County hamlet of Genesee Depot. Peters will consult with a surgeon at the end of January but for now remains focused on fiction while confronting her new reality.
"I'm not the kind of person to get cancer I told myself," Peters said. "It just doesn't happen to me, I'm healthy as an ox. But it did."
Her latest project
She's in the midst of crafting a murder mystery set at a high school reunion at a posh house on Crawling Rock Lake, a fictitious body of water in Wisconsin's Northwoods. The idea for "Murder Among Friends" came from a longtime friend just over a year ago when members from her Wausau High School class of 1951 gathered for a reunion near Minocqua. She won't reveal the murderer. The victim is well known and is a character found in nearly every school setting.
"It was a girl I always hated because she was just Miss Popularity. So she's bit the dust," Peters said. "There is some pleasure to it."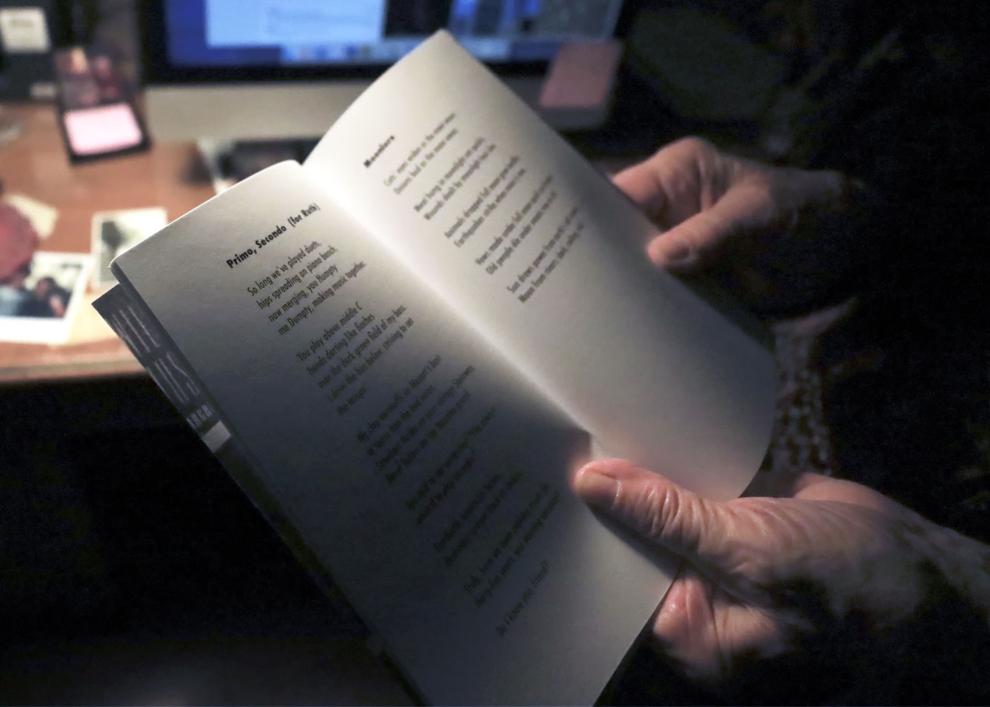 Peters is about halfway through writing the book, which she began in fall 2019. Her first book of fiction, "Wild Justice," published in 1995, features a heroine who kills a man based on Peters' father, who in real life abandoned his family when Peters was three years old. She never had contact with him after he left. She also wrote "Murder in Ice," published in 2019, a mystery based in a small lake town in southeastern Wisconsin that resembles Lake Mills.
But despite drawing on her past and surroundings for some of her story arcs of fiction, Peters, who can spend five years researching and writing a biography, admits it can be difficult at times to simply make stuff up.
"Getting an advanced degree does not enhance your ability to write fiction. Because going to school for eight or seven years, or for whatever it is, it's all research," Peters said. "I couldn't write any fiction for ages. I didn't know how. If you write biographies, you have your plot ready for you. It's there."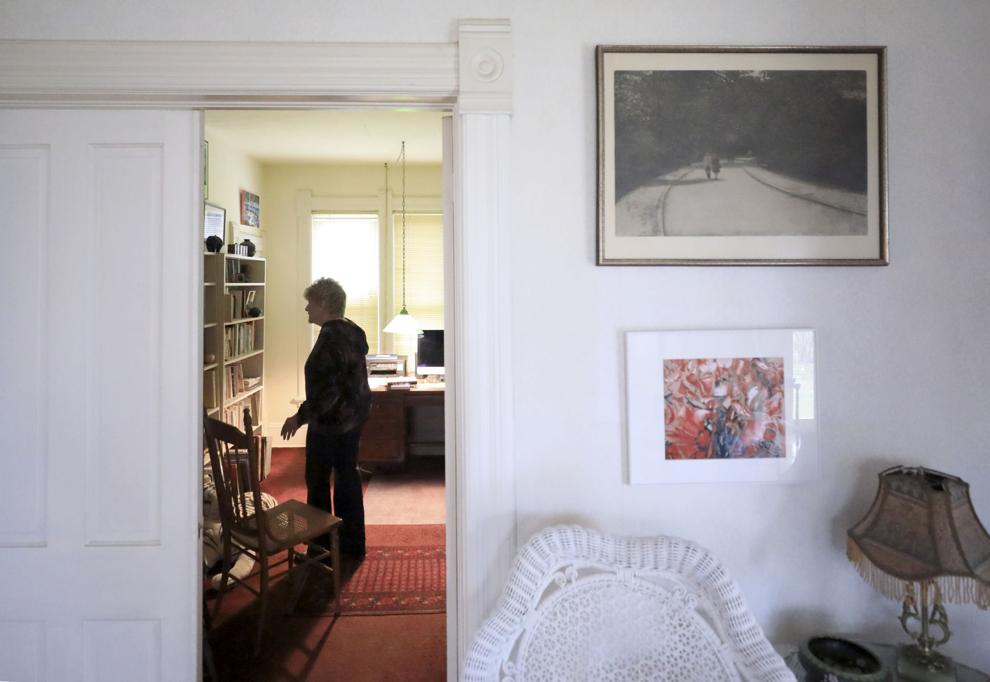 Wisconsin icon
Peters is a Wisconsin literary treasure so it should be no surprise that she was able to transition from the exhaustive biography process into one that is less intense on the research but draws even more extensively from the brain's frontal cortex.
Three of Peters' books have been featured on Wisconsin Public Radio's "Chapter a Day," she has a long list of national and regional awards to her name and in 1990 was nominated for a Pulitzer Prize in literature's biography division for "The House of Barrymore," which chronicles primarily the lives of Ethel, Lionel and John Barrymore.
There have been books about playwright George Bernard Shaw and the English stage actress known as Mrs. Patrick Campbell. Peters loathed writing about poet and author May Sarton but passionately dove into the lives of Lunt and Fontanne. That was before Ten Chimneys opened to the public and in 2003 became a tourist attraction. Peters was given free rein to explore the massive estate where closets and dressers remained filled with letters, journals and other documents.
"I was at Ten Chimneys for years. It was wonderful," Peters said. "I went through drawers and all kinds of stuff. I just loved that place."
Peters turned down an opportunity to do a biography about Katharine Hepburn, a move that cost Peters her high-powered agent. Instead, Peters chose to work with University of Wisconsin Press to write the life story of Fort Atkinson poet Lorine Niedecker, who came out with her first book in 1946, published many more and is considered by many as one of the original voices in contemporary American poetry. Niedecker died in 1970. Peters' book came out in 2011.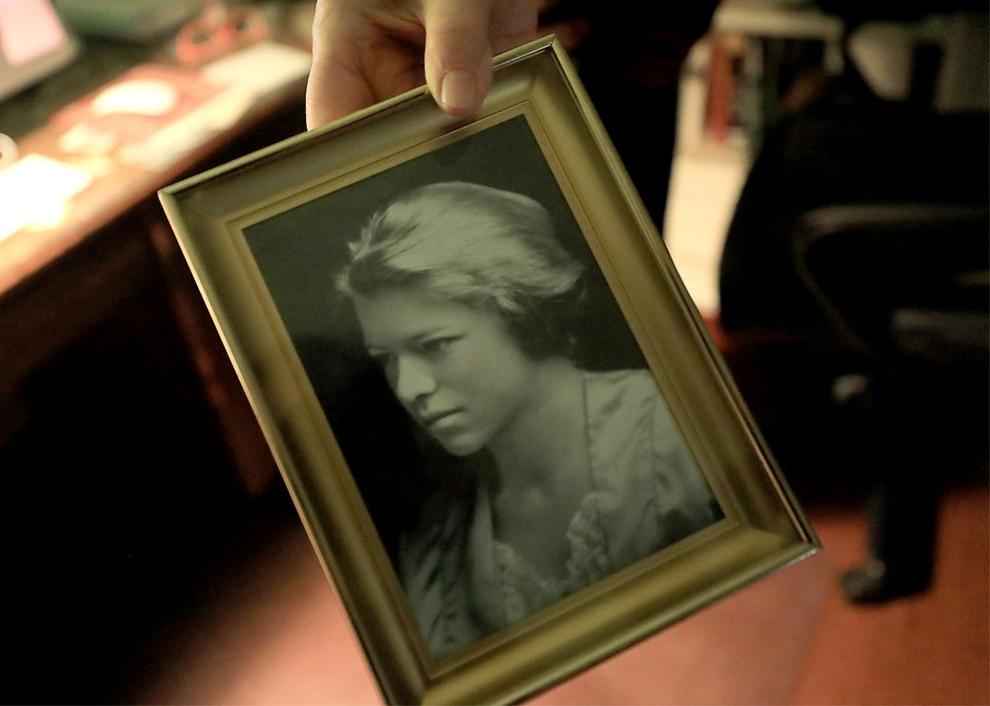 "I just love her. I'm so interested in her and I just live 12 miles away from her," said Peters, who has a photo of Niedecker on the wall, just to the right of her computer screen. "I do have fun with my biographies. I don't ever use outlines or pre-plan. I just start it. I've had some wonderful adventures and I've met some wonderful people."
Wausau native
Born in Wausau, she and her mother, who was the society editor at the Wausau Daily Record-Herald, lived with Margot's grandmother who was "often in a rage," which led Peters to publish in 2017 a childhood memoir that cast Peters as a detective to try and learn more about the source of her grandmother's psyche.
Peters earned a scholarship to attend a prestigious girl's high school in Milwaukee for two years but she returned to Wausau for her senior year and two years at the local extension college. She then headed to UW-Madison where she earned her bachelor's and master's degrees.
She spent three years at Northland College in Ashland and returned to Madison to earn her doctorate in Victorian literature while raising two children. But the bulk of her teaching career was in the English department at UW-Whitewater from 1969 to 1991 where she taught women's studies.
She moved to Lake Mills in 1973 because she had played golf in the city and figured it was a way to split the difference when her then second husband was teaching at Madison Area Technical College. They purchased the house, built in 1888, for $24,000 with the proceeds from her book "Unquiet Soul," a biography of the English novelist and poet Charlotte Bronte. Peters' house is now assessed at $379,000.
"I knew that this was just a charming little town," Peters said. "But it has changed. There is so much development. But I would not have chosen any other town."
At home in Lake Mills
The house has been expanded over the years and her writing takes place in a cozy den, the shelves lined with books and the walls filled with paintings, sketches and photographs of family members and those that have been the subjects of her biographies. There's also a sketch of her teen heartthrob James Mason, a photo of Peters when she was in sixth grade and an antique clock that was wound nightly by her grandfather. Above the door is a poster of the NFL's most valuable players from the Green Bay Packers.
"It's wonderful to have a room of your own," Peters said "It's a place of refuge and creativity."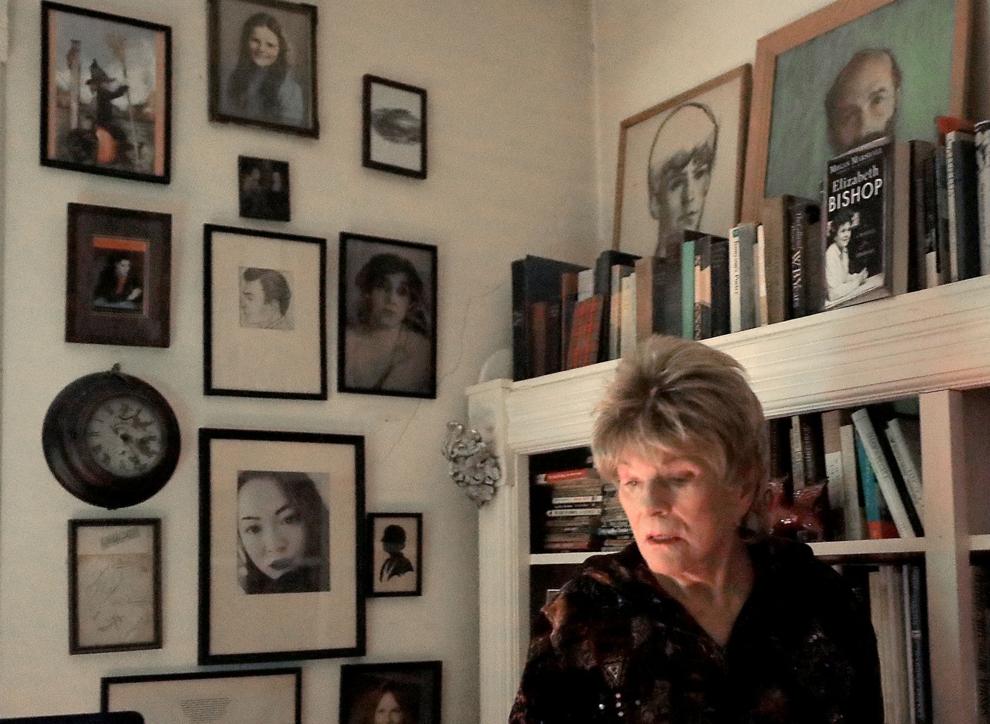 In an adjacent room bathed in natural light, a Yamaha baby grand is the centerpiece and where for the past 45 years she has sat side by side playing duets with Ruth Schauer, a former colleague from UW-Whitewater's English department. Peters plays the lower range while Schauer takes the upper keys.
The house is also filled with a collection of corkscrews from around the world, is roamed by two cats, one of whom is 17 years old, named Sweetie Pie and needs to be sedated by Lake Mills veterinarian and author Bill Stork just so she can be brushed. Sweetie Pie's temperament has also landed her on the pages of Stork's books.
Peters also shares the house with her third husband, Peter Jordan, whom she met in 1980 through a singles book group. They married a year later.
"I had to keep trying until I got it right," Peters said of her two other failed marriages. "The other ones wanted to marry me. But I wanted to marry Peter, and that's really important. We've had a wonderful marriage."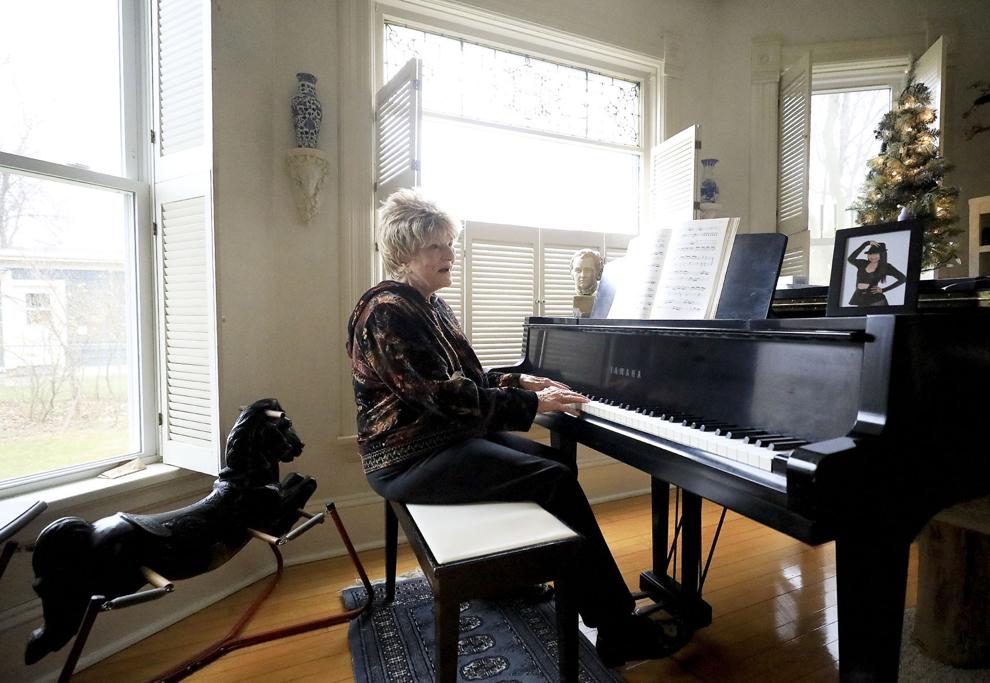 And it's family that is pushing Peters, who has two adult children and one grandchild who is 16 and a junior at Madison West High School, to complete her latest novel.
Peters suspected something was wrong about a year ago but waited because of "a combination of arrogance and denial" to have a mammogram and ultrasound. A recent biopsy confirmed the cancer. She's intent, however, on finishing "Murder Among Friends," and seeing her granddaughter graduate.
"I want to stick around just for her," Peters said. "I always finish what I start, or at least I try to."